Here is a sweet selection of tempting fares starting from S$1158 to more than 80 European destinations via Air France www.airfrance.sg.
Return including taxes fares from Singapore are now going at: Paris S$1158, Rome S$1219, Nice S$1284, London S$1429, Marseille S$1284, Vienna S$1293, Lyon S$1277, Barcelona S$1222. Terms and conditions apply.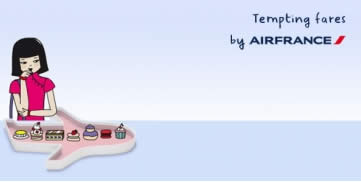 Book by 31 August 2012. Travel from 01 September until 31 December 2012
Sales on until 31 Aug 2012. Visit www.airfrance.sg for more details.
Save 25% off taxi rides with Uber's latest promotion. Find out more
Looking for cheap flights? Perform a quick search now!


http://singpromos.com/wp-content/uploads/2012/08/Air-France-Tempting-Fares-5-Aug-2012-200x182.jpg