Amazon.com www.amazon.com is now giving away FREE shipping to Singapore (with AmazonGlobal Saver Shipping) if your order includes at least $125 of qualifying merchandise, excluding the Import Fees Deposit, gift-wrap charges, duties, and taxes.
To search now for all products that ship internationally, visit www.amazon.com/International-Shipping-Direct/.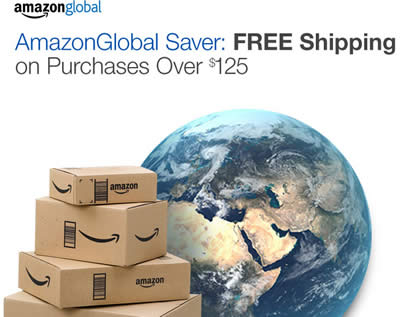 Most products shipped using the AmazonGlobal Program that are sold by Amazon.com are eligible for AmazonGlobal Saver. Items 20 lb (9.07kg) or more, certain oversize items, e-documents, software downloads, music downloads and gift cards don't qualify.
Cancelling items, combining orders, or changing your shipping address, speed or preference might affect your order's AmazonGlobal Saver Shipping eligibility.
If your order doesn't qualify for AmazonGlobal Saver Shipping:
The order may contain ineligible items.
A special product, order, or handling fee may still apply.
An eligible item that was cancelled brought the total below $125
Taking Advantage of FREE AmazonGlobal Saver
To take advantage of FREE AmazonGlobal Saver:
Place at least $125 of eligible AmazonGlobal Saver products (such has via www.amazon.com/International-Shipping-Direct/), excluding the Import Fees Deposit, in your Shopping Cart. 3 conditions must be met:

Must be labelled "Ships from and sold by Amazon.com."
Must not exceed 20 pounds (~9kg) or more and
Must not be too big in volume

Proceed to checkout.
Ship your items to a single address in Singapore.
Select "Group my items into as few shipments as possible" as your shipping preference.
Select "FREE AmazonGlobal Saver" as your shipping speed. Your order will be delivered within 11-14 business days after all of your items are available to ship (including pre-order items).
Place your order, and enjoy the FREE shipping!
With this shipping option, Amazon.com will fulfill your order in a more cost-efficient way to pass savings on to you in the form of FREE shipping.
While it might take some extra time to pack and ship your order, you'll still receive it within the estimated delivery time frame.
Tips Ordering From Amazon.com To Singapore (Updated 10 Oct 2014)
Make Singapore Your Default Country
Once you make Singapore your Default Country, Amazon's product description automatically advises whether the item can be shipped to Singapore. Note that this does not guarantee FREE shipping as it still depends on the volume and weight of the order
How do you make Singapore your default country?
Go your account page here
Click "Manage Address Book" under Settings
Add your Singapore address if it does not appear in the list by clicking on "Enter a new address"
Click the "Click here to make this your default shipping address, including 1-Click and gifting. " link to make the Singapore address the default
You're done!
If a item DOES ship to Singapore, this is how it will appear in the product description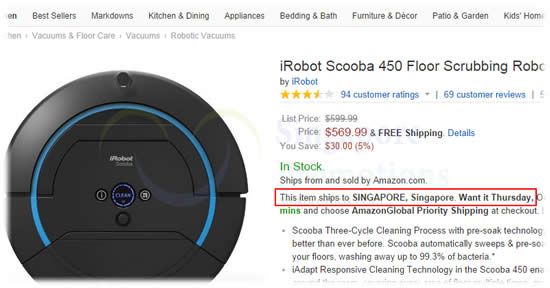 If a item DOES NOT ship to Singapore, this is how it will appear in the product description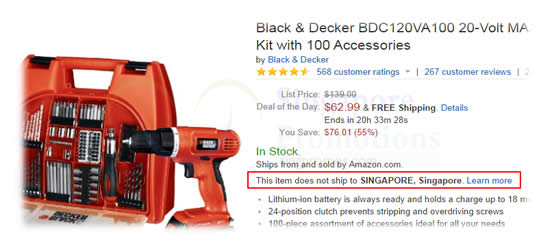 Singapore Customs Government Service Tax (GST) Charge
Keep your orders to under SG$400 (that's Singapore Dollars, so do a currency exchange) total value so as to avoid being subjected Customs GST tax charges.
As this becomes tricky when the US exchange rate is constantly changing, it is recommended to keep the total value to about about SG$380. Here's a link to check the USD value of $380.
If the order is going to exceed S$$380, simply split into another order.
Otherwise, Amazon will charge a "Import Fees Deposit" additionally. In the event that the Import Fees Deposit exceeds the Actual Import Fees, Amazon will refund the difference to you.
Free shipping not available?
Make sure the item you are buying is "Ships from and sold by Amazon.com." In the product page, look under "More Buying Choices" and add to cart the one sold by Amazon.com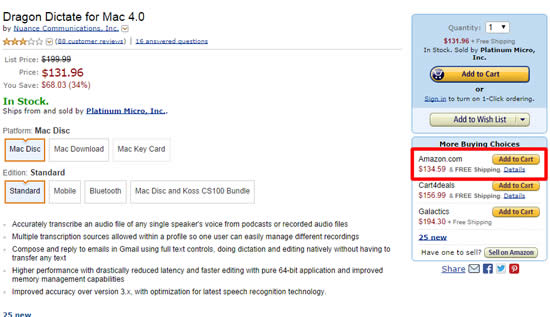 If you are sure your order or item should meet the free shipping promotion but the free shipping option is not appearing (i.e. "FREE AmazonGlobal Saver (averages 9-14 days)" does not appear), chat with Amazon through their Live Chat here and highlight your case.
Most of the time, they will waive the shipping for you.
Power Voltage
Check carefully when ordering electronics that are powered or charged from the wall power outlet – Singapore uses the 220V/240V voltage and the plug pin connector is different from the US version as well.
Check that the product supports 100V – 240V input voltage. If it doesn't, do NOT plug in directly to the Singapore wall outlet without using a step down transformer or the whole electronic item may end up being unusable
Region Locked DVDs, Video Games, etc
Be careful of region-locked video games and movie discs – many of them can only be played on consoles or players that are sold in the US.
For Blu-ray movies, it is safe to buy from Amazon as both Singapore and the US share the same Region Code
For DVD movies, it is NOT safe to buy from Amazon as they do NOT share the same region code. Only buy DVD movies from Amazon if your player is not region locked (region unlocked) or if the DVD does not come with DVD region coding.
Amazon has a dedicated help page relating to DVD/Blu-Ray region codes here.
Warranty Coverage
Warranty coverage for most products may be limited to the US only. Some products such as Intel SSDs (must be boxed – no "Drive Only") and Intel CPUs have international warranty.
If you do need to return items to Amazon, you may need to cover shipping fees from your end.
Search Effectively
Amazon has added a filter to the left side of all search results pages named "AmazonGlobal Eligible".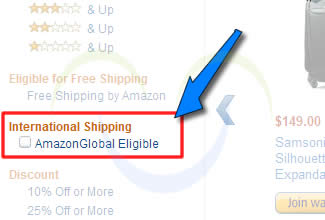 When you enable that filter by clicking it, you get a higher assurance that the results shown are eligible for the Amazon Singapore FREE shipping promotion. If it doesn't show, try going deeper inside the category.
List Prices vs Usual Prices
List prices in Amazon are usually much higher (most of the time, they'll be striked out) than the usual price giving the impression that the discount percentage level is high.
Hence don't be enticed by the discount percentage numbers. Rather, look at the actual going price of the item and compare elsewhere.
Payments in USD vs SGD
When making payments to Amazon, make payments in USD instead of SGD as the conversion rate Amazon uses may cause you to pay much more than paying in USD.
Amazon Price Guarantee
If the product you have ordered gets a lower price within 7 days, remember to request for a refund of the difference from Amazon by chatting or e-mailing them here.
UPS Delivery "Delays"
When trying to track a parcel, for some reason, it may take a few days at the location "Changi, Singapore" with the activity status "Registered with clearing agency Shipment release pending clearing agency review / Released by Clearing Agency. Now in-transit".
Wait for about 7 days and you should have your package. Be patient as it is a FREE service.
When is the Best Time/Period to Buy @ Amazon?
During Black Friday
When is Amazon's Black Friday for 2014? This starts on November 28 4pm to November 29 359pm (Singapore time GMT +8)
When USD vs SG Currencies are Better
When the value of USD is less compared to the SGD dollar, you save more at Amazon storewide! Unfortunately, the opposite also is true – your savings drop when the value of USD increases in relation to the SGD dollar.
As of 28 January 2015, the exchange rate is 1 USD = 1.35 SGD. This is excluding bank USD transaction fees. At this current exchange rate, Amazon products are now even more expensive than Oct 2014. Hence docheck for price differences between local pricing as well as whether foregoing the warranty coverage is worth the savings and hassle.
What to buy at Amazon?
Amazon is like a huge department store – mostly anything you can imagine, it has it.
Popular items include
Note: Food items are mostly excluded
From time to time, we cover special Amazon coupon codes and promotions here. Check back often!
Who do you want to share this with? Click here to share this on Facebook with your friends & family!
Get a FREE Samsonite Black Label Richmond Spinner 75cm Luggage worth S$950 when you sign up for a HSBC Revolution credit card (w/ 2-year annual fees waiver) at www.hsbc.com.sg.