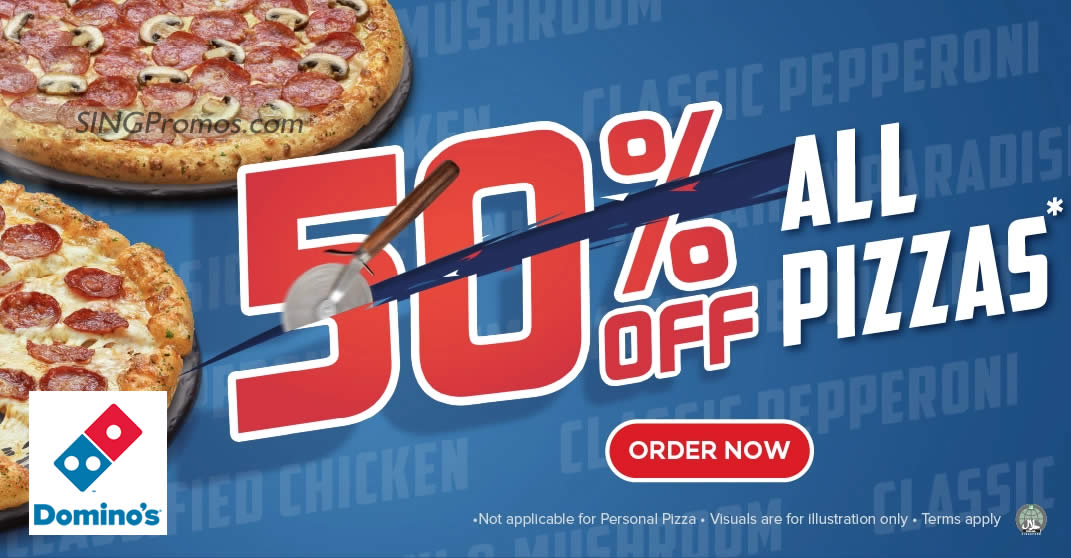 We are now on Telegram
Half-Priced Pizzas Make Permanent Comeback at Domino's Pizza Singapore
Get your favorite pizzas now at 50% off, with a minimum order of just one pizza!
Domino's Pizza Singapore is bringing back its massive 50% off promotion for all pizza flavors and sizes*, this time as a permanent offer that's here to stay! The offer is valid for all pizzas from 31 January 2023, with a minimum purchase of just one pizza – making it perfect for solo eaters, or those hosting gatherings with family and friends.
Whether you're ordering for a cozy night in alone, or catering for a party with loved ones, pizza lovers can enjoy 100% satisfaction savoring their favorite hand-stretched pizzas at just 50% of its usual price.
Fans may choose from All Time Favorite pizza flavors including the scrumptious Classified Chicken and the delectable Hawaiian Paradise, or indulge in First Class pizza flavors such as the hearty Meatasaurus or the web-exclusive Portofino Prawn – all for just half of its original price!
With 50% saved on pizzas, there's no better time to complete your meal with a curated range of chicken, pasta or bread sides offered at Domino's Pizza Singapore that will leave you satiated. These include the crisp and tender Crazy Chicken Crunchies baked to perfection, creamy Mac & Cheese (Chicken), or fluffy Breadstix sprinkled with garlic seasoning and served with a tangy salsa sauce. For a sweet end to your meal, the decadent Chocolate Lava Cake with molten chocolate oozing from its center or the crowd-favorite Cinnastix sprinkled with cinnamon and sugar are not to be missed.
The 50% off promotion offers great value and convenience for everyone, be it a dinner for one or a party for twenty! For a fuss-free experience, simply place an order online at www.dominos.com.sg.
*The 50% promotion is valid for all sizes excluding Personal pizzas.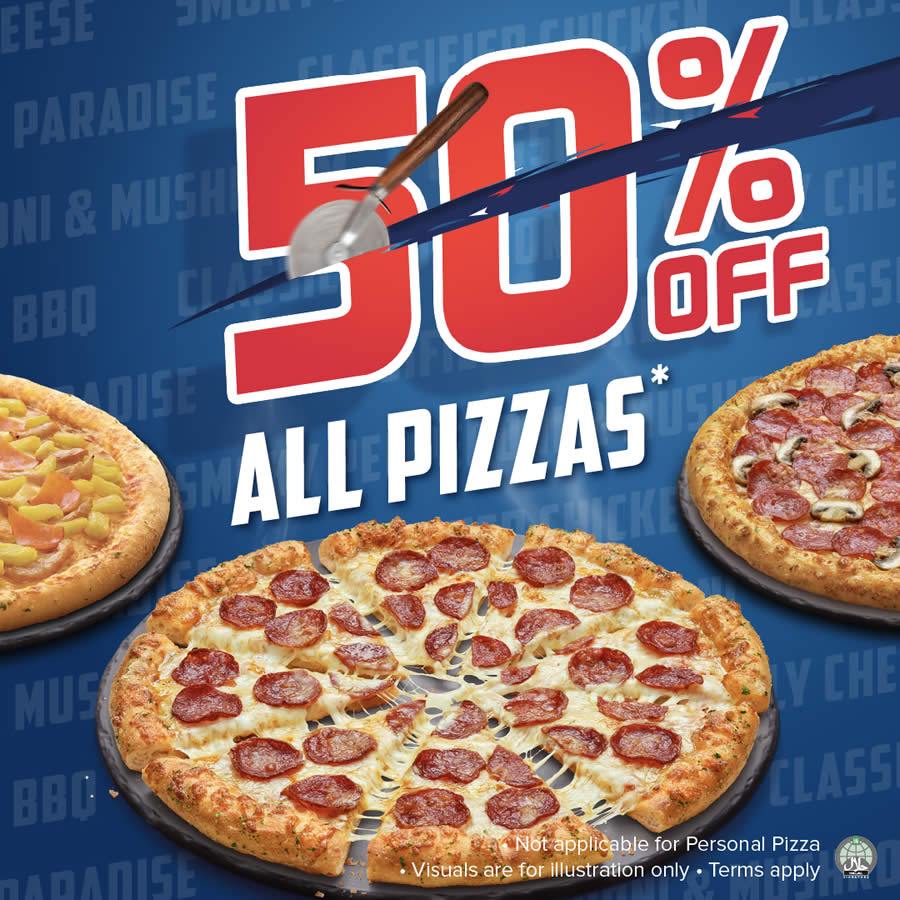 Tip
To minimise waiting times at Domino's Pizza restaurants, and to save on delivery fees, use Click & Collect feature via www.dominos.com.sg
Customers who Click & Collect with a minimum spend of $22 via cashless payment will be given a free bottle of Coca Cola (1.5L).
About Domino's Pizza
Domino's Pizza is the world's leading and fastest growing pizza delivery company committed to upholding the industry in product quality and operational excellence. Globally, Domino's Pizza Inc. operates of more than 18,300 owned and franchised stores throughout the U.S. and in over 90 markets. Domino's internationally ranks in the top five companies by the virtue of most online transactions.
Domino's Pizza Singapore was recognised as one of 'Singapore's Best Employers 2022' by The Straits Times & Statista, based on a large-scale and comprehensive study that assesses the attractiveness of organisations in Singapore based on an independent employee survey. It has also been awarded three times with the 'HR Asia Best Companies to Work for in Asia' under the F&B category. This prestigious award recognizes corporations with significant levels of employee engagement and excellent workplace culture.
To date, there are 38 Domino's Pizza stores in the country.
Customers can log on to its website at www.dominos.com.sg to place their orders.