Indulge in a great variety of Sri Lankan Crab dishes in various flavours with this deal: $25 per crab (700g to 900g) instead of up to $50 at House of Seafood's Newest Restaurant + Choice of Black Pepper / White Pepper / Chilli / Salted Egg / Golden Butter / Steamed / Stewed / Bee Hoon Crab Soup) – that's up to 50% off the usual price!
Get the deal before it ends soon at www.deal.com.sg.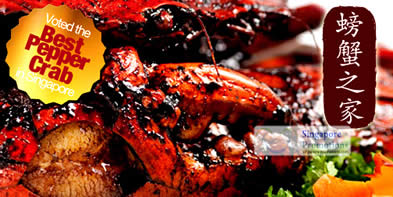 With an ocean size worth of fresh wholesome catch, House of Seafood is ready to catch whatever craving you throw. Crabs galore with this DEAL – at 50% off!
House of Seafood is offering a great variety of their signature crab dish in various flavours!
Choose from 9 different types of crab
Black Pepper Crab
Chili Crab
Golden Creamy Butter Crab
Ginger & Spring Onion Crab
Salted Egg Crab
White Pepper Crab
Steamed Crab
Stewed Crab
Been Hoon Crab Soup
Indulge in the great variety of seafood available and savor everything fresh the ocean has to offer.
Get the deal before it ends soon at www.deal.com.sg.
Who do you want to share this with? Click here to share this on Facebook with your friends & family!
Get FREE $80 Cashback & 6% cashback on online purchases when you sign up for a DBS Live Fresh card at www.dbs.com.sg/livefresh.
http://singpromos.com/wp-content/uploads/2011/11/House-of-Seafood-200x197.jpg