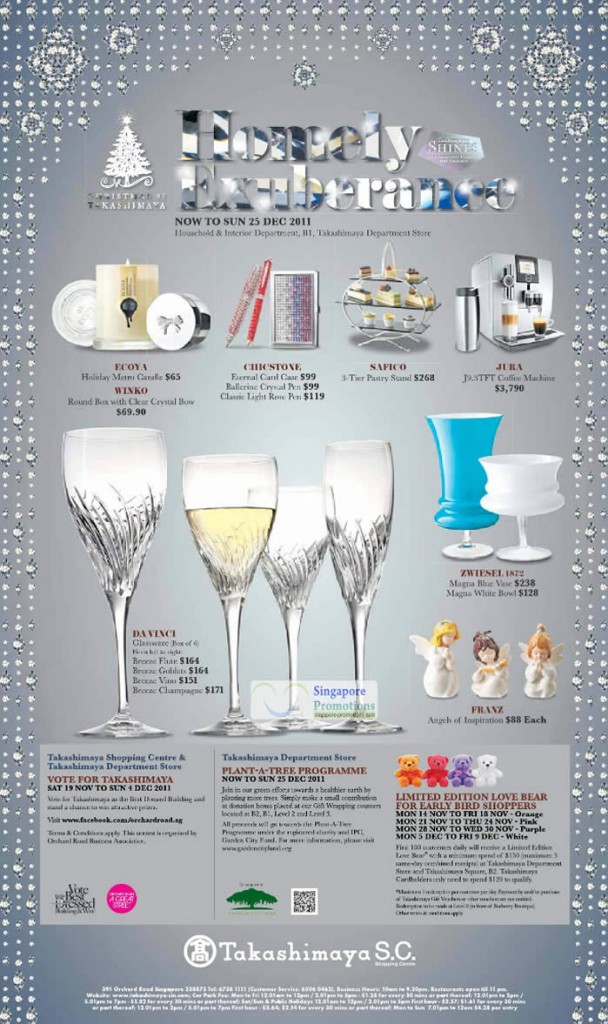 Takashimaya
P6W
Past Event


Oh no, the event has ended. Don't miss out again, get the latest sales via our newsletter, Facebook, Twitter or RSS feed!
| | | | |
| --- | --- | --- | --- |
| Starts | 19 Nov 2011 (Sat) | Ends | 31 Dec 2011 (Sat) |
| Location | Takashimaya | | |
Here are Takashimaya's consolidated offers for Christmas, with ending dates around the day of Christmas 25 Dec 2011. This post will be updated with new ad images as Takashimaya releases them.
18 Nov 2011
Christmas Fantasy, listing Winx Club Bags, Angry Birds, Beyblade, Ben 10, Disney Princess, Gundam RX 7B-2, Impact Ergo-Growing 3-in-1 Bundle Set
X'Mas exclusives for your kitchen, listing Henckels Wine Opener Set, WMF 7-pc Gourmet Plus Cookware Set, Henckels 6-pc Win Point Knife Block Set, WMF 68-pc Porto Cutlery Set, Slit 4-pc Vitaliano Cookware Set, Silit 24cm Vitaliano Pasta Pot
Merry, Merrier, Merriest Christmas Ever for the Children listing Playmobil Christmas Room, Playmobile Advent Calendar Christmas in the Forest, Playmobile Nativity Set, Tomica Cargo Jumbo, Thomas Starter Set, Playmobile Police Boat, Playmobil Skate Park with Halfpipe, Tomica High Speed Racing Citcuit 8000, Thomas Ferry Boat Set, Tomica Super Auto Mountain Driver, Playmobile Fire Station
Homely Exuberance listing Ecoya Holiday Metro Candle, Winko Round Box with Clear Crystal Bow, Chicstone Eternal Card Case, Chicstone Ballerinc Crystal Pen, Chicstone Classic Ligh Rome Pen, Safico 3-Tier Pastry Stand, Jura J9.3TFT Coffee Machine, Zwiesel 1872 Magna Blue Vase, Zwiesel 1872 Magna White Bowl, Da Vinci Glassware, Franz Angels of Inspiration
Table of X'mas Goodies, Kitchenware listing Corelle Warm Pansies 12-pc Dinner Set, Rose Legent Tea Set, Rose Legend Teabreak Set, Corningware Dainty Flora Mealmaker Set, Sale & Pepper 3-tier Cake Stand, Salt & Pepper Cake Server & Lifter
25 Nov 2011
Chole Python Print Silk Blouse, Chole Cashmere Skirt, Chole Python Leather High Heels, Diane Von Furstenberg Chastity Goldo, STUART Weitzman Boston, Guess High Heel Shoes, Folli Follie Dice Ruse Gold Cylinder Bangle with While Enamel, Folli Follie Zebra Rose Gold Heart Bangle with White Enamel, Loewe Napa Sevilla Bag, Solange Azagury Partridge Hotlips Ring
ROSE-CHAN JUUNIHITOE FROM FRI 25 NOV' 2011. Limited to just 3,000 pieces, thia year's Rose-Chan returns to her Japanese roots by wearing the elite ceremonial robes of a Japanese court lady, known as Jujnihitce. It comes complete with a serial number and adoption certificate. Rose-Chan Doll is redeemable with every $300 purchase. DBS Takashimaya Cardholders only reed to spend $200 to qualify.
LIMITED EDITION LOVE BEAR FOR EARLY BIRD SHOPPERS: First 100 customers daily will receive a Limited Edition Love Bear will a minimum spend of $150 (maximum 3 same-day combined receipts) at Takashimaya
COMPLIMENTARY GIFT WRAPPING SERVICES: Have your gifts dressed for Christmas at no Charge with our specially designed Christmas wrapper. gift tag and shoppinig bags with any purchase at Takashimaya Department Store and Takashimaya Square. B2.
2 Dec 2011
The Best of Tableware: NARUMI Remembrance Collection, Narumi Rose 6pc Bone China Tea Time Set with Plotes, Narumi Platinum 2 Tier Coke Stand with Plotes, Narumi Bordeaux 47-pc Bone China Dinner Set, Narumi Esprit 24 pc Bone China Tea Set, Lady Carlyle 14cm Oval / Square Sweet Dish, Royal Doulton Moonlight Rose, Royal Doulton Old Country Roses 20pc Set, WEDGWOOD Vera Wong Trailing Vines 20-pc Set, Narumi Mugs Collodion, Royal Doulton 100 Years Hostess, Wedgwood Harlequin Collection Cup & Saucer Set, WATERFORD Crystal Fleurology Flowers 38cm
Gift Ideas For A Festive Home: Tefal Clipso Modulo 8L Pressure Cooker (Induction Friendly), Tefal 30cm Elegance Berry Wokpan with lid, Tefal 30cm Pro Series Stainless Steel Wokpon with lid, Tefal 20cm & 28cm Pro Series Stainless Steel Frypan (Induction Friendly), Rowenta Air Force Vacuum Cleaner, Tefal Preference 28cm Wokpan & 24cm Frypan (Induction Friendly), Rowenta Silent Force Vacuum Cleaner Compact, Rowenta Zenitude Stand Fan with Remote Control, Krups Dolce Gusto Circolo Intro Set, Tefal Kettle & Toaster Set, Tefal 1000W La Moulmefte & Blender,
Stellar Style: The Hour Glass Philip Stein Active Sports Watch, The Hour Glass Philip Stein Signature 2-Time Zone Watch $1,400 (Embedded with Wellness Technology), LANVIN Tics, AESOP Moroccan Neroli Shaving Duct, BALLY Osakha Men's Bag, Vadrel Men's Shoes, Alfred Dunhill Bourdon Double Zip Briefcase, Alfred Dunhill Welt Wingtip Boots, STUDIO UOMO Suit, X ACUS Shin, LANVIN Tic, MASSIMO DUTTI Jacket, MASSIMO DUTTI Sweater, MASSIMO DUTTI Shirt, MASSIMO DUTTI Trousers, MASSIMO DUTTI Shoes, Tateossian Cofflinks, Tateossian Bracelet
Serta Starry Night Mattress, Serta Noel Mattress
Gifts of Beauty: Mukti Botanicals Mokli Starter Pack, Ecoya Ecoya Deluxe Gift Sox, Tact Gift Sels, Crabtree & Evelyn Lavender & Rosewater Bath Gel & Body Lotion, Iris Hand Therapy Set & Citron Traveller, Nougat Special Holiday Gift Sets, Juice Beauty Age Defy Body Holiday Kit, Heathcote & Ivory Global Traveller Set & Kick Smart Kit, Bronnley Honey Blossom Bath & Body Collection, Buds Kids Shower Gel & Shampoo Set, Men's Purily Cycle – Ultra Gentle Face Cleanser, Hair & Body Shower Gel, Korres Holiday Treats Guava Shower Gel & Guava Bcdy Butter, Thymes Bodycare Gift Set Kinvzno Rose/Gold leaf,
Christmas Fantasy: Air Hog Sharp Shooter, Barbie Pink Bed N Bath, PlayGo Baby Driver, Thomas & Friends Pullalong Bag / Trolley, Rechargeable Motorbike, Barbie Junior Laptop, Fisher Price Action Ride will Helmet, Fisher Price Walker to Wagon, Dragon Snooker 6 Coloured balls / Battle Arena, Real Construction Deluxe Workshop Set, SpeedTech RC Combat Defender,
Merry, Merrier, Merriest: Takara Tomy Koeda Chan Treehouse, Takara Tomy Koeda Chan Restaurant, Takara Tomy Koeda Chan Apple Hospital, Takara Tomy Koeda Chan Kitchen Dining Set, Takara Tomy Koeda Chan, Bandai Cook Joy Big Sushi Maker, Bandai Cook Joy Choco Maker, Takara Tomy Figurines, Takara Tomy Koeda Chan Family Set, Bandai Cook Joy Sandwich Maker, Bandai Harumika Bridal Collection, Epoch Monster Hamburger, Smart Packaway Electronic Kitchen, Epoch Panda Balancing Games, Epoch Sylvanian Families The Caravan, Chuggington Remote Control Wilson / Brewster, Epoch Sylvanian Families Girls Friendly Set,
8 Dec 2011
Angry Birds Live Performance Now to Sat 10 Dec 1pm, 4pm & 7pm. Squawk! Angry Birds are here. Be the 1st in Singapore to catch it live!
Items listed areBarbie Hair Gems, Playmobil 1.2.3 My Take Along Noah's Ark, Playmobil Penguins Playset, Leapfrog Fridge Farm Magnets | Count & Scan Shopper, Toyland Side N Roll Crazy Creatures, Mattel Games Toy Story 3 Scrabble, Crayola Colour & Slicker Activity Set, Clayzee Modelling Craft Kits, Disney 60cm Jumbo Happy Mickey & Friends, Character Floormat and Smart Light & Sound Kitchen
Goldlion: Welcome to the GO LIVE experience when you see, touch and feel the quality GOLDLION products. GOLDLION presents myriad men's wear and accessories that are crafted with modern technology and fine workmanship for you to enjoy. What's more, redeem a Limited Edition Watch Box or Cufflink Box (worth $49) with minimum $200 nett spent, now to Mon 26 Dec 2011. GOLDLION. It's A Man's World. Terms & conditions apply.
Items listed are Goldlion Linen Texture Embossed Leather Wallet, Goldlion Gift Set, Goldlion Leather Belt, Goldlion European Fabric, Goldlion Tie Bar and Goldlion Wrinkle-Free Long-Sleeved Shirt
9 Dec 2011
Black & Fabulous: Sleek, modern, irresistible – it's the look that lures this Christmas. Renee Oblique Dress with Embellished Neckline , THE ARITHALLA Hugging Sequin Dress , ALANUIT BY LVER Classic Dress with Peck-a-Boo Neckline, EL1TA Layered Dress with Uneven Hem, EL1TA Feather Brooch , LE'BLEU Chiffonn Dress with Gold Shimmer
Flash that charm: Suit up for the season – it's time to party. Tateossian Cufflinks, Hugo Just Different EDT + Deodorant + Shower Gel, Monteblanc Starwalker for Men EDT + All Over Shampoo , Herringbone Jacket, XACUS Tuxedo Shirt, LANVIN Bow Tie, MORESCIII Patent Dress Shoes, LUCOSTE Mid-cut Boots, Herringbone Semi-casual Jacket, XACUS Long-sleeved Shirt, TATEOSSIAN Watch
Game for Good Gifting: Score big with great buys and awesome discounts on sporting goods. These make winning gifts and up your game on your sporting wardrobe for the year ahead. Paris Miki Fila Sunglasses, Nike Sunglasses, Adidas Sunglasses, WORLD OF SPORTS Head Tennis Racket (Mcltalix 4 & 6), Papillio Footwear, Mizuno Wave Creation 12 Footwear, Phiten X30 Necklace, QUIKSILYER ROXY Bags, Transview Skins Skins Bio Sports Long-sleeved Top, Maruman Conductor LX Forged Iron Set Nspro, TAYLORMADE TM79 Putter, TAYLORMADE xFT Wedge, TAYLORMADE Burner 10 TP Iron, TAYLORMADE Burner 2.0 Driver, TAYLORMADE NP10 Easy Distance Golf Balls
The Pleasure of Being Pure: Sylvanian Families Clock Tower School with School Toilet, PETIT BATEAU Long-sleeved T-shirt, RAZOR A Scooter, DKNY BOYS Khaki Scarf , DKNY BOYS Blue Jacket , DKNY BOYS Grey T-shirt , DKNY BOYS Blue Jeans, SANRIO Hello Kilty Plush, LEAPFROG Clickstart , DKNY GIRLS Red Coat , DKNY GIRLS Leggings , DKNY GIRLS White T-shirt , DKNY GIRLS Black Skirt, EVEREARTH Activity Walker
All I Want For Christmas: Chocolate Rain Limited Edition Gift Pack, Disney Lumbar Cushions, Rockstar Vibration Speaker, Wish Original Dog Door Stopper, Hellolulu Emmserson DSLR Camera Bag, S&P Badges Oink, Hello Kitty Limited Edition Watch, Precious Thots 15th Anniversary Exclusive Many Years Filled With Precious Thots
Scents of Serenity: Millefiori Home Fragrance for Kids Gift Set, Old Empire Lavender & Rose Diffuser, Cocoon Lifestyle Romance Set, STYX Aromatherapy Shower Gift Set, Yankee Candle Winter Birds Votive Holder, Yankee Candle Cherries on Snow Large Jar , Yankee Candle Winter Birds Jar Shade, Scentsia Reed Diffusers, Royal Doulton Christmas Hamper, Ashleigh & Burwood Collection of Artisan-made Diffuser Vases , Donna Chang Harmonising Rose Deluxe Aromatic Diffuser Gift Set, L'othantique Home Fragrance for Christmas Gift Set
A Gift Your Friend Will Cherish: Bodum Brazil Coffee Set (8-cup Coffee Maker with Milk Frother), Pavina Double Wall Glass , Pavina Double Wall Glass , Pavina Double Wall Glass, Picture Press Coffee Maker , Eileen 8-cup Coffee Maker , Eileen Tea Press , De Chine Tea Pot with Stainless Steel Filter, Pavina Salad Bowl with Silicone Sleeve, Corona Yoyo Set , Pavina Glass with Silicone Sleeve , Kenya 3-cup Coffee Maker , Kenya 8-cup Coffee Maker
Prices Worth Celebrating For: ZWILLING J.A.HENCKELS Twin Pollux 7-pc Knife Block Set, ZWILLING J.A.HENCKELS Twin Joy 4-pc Cookware Set 16cm Saucepan & Stockpot 20cm Stockpot & Stewpot, ZWILLING J.A.HENCKELS Twin Gourmet 6-pc Knife Block Set, ZWILLING J.A.HENCKELS Pro S 8-pc Knife Block Set, ZWILLING J.A.HENCKELS Twin IVI 3-pc Cookware Set, ZWILLING J.A.HENCKELS Berlin 4-pc Steak Knife Set, ZWILLING J.A.HENCKELS Four Star II 3-pc Knife Set, ZWILLING J.A.HENCKELS Henckels 9″ Sharpening Steel, ZWILLING J.A.HENCKELS Twin Pollux 6″ Chopper, ZWILLING J.A.HENCKELS Twin Kitchen Shear, ZWILLING J.A.HENCKELS Twinox Asia 4-pc Manicure Set, ZWILLING J.A.HENCKELS Nova 24-pc Cutlery Set + Salad Set, ZWILLING J.A.HENCKELS Pro S 2-pc Set Carvin Knife/Fork, ZWILLING J.A.HENCKELS Four Star 2-pc Knife Set – Santoku/Paring
The Perfect Gifts for any Foodie Family: La Gourmet 4-pc Disney Lunch Set With Pouch UP S89 90, Neoflam 30cm Amie in Frypan, Neoflam 26cm Amie Wok with Lid, Neoflam Venn Casserole, Kenwood Multi Snacker, Severin Plastic Foldable Food Slicer, Severin Popcorn Maker, WMF 24-pc Philadelphia Palma Cutlery Set, Tefal Clipso Modulo Pressure Cooker Cooker, Zojirushi Micom Electric Dispense Airpot, Meyer 5-pc Anolon Advance Set, Berndes Bononzo Saute Casserole with Glass lid & Induction Saute Pan, Kenwood Patissler Mixer, DeLonghi EC155 Espresso Coffee Maker, Tiger Airpot & Handy Jug, Green Pan 32cm Kyoto Induction Wok with Glass Lid, Taiyo Electric Thermo Cooker
Celebrate Christmas With The Finest: RCR 7-pc Adagio Whiskey Set, Riedel 2-pc Sommeliers Riesling Stemware Set, Schott Zwiesel Taste Stemware, Bohemia Lotus Vase, Crystal Bowl & 7-pc Home Lemonade Set, Bohemia PK Cut Crystalware, Portmeirion Merry Christmas Ceramicwares, Maebata 5-pc Glass Plate Set, Stanley Rogers 42-pc Stainless steel Cutlery Set
15 Dec 2011
The New WMF Concept Shop: Made in Germany specials. WMF Lounge Living Fruit Bowl, WMF Salsa 33pc Hanging Cutlery Set, WMF Perfert Pro Senior Set, WMF Flame 30pc Cutlery Set, WMF Loft Ice Bucket with Sieve Insert, WMF Jette Wine Cooler, WMF Asian Vitalis Set, WMF Premium One 4pc Cookware Set, WMF Diadem Plus 7pc Cookware Set, WMF DP 3pc Cookware Set, WMF Diadem Plus 6pc Cookware Set, WMF Perfect Plus Senior Set, WMF Perfect Plus Junior Set, WMF 28cm Skillet Wok, WMF 32cm Skillet Wok , WMF 32cm Deep Wok , WMF 36cm Chinese Wok , WMF 40cm Big Chinese Wok, WMF 30pc Cutlery Sets, WMF 24pc Cutlery Sets
16 Dec 2011
Merry, Merrier, Merriest: Barbie Electronic Rock Guitar, Hello Kitty Princess Castle, Barbie Intercom Telephone , Hello Kitty Megabloks Playset, Hello Kitty Princess Living Room Bedrom, Kung Zhu Hamsters, Dragon Snooker Advanced Playsets, Silverlit Build-a-bot, Moxie Girl Magic Hair Stamp N Style Doll, SpeedTech Technocopter
20 Dec 2011
Spritz more magic into the season with must-get designer scents for family and friends. Now to Thu 22 Dec 2011. Not valid with other promotions and offers. CALVIN KLEIN ckfree blue fragrance, BVLGARI Jasmin Noir L'Essence fragrance, GWEN STEFANI Harajuku Lovers Jingle G fragrance, LANVIN Avant Garde fragrance, ISSEY MIYAKE L'eau d'lssey Pour Homme Gold Absolute Edition fragrance, BURBERRY Body fragrance
Terms and conditions apply. See ad images for price list and for more details
Click on thumbnail[s] to enlarge. Sales on until up to 31 Dec 2011. Ending dates vary, see ad image for exact details
Get a FREE 28" Luggage + Up to $168 Cash Rebate (with NO Annual Fees ever!) when you apply for a ANZ Switch Card at www.anz.com.sg. T&Cs apply