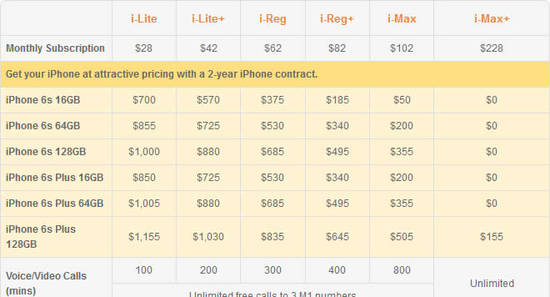 Here is M1's price plans for the Apple iPhone 6S and Apple iPhone 6S Plus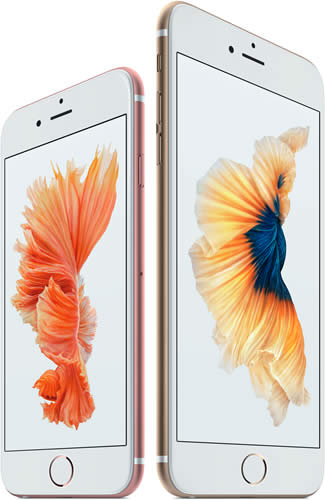 Prices start from $700 for the iPhone 6S 16GB and from $850 for the iPhone 6S Plus 16GB under the lowest $28/mth i-Lite plan
i-Lite
i-Lite+
i-Reg
i-Reg+
i-Max
i-Max+
Monthly Subscription
$28
$42
$62
$82
$102
$228
Get your iPhone at attractive pricing with a 2-year iPhone contract.
iPhone 6s 16GB
$700
$570
$375
$185
$50
$0
iPhone 6s 64GB
$855
$725
$530
$340
$200
$0
iPhone 6s 128GB
$1,000
$880
$685
$495
$355
$0
iPhone 6s Plus 16GB
$850
$725
$530
$340
$200
$0
iPhone 6s Plus 64GB
$1,005
$880
$685
$495
$355
$0
iPhone 6s Plus 128GB
$1,155
$1,030
$835
$645
$505
$155
Voice/Video Calls (mins)
100
200
300
400
800
Unlimited
Unlimited free calls to 3 M1 numbers
SMS/MMS
500
1000
1200
1500
2000
5000
Data
300MB
3GB
4GB
5GB
7GB
13GB
Excess data charges: $10.70/GB, capped at $188.32/mth
4G VAS
Subscription waived permanently
Download Speed*
3G – Up to 14.4Mbps
4G – Up to 300Mbps
Typical download speed range (at fixed location): 2.5 – 8.0Mbps
Typical download speed range (at fixed location): 47.6 – 114.3Mbps
Free Exclusive Benefits

Promotional waiver of first month's subscription for Caller Number Display for new line
Voicemail Service

Sunrisers Benefits

$500 Handset
Re-contract Discount
Caller Number Display
Roaming Subscription
Voicemail Service

NEW!
Free Youth Benefits

Campus & Army Camp calls
Unlimited SMS & MMS
Additional 1GB local data bundle

NEW!
Free Senior Benefits

Unlimited calls to 5 M1 numbers
Additional 500MB local data bundle

SurfShare Supplementary Plan
Add up to 2 SurfShare plans at just $6.42 (U.P. $12.84) each per month to share your main line's bundled data, talktime, SMS and MMS.
Data+ Add-on

1GB $8.56/mth
4GB $31.03/mth

2GB $16.05/mth
7GB $51.36/mth

3GB $23.54/mth
10GB $69.55/mth
Bundles in above tables are applicable for local usage only.
The iPhone 6s and iPhone 6s Plus will be available for walk-in sales on a 2-year contract at all M1 Shops and Exclusive Distributors from 26 September 2015.
Compare the new iPhones – Apple iPhone 6s Plus, iPhone 6s, iPhone 6 Plus, iPhone 6 & iPhone 5s Specs Comparison Table
No-contract pre-orders are also now open. More info
Other terms and conditions apply. For more info, click here.
Get a FREE 28" Luggage + Up to $168 Cash Rebate (with NO Annual Fees ever!) when you apply for a ANZ Switch Card at www.anz.com.sg. T&Cs apply