One more month until Christmas! This year, PlayStation fans can enjoy a happy and crazy gaming Christmas party with friends and family members!
Sony Computer Entertainment Hong Kong Limited (SCEH) Singapore Branch announced today that "PlayStation4 Season's Greeting Pack" will be released in Singapore on 5th December (Friday).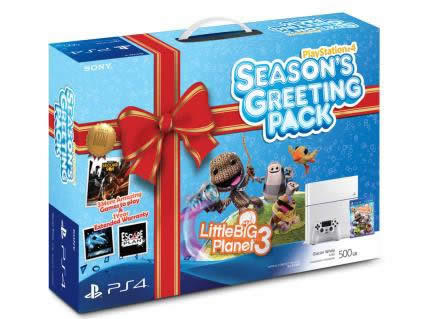 It includes a PlayStation4 game console (Jet Black or Glacier White selectable), PS4 best-selling game titles "LittleBigPlanet3" (Disc Version), "inFAMOUS: Second Son"(Digital Version), "Escape Plan" (Digital Version), "RESOGUN" and PS4 1-year extended warranty service. The pack will be available at a suggested retail price of SGD649, which saves you more than SGD150!
"LittleBigPlanet" is a platform action game for all ages, where you can bring your own imagination to life with the powerful customization tools and share your creation with other players from around the world. "LittleBigPlanet3" will introduce new playable characters with unique abilities, Toggle, OddSock and Swoop, who explore the planet Bunkum with Sackboy. Players will be able to choose their favorite characters and enjoy cooperative play by using multiple DUALSHOCK4 Wireless Controllers.
"inFAMOUS Second Son" brings you an action adventure game where surrounded by a society that fears superhumans. They are ruthlessly hunted down and caged. Step into a locked-down Seattle as Delsin Rowe, who has recently discovered his superhuman power and is now capable of fighting back against the oppressive Department of Unified Protection. Enjoy your power as you choose how you will push your awesome abilities to the limit and witness the consequences of your actions as they affect the city and people around you.
From the producers behind "Fat Princess" comes a new touching adventure "Escape Plan". It puts the fate of Lil & Laarg in the palm of your hand. You can control our hapless heroes and interact with the unique and twisted puzzles of each room. Only you can help them survive before their captor and nemesis, Bakuki, recycles them and turns them into his minions. Escape or die trying!
"RESOGUN" is an addictive shoot'em up developed by the creators of "Super Stardust HD", "Super Stardust Delta" and "Dead Nation". The eye-watering visuals can only be created by the power of PlayStation4.
Product name
PlayStation4 Season's Greeting Pack
Release date
5th December, 2014 (Friday)
Suggested Retail
Price
SGD$649
Content

PlayStation4 console x 1 (Colour: Jet Black or Glacier White)
PS4 software "LittleBigPlanet3" (English & Chinese version) (Disc Version) x 1
PS4 software "inFAMOUS: Second Son" (English & Chinese version) (Digital Version) x 1
PS4 software "Escape Plan" (English & Chinese version) (Digital Version) x 1
PS4 software "RESOGUN" (English Version) (Digital Version) x 1
DUALSHOCK4 Wireless Controller x 1
Mono headset x 1
AC power cord x 1
HDMI cable x 1
USB Cable x 1
PS4 1-year extended warranty service
Get a FREE 28" Luggage + Up to $168 Cash Rebate (with NO Annual Fees ever!) when you apply for a ANZ Switch Card at www.anz.com.sg. T&Cs apply