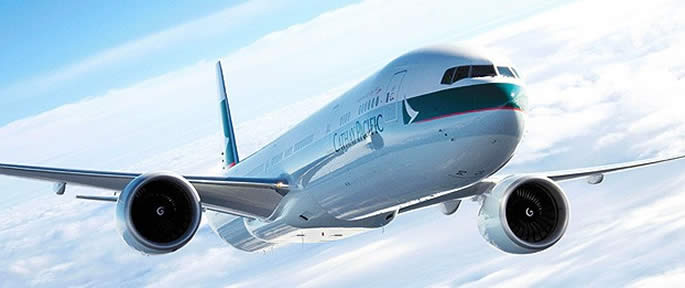 Due to COVID-19, some offers may no longer be valid or temporarily suspended. Please verify the validity (even if it says "ON TODAY" below) before heading down
Fly to exciting destinations for your next holiday. Enjoy special offers on Economy Class from $238 all-in
Cathay Pacific
P2W6D
Past Event


Uh oh, the event has ended. Don't miss out again, get the latest news via Newsletter, Telegram, Facebook, Twitter or RSS feed!
| | | | |
| --- | --- | --- | --- |
| Starts | 3 Jul 2018 (Tue) | Ends | 23 Jul 2018 (Mon) |
| Location | Cathay Pacific | | |

SINGPromos is now on Telegram. Click here to follow us now
Fly to exciting destinations for your next holiday. Enjoy special offers on Economy Class from $238 all-in
From the night markets in Taiwan to the Buckingham Palace in London, excite yourself with new experiences as you discover places.
Enjoy special Economy Class fares from $238 all-in, exclusively with American Express® Cards. Offer ends 23 Jul 2018, book online now.
Applicable for selected Singapore-issued American Express® Cards, not applicable for American Express® Corporate Cards.
Not a American Express cardholder yet? Apply for a Platinum card & get FREE gifts! Visit www.americanexpress.com for more info and to apply.
Flights to Washington start from 15 Sep 2018
To
Fare fr
Departure period
Hong Kong
$268

06 Jul 18 – 31 Jul 18
01 Sep 18 – 31 Oct 18

Hong Kong
$288

06 Jul 18 – 15 Nov 18
29 Dec 18 – 31 Jan 19
09 Feb 19 – 15 May 19

Hong Kong
$318

16 Nov 18 – 28 Dec 18
01 Feb 19 – 08 Feb 19

Belgium – Brussels
$1,348

06 Jul 18 – 15 Nov 18
30 Dec 18 – 31 Jan 19
09 Feb 19 – 15 May 19

Belgium – Brussels
$1,448

16 Nov 18 – 29 Dec 18
01 Feb 19 – 08 Feb 19

Denmark – Copenhagen
$1,408

06 Jul 18 – 15 Nov 18
30 Dec 18 – 31 Jan 19
09 Feb 19 – 15 May 19

Denmark – Copenhagen
$1,508

16 Nov 18 – 29 Dec 18
01 Feb 19 – 08 Feb 19

France – Paris, Charles De Gaulle
$1,458

06 Jul 18 – 15 Nov 18
30 Dec 18 – 31 Jan 19
09 Feb 19 – 15 May 19

France – Paris, Charles De Gaulle
$1,558

16 Nov 18 – 29 Dec 18
01 Feb 19 – 08 Feb 19

Germany – Frankfurt
$1,498

06 Jul 18 – 15 Nov 18
30 Dec 18 – 31 Jan 19
09 Feb 19 – 15 May 19

Germany – Frankfurt
$1,598

16 Nov 18 – 29 Dec 18
01 Feb 19 – 08 Feb 19

Ireland – Dublin
$1,488

06 Jul 18 – 15 Nov 18
30 Dec 18 – 31 Jan 19
09 Feb 19 – 15 May 19

Ireland – Dublin
$1,588

16 Nov 18 – 29 Dec 18
01 Feb 19 – 08 Feb 19

Israel – Tel Aviv
$1,988

06 Jul 18 – 15 Nov 18
30 Dec 18 – 31 Jan 19
09 Feb 19 – 15 May 19

Israel – Tel Aviv
$2,088

16 Nov 18 – 29 Dec 18
01 Feb 19 – 08 Feb 19

Italy – Milan, Milan Malpensa
$1,408

06 Jul 18 – 15 Nov 18
30 Dec 18 – 31 Jan 19
09 Feb 19 – 15 May 19

Italy – Milan, Milan Malpensa
$1,508

16 Nov 18 – 29 Dec 18
01 Feb 19 – 08 Feb 19

Italy – Rome
$1,428

06 Jul 18 – 15 Nov 18
30 Dec 18 – 31 Jan 19
09 Feb 19 – 15 May 19

Italy – Rome
$1,528

16 Nov 18 – 29 Dec 18
01 Feb 19 – 08 Feb 19

Japan – Fukuoka
$688

06 Jul 18 – 15 Nov 18
30 Dec 18 – 31 Jan 19
09 Feb 19 – 15 May 19

Japan – Fukuoka
$738

16 Nov 18 – 29 Dec 18
01 Feb 19 – 08 Feb 19

Japan – Nagoya, Chubu Centrair Int'l
$708

06 Jul 18 – 15 Nov 18
30 Dec 18 – 31 Jan 19
09 Feb 19 – 15 May 19

Japan – Nagoya, Chubu Centrair Int'l
$758

16 Nov 18 – 29 Dec 18
01 Feb 19 – 08 Feb 19

Japan – Osaka, Kansai Int'l
$718

06 Jul 18 – 15 Nov 18
30 Dec 18 – 31 Jan 19
09 Feb 19 – 15 May 19

Japan – Osaka, Kansai Int'l
$768

16 Nov 18 – 29 Dec 18
01 Feb 19 – 08 Feb 19

Japan – Tokyo, Haneda
$708

06 Jul 18 – 15 Nov 18
30 Dec 18 – 31 Jan 19
09 Feb 19 – 15 May 19

Japan – Tokyo, Haneda
$758

16 Nov 18 – 29 Dec 18
01 Feb 19 – 08 Feb 19

Japan – Tokyo, Narita Int'l
$708

06 Jul 18 – 15 Nov 18
30 Dec 18 – 31 Jan 19
09 Feb 19 – 15 May 19

Japan – Tokyo, Narita Int'l
$758

16 Nov 18 – 29 Dec 18
01 Feb 19 – 08 Feb 19

Korea – Busan
$728

06 Jul 18 – 31 Jul 18
01 Sep 18 – 31 Oct 18

Korea – Busan
$768

06 Jul 18 – 15 Nov 18
30 Dec 18 – 31 Jan 19
09 Feb 19 – 15 May 19

Korea – Busan
$818

16 Nov 18 – 29 Dec 18
01 Feb 19 – 08 Feb 19

Korea – Jeju
$728

06 Jul 18 – 31 Jul 18
01 Sep 18 – 31 Oct 18

Korea – Jeju
$768

06 Jul 18 – 15 Nov 18
30 Dec 18 – 31 Jan 19
09 Feb 19 – 15 May 19

Korea – Jeju
$818

16 Nov 18 – 29 Dec 18
01 Feb 19 – 08 Feb 19

Korea – Seoul, Incheon Int'l
$538

06 Jul 18 – 31 Jul 18
01 Sep 18 – 31 Oct 18

Korea – Seoul, Incheon Int'l
$618

06 Jul 18 – 15 Nov 18
30 Dec 18 – 31 Jan 19
09 Feb 19 – 15 May 19

Korea – Seoul, Incheon Int'l
$668

16 Nov 18 – 29 Dec 18
01 Feb 19 – 08 Feb 19

Mainland China – Beijing
$478

06 Jul 18 – 31 Jul 18
01 Sep 18 – 31 Oct 18

Mainland China – Beijing
$508

06 Jul 18 – 15 Nov 18
30 Dec 18 – 31 Jan 19
09 Feb 19 – 15 May 19

Mainland China – Beijing
$508

16 Nov 18 – 29 Dec 18
01 Feb 19 – 08 Feb 19

Mainland China – Changsha
$518

06 Jul 18 – 31 Jul 18
01 Sep 18 – 31 Oct 18

Mainland China – Changsha
$548

06 Jul 18 – 15 Nov 18
30 Dec 18 – 31 Jan 19
09 Feb 19 – 15 May 19

Mainland China – Changsha
$548

16 Nov 18 – 29 Dec 18
01 Feb 19 – 08 Feb 19

Mainland China – Chengdu
$478

06 Jul 18 – 31 Jul 18
01 Sep 18 – 31 Oct 18

Mainland China – Chengdu
$508

06 Jul 18 – 15 Nov 18
30 Dec 18 – 31 Jan 19
09 Feb 19 – 15 May 19

Mainland China – Chengdu
$508

16 Nov 18 – 29 Dec 18
01 Feb 19 – 08 Feb 19

Mainland China – Chongqing
$478

06 Jul 18 – 31 Jul 18
01 Sep 18 – 31 Oct 18

Mainland China – Chongqing
$508

06 Jul 18 – 15 Nov 18
30 Dec 18 – 31 Jan 19
09 Feb 19 – 15 May 19

Mainland China – Chongqing
$508

16 Nov 18 – 29 Dec 18
01 Feb 19 – 08 Feb 19

Mainland China – Dalian
$518

06 Jul 18 – 31 Jul 18
01 Sep 18 – 31 Oct 18

Mainland China – Dalian
$548

06 Jul 18 – 15 Nov 18
30 Dec 18 – 31 Jan 19
09 Feb 19 – 15 May 19

Mainland China – Dalian
$548

16 Nov 18 – 29 Dec 18
01 Feb 19 – 08 Feb 19

Mainland China – Fuzhou
$518

06 Jul 18 – 31 Jul 18
01 Sep 18 – 31 Oct 18

Mainland China – Fuzhou
$548

06 Jul 18 – 15 Nov 18
30 Dec 18 – 31 Jan 19
09 Feb 19 – 15 May 19

Mainland China – Fuzhou
$548

16 Nov 18 – 29 Dec 18
01 Feb 19 – 08 Feb 19

Mainland China – Guangzhou
$478

06 Jul 18 – 31 Jul 18
01 Sep 18 – 31 Oct 18

Mainland China – Guangzhou
$508

06 Jul 18 – 15 Nov 18
30 Dec 18 – 31 Jan 19
09 Feb 19 – 15 May 19

Mainland China – Guangzhou
$558

16 Nov 18 – 29 Dec 18
01 Feb 19 – 08 Feb 19

Mainland China – Guilin
$518

06 Jul 18 – 31 Jul 18
01 Sep 18 – 31 Oct 18

Mainland China – Guilin
$548

06 Jul 18 – 15 Nov 18
30 Dec 18 – 31 Jan 19
09 Feb 19 – 15 May 19

Mainland China – Guilin
$548

16 Nov 18 – 29 Dec 18
01 Feb 19 – 08 Feb 19

Mainland China – Haikou
$518

06 Jul 18 – 31 Jul 18
01 Sep 18 – 31 Oct 18

Mainland China – Haikou
$548

06 Jul 18 – 15 Nov 18
30 Dec 18 – 31 Jan 19
09 Feb 19 – 15 May 19

Mainland China – Haikou
$548

16 Nov 18 – 29 Dec 18
01 Feb 19 – 08 Feb 19

Mainland China – Hangzhou
$478

06 Jul 18 – 31 Jul 18
01 Sep 18 – 31 Oct 18

Mainland China – Hangzhou
$508

06 Jul 18 – 15 Nov 18
30 Dec 18 – 31 Jan 19
09 Feb 19 – 15 May 19

Mainland China – Hangzhou
$558

16 Nov 18 – 29 Dec 18
01 Feb 19 – 08 Feb 19

Mainland China – Jinan
$518

06 Jul 18 – 31 Jul 18
01 Sep 18 – 31 Oct 18

Mainland China – Jinan
$548

06 Jul 18 – 15 Nov 18
30 Dec 18 – 31 Jan 19
09 Feb 19 – 15 May 19

Mainland China – Jinan
$548

16 Nov 18 – 29 Dec 18
01 Feb 19 – 08 Feb 19

Mainland China – Kunming
$518

06 Jul 18 – 31 Jul 18
01 Sep 18 – 31 Oct 18

Mainland China – Kunming
$548

06 Jul 18 – 15 Nov 18
30 Dec 18 – 31 Jan 19
09 Feb 19 – 15 May 19

Mainland China – Kunming
$548

16 Nov 18 – 29 Dec 18
01 Feb 19 – 08 Feb 19

Mainland China – Nanjing
$478

06 Jul 18 – 31 Jul 18
01 Sep 18 – 31 Oct 18

Mainland China – Nanjing
$508

06 Jul 18 – 15 Nov 18
30 Dec 18 – 31 Jan 19
09 Feb 19 – 15 May 19

Mainland China – Nanjing
$558

16 Nov 18 – 29 Dec 18
01 Feb 19 – 08 Feb 19

Mainland China – Nanning
$478

06 Jul 18 – 31 Jul 18
01 Sep 18 – 31 Oct 18

Mainland China – Nanning
$508

06 Jul 18 – 15 Nov 18
30 Dec 18 – 31 Jan 19
09 Feb 19 – 15 May 19

Mainland China – Nanning
$558

16 Nov 18 – 29 Dec 18
01 Feb 19 – 08 Feb 19

Mainland China – Ningbo
$518

06 Jul 18 – 31 Jul 18
01 Sep 18 – 31 Oct 18

Mainland China – Ningbo
$548

06 Jul 18 – 15 Nov 18
30 Dec 18 – 31 Jan 19
09 Feb 19 – 15 May 19

Mainland China – Ningbo
$548

16 Nov 18 – 29 Dec 18
01 Feb 19 – 08 Feb 19

Mainland China – Qingdao
$478

06 Jul 18 – 31 Jul 18
01 Sep 18 – 31 Oct 18

Mainland China – Qingdao
$508

06 Jul 18 – 15 Nov 18
30 Dec 18 – 31 Jan 19
09 Feb 19 – 15 May 19

Mainland China – Qingdao
$558

16 Nov 18 – 29 Dec 18
01 Feb 19 – 08 Feb 19

Mainland China – Sanya
$518

06 Jul 18 – 31 Jul 18
01 Sep 18 – 31 Oct 18

Mainland China – Sanya
$548

06 Jul 18 – 15 Nov 18
30 Dec 18 – 31 Jan 19
09 Feb 19 – 15 May 19

Mainland China – Sanya
$548

16 Nov 18 – 29 Dec 18
01 Feb 19 – 08 Feb 19

Mainland China – Shanghai, Shanghai Hongqiao Int'l
$458

06 Jul 18 – 31 Jul 18
01 Sep 18 – 31 Oct 18

Mainland China – Shanghai, Shanghai Hongqiao Int'l
$488

06 Jul 18 – 15 Nov 18
30 Dec 18 – 31 Jan 19
09 Feb 19 – 15 May 19

Mainland China – Shanghai, Shanghai Hongqiao Int'l
$488

16 Nov 18 – 29 Dec 18
01 Feb 19 – 08 Feb 19

Mainland China – Shanghai, Shanghai Pudong Int'l
$458

06 Jul 18 – 31 Jul 18
01 Sep 18 – 31 Oct 18

Mainland China – Shanghai, Shanghai Pudong Int'l
$488

06 Jul 18 – 15 Nov 18
30 Dec 18 – 31 Jan 19
09 Feb 19 – 15 May 19

Mainland China – Shanghai, Shanghai Pudong Int'l
$488

16 Nov 18 – 29 Dec 18
01 Feb 19 – 08 Feb 19

Mainland China – Tianjin
$478

06 Jul 18 – 31 Jul 18
01 Sep 18 – 31 Oct 18

Mainland China – Tianjin
$508

06 Jul 18 – 15 Nov 18
30 Dec 18 – 31 Jan 19
09 Feb 19 – 15 May 19

Mainland China – Tianjin
$558

16 Nov 18 – 29 Dec 18
01 Feb 19 – 08 Feb 19

Mainland China – Wenzhou
$518

06 Jul 18 – 31 Jul 18
01 Sep 18 – 31 Oct 18

Mainland China – Wenzhou
$548

06 Jul 18 – 15 Nov 18
30 Dec 18 – 31 Jan 19
09 Feb 19 – 15 May 19

Mainland China – Wenzhou
$548

16 Nov 18 – 29 Dec 18
01 Feb 19 – 08 Feb 19

Mainland China – Wuhan
$478

06 Jul 18 – 31 Jul 18
01 Sep 18 – 31 Oct 18

Mainland China – Wuhan
$508

06 Jul 18 – 15 Nov 18
30 Dec 18 – 31 Jan 19
09 Feb 19 – 15 May 19

Mainland China – Wuhan
$508

16 Nov 18 – 29 Dec 18
01 Feb 19 – 08 Feb 19

Mainland China – Xi'an
$518

06 Jul 18 – 31 Jul 18
01 Sep 18 – 31 Oct 18

Mainland China – Xi'an
$548

06 Jul 18 – 15 Nov 18
30 Dec 18 – 31 Jan 19
09 Feb 19 – 15 May 19

Mainland China – Xi'an
$548

16 Nov 18 – 29 Dec 18
01 Feb 19 – 08 Feb 19

Mainland China – Xiamen
$478

06 Jul 18 – 31 Jul 18
01 Sep 18 – 31 Oct 18

Mainland China – Xiamen
$508

06 Jul 18 – 15 Nov 18
30 Dec 18 – 31 Jan 19
09 Feb 19 – 15 May 19

Mainland China – Xiamen
$508

16 Nov 18 – 29 Dec 18
01 Feb 19 – 08 Feb 19

Mainland China – Zhengzhou
$518

06 Jul 18 – 31 Jul 18
01 Sep 18 – 31 Oct 18

Mainland China – Zhengzhou
$548

06 Jul 18 – 15 Nov 18
30 Dec 18 – 31 Jan 19
09 Feb 19 – 15 May 19

Mainland China – Zhengzhou
$548

16 Nov 18 – 29 Dec 18
01 Feb 19 – 08 Feb 19

Netherlands – Amsterdam
$1,418

06 Jul 18 – 15 Nov 18
30 Dec 18 – 31 Jan 19
09 Feb 19 – 15 May 19

Netherlands – Amsterdam
$1,518

16 Nov 18 – 29 Dec 18
01 Feb 19 – 08 Feb 19

Spain – Barcelona
$1,408

06 Jul 18 – 15 Nov 18
30 Dec 18 – 31 Jan 19
09 Feb 19 – 15 May 19

Spain – Barcelona
$1,508

16 Nov 18 – 29 Dec 18
01 Feb 19 – 08 Feb 19

Spain – Madrid
$1,418

06 Jul 18 – 15 Nov 18
30 Dec 18 – 31 Jan 19
09 Feb 19 – 15 May 19

Spain – Madrid
$1,518

16 Nov 18 – 29 Dec 18
01 Feb 19 – 08 Feb 19

Switzerland – Zurich
$1,418

09 Feb 19 – 15 May 19
06 Jul 18 – 15 Nov 18
30 Dec 18 – 31 Jan 19

Switzerland – Zurich
$1,518

16 Nov 18 – 29 Dec 18
01 Feb 19 – 08 Feb 19

Taiwan – Kaohsiung
$478

06 Jul 18 – 31 Jul 18
01 Sep 18 – 31 Oct 18

Taiwan – Kaohsiung
$518

06 Jul 18 – 15 Nov 18
30 Dec 18 – 31 Jan 19
09 Feb 19 – 15 May 19

Taiwan – Kaohsiung
$568

16 Nov 18 – 29 Dec 18
01 Feb 19 – 08 Feb 19

Taiwan – Taichung
$478

06 Jul 18 – 31 Jul 18
01 Sep 18 – 31 Oct 18

Taiwan – Taichung
$518

06 Jul 18 – 15 Nov 18
30 Dec 18 – 31 Jan 19
09 Feb 19 – 15 May 19

Taiwan – Taichung
$568

16 Nov 18 – 29 Dec 18
01 Feb 19 – 08 Feb 19

Taiwan – Taipei, Taiwan Taoyuan Int'l
$408

06 Jul 18 – 31 Jul 18
01 Sep 18 – 31 Oct 18

Taiwan – Taipei, Taiwan Taoyuan Int'l
$518

06 Jul 18 – 15 Nov 18
30 Dec 18 – 31 Jan 19
09 Feb 19 – 15 May 19

Taiwan – Taipei, Taiwan Taoyuan Int'l
$568

16 Nov 18 – 29 Dec 18
01 Feb 19 – 08 Feb 19

Thailand – Bangkok
$238

06 Jul 18 – 31 Jul 18
01 Sep 18 – 31 Oct 18

Thailand – Bangkok
$258

06 Jul 18 – 15 Nov 18
30 Dec 18 – 31 Jan 19
09 Feb 19 – 15 May 19

Thailand – Bangkok
$288

16 Nov 18 – 29 Dec 18
01 Feb 19 – 08 Feb 19

United Kingdom – London, Gatwick
$1,468

06 Jul 18 – 15 Nov 18
30 Dec 18 – 31 Jan 19
09 Feb 19 – 15 May 19

United Kingdom – London, Gatwick
$1,568

16 Nov 18 – 29 Dec 18
01 Feb 19 – 08 Feb 19

United Kingdom – London, Heathrow
$1,468

06 Jul 18 – 15 Nov 18
30 Dec 18 – 31 Jan 19
09 Feb 19 – 15 May 19

United Kingdom – London, Heathrow
$1,568

16 Nov 18 – 29 Dec 18
01 Feb 19 – 08 Feb 19

United Kingdom – Manchester
$1,418

06 Jul 18 – 15 Nov 18
30 Dec 18 – 31 Jan 19
09 Feb 19 – 15 May 19

United Kingdom – Manchester
$1,518

16 Nov 18 – 29 Dec 18
01 Feb 19 – 08 Feb 19
For more info, click here
Book your hotels online at much less than over-the-counter rates. Popular online hotel booking services include Air Asia Go www.airasiago.com/en-sg, Hotels.com www.Hotels.com, Expedia www.expedia.com.sg and Agoda www.agoda.com