We are now on Telegram
Samsung has unveiled the latest addition to its 2012 Smart TV LED line-up with the its premium 75-inch ES9000 LED Smart TV. The best-in-class ES9000 meets the rising market demand for televisions 60-inches and larger, and delivers a unique design concept with a beautiful rose-gold-colored finish.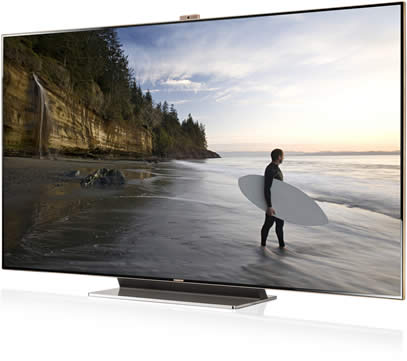 As part of the extra-large-screen premium TV lineup, the introduction of the ES9000—the ultimate TV—positions Samsung to be the global TV market leader for the seventh consecutive year.
Adding to the ES9000's extra-large-screen size—75 inches of purely immersive viewing—are premium design qualities that meet consumers' varying tastes. The set's unique and timeless design concept includes a super-slim 7.9 millimeter curved bezel with no visible seams, cleanly complementing the TV's square stand. Additionally, the TV's built-in camera is hidden within the top of the bezel, rendering it invisible when not in use. Finally, the application of a luxurious rose-gold-colored finish to the entire body of the set makes it one of the most unique and attractive smart TVs to date.
The ES9000 includes the complete suite of Samsung's Smart TV features—Smart Interaction, Smart Content and Smart Evolution—that were introduced with Samsung's flagship Smart TVs earlier this year. These features enable users to control and interact with their TVs in a more intuitive way; choose from a broader range of premium and signature content that can be shared across multiple devices; and access the latest hardware and software features to constantly receive updates on their Smart TVs.
The ES9000 also includes Sound Share, the newest Smart TV feature, which automatically and wirelessly connects TV audio to Samsung's Series 6 and Series 7 Wireless Audio with Dock Systems. Furthermore, the ES9000 offers a faster and more seamless Smart TV experience to fit the ultimate lifestyle, through a new dual-core processor that allows consumers to download and use multiple apps while browsing the Web.
The ES9000's picture quality matches this enhanced Smart TV experience, utilizing Samsung's Micro Dimming Ultimate and Precision Black technology to deliver richer, more optimized color and detail; higher contrast ratios; a 30 percent improvement in sharpness and black levels; and a 60 percent improvement in brightness levels over the ES8000 series—supporting larger screen sizes and longer viewing distances.
The 75″ ES9000 will be available from 2nd October 2012 at a RRP of $12,888.