The Monetary Authority of Singapore (MAS) announced today that it will issue more "good-as-new" $2 notes for the coming Lunar New Year to meet an anticipated increase in demand.
This is the third consecutive year that MAS is issuing "good-as-new" $2 notes. These are clean and crisp notes retrieved immediately after the previous Lunar New Year.
Both the brand new and "good-as-new" $2 notes will be available at participating retail banks from 2 February 2015.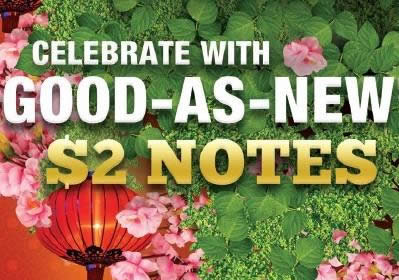 In 2014, 14% of the $2 notes issued during the Lunar New Year were "good-as-new" notes, an increase of 3% from 2013. This allowed MAS to maintain the quantity of brand new $2 notes issued for the 2014 Lunar New Year despite the increase in demand for $2 notes in that year.
Mr Low Kwok Mun, Assistant Managing Director, MAS, said, "Since the 'good-as-new' $2 notes were introduced in 2013, the total energy saved from printing less new notes is equivalent to that needed to power 100 4-room HDB flats for 10 weeks. With greater awareness and support for this initiative, we can achieve even more this year."
Mrs Ong-Ang Ai Boon, Director, ABS, said, "Our member banks are happy to support this meaningful cause again. Since the introduction of 'good-as-new' $2 notes in 2013, the response from the public has been positive, and we hope to see more people asking for the notes this year. The banks will continue to promote these notes to the public."
"This is a great initiative by MAS to encourage the use of 'good-as-new' $2 notes for 'hong baos', which helps to reduce the printing of excess notes, thus preventing wastage and saving resources," said Mr Eugene Tay, Director of Green Future Solutions.
The public can visit the MAS Facebook page at "Ask for Good-as-New Notes" (www.facebook.com/askforgoodasnewnotes) to find out more about this green initiative.
Get $120 cashback when you apply for a Citibank card at www.citibank.com.sg!