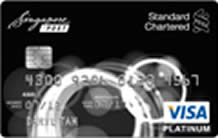 We are now on Telegram
Standard Chartered and SingPost has announced the launch of the Standard Chartered SingPost Platinum Visa Credit Card. This is SingPost's first co-brand credit card, and is specially designed to cater to the needs of online and supermarket shoppers.
Cardholders can look forward to attractive rebates on online and supermarket purchases. The card offers 6% CashBack on purchases made at supermarkets in Singapore1 and 2% CashBack on eligible online transactions and on SingPost's e-commerce portals, vPOST and Clout Shoppe.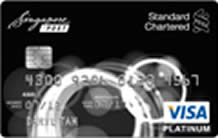 Cardholders can enjoy CashBack of up to S$50 per month, as long as they achieve the minimum card spend of S$500 on the card in the same month. This means that a cardholder can potentially earn up to S$600 CashBack in a year if he fulfils the minimum card spend every month for that year. CashBack will be credited to cardholders on a monthly basis.
In addition, the card also rewards those accessing other SingPost's products and services such as SmartPac, Speedpost EMS and self-storage services.
Catering to the increasing demand for e-commerce
The Standard Chartered SingPost Co-Brand Card is geared towards the increasing demand for e-commerce.
The Bank's research revealed that the number of online transactions made by the Bank's cardholders in 2011 increased by 52% from 2010. This trend is still ongoing, pointing to a strong and consistent growth in demand for online shopping. Since January 2012, the number of online spend completed has increased by an average of 7% each month.
High rebates for supermarket purchases
This card is also geared towards catering to the basic needs of consumers and offering high rebates of 6% for groceries purchased at supermarkets.
Research carried out by Visa in 2011 revealed that on the average, shoppers frequent about two supermarkets or hypermarkets a week in Singapore and that credit cards are shoppers' most preferred payment choice. Key motivators driving credit card usage for shopping at supermarkets are rewards, loyalty programmes and convenience, 83% of shoppers are motivated by rewards and loyalty programmes.
Meranda Chan, Country Manager, Singapore and Brunei, Visa, said: "Our survey shows that consumers welcome card payment for groceries, as it offers greater convenience and is a more rewarding way to pay. With that in mind, we are proud to work with Standard Chartered to offer cardholders a smarter way to pay for everyday goods."
With this card, supermarket shoppers are rewarded based on their existing shopping habits. The Standard Chartered SingPost Co-Brand Card is available from 4 July 2012.
Click on thumbnails to enlarge.
For more information, visit www.sc.com/sg/.