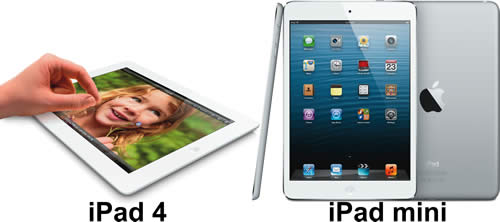 We are now on Telegram
The Apple iPad Mini tablet and 4th gen iPad is now available for pre-order in the Singapore Apple Store at www.apple.com from $448. If you order now, you can expect to receive it in about two weeks
The prices for the no-contract iPad Mini Wifi tablets range from S$448 for the iPad Mini 16GB, S$578 for the iPad Mini 32GB and $708 for the iPad Mini 64GB. Prices for the no-contract iPad Mini 4G Cellular tablets range from S$618 for the iPad Mini 16GB, S$748 for the iPad Mini 32GB and $878 for the iPad Mini 64GB
The prices for the no-contract 4th gen iPad Wifi tablets range from S$658 for the iPad 4 16GB, S$958 for the iPad 4 32GB and $1088 for the iPad 4 64GB. Prices for the no-contract iPad 4 4G Cellular tablets range from S$828 for the iPad 4 16GB, S$958 for the iPad 4 32GB and $1088 for the iPad 4 64GB
Cellular versions will be delivered only on late November. Visit www.apple.com now before stocks run out soon!
UPDATE 2 Nov: Pre-orders have not closed since opening. We don't think it will go down soon. Take your time to ponder and order 🙂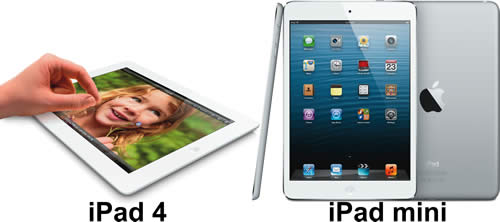 Apple also imposes a limit of two per customer and an estimated shipping lead time of two weeks.
If you are planning to buy the iPad Mini or 4th gen iPad, better rush soon as you never know when their stocks will end.
Here is how the Singapore iPad Mini order page looked like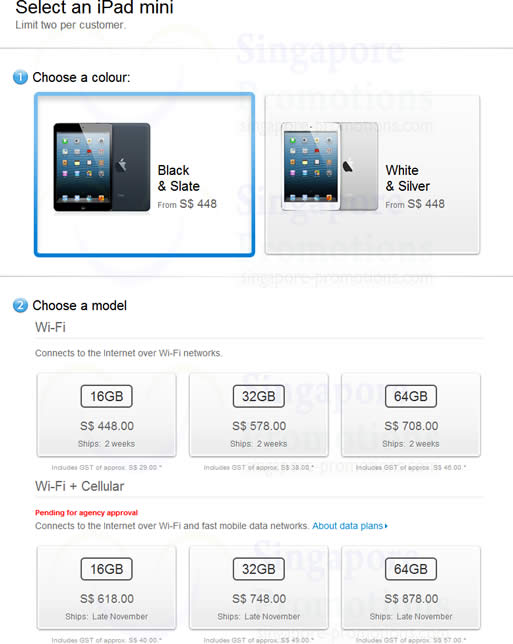 Here is how the Singapore iPad 4 order page looked like