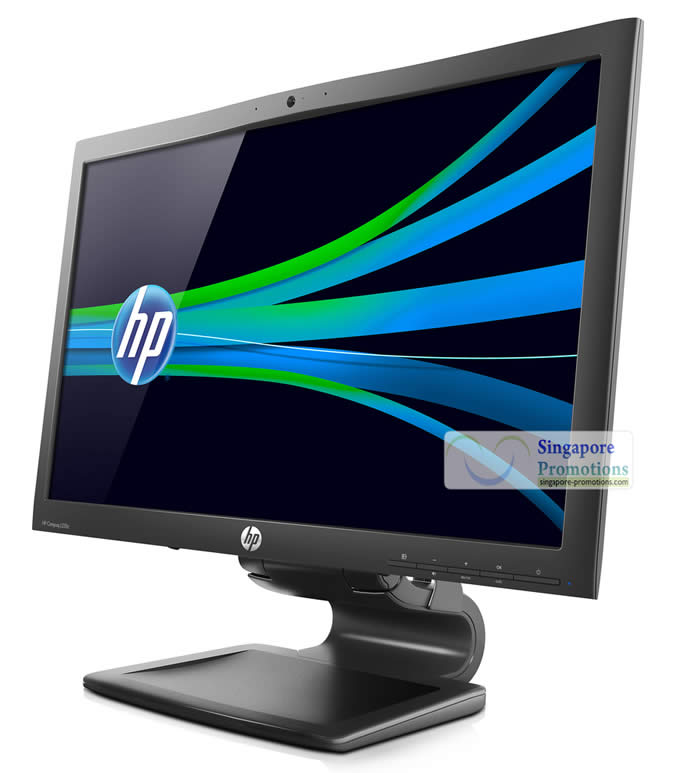 SINGAPORE, Jan. 4, 2012 – HP today unveiled new consumer PCs and a notebook docking monitor that offer consumers and professionals enhanced design, performance and convenience.
The HP Omni27 All-in-One PC is designed specifically for consumers who demand meticulous design, simplicity and performance. Its elegant flat panel display features edge-to-edge glass and tilts up to 25 degrees, allowing users to adjust the 27-inch diagonal high-definition (HD)(1) screen to their comfort level.
The HP Omni27 is the first non-touch HP PC to feature HP's Magic Canvas software, which allows the desktop to expand horizontally and accommodate the photos, videos and applications that users need.
Convenient features like HP LinkUp Technology(2) also let users access and edit content from a notebook PC on the Omni27's large display with minimized file transfer hassles.
As powerful as it is beautiful, the HP Omni27 offers multi-core processors, advanced HD graphics and up to 2TB(3) of storage. Additionally, standard features such as Beats AudioTM, a Blu-Ray disc drive(4) and optional TV tuner(5) make it the ideal multimedia machine.
The HP Omni27 All-in-One PCs are expected to be available in Singapore in February 2012. Local pricing will be announced at a later stage.
HP Pavilion HPE Phoenix h9 PC
Powerful machine that keeps you in the spotlight
The HP Pavilion HPE Phoenix h9 is the company's most powerful Pavilion PC to date, offering a futuristic design and expandability for users focused on content creation and immersive gaming.
Distinct hardware details, including armor plating that extends across the top and front of the bezel and attention-grabbing lighting in red, make the HPE Phoenix stand out among today's desktop PCs. The HPE Phoenix has room for up to 16GB of DDR3 memory and three internal hard drives(6), enabling users to push their performance to the limit.
With a peek-a-boo side panel, the HPE Phoenix also has available an optional liquid cooling system(7) to extend the life of the PC by drawing heat away from high-performance processors, and protecting sensitive components from heat overload.
High-end discrete graphics cards can also support multiple displays, while delivering captivating video performance and picture quality.
Users can also rise to the next level of immersive gaming with RIFT Digital Collector's Edition, the latest massively multiplayer online role-playing game (MMORPG) from Trion. Users can download and enjoy free access to RIFT for sixty days with every purchase of HP Pavilion HPE Phoenix. Following which, a charge of around US$15 per month is necessary for continuous access to the game(8).
The HP Pavilion HPE Phoenix h9 PCs are expected to be available in Singapore in February 2012. Local pricing will be announced at a later stage.
HP Compaq L2311c Notebook Docking Monitor
Convenient display solution for businesses on any budget
The HP Compaq L2311c 23-inch (diagonal) Notebook Docking Monitor is designed to provide mobile professionals with a desktop experience via one easy connection from a USB cable to any notebook PC with a USB 2.0 or 3.0 port(9).
Ideal for notebook users in shared or permanent work spaces, the HP Compaq L2311c sports a full high-definition (HD)(1), LED backlit LCD display panel and features HP Smart AC Technology(10) that powers and charges HP notebook PCs while also detecting and regulating the capacity of the electrical current.
The HP Compaq L2311c efficiently creates an expanded plug-and-play workspace for increased productivity with one USB connection that provides full HD(1) video, Internet connectivity and access to peripherals directly from the monitor's integrated Ethernet, SuperSpeed USB 3.0 and USB 2.0 ports.
The monitor also features a built-in 720p HD webcam(1,11) and is equipped with HP MyRoom(12) business edition software and Cyberlink YouCam(13), a productive webcam tool that eases communication with co-workers and clients in any location.
Local pricing and availability of the HP Compaq L2311c will be announced at a later stage.
Also new from HP are the HP LV1911 and LV2011 LED Backlit LCD Monitors that provide business performance at budget-friendly prices. The LED backlighting employed in the two new value monitors – and the HP Compaq L2311c – reduces the number and overall size of panel components for an attractive, slim form factor, while also minimizing power consumption when compared to previous CCFL panel monitors. The HP LV1911 and LV2011 respectively measure 18.5 and 19.5 inches diagonally and offer VGA inputs, 3,000,000:1 dynamic contrast ratios and 5ms response times(14).
The HP LV1911 is expected to be available in Singapore in February 2012. Local pricing will be announced at a later stage. The HP LV2011 is expected to be available in Singapore in mid-January 2012. Local pricing will be announced at a later stage.
Click on thumbnails to enlarge.
Notes:
(1) HD content is required to view HD images.
(2) HP LinkUp Technology is compatible with any notebook or desktop PC running Windows XP, Windows Vista or Windows 7. Internet connection and home network required.
(3) For hard drives, GB = 1 billion bytes. Actual formatted capacity is less. Up to 14GB of hard drive is reserved for system recovery software.
(4) As Blu-Ray is a new format containing new technologies, certain disc, digital connection, compatibility and/or performance issues may arise, and do not constitute defects in the product. Flawless playback on all systems is not guaranteed. In order for some Blu-Ray titles to play, they may require a DVI or HDMI digital connection and your display may require HDCP support. This Blu-Ray drive does not support writing to ultra-high speed CDRW media (16X to 32X advertised performance). HD-DVD movies cannot be played on this PC.
(5) ATSC high-definition (HD) and NTSC source content varies and will depend on broadcast signal, antenna, geographic location and other factors. An external over-the-air antenna that receives UHF and VHF signals is required for ATSC reception. Viewing HD content will require a compatible high-definition display. Ability to record, edit, or transfer broadcast content such as TV programming may be limited depending on the type of content. Performance issues may arise, and do not constitute defects in the product. For optimal results, HP recommends closing all other applications while recording and watching television programs.
(6) Up to three internal hard drives can be configured and they are sold separately.
(7) Liquid cooling system is optional and varies by configuration.
(8) Terms and conditions apply. Prices are estimates only and may change from time to time.
(9) USB cable sold separately.
(10) HP Smart AC technology will charge HP notebooks up to 90W and only allows power pass through for HP notebooks above 90W.
(11) Internet access required and not included.
(12) HP MyRoom must be downloaded before use at: http://www.rooms.hp.com/myroom. Internet service required.
(13) Activity that puts additional load on your network, such as screen sharing, audio and/or video over the Internet can impact your net­work performance. Consider your options carefully when deciding which activities should be done concurrently. Your hardware, network bandwidth and performance will determine overall audio and video quality.
(14) All specifications represent the typical specifications provided by HP's component manufacturers; actual performance may vary either higher or lower.
Get $120 cashback when you apply for a Citibank card at www.citibank.com.sg!