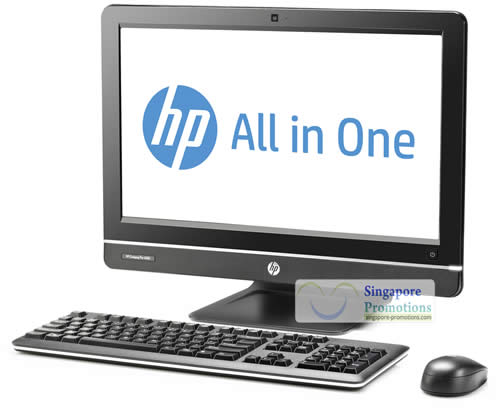 We are now on Telegram
HP today expanded its all-in-one desktop PC portfolio with business and consumer designs that deliver multimedia-rich performance, trusted reliability and enhanced security in a small footprint.
The new all-in-ones are designed as cost-, space- and energy-efficient alternatives to a traditional desktop and monitor combination for consumers and businesses, including government, healthcare, education and retail customers. The new lineup includes non-touch PCs, as well as touch-enabled solutions that build on 30 years of touch technology innovation for convenient and intuitive computing.
"Customers have been asking for all-in-one PC designs that do not compromise on performance, reliability or security," said Christoph Schell, Vice President, PC Division, Asia Pacific, HP. "With these sleek, elegant designs and powerful options, HP continues to innovate to meet the needs of a growing marketplace."
Products announced today include:
HP Compaq Elite 8300 All-in-One, HP's highest quality all-in-one business PC featuring security and management features with optional touch capability;
HP Compaq Pro 6300 All-in-One, offering the optimal combination productivity, performance and serviceability needed to satisfy most everyday business and public sector computing requirements;
HP ENVY 23 All-in-One, an ideal PC for consumers who demand a sleek design and enhanced performance;
HP Pavilion 23 All-in-One, offering essential features and processing power for everyday computing tasks.
"All-in-one form factor PCs are expected to grow in popularity, accounting for 27 percent(1) of worldwide desktop PC sales by 2016," said Danielle Levitas, Group Vice President, IDC. "This trend puts vendors with a broad offering of AIO products and options – like HP – in a very good position to meet that growing commercial demand."
Smart designs for accelerated business efficiency
The HP Compaq Elite 8300 All-in-One Business PC, HP's most powerful and multimedia-rich all-in-one PC, provides demanding enterprise users with proven performance and the option for intuitive touch experiences. An attractive, space-efficient solution ideal for customer-facing work areas, kiosks and more, the PC features a 23-inch diagonal, full high-definition (HD)(2) display with an optional, built-in 2 megapixel (MP) webcam and dual microphone array. SRS Premium Sound PRO™ also comes standard for high-frequency definition in a variety of listening environments.
Powered by third- and second-generation Intel® Core™ vPro™ processors(3,4) that provide outstanding performance, the HP Compaq Elite 8300 All-in-One offers Intel® HD Graphics or a choice of discrete graphics to enhance imagery and multimedia capabilities. Intel® Smart Response Technology disk cache solution(5) also delivers a level of performance normally associated with solid state drives, while retaining the data storage capacity of today's large hard disk drives.
With its added touch functionality, the HP Compaq Elite 8300 Touch All-in-One employs multitouch, optical technology for interactive healthcare, retail and other applications. The multitouch technology recognizes simultaneous input from more than one finger to enable the use of gestures, and the onboard suite of HP touch-enabled software delivers interaction with files, media and productivity applications.
The HP Compaq Elite 8300 Touch All-in-One provides a solution for healthcare patients to conveniently enter personal data and for students to stay engaged. Both of the space-saving HP Compaq Elite 8300 models also feature VESA-compatible mounting(6) which allows retail business to save valuable floor space while manufacturing facilities can deploy systems in easily accessible areas without cluttering work space.
The HP Compaq Pro 6300 All-in-One Business PC is a mainstream business-class all-in-one designed for reliable and consistent computing. The non-touch PC sports third- and second-generation Intel Core processors(3) with optional discrete graphics for solid performance and simple manageability for growing business and IT environments. It offers a 21.5-inch diagonal, full HD,(2) LED backlit display, internal stereo speakers and optional 2MP webcam.
Rounding out the HP all-in-one business portfolio, the previously announced HP Compaq Pro 4300 All-in-One is HP's most cost- and space-efficient offering. The 20-inch diagonal form factor is powered by third- and second-generation Intel® Core™ processors(3) at a value that will not break tight budgets.
The new business all-in-ones include multilayered client security features that safeguard data, devices and user identities. Simple, centralized deployment through HP ProtectTools(7) delivers defense features, such as hard-drive encryption, HP Face Recognition, HP Disk Sanitizer and HP File Sanitizer.(8) HP BIOS Protection(9) offers hardware-level defense against virus attacks and other security threats.
Stylish, affordable all-in-one PCs for every consumer
The HP ENVY 23 and HP Pavilion 23 All-in-One PCs combine elegant design with robust performance. Both offer full 1080p HD(2) 23-inch diagonal displays, multi-core processors, advanced graphics and up to 2 terabytes (TB) of storage to accommodate the demands of any user.
The HP ENVY 23 All-in-One PC offers an elegant, free-standing display with edge-to-edge glass that can be wall-mounted. Engineered for an enriched entertainment experience, the HP ENVY 23 comes standard with Beats Audio™ and offers optional HDMI-in port, Blu-Ray disc drive and TV tuner.(9,10)
The HP Pavilion 23 All-in-One PC features a slim and elegant easel design and provides a choice of Intel® or AMD processors that deliver exceptional performance at an affordable price.
Both PCs offer wireless capabilities and exclusive features such as the HP TrueVision HD Webcam, HP Magic Canvas and HP LinkUp for the latest in connected entertainment and convenience. HP's Magic Canvas software enables users to expand the desktop horizontally to accommodate photos, videos and applications. Microsoft Windows® desktop shortcuts, task bar and start menu can all be accessed through the HP Magic Canvas, so users can use entertainment and work applications in the same place.
Pricing and availability
The HP Compaq Elite 8300 Touch All-in-One Business PC starts from SG$1,599 and is expected to be available in September 2012. The HP Compaq Elite 8300 All-in-One Non-Touch starts from SG$1,499 and is expected to be available in September 2012.
The HP Compaq Pro 6300 All-in-One Business PC starts from SG$1,299 and is expected to be available in September 2012.
The HP Compaq Pro 4300 All-in-One Business PC starts from SG$1,099 and is expected to be available in August 2012.
Local pricing and availability for the HP ENVY 23 All-in-One and HP Pavilion 23 All-in-One will be announced at a later date.
See images for more details
Click on thumbnail[s] to enlarge.
(1) "IDC Worldwide Quarterly PC Tracker 2012 Q1 – Sub Form Factor Forecast," IDC, June 2012.
(2) HD content required for HD playback.
(3) Multi-Core is designed to improve performance of certain software products. Not all customers or software applications will necessarily benefit from use of this technology. 64-bit computing on Intel architecture requires a computer system with a processor, chipset, BIOS, operating system, device drivers and applications enabled for Intel 64 architecture. Processors will not operate (including 32-bit operation) without an Intel 64 architecture-enabled BIOS. Performance will vary depending on hardware and software configurations. Intel's numbering is not a measurement of higher performance.
(4) Some functionality of this technology, such as Intel Active management technology and Intel Virtualization technology, requires additional third-party software in order to run. Availability of future "virtual appliances" applications for Intel vPro technology is dependent on third-party software providers. Microsoft Windows required.
(5) Requires a compatible Intel Core processor, enabled chipset, Intel Rapid Storage technology software and non-SED HDD + optional mSATA SSD flash cache module. Intel Smart Response Technology is only available on select 2012 HP systems. Depending on system configuration, results may vary.
(6) Mounting hardware sold separately.
(7) HP ProtectTools requires Microsoft Windows.
(8) HP File Sanitizer and HP Disk Sanitizer are suitable for the use cases outlined in the DOD 5220.22-M Supplement. Does not support Solid State Drives. Requires Disk Sanitizer, External Edition for Business Desktops from hp.com. Initial setup required. Web history deleted only in Internet Explorer and Firefox browsers and must be user-enabled.
(9) As Blu-ray is a new format containing new technologies, certain disc, digital connection, compatibility and/or performance issues may arise, and do not constitute defects in the product. Flawless playback on all systems is not guaranteed. In order for some Blu-ray titles to play, they may require a DVI or HDMI digital connection and the display may require HDCP support. This Blu-ray drive does not support writing to ultrahigh-speed CDRW media (16X to 32X advertised performance). HD-DVD movies cannot be played on this PC.
(10) Availability of signals limited by the strength and accessibility of the originating TV signal, location and other factors. Performance issues may arise, and do not constitute defects in the product.