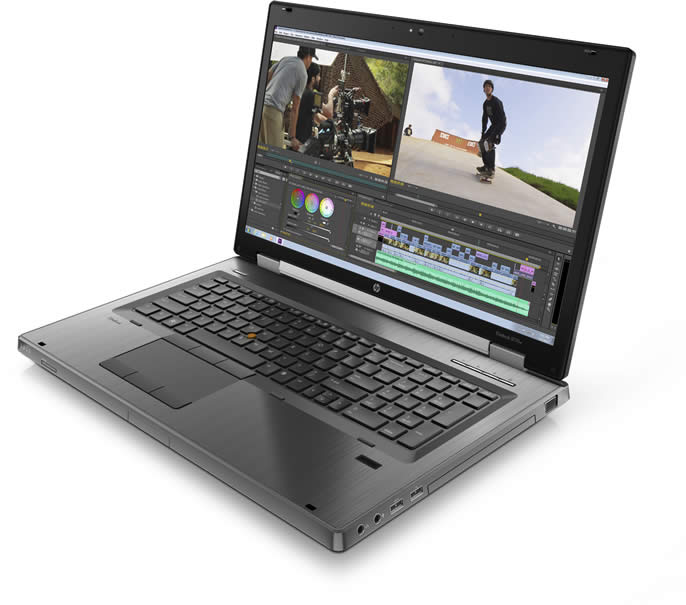 We are now on Telegram
HP has announced the new HP Z220 Workstations and HP EliteBook Mobile Workstations, packed with reliable and professional-class features.
HP's most affordable, no-compromise workstations, the Z220, features next-generation Intel® Core and Intel® Xeon® processors, the latest integrated and discrete professional graphics from Intel, NVIDIA and AMD and four integrated USB 3.0 high-speed ports. The Z220 entry-level workstation is available in a choice of an exceptionally expandable, Convertible Mini-Tower (CMT) form factor. It is also available in a highly compact Small Form Factor (SFF), which is 65 percent smaller than the CMT, and perfect for tight spaces.
The HP EliteBook w-series is HP's best combination of high-performance features and graphics in a business-rugged design, featuring next-generation Intel Core™ i7 quad-core or i7 or i5 dual-core processors (1) and up to 32 GB of system memory. (2)
Both desktop and mobile workstations offer a breadth of independent software vendor (ISV) certifications for professionals across a range of industries, from product development to media and entertainment.
"The addition of the new HP Z220 and EliteBook Mobile Workstations strengthens our already-robust lineup of products," said Jim Zafarana, vice president and general manager, Commercial Solutions Business Unit, HP. "For design, animation and engineering customers, creativity can strike while out in the field or back at the office—we've designed HP Workstations to complement the needs of professionals who demand quality and reliability where ever they are."
More power, less energy, still affordable
HP Z220 Workstations are designed for operation under heavy workloads. They continue to set the standard for affordable entry-level workstations and bring unbelievable value to demanding professionals in a range of market and business segments from product development/mechanical computer-aided design (MCAD), architecture/engineering/construction (AEC) and professional video editing to education, healthcare and government.
Both Z220 Workstation models offer an array of choices from the new Intel Xeon® processor E3-1200 v2 family and third-generation Intel Core™ processor family. They feature the latest Intel HD Graphics P4000 professional graphics option on selected Intel Xeon E3v2 processors, and a selection of entry, mid-range and high-end discrete graphics cards from NVIDIA and AMD, including support for the next generation PCIe Gen3 graphics cards as they become available.
Other performance enhancements include up to 32GB of 1600MHz DDR3 memory (ECC or non-ECC) and Intel® Smart Response Technology(3), an easy to install disk caching technology that can significantly improve storage IO performance, for faster boot time and frequently accessed applications. An optional handle in the top optical bay makes it convenient to move the Z220 CMT. In addition, HP Z220 Workstations are BFR/PVC free. (4)
Workstation performance on the go
HP's most powerful mobile workstation, the HP EliteBook 8770w, offers HP's highest-performing professional graphics and extreme processing power, and is configurable with a 17.3-inch diagonal display. The versatile and portable HP EliteBook 8570w includes high-end professional graphics, robust processing power and a 15.6-inch diagonal display. HP's most travel-friendly mobile workstation, the HP EliteBook 8470w, features workstation-caliber graphics and powerful processing along with a business-rugged design that has been optimized around a 14-inch diagonal HD(5) display.
The HP EliteBook Mobile Workstations are ideal for professionals who need workstation power wherever the job might take them — whether it is editing videos at a remote film location or tweaking designs on a construction site. Since color accuracy is critical for many workstation customers, the HP EliteBook 8570w and 8770w are available with HP DreamColor Technology as an option, providing an IPS display with a consistent color experience throughout development.
Designed specifically for the needs of professionals on the go, the HP EliteBook w-series features a magnesium aluminum chassis, a radial-brushed display cover that resists fingerprints, glass touchpads and precision aluminum-alloy hinges, and HP Easy Access Doors to make them easy to open and keep secure when closed. They meet stringent military standards (MIL-STD-810G) for dust, vibration, shock, altitude, drop, high temperature, low temperature, temperature shock. (7)
Other business-features on the EliteBook w-series include Intel Smart Response Technology(3) for fast system boot and application startup, and SRS Premium Sound PRO for smooth audio quality when engaging in video conferences(8), web-based trainings(8) or video streaming.
All HP Workstations come preloaded with HP Performance Advisor, which provides a consolidated report of the workstation's hardware and software configuration that can be used to tune the workstation specifically for professional application workloads with just one click, reducing time spent troubleshooting.
Pricing and availability (9)
Quad-core configurations of the HP Z220 Workstation start at approximately S$1,299 and are already available for order in Singapore.
The HP EliteBook w-series Mobile Workstations are available for order from 25 June 2012. Pricing varies depending on choice of components and configurations.
More information about HP Workstations is available at www8.hp.com/sg/en/products/workstations/index.html
(1) Multi-Core is designed to improve performance of certain software products. Not all customers or software applications will necessarily benefit from use of this technology. 64-bit computing on Intel® architecture requires a computer system with a processor, chipset, BIOS, operating system, device drivers, and applications enabled for Intel® 64 architecture. Processors will not operate (including 32-bit operation) without an Intel® 64 architecture-enabled BIOS. Performance will vary depending on your hardware and software configurations. Intel's numbering is not a measurement of higher performance.
(2) Available on select models.
(3) Requires a compatible Intel® Core processor, enabled chipset, Intel® Rapid Storage technology software and non-SED HDD + optional mSATA SSD flash cache module. Intel® Smart Response Technology is only available on select 2012 HP systems. Depending on system configuration, results may vary.
(4) Meeting the industry definition of 'BFR/PVC-free' per the iNEMI Position Statement on "Low Halogen" Electronics. Plastic parts incorporated into the chassis generally contain < 1000 ppm (0.1%) of bromine or chlorine. Printed circuit board and substrate laminates generally contain < 1500 ppm (0.15%) of total bromine and chlorine. Service parts after purchase may not be BFR/PVC-free. External accessories, including power supplies, power cords, and peripherals are not BFR/PVC-free.
(5) HD content required to view HD images.
(6) Testing was not intended to demonstrate fitness for U.S Department of Defense contract requirements or for military use. Test results are not a guarantee of future performance under these test conditions.
(7) Video conferencing is available on configurations with the optional 720p HD webcam.
(8) Internet access required.
(9) Estimated street prices. Actual prices may vary.
See image for more details
Click on thumbnail[s] to enlarge.