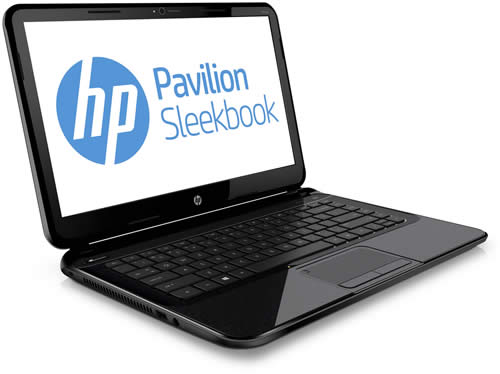 We are now on Telegram
HP Singapore has announced a new lineup of consumer PCs and accessories that are designed to work with Microsoft® Windows® 8 and are ideal for savvy, tech-conscious users who desire great performance and beautiful design at a great value.
The consumer PC lineup is powered by the latest generation of Intel® CoreTM processors that deliver performance and stunning visuals for everyday life.
HP also added four new business desktop and notebook PCs powered by the latest AMD processors to its industry-leading commercial portfolio. AMD's new A-series Accelerated Processing Units (APUs) deliver a significant leap in PC graphics performance,(1) offer exceptional manageability and provide an affordable total cost of ownership.
HP Pavilion Sleekbook 14 and HP Pavilion Sleekbook 15 notebook PCs
The HP Pavilion Sleekbook 14 and HP Pavilion Sleekbook15 notebook PCs provide the performance and easy applications consumers need every day — now in ultrathin style.
Available in sparkling black and ruby red, the lightweight HP Pavilion Sleekbook 14 and HP Pavilion Sleekbook 15 feature 14-inch and 15.6-inch diagonal high-definition (HD) displays respectively, plus up to one terabyte of storage for apps, movies, music, photos documents and more.(2,3) A full array of ports including HDMI, USB 3.0 and USB 2.0 allow for fast connections to mobile devices and accessories. The HP Pavilion Sleekbook 15 also includes a numeric keypad for increased productivity.
The HP Sleekbooks include features and innovations such as HP TrueVision HD Webcams(4) , HP CoolSense for a noticeably cooler PC and HP ProtectSmart to help prevent file loss in case of a bump. HP Connected Photo powered by Snapfish by HP(5) also allows users to access their favorite photos seamlessly.
HP ENVY Phoenix h9 desktop PC and HP x2401 24-inch diagonal LED backlit monitor
For users who enjoy creating digital content or immersive gaming, the HP ENVY Phoenix h9 desktop PC has new features to make the computing experience faster and more enjoyable. It features a distinct armor-plated design and attention-grabbing lighting, with toolless hard-disk bays that support up to three internal drives. Top-of-the-line third generation Intel processors and a choice of NVIDIA discrete graphics or AMD ultra-high-performance graphics coupled with powerful options such as ExpressCache(6), solid state drives (SSDs) and liquid cooling make this HP's most powerful desktop tower to date.
Music and games will sound great with Beats Audio™, while exclusive HP innovations such as HP Connected Remote(4) and Connected Photo(4) make it simple to access content from a smartphone, tablet or other PC.
HP Connected Photo seamlessly syncs photos from a smartphone to the PC and stores them in their native resolution while HP Connected Remote(4) delivers the ultimate audiovisual experience by turning a smartphone or tablet into a remote control, enabling users to wirelessly control music, videos and photos.
The HP ENVY Phoenix h9 pairs well with the new HP x2401 24-inch diagonal LED backlit monitor for a complete solution that looks as good as it performs. With an 11 millimeter profile, the HP x2401 is strikingly thin and complements any setting with its glossy black-piano finish and brushed metal case. The HP x2401 monitor also was designed with the environment in mind with mercury-free LED backlighting, BFR/PVC free components(7)and arsenic-free display glass(8).
HP Compaq Pro 6305 Desktop PC
Powered by AMD's latest APU A10, A8, A6 and A4 processors, the HP Compaq Pro 6305 Desktop PC provides outstanding performance and value to maximize productivity for businesses and governments of all sizes with long, predictable life cycles of up to 15 months. The improved x86 architecture enables speedy and efficient computing, such as smoother internet browsing and accelerated file conversion rates.
AMD Turbo Core 3.0 technology automatically boosts system performance when running multiple applications, and the HP Compaq Pro 6305 offers an AMD Accelerated File Converter that enables more efficient web browsing for smooth webcast videos, trainings and videoconferencing.(4)
HP accessories
Pair any HP PC with the latest HP accessories, including new mice, keyboards and the HP 90W Universal Power Adapter, for an exceptionally productive, comfortable and convenient computing experience. The line-up includes:
The HP Touch to Pair Mouse, the world's first wireless mouse with NFC, allows users to instantly connect the mouse to any Bluetooth-enabled PC or tablet. Available in December and starts from S$59.
The HP Wireless X4500 and X5500 mice feature a sleek, modern design, precise laser sensor. Available in October and starts from S$45 and S$49, respectively.
The HP Wireless Mouse X6000 offers HP's exclusive Exact Track Technology which works on most surfaces including glass. Housed in a solid metal top cover, the X6000 also has four-way tilt scrolling and 2.4 GHz wireless connectivity. Available in October and starts at S$89.
The HP Wireless Classic Desktop and the HP Wireless Elite v2 keyboard Combo offer up to four shortcut keys designed to work with Windows 8. Available now and starts at S$59 and S$89, respectively.
The HP 90W Universal Power Adapter is compatible with virtually all notebooks(10) and features a built-in USB port that lets users charge a notebook and mobile device simultaneously. Available in December and starts at S$119.
Pricing and availability (11)
The HP Pavilion Sleekbook 14 and 15 PCs start at S$999 and S$1,049 respectively and are expected to be available in SG from October 26.
The HP ENVY Phoenix h9 starts from S$1,699 with a 23″ LED monitor, and is expected to be available in SG from October 26.
The consumer HP x2401 LED Backlit Monitor starts from S$449, with availability in SG to be announced at a later date.
The HP Compaq Pro 6305 Desktop PC starts at S$999 and is expected to be available in SG in October.
This announcement follows HP's unveiling of new touch-enabled notebooks, the HP ENVY x2 and ENVY TouchSmart Ultrabook 4, on Aug. 30 and new All-in-One desktops on Sep. 12. An enterprise-ready tablet will be announced soon.
Click on thumbnail[s] to enlarge.
1) Based on the SYSMark 2007 test comparing the AMD A-series processor (A10-5800B) performance to the B99 processor on the predecessor HP 6005 Pro.
(2) High-definition content is required for high-definition images.
(3) For hard drives, TB = 1 trillion bytes. Actual formatted capacity is less. Up to 35GB of hard drive is reserved for system recovery software.
(4) Internet access required and not included.
(5) Snapfish by HP mobile app download and Snapfish membership required. Internet service required and not included. Availability of HP Connected Photo varies by markets in APJ.
(6) Requires Condusiv ExpressCache Technology software. Depending on usage and system configuration, results may vary.
(7) Meeting the industry definition of 'BFR/PVC-free' per the iNEMI Position Statement on "Low Halogen" Electronics. Plastic parts incorporated into the chassis generally contain < 1,000 ppm (0.1%) of bromine or chlorine. Printed circuit board and substrate laminates generally contain < 1500 ppm (0.15%) of total bromine and chlorine. Service parts after purchase may not be BFR/PVC-free.
(8) Arsenic and its compounds were not detected using US EPA Test Methods 3052 & 3052/6010b by ICP or ICP-AES with a Method Detection Limit of 10 ppm.
(9) AMD Enduro™ technology requires either an AMD "A" series APU or an Intel processor, plus an AMD Radeon™ discrete graphics configuration – and is available on Windows® 7 Professional, Windows® 7 Ultimate, Windows® 7 Home Premium, and/or Windows® 7 Home Basic OS, Windows® 8 Standard and Professional editions. Linux OS supports manual switching which requires restart of X-Server to switch between graphics solutions. With AMD Enduro™ technology, full enablement of all discrete graphics video and display features may not be supported on all systems (e.g. OpenGL applications will run on the integrated GPU or the APU as the case may be). Always check with your system manufacturer for specific mode capabilities and supported technologies.
(10) Tested and validated to work on the following brands of laptops: Acer, Asus, Compaq, Dell, Fujitsu, HP, Lenovo, Samsung, Sony, Toshiba.
(11) Estimated street prices. Actual prices may vary.