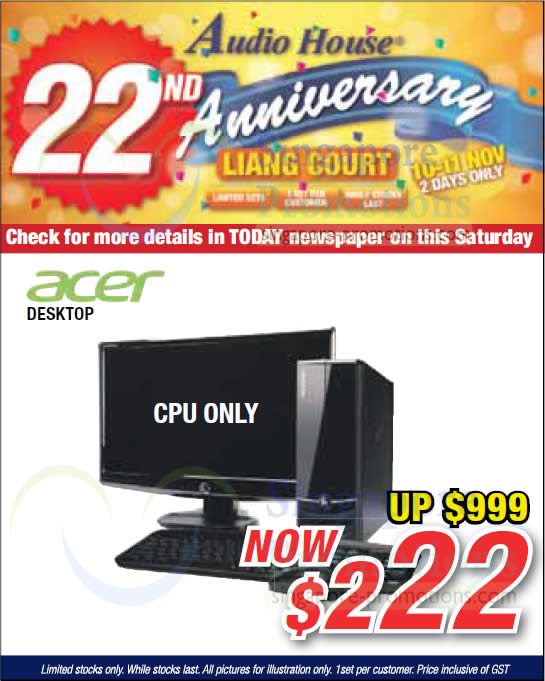 Audio House is sharing its 22th anniversary celebrations by offering directly discounted deals at $22, $122 and $222 from 10 November to 18 November 2012 at Liang Court, 11am to 9pm
Liang Court
P1W1D
EXPIRED


Uh oh, the event has ended. Don't miss out again, get the latest news via e-mail, Telegram, Instagram, Facebook, Twitter or RSS feed!

We are now on Telegram
Audio House is sharing its 22th anniversary celebrations by offering directly discounted deals at $22, $122 and $222 from 10 November to 11 November 18 November 2012 at Liang Court, 11am to 9pm
Audio House commemorates 22 years of being a trusted purveyor of electronic items! Come and enjoy the highest discounts ever offered by top brand electronics as brands like Samsung, Fujifilm, LG and many more provide direct discounts in celebration
Top brands such as Samsung, Toshiba, Fujifilm, Pioneer, Acer and many more are going at the highest discounts in town this coming weekend! At only $22, you can go home with top branded electronics such as Fujifilm digital camera, Samsung handphone, Pioneer DVD player and more!
At only $122, you can walk away with LG 5.1 home theatre system, branded netbooks, L.A. WIFI Tablet PCs, and many more! Samsung notebooks, Samsung blu-ray home theatre systems, Branded fridge and more are only going for $222!!
During the weekend celebration, all items such as TVs, laptops, cameras etc. will be going at unrivalled prices. At only $22, $122, or $222, consumers can pocket top brand electronic items!
So do not miss your chance to get all your coveted items —and still reap huge savings! Everything is on first come first serve basis, only limited to one set per customer. Consumers who are interested have got to be quick!
Hot items on sale include
Branded DV Camcorder U.P $299 Now $22
Fujifilm 12 megapixels Digital Camera U.P $199 Now $22
Branded Cordless Phone U.P $69 Now $22
Branded Digital Photo Frame U.P $99 Now $22
Branded Digital Camera U.P $199 Now $22
HP 3-in 1 Printer U.P $119 Now $22
Branded 500GB Harddisk U.P $139 Now $22
Samsung Handphone U.P $299 Now $22
Pioneer DVD Player U.P $79 Now $22
Digital Radio Clock U.P $49 Now $22
Branded Netbook U.P $599 Now $122
LG 5.1 Home Theatre System U.P $219 Now $122
L.A. 7″ WiFi Tablet PC with keyboard U.P $399 Now $122
Acer 22″ Monitor U.P $269 Now $122
Samsung 26″ LED TV U.P $499 Now $122
Branded Top Load Washer U.P $389 Now $122
SAMSUNG DUAL SCREEN CAMERA U.P $459 NOW $122
Acer Netbook U.P $599 Now $222
Acer Desktop CPU Only U.P $999 Now $222
Samsung Notebook U.P $899 Now $222
Japan Branded 46″ FHD LED TV U.P $1999 Now $522.
Branded 2 door fridge U.P $458 Now $222
Samsung HT-D4500 Blu-Ray Home Theatre System U.P $499 Now $222
JVC CAMCORDER UP @$1099 Now $222
FUJIFILM 3D DIGITAL CAMERA U.P $799 Now $222 (WORLD 1ST 3D DIGITAL CAMERA)
10 Nov 2012
Total 1000 Anniversary Items Selling @ CRAZY PRICE. Each customer is only allowed to purchase one promotion item during the 2 days promotion No repeat purchase is allowed. One set per customer. While stocks last.
Acer Congratulates Audio House with Up to 53% discount on Acer Ultrabook with Ultra Savings Special Deals and on Desktop & A.I.O PC with Special bundle.
Acer Notebooks listed are Acer Aspire E1-421-4502G50 Notebook, Acer Aspire A0725 Notebook, Acer Aspire V5-171C Notebook, Acer Aspire V3-471G Notebook, Acer Aspire V3-571G Notebook, Acer Aspire S3-391 Ultrabook Notebook, Acer Aspire S5-391 Ultrabook Notebook, Acer Aspire Timeline M3-581TG Ultrabook Notebook, Acer Aspire X3995 i32M25 Desktop PC, Acer Aspire X3995 i347MR45 Desktop PC, Acer Aspire Z5771 i212M45 AIO Desktop PC, Acer Aspire V3-571G Notebook and Acer Aspire S7-391 Notebook
Enjoy Dell Special deals with FREE Upgrade to Windows 8 Pro. Dell New Windows 8 Models. Toshiba Special Deal, FREE Levi's Voucher $100 + Cash Rebate $85. New Toshiba Windows 8 Model Notebook / Ultrabook Special Deal
Dell, Toshiba Notebooks listed are Dell Inspiron 5423-331451G Ultrabook Notebook, Dell M14X Alienware Notebook, Dell Inspiron 7420-361412G Notebook, Dell Alienware X51-377811G Desktop PC, Dell XPS 13 Ultrabook Notebook, Dell XPS 8500-377122G Desktop PC, Dell XPS 12 Ultrabook Notebook, Dell Inspiron 7520-363812G-W8 Notebook, Dell XPS 2710-377822G AIO Desktop PC, Toshiba Satellite U840 Ultrabook Notebook, Toshiba Regza LX810-1000X AIO Desktop PC, Toshiba Regza AT100 Tablet, Toshiba Satellite Pro L830 Notebook, Toshiba Satellite L840-1027X Notebook, Toshiba Satellite M840 Notebook, Toshiba Portege R930 Notebook, Toshiba Satellite P840 Notebook, Toshiba Satellite L830-1002X Notebook, Toshiba Portege Z930-2021 Ultrabook Notebook and Toshiba Satellite U920T Ultrabook Notebook
Asus, HP Notebooks listed are ASUS ET2210 AIO Desktop PC, ASUS K45VD Notebook, ASUS S56 Ultrabook Notebook, ASUS VivoBook S400CA Notebook, ASUS Zenbook Prime UX31A Ultrabook Notebook, HP Pavilion DM4-3005TX A3W17PA Notebook, HP Pavilion G4-2119TX C5H33PA Notebook, HP Envy 4-1026TU Notebook, HP Pavilion Slimline S5-1325D H3T76AA Desktop PC, HP Pavilion 14-B001TX Sleekbook Notebook, HP Envy 4-1101TX Ultrabook Notebook, HP Pavilion G4-2202TX Notebook and HP Pavilion G4-2208TX Notebook
Philips Congratulates Audio House with Up to 63% discount. LED TVs and Audio Systems listed are Philips 47PDL6907 LED TV, Philips 55PFL6007 LED TV, Philips 47PFL6007 LED TV, Philips 46PFL7007 LED TV, Philips 55PFL5507 LED TV, Philips Fidelio HTB9150 Soundbar Home Theatre System, Philips HTB7150 Soundbar Home Theatre System, Philips HTB5150 Soundbar Home Theatre System, Philips Fidelio DS1100 Docking Speaker, Philips HD9220 Air Fryer, Philips HR1866 Juice Extractor, Philips PowerLife GC2910 Steam Iron, Philips PowerLife FC8451 Vacuum Cleaner and Philips HP8115 Hair Dryer
Samsung Congratulates Audio House Up to 57% discount with FREE Samsung Galaxy Tab 2 (10.1) WIFI Worth $698 + Blu Ray Sound Bar + Samsung 14″ Notebook For Selected Model
Samsung LED TVs, Digital Cameras, Home Appliances listed are Samsung 46ES7500 LED TV, Samsung 60ES8000 LED TV, Samsung UA55ES8000 LED TV, Samsung UA75ES9000 LED TV, Samsung EX2F Digital Camera, Samsung WB210 Digital Camera, Samsung NX1000 Digital Camera, Samsung NX210 Digital Camera, Samsung 530U3C Ultrabook Notebook, Samsung NP900X3A-A01SG Notebook, Samsung XE500T1C-M01SG ATIV Tablet, Samsung WF-8804CPG Washer, Samsung RT72KASE Fridge, Samsung RT540BSL Fridge, Samsung RS552NRUA Fridge, Samsung RN405BRKA5K Fridge, Samsung RL4013UBASL Fridge, Samsung WA10G9QIC Washer, Samsung WA12GP Washer, Samsung WA95WPXIC1 Washer, Samsung WF702U2 Washer, Samsung WF1804WPC Washer and Samsung WD0804 Washer
HIFI, Home Appliances listed are LG HLT55W Soundbar, LG HT906TA Home Theatre System, LG WD1404TDS Washer, LG WFT9100 Washer, LG WD1065QDP Washer, LG WD1232RDSW Washer and LG GRM582YSQ Fridge
Toshiba Congratulates Up to 62% discount. Home and Kitchen Appliances listed are Toshiba AW-8570SS Washer, Toshiba AW-8970SS Washer, Toshiba AW-9790SS Washer, Toshiba AW-1190SS Washer, Toshiba AW-D980SS Washer, Toshiba TW-150VS Washer-Dryer, Toshiba RC-10NMF Rice Cooker, Toshiba RC-18NMF Rice Cooker and Toshiba PLK-45SFI Hot Pot
Sony Congratulates with Up to 70% discount. Sony products listed are Sony Bravia NX720 LED TV, Sony Bravia HX750 LED TV, Sony Bravia EX430 LED TV, Sony Bravia EX650 LED TV, Sony Bravia HX855 LED TV, Sony NEX-F3 Digital Camera, Sony Cybershot DSC-W380 Digital Camera, Sony HDR-TG1 Handycam Camcorder, Sony Cybershot DSC-T110 Digital Camera, Sony Cybershot DSC-W690 Digital Camera, Sony BDP-S190 Blu Ray Player, Sony BDV-N590 Blu Ray Home Theatre System, Sony BDV-E290 Blu Ray Home Theatre System and Sony DAVDZ840K DVD Home Theatre System
Panasonic Congratulates with Up to 79% discount. Products listed are Panasonic Lumix DMC-FT10 Digital Camera, Panasonic Lumix DMC-TZ20 Digital Camera, Panasonic HDR-SD5 Camcorder, Panasonic Lumix DMC-GX1W DSLR Digital Camera, Panasonic Lumix DMC-LX7 Digital Camera, Panasonic NA-F90B2HRQ Washer, Panasonic NRBK345SNSG Fridge, Panasonic NRBY602XSSG Fridge, Panasonic NRF605TTK6 Fridge, Panasonic NN-SM332 Microwave Oven, Panasonic NA-F80B3 Washer, Panasonic NA-F90B3 Washer, Panasonic NA-107VC4 Washer, Panasonic NA-148VG3 Washer and Panasonic SR-DF181 Rice Cooker
Nikon Digital Cameras, Camcorders listed are Nikon CoolPix S30 Digital Camera, Nikon D5100 DSLR Digital Camera, Nikon D3200 DSLR Digital Camera, Nikon D90 DSLR Digital Camera, Nikon D7000 DSLR Digital Camera, Nikon J1 Digital Camera, Nikon CoolPix L310 Digital Camera, Nikon CoolPix P510 Digital Camera, Nikon CoolPix L810 Digital Camera, Nikon CoolPix L610 Digital Camera, Nikon CoolPix P310 Digital Camera, Nikon CoolPix P7000 Digital Camera, Nikon CoolPix S6200 Digital Camera, Nikon CoolPix S3300 Digital Camera, Nikon CoolPix AW100 Digital Camera, Nikon CoolPix S800C Digital Camera, Nikon CoolPix S01 Digital Camera, JVC Picsio GC-FM1 Camcorder, JVC Everio GZ-E205 Camcorder, JVC Everio MG-730 Camcorder and JVC Everio GZ-HD10 Camcorder
Canon Congratulates with Up to 66% discount. Also available in EOS-5D Mark II, EOS-5D Kit III @ Anniversary Prices. Items listed are Canon IXUS 1000 Digital Camera, Canon EOS 650D Digital Camera, Canon EOS 60D Digital Camera, Canon EOS 600D Digital Camera, Canon EOS M Digital Camera, Canon Powershot G1X Digital Camera, Canon Powershot SX50 Digital Camera, Canon Powershot S100 Digital Camera, Canon Powershot SX500 IS Digital Camera, Canon Powershot G15 Digital Camera, Canon IXUS 240HS Digital Camera, Canon IXUS 125 Digital Camera, Canon Powershot A2400 IS Digital Camera, Canon PIXMA MX437 Inkjet Printer, Canon PIXMA MG3170 Inkjet Printer, Canon ImageClass MF3010 Laser Printer, Canon PIXMA MX517 Inkjet Printer, Canon PIXMA MG5370 Inkjet Printer, Canon Lasershot LBP6000 Printer, Canon PIXMA MP237 Printer, Canon ImageClass MF4420w Printer and Canon PIXMA MG4270 Printer
Fujifilm, Casio, Olympus Digital Cameras listed are Fujifilm FinePix F550 EXR Digital Camera, Fujifilm FinePix Z90 Digital Camera, Fujifilm FinePix T200 Digital Camera, Fujifilm FinePix FX-S4500 Digital Camera, Fujifilm FinePix SL300 Digital Camera, Fujifilm FinePix HS30 EXR Digital Camera, Fujifilm FinePix X10 Digital Camera, Fujifilm FinePix X100 Digital Camera, Fujifilm FinePix XF1 Digital Camera, Fujifilm XE1 Digital Camera, Fujifilm FinePix XP50 Digital Camera, Casio EXILIM EX-ZS6 Digital Camera, Casio EXILIM EX-Z2000 Digital Camera, Casio EXILIM EX-JE10 Digital Camera, Casio EXILIM EX-H5 Digital Camera, Casio EXILIM EX-N1 Digital Camera, Olympus VG-150 Digital Camera, Olympus VH-210 Digital Camera, Olympus PEN E-PM1 Digital Camera, Olympus PEN Lite E-PL3 Digital Camera and Olympus PEN E-P3 Digital Camera
LenBrook Congratulates with Up to 60% discount. Products listed are NAD C-515BEEC CD Player, NAD VISO 1 Digital Music System, NAD T748 AV Amplifier, NAD C-326BEEC Stereo Amplifier, PSB Alpha B1 Speaker, PSB Alpha T1 Speaker, PSB Alpha HT1 Speaker, NAD T748 AV Receiver, Geneva Lab L Docking Speaker, Denon DHT-1311 Home Theatre System, BLK BA-66 Amplifier, Pioneer VSX-1021 AV Receiver, Harman-Kardon Symphony 365-60HD AV Receiver, Pioneer VSX-522K AV Receiver, Pioneer PSS-522 Home Theatre System, Harman-Kardon AVR-265 AV Receiver, Harman-Kardon ES-90 Speaker, Harman-Kardon ES-10 Speaker and Harman-Kardon ES-25C Speaker
Mitsubishi Electric Congratulates with Up to 22% discount. Products listed are Mitsubishi Electric MR-V45C Fridge, Mitsubishi Electric MR-F62C Fridge, Mitsubishi Electric MR-Z65R Fridge, Mitsubishi Electric MR-BF36C Fridge, Mitsubishi Electric MR-C46C Fridge, Mitsubishi Electric MR-F51C Fridge, Mitsubishi Electric MR-E52S Fridge, Mitsubishi Electric MR-E62S Fridge, Mitsubishi Electric MR-EX62S Fridge, Mitsubishi Electric LV16 Fan, Mitsubishi Electric D12 Fan and Mitsubishi Electric R30-HRP Fan
Hitachi Congratulates with Up to 39% discount and Tecno with Up to 38% discount. Hitachi, Tecno products listed are Hitachi SF-85KJS Washer, Hitachi SF-95PJS Washer, Hitachi BD-W70MSP-WH Washer, Hitachi BD-S1100 Washer-Dryer, Hitachi R-T310EMS-SLS Fridge, Hitachi RW720FPMSXGBK Fridge, Hitachi R-SG37BPS-ST Fridge, Hitachi RB-6200S-XS Fridge, Hitachi RB-6200S-XK Fridge, Hitachi EP-A7000 Air Purifier, Hitachi RZKG10YS Rice Cooker, Hitachi MRO-AV100E Microwave Oven, Tecno TFR-61 Fridge, Tecno TWA-8068 Washer, Tecno TFF-268 Freezer, Tecno T-333TG Cooker Hob, Tecno KA9228 Chimney Hood, Tecno TB0 838 Multi-Function Oven and Tecno SW-180 Wine Cooler
Electrolux products listed are Electrolux EWF85661 Washer, Electrolux EWF10751 Washer, Electrolux EDV600 Dryer, Electrolux ETE4407SD Fridge, Electrolux ESF63021 Dishwasher, Electrolux ZUSG3900 Vacuum Cleaner and Electrolux ZM01530 Vacuum Cleaner
Brandt & Thomson Congratulates with Up to 25% Discount and Fisher & Paykey with Up to 40% Discount. Products listed are KDK P40US Fan, Braun 190 Shaver, Braun D12513 Electric Toothbrush, Europeace ECO051 Air Cooler, Waterpik WP100 Water Jet, SentrySafe X055 Safe Box, Novita ND322 Dehumidifier, Novita NAC306 Air Purifier, Toyomi VC8215WD Vacuum Cleaner, Toyomi EC-1186 Chopper, Fumiyama FRC 18Q Rice Cooker, SONA SE02260 Electric Oven, SONA SIC8646 Induction Cooker, Brandt WFA676A Washer, Fisher & Paykel WA85T60GW1 Washer and Fisher & Paykel WH80F60W2 Washer
See ad images for price list and more details
Click on thumbnail[s] to enlarge. Sales on 10 – 11 Nov 18 Nov 2012
(Updated 6 Nov with "6 Nov L.A 7 Wifi Tablet PC" and "6 Nov Samsung 26 LED TV" image)
(Updated 7 Nov with "7 Nov 22 Dollar 500GB Hard Disk" and "7 Nov 22 Dollar Top Load Washer" images)
(Updated 8 Nov with "8 Nov 522 Dollar 46 inch HD LED TV" and "8 Nov 222 Dollar Samsung Notebook" images)
(Updated 10 Nov with "10 Nov Dell Latitude, Inspiron, Alienware, Toshiba Portege, Satellite Pro Notebooks, XPS 12, XPS 13", "10 Nov Canon IXUS and Powershot Digital Cameras, EOS DSLR Digital Cameras, PIXMA, Lasershot, ImageClass Printers", "10 Nov ASUS K46, K45, S56, K45VD, VivoBook, HP Pavilion, Envy, Zenbook Prime, HP Envy Ultrabook Notebook", "10 Nov Acer Aspire Notebook, Ultrabook Notebook, Timeline Ultrabook Notebook", "10 Nov Toshiba Washer, Dryer, Rice Cooker, Hot Pot", "10 Nov Sony Bravia LED TV, NEX-F3 and Cybershot Digital Cameras, Handycam Camcorder, Blu Ray Player, Blu Ray Home Theatre System", "10 Nov Samsung Digital Camera, Ultrabook Notebook, ATIV Smart PC, Washer, Fridge", "10 Nov Panasonic Lumix Digital Camera, Camcorder, Washer, Fridge, Microwave Oven, Rice Cooker", "10 Nov Samsung 46ES7500 LED TV, 60ES8000, UA55ES8000, UA75ES9000′, "10 Nov Promotion Items, Fujifilm Digital Camera, Dell Printer, LG Home Theatre System, Pioneer DVD Player, Techno Washer, Acer Notebook, JVC Camcorder", "10 Nov Nikon CoolPix Digital Cameras, JVC Picsio, Everio Camcorders", "10 Nov NAD CD Player, Digital Music System, AV Amplifier, Receiver, PSB Speak, Geneva Docking System, Pioneer Home Theatre System", "10 Nov Mitsubishi Electric Fridges, Fans" , "10 Nov LG Soundbar, Home Theatre System, Washer, Dryer, Fridge", "10 Nov KDK Fan, Braun Shaver, Electric Toothbrush, Europeace Air Cooler, Food Steamer, Waterpik Water Jet, SentrySafe Safe Box, Novita Dehumidifier, Air Purifier", "10 Nov Hitachi Washers, Dryer, Fridges, Air Purifier, Microwave Oven, Rice Cooker, Tecno Cooker Hob, Chimney Hood, Multi-Function Oven, Wine Cooler , Fans" , "10 Nov Fujifilm FinePix, Casio EXILIM, Olympus PEN, Lite Digital Cameras", "10 Nov Philips Fidelio Soundbar Home Theatre System, Fidelio Docking Speaker, Air Fryer, Juice Extractor", "10 Nov Philips 47PDL6907 LED TV, 55PFL6007, 47PFL6007, 46PFL7007, 55PFL5507", "10 Nov 22 Dollar Deals, 222 Dollar, LED TVs, Notebooks, Digital Cameras, Samsung, Toshiba, LG, Philips, Fujifilm, Pioneer", "10 Nov Notebooks, Washers, Fridges, Digital Cameras, Audio Systems, Acer, Dell, Toshiba, Panasonic, LG, Fisher & Paykel, Denon, HP, Olympus" and "10 Nov Electrolux Washer, Venting Dryer, Fridge, Dishwasher, Vacuum Cleaners" images)