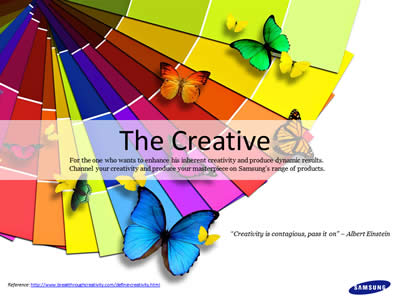 The countdown towards Christmas has begun!
To celebrate this joyous festive season, Samsung is sharing a Christmas Gift Guide highlighting some of the ideal gift choices for different personalities – The Creative, The Jet-setter, The Proud Home-Owner, The Go-Getter and The Adventurous – for those who may be looking for the ultimate gifts for their loved ones.
The Creative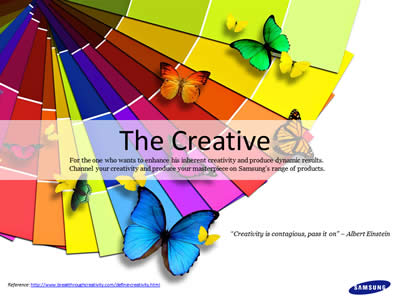 For the one who wants to enhance his inherent creativity and produce dynamic results. Channel your creativity and produce your masterpiece on Samsung's range of products.
WB250F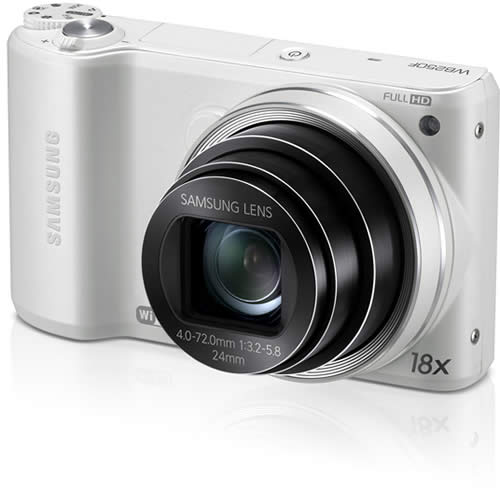 The WB250 is built with a stylish and classic design, incorporating a hybrid touch interface consisting of a touch LCD screen and five-way navigational keys, allowing users to manipulate controls to their preference.
Equipped with an 18x optical zoom, 14.2 megapixel BSI CMOS sensor and 24mm lens
Wi-Fi capabilities
SMART Mode and Motion Photo features, allowing users to achieve pro-standard quality and creativity under any condition
WB250F $399
NX2000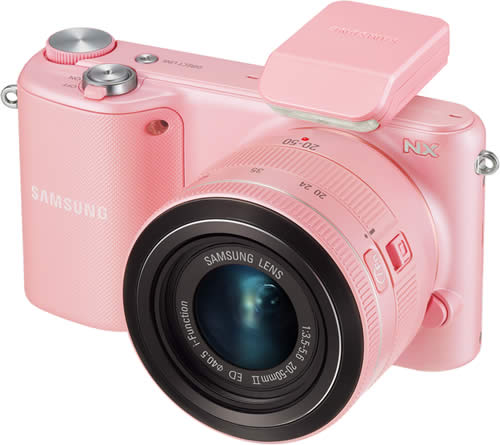 The NX2000 combines outstanding and professional results with revolutionary Samsung SMART CAMERA technology.
Enhanced Wi-Fi Connectivity, enabled by Samsung's SMART CAMERA 2.0 technology, offers a host of functions which make it easy to share and store images directly from the camera
Provides users with a choice of 12 interchangeable lenses to enable them with improved control over the images they shoot with the camera
Spots a 20.3MP APS-C CMOS Sensor with DRIMe IV engine that produces extremely sharp and highly detailed images even in low light conditions
Available in black, white and pink
NX2000 $849
Nexus 10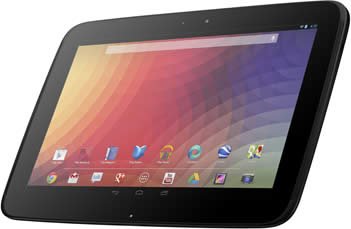 Nexus 10 was made for everyone to enjoy. Just turn on your tablet and tap your photo to sign in to your own home screen, apps, email, photos and storage.
Portable and light with an incredibly thin 8.9mm frame and weighs just 603 grams
Equipped with blazing fast dual-core A15 processor and advanced MIMO WiFi for the best web browsing experience
Powered by the latest version of Android 4.2 Jelly Bean, with the world's highest resolution tablet display
Nexus 10 $668 (32GB WiFi Version)
Samsung Galaxy Note 8.0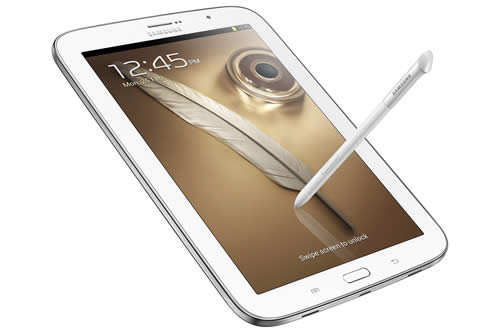 Providing unrivalled multimedia performance within a compact one-hand-grip screen, the GALAXY Note 8.0 has the power and advanced technology to evolve the tablet experience, ensuring new levels of efficient multi-tasking while benefitting from superb voice call functionality.
Advanced usability with the new generation intelligent S Pen and gain access to a suite of S Note templates and tools to create, edit, manage and share everyday documents
Slim and compact, the perfect on-the-go work and play companion
GALAXY Note 8.0 With LTE $788
GALAXY Note 8.0 WiFi $588
Series 9 SB970 LED Monitor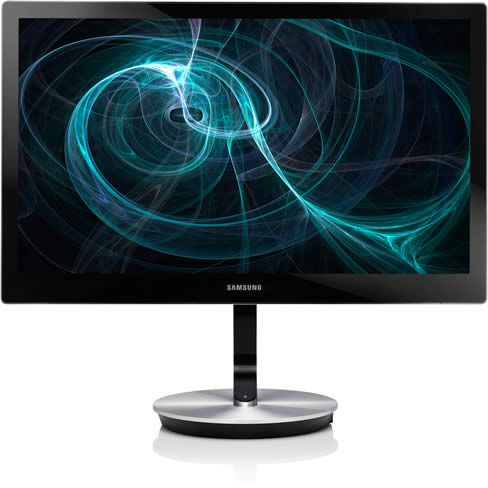 The Series 9 monitor incorporates the best that Samsung has to offer in monitors, including its exclusive Natural Color Expert technology, which provides a richer viewing experience for discerning consumers working with photos and video content.
Natural Color Expert technology drives maximum picture quality performance of the display
Features Professional Grade Plane Line Switching Panel Technology
Mobile High Definition Link (MHL) allows images and videos from mobile devices to be displayed on a larger screen
Series 9 SB970 LED Monitor $1,599
The Jet-Setter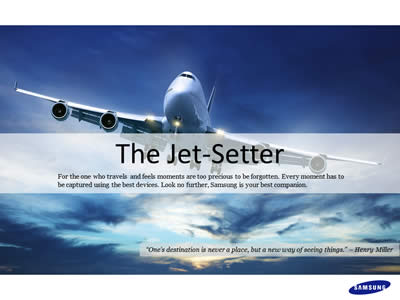 For the one who travels and feels moments are too precious to be forgotten. Every moment has to be captured using the best devices. Look no further, Samsung is your best companion.
GALAXY Tab 3 (7.0″)

Packed with enhanced content and intuitive design perfect for viewing or sharing content with friends and family, the GALAXY Tab 3 (7.0") allows users to capture all of life's spontaneous moments.
Provides a reliable and robust web browsing experience with 1.7 GHz (1.2 GHz for WiFi version) Dual Core Processor, as well as LTE connectivity and Wi-Fi® Channel Bonding.
Users can get access to Music Hub which they can search, preview and purchase for intuitive playback and storage.
Equipped with intuitive features such as Story Album and Group Play which allow users to instantly share and enjoy music, photos, documents, and games with those around them.
Available in LTE and WiFi versions.
GALAXY Tab 3 (7.0″) $498 (LTE version) without contract
GALAXY TAB 3 (7.0″) $298 (WiFi version) without contract
GALAXY MEGA (5.8)

The GALAXY MEGA provides an optimal viewing experience, yet ensures that it remains ultra-thin and portable enough to put into a pocket or hold in one hand.
Featuring a 5.8-inch HD LCD screen, the GALAXY MEGA enables an exceptional widescreen view for various applications
Split screen capability for a variety of applications such as email, messages, MyFiles, S Memo and S Planner
Features a dual SIM card slot
GALAXY MEGA $598
GALAXY S4 zoom With LTE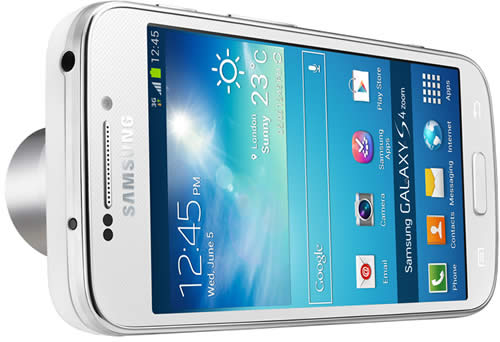 The Samsung GALAXY S4 zoom With LTE a powerful new device combining the stylish heritage of the latest GALAXY S4 smartphone with advanced photographic capabilities.
Allows users to capture precise and beautiful images with its 10x Optical Zoom, 16MP BSI CMOS Sensor and built-in Optical Image Stabilizer (OIS)
Powered by Android Jelly Bean 4.2, the GALAXY S4 zoom With LTE is equipped with Touchwiz for a truly personal mobile experience
Connects users to huge libraries of images taken with Photo Suggest, directing them to an ideal nearby location for a perfect photo
GALAXY S4 zoom With LTE $798 without contract
ATIV Book 9 Lite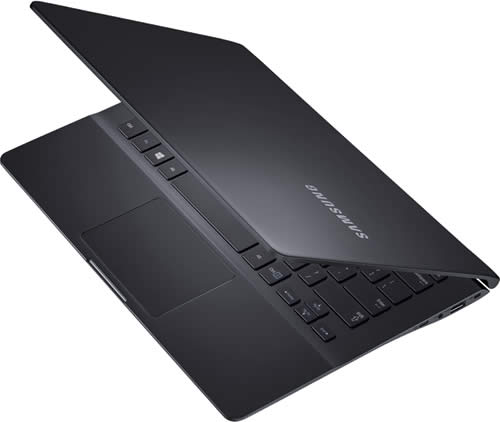 The ATIV Book 9 Lite features a Quad Core Processor and a 128GB SSD, allowing it to boot from cold in less than eight seconds and wake up from sleep in less than two seconds.
Weighs from 1.44 kg and is less than an inch thick, making it an ideal choice for mobile consumers and business travellers alike
SideSync technology, enabling users to switch from working on their PC to an AndroidTM based Samsung smartphone or tablet with simplicity and ease
ATIV Book 9 Lite $1,199
The Proud Home Owner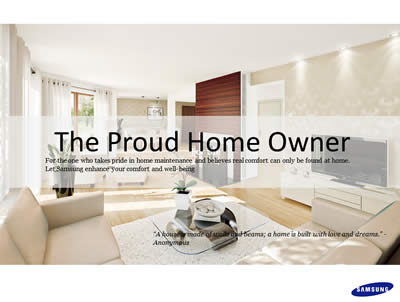 For the one who takes pride in home maintenance and believes real comfort can only be found at home.
Let Samsung enhance your comfort and well-being
"A house is made of walls and beams; a home is built with love and dreams." – Anonymous
Motion Sync Vacuum Cleaner SC20F70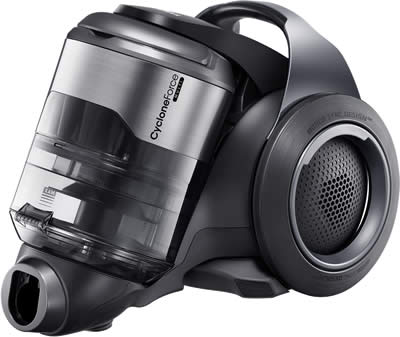 Built for supreme convenience, Samsung's Motion Sync Vacuum Cleaner features a revolutionary Motion Sync Design™ that makes it one of the most agile canister vacuums in the market.
Features innovative CycloneForce Multi technology built to maintain powerful suction for maximum cleaning
Strong cyclonic airflow to separate regular dust and dirt particles, and the strong centrifugal forces in all 14 inner chambers remove even the finest dust and dirt particles
Dust Sensor alerts you with a red light when it detects a dusty spot. Once the area is completely cleaned, a green light appears to indicate you can move on to the next spot, eliminating guesswork and reducing time spent on cleaning.
Motion Sync Vacuum Cleaner SC20F70 $999
RT38

The Samsung Two-door Refrigerator brings powerful technology innovations into the home and enables families to get more out of their appliances.
Features the core technology, the Digital Inverter Compressor, which rapidly senses temperature changes to reduce consumption and maintain a consistent temperature, reducing wear and tear and keep noise to a minimum
The Moist Fresh Zone controls the air circulation to maintain optimal humidity and create an ideal environment to keep vegetables and fruits fresher for a longer period of time
For convenient storage options and space efficiency, the wider and deeper Easy Slide Shelf allows effortless storage and removal of food.
The compressor comes with a 10-year warranty – a first for this segment – to give consumers ease-of-mind when it comes to product durability and reliability
RT38 (370 Net Litres) $1,159
Samsung Wobble Washer WA11F5S9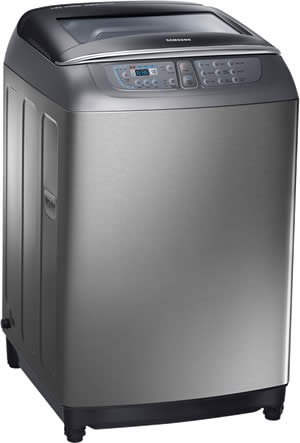 The Samsung Wobble Washer is a smart investment for any home and lifestyle. It is durable yet gently cleans an assortment of loads with the utmost care.
Features specially-shaped fins and built-in rollers around the drum to create a multi-directional washing flow resulting in cleaner clothes
Second Generation Diamond Drum creates the perfect environment for gentle yet effective washing as it prevents fabrics from getting caught in the drum
Powerful dual-air intake rapidly rotates the drum to remove more water from the clothing load, significantly reducing drying time
Samsung Wobble Washer WA11F5S9 $1,099
AirTrack HW-F850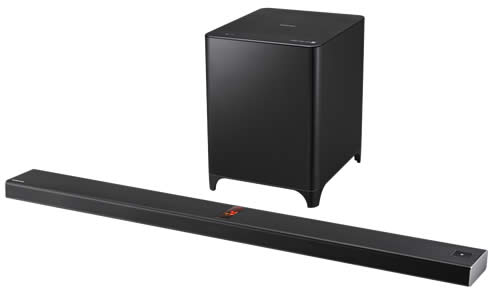 The Samsung AirTrack HW-F850 adds a touch of sophistication and modern flair to your living space. The sleek, stylish cut, coupled with its metallic design, harmonizes perfectly with premium Samsung Smart TVs.
Features the built-in Vacuum Tube which produces warm and rich tones by enhancing the element of harmony while reducing ambient noise with the help of the built- in vacuum tube
With the 3D Sound Plus, sound is synchronised to match the motion and depth of the image shown on the Smart TV
The SoundShare feature enables you to easily synchronize your TV to the AirTrack's Bluetooth sensor and enhances the clarity of your favourite TV shows
AirTrack HW-F850 $1,199
Series 9 F9000 LED TV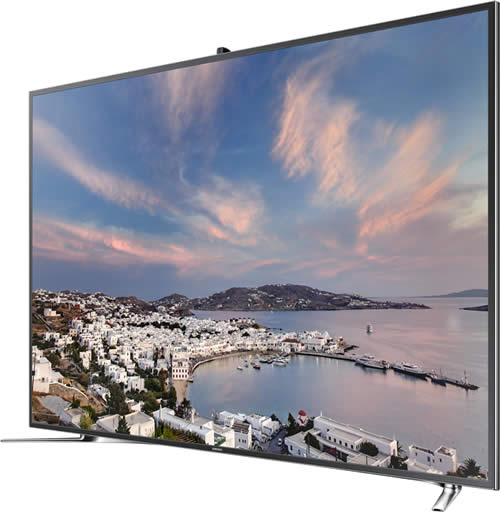 The Series 9 F9000 LED TV raises the bar for TV experience by delivering exceptional resolution and superb picture quality.
Offers four times the resolution of Full HD TV for a vivid, crystal-clear picture
Samsung's Precision Black technology delivers a much greater increase in contrast and black levels by dimming LEDs in dark areas of the picture, making blacks darker without affecting brighter elements of the picture
2-way 2.2 channels of 70-watt sound, which is more than three times better than a typical TV.
Features Samsung's award-winning Ultra Slim Bezel design, providing a virtually edgeless picture.
Series 9 F9000 LED TV (55′) $7,499
Series 9 F9000 LED TV (65′) $ 10,499
Series 8 F8000 LED TV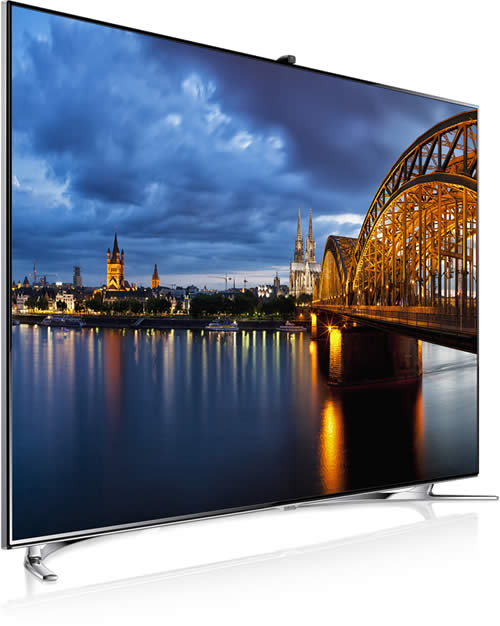 The F8000 LED TV features Samsung's Ultra Clear Panel, offering Full HD 1080p and stunning picture quality even with reflective light.
Features the Samsung Smart Hub with three intuitive panels to help consumers manage and navigate different types of content, which are displayed as thumbnail images for easy selection of content.
Advanced Smart Interaction allows everyday language and casual gestures to find content or command and control the TV.
Samsung's Smart View allows consumers to move their content seamlessly between devices in real-time; AllShareTM connects the TV to compatible mobile devices wirelessly and creates a smart centre for media and whole-home automation.
Series 8 F8000 LED TV(55′) $4,899
Series 8 F8000 LED TV(60′) $6,999
Series 8 F8000 LED TV(65′) $8,999
Series 8 F8000 LED TV(75′) $13,999
ATIV Book 8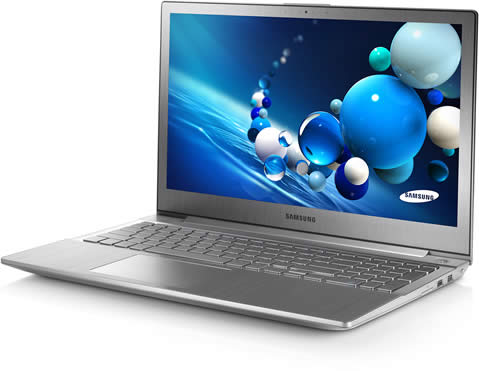 The Samsung ATIV Book 8 runs faster than ever, delivering a seamless computing experience. With its powerful graphics card, SuperBright Full HD screen, JBL® speakers and 11.5 hours battery life, users can enjoy brilliant entertainment anywhere.
The innovative RAMaccelerator and Intel® Quad Core i7 processor loads applications 1.5x faster, runs multiple programs without slowing down and wakes in 2 seconds
The anti-reflective SuperBright (300 nit) Full HD 15.6″ screen is 50% brighter and 40% clearer,viewable horizontally or vertically at up to 178º without color distortion
Data can be shared quickly using the 2 x USB 3.0, 2 x USB 2.0 and 3-in-1 multi-card slot.
ATIV Book 8 $2,099
SC770 Touch Monitor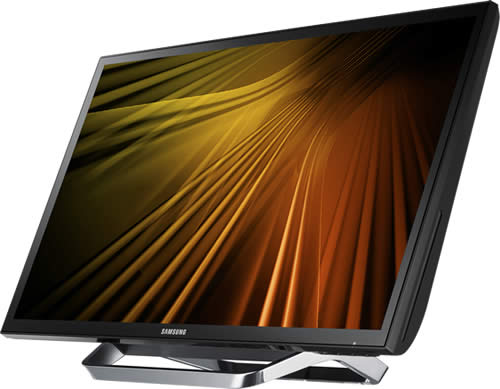 SC770 Touch Monitor is Samsung's first consumer multi- touch display, perfect for dragging, rotating and selecting objects on the monitor, and offering a smooth and intuitive touchscreen interaction.
Samsung's first consumer multi-touch display that features a unique touch control allowing for 10 points of simultaneous input
Connects to a mobile device via USB allowing seamless interaction between the touch monitor and smart phone, meaning users can effortlessly view content from their phones on the larger screen
Sliding-Tilt function with hinge technology, the SC770 smoothly and conveniently adjusts to a 55-degree tilt, creating better viewing angles and enhanced touch usage
SC770 Touch Monitor (24′) $899
HomeSync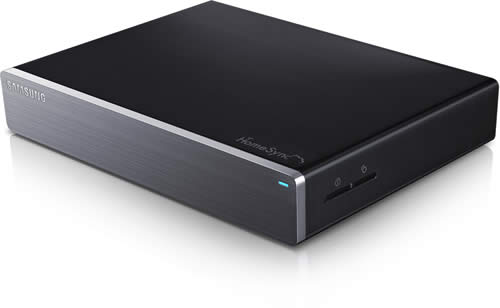 Powered by Android™ (Jelly Bean), and boasting an impressive 1TB storage capacity and Wi-Fi® capability, Samsung HomeSync is the ultimate media hub for the family. The HomeSync is all you need to stay connected with your loved ones.
1TB drive can help you sync to multiple devices (up to 8 accounts), providing shared or private storage for all your content.
The Android™ (Jelly Bean) powered HomeSync let's you browse the internet, watch videos and play games, with content from Google Play™ and Samsung Apps. All within the comfort of your living room on your TV
Screen mirroring allows you to stream content from your GALAXY device wirelessly to the TV – letting you watch, see and use all your home videos, photos and apps, and all at full HD 1080p
HomeSync $498
CLX 3305W Wireless Colour Printer
The CLX-3305 series is able to produce sharp color prints in an efficient manner. With sleek, ergonomic designs, the new series also boast the distinction of being the most compact color multifunctional printer in their class.
The smart WiFi Direct Print service enables users to print their documents via its Mobile Print Application on Android OS, iOS and Windows OS devices which reduces time and improves productivity
WiFi Scan Direct to mobile devices lets users easily scan and deliver clear images directly to their mobile devices
The ECO-Mode Printing helps business users save toner and paper consumption with the convenient built-in one-touch ECO Mode button and ECO Print Driver.
CLX 3305W Wireless Colour Printer $548
The Adventurous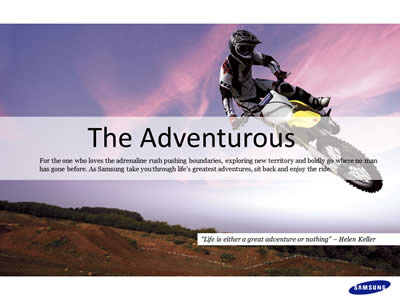 For the one who loves the adrenaline rush pushing boundaries, exploring new territory and boldly go where no man has gone before. As Samsung take you through life's greatest adventures, sit back and enjoy the ride.
GALAXY S4 ACTIVE With LTE

An active lifestyle requires plenty of energy, and the GALAXY S4 Active offers a long-lasting and powerful user experience.
A fully sealed design which keeps dust particles out and protects against water damage for up to 30 minutes of submergence at a depth of one meter
Equipped with a water-resistant earphone jack, optimal for challenging conditions
Powered by a 1.9 GHZ Quad-Core processor and 2,600mAh battery, it can handle the most intensive tasks with ease and precision
GALAXY S4 Active $898 without contract
NX300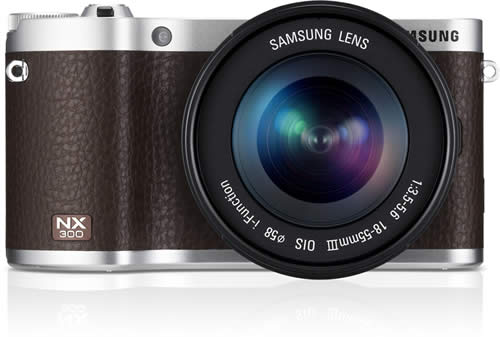 The NX300 delivers an outstanding combination of features, functionality and style for perfect shooting in every moment.
20.3 Megapixel APS-CMOS sensor, capable of capturing high quality images which boast sharp, life- like colors and are crisp and clear in all light conditions
Hybrid Auto Focus (AF) system also delivers fast, accurate phase and contrast detection
SMART 2.0 Wi-Fi connectivity allows sharing of photos instantly and securely between camera and smartphone (or tablet).
NX300 $999
The Go-Getter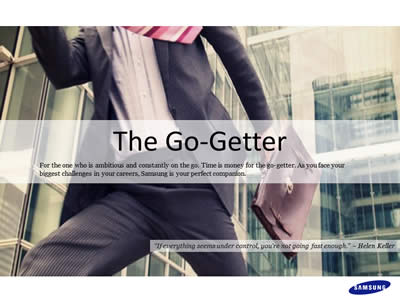 For the one who is ambitious and constantly on the go. Time is money for the go-getter. As you face your biggest challenges in your careers, Samsung is your perfect companion.
"If everything seems under control, you're not going fast enough." – Helen Keller
ATIV Book 9 Plus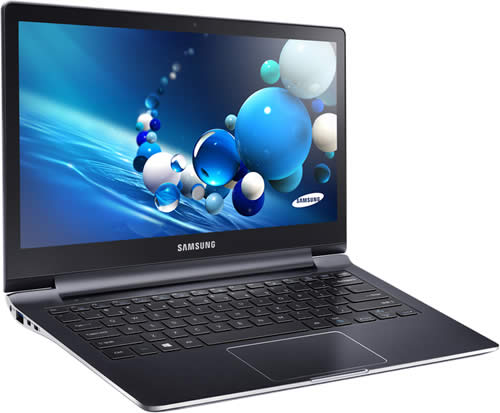 Thanks to 33,000 hours of craftsmanship, the ATIV Book 9 Plus takes this premium PC to the next level as the aluminium, uni-body design features several enhancements from the previous model.
A Windows 8 optimized touchscreen to give users a choice of inputs and a panel that flips 180 degrees
11 hours of battery life allows users to stay productive during cross-continental flights on a single charge
Productivity is further enhanced by Samsung's SideSync technology, which makes it easy to share content between the Book 9 Plus and an AndroidTM- based Samsung smartphone or tablet.
ATIV Book 9 Plus $TBC
*Product to be available in Q4
ATIV Book 7/Book 7 Touch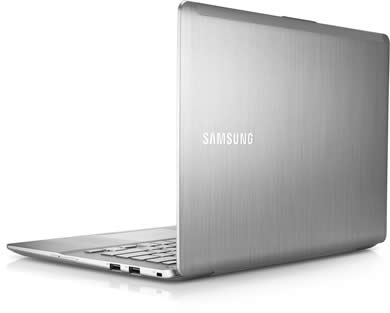 ATIV Book 7 embodies superior mobility and performance in an ultra-slim and light, full aluminium body. Designed as the ultimate Ultrabook for multimedia, the ATIV Book 7 offers crisp visuals as well as powerful sound features.
Superior mobility and performance in an ultra-slim and light, full aluminium body
Up to eight hours of battery life keeps users connected all day
The Book 7 Touch's ten-finger intuitive touch capabilities and six second boot-up time that maximises productivity on-the-go
Book 7 $1,599
Book 7 Touch $1,799
GALAXY MEGA With LTE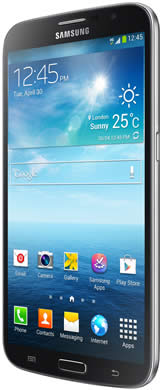 The GALAXY MEGA With LTE is an ideal choice for users who want to get the most out of one device that brings great quality at an even greater value. It provides an optimal viewing experience, yet ensures that it remains ultra-thin and portable enough to put into a pocket or hold in one hand.
Featuring a 6.3-inch HD LCD screen, the GALAXY MEGA With LTE enables an exceptional widescreen view for various applications
Ultra-thin and portable enough to put into a pocket or hold in one hand
Split screen capability for a variety of applications such as email, messages, MyFiles, S Memo and S Planner
GALAXY MEGA With LTE $798
GALAXY S4 With LTE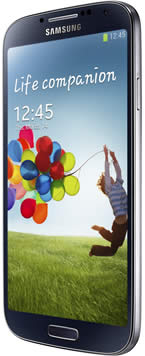 The Samsung GALAXY S4 With LTE was developed to redefine the way we live and to maximize our fulfillment of life. This sleek and innovative smartphone makes every moment of life very meaningful. The GALAXY S4
With LTE is available in Black Mist, White Frost and Arctic Blue.
Capture meaningful moments with a series of enriched and intuitive camera features including the 'Dual Shot', 'Drama Shot' and 'Sound & Shot' functions
Air Gesture' helps to bring more convenience to users who can wave their hand to change a music track, scroll up and down a web page, or accept a call
GALAXY S4 With LTE $998 without contract, for all colours
NaviBot-S SR8950/ SR8980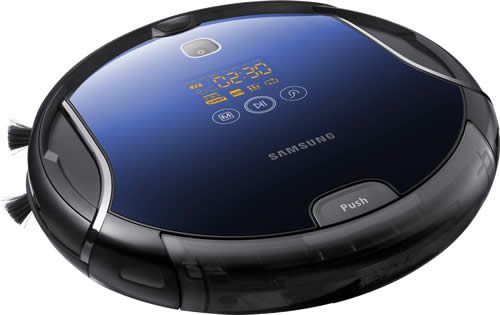 An intelligent robotic vacuum cleaner that offers pristine, hassle-free cleaning, the NaviBot-S is your answer when you're constantly on the go.
Visionary Mapping™ Plus System allows the robot to create a virtual map of the house, before plotting the optimum route to achieve total coverage
Auto Dust Emptying ensures that the SR8980 returns automatically to its charge base for an automated removal of dust
Dust sensor cleaning automatically adjusts its program when it senses a larger than normal quantity of dust and debris
SR8950 $999 Blue
SR8980 $1,199 Red
GALAXY NX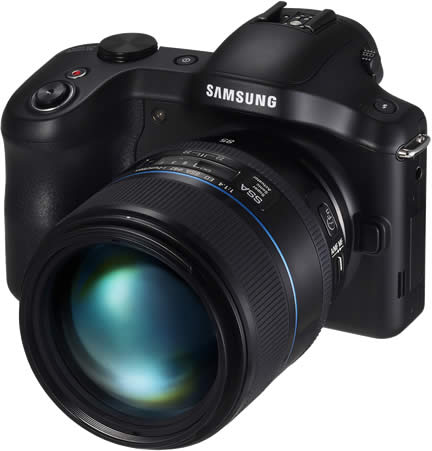 The GALAXY NX embraces the era of visual communication to provide an outlet for passionate photographers to express their exciting experiences immediately, in spectacular quality.
20.3MP APS-C Sensor produces images which are bright and detailed even in low light conditions
Supporting 3G/4G LTE technology, the GALAXY NX allows photographers to constantly stay connected and share their photos whether on the move or at home
The large selection of Interchangeable Lenses available for the GALAXY NX places creative control firmly in the hands of the photographer, opening up a world of imaging possibilities
GALAXY NX $1,958
Slim Fry Smart Oven (MC32F606)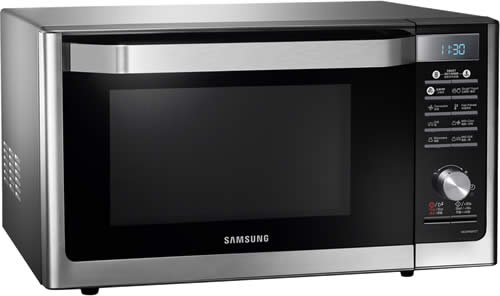 The new Slim Fry Smart Oven (MC32F606) includes a range of smart features such as sensor technology, high- quality cooking performance and a sleek aesthetic, all designed to provide convenience for busy households, and allow consumers to save themselves time and effort when preparing healthy, great-tasting meals.
Raw Ingredient Cooking technology identifies a food's surface temperature – whether frozen, chilled or fresh – and cooks any dish at the appropriate temperature, eliminating over- or under-cooked meals
Slim Fry technology prepares crisp meals without the use of additional oil, eliminating excess fat
Smart Multi Sensor Technology reads the food's surface temperature each second and judges whether the cooking stages are complete based on surface temperature
Slim Fry Smart Oven (MC32F606) $649
These gift ideas may also delight those who just want to give themselves a pat on the back after a year's of hard work as the end of the year approaches.
Get $120 cashback when you apply for a Citibank card at www.citibank.com.sg!