We are now on Telegram
Canon Singapore has introduced the smallest camera in its EOS system which has won accolades and recognition worldwide, the EOS M. The EOS M shares the EOS ecosystem, providing full compatibility with all EF and EF-S lenses.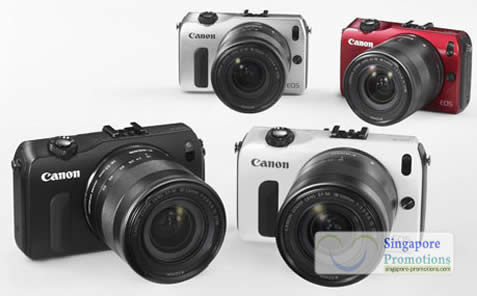 "The EOS M was carefully crafted in line with Canon's rich EOS heritage, ensuring the superior engineering and image quality that the EOS system is reputed for," said Andrew Koh, Senior Director and General Manager of the Consumer Imaging and Information Products Group, Canon Singapore. "With an APS-C CMOS sensor, a DIGIC 5 imaging processor, and full compatibility with all EF and EF-S lenses, we are very proud to have created a camera that provides maximum performance in a minimal size."
Together with the launch of the EOS M, Canon also announced a range of accessories for this new camera. The EF-M 18-55mm f3.5/5.6 IS STM and the EF-M 22mm f/2.0 STM are lenses which have been designed especially for this camera. A new mount adapter, EF-EOS M, allows full compatibility for the EOS M with all EF/EF-S lenses. The Speedlite 90EX is a compact and lightweight flashgun equipped with wireless master function via optical transmission.
The Compact Powerhouse within the EOS Family
The EOS M bears the EOS lineage not only by name, but also by containing the best features of its larger DSLR cousins. At the heart of the EOS M lies the powerful combination of an 18 megapixel APS-C-sized CMOS sensor and the DIGIC 5 image processor. The increased light sensitivity of the sensor coupled with the DIGIC 5's improved processing speed work in tandem to produce impeccable images, and earns the EOS M its place in the EOS family.
The high ISO sensitivity of up to 12800 (expandable to ISO 25600) also ensures that the EOS M is comfortably equipped to handle low light situations. The compact build of the EOS M is achieved by removing the optical viewfinder, the main mirror as well as the mirror drive systems. The EOS M body weighs a mere 265g and measures just 108.6 x 66.5 x 32.3mm in size.
Flexibility and Creativity with Enhanced Processing
By combining Phase-difference AF and Contrast AF into a Hybrid CMOS AF system, the EOS M is able to achieve high speed and high precision focus in both still and video modes. Focusing on subjects is also faster and more accurate in the EOS M with a variety of methods such as Face + Tracking, where the camera tracks moving subjects by switching AF points. There is also the Multi FlexiZone method where the EOS M divides the scene into 31 AF zones as well as the Single FlexiZone where users can move the AF point via the LCD touchscreen, in a mode that is similar to the conventional Live View.
When shooting in a room where bright sunlight is shining through windows, the extreme contrast in lighting makes it very difficult to capture a shot with the right exposure. The EOS M's HDR Backlight Compensation function solves the issue by taking three images – one with normal exposure, overexposure and underexposure in rapid succession before merging and automatically aligning it within the camera. This produces an image with minimal loss of highlight and shadow detail, even in backlit conditions.
To create a smooth picture in dark environments that require high ISO noise reduction, the EOS M features a Multi Shot Noise Reduction function where four shots are taken consecutively, and then merged and aligned within the camera resulting in a cleaner final image. For the creative at heart, the EOS M also comes with seven creative filters like Grainy/Black & White, Soft Focus, Toy Camera, Miniature, Art Bold, Water Painting and Fish-eye filters.
Full Control at Your Fingertip
Targeted at both EOS and non-EOS users, the EOS M retains the classic EOS-like design for its shutter-release button. It is also equipped with an intuitive 3.0-inch widescreen touch panel LCD monitor to simplify its controls. The EOS M packs all the function controls of an EOS DSLR while sporting fewer dials and buttons. The ClearView LCD II technology makes it comfortable to view images and previews even in bright environments, and an anti-smudge coating reduces fingerprints.
Other features designed to help users new to the EOS system include the Function Guide, which shows descriptions of shooting modes and other settings for a friendlier user experience. The EOS Scene Analysis system also makes the camera capable of automatically detecting different scene types before setting the Auto-Focus (AF), Auto-Exposure (AE) and other image processing functions to capture the best shot.
Shooting with EOS Movie
The EOS M is not just a sharp shooter, it is also capable of professionally recording Full HD video, thanks to the APS-C sensor as well as the DIGIC 5 imaging processor which allows the camera to captures motion pictures at a high maximum ISO of 6400. Similar to the recently launched EOS 650D, the EOS M is equipped with a Movie Servo AF which enables continuous auto-focus during movie recording.
When mounted with STM EF/EF-S lenses via the new mount adapter EF-EOS M, users get to enjoy smooth, speedy quiet Servo AF on the EOS M during movie shooting. Found commonly in Canon LEGRIA camcorders, the EOS M also comes with the Video Snapshots feature which allows users to record short video snippets (2, 4 or 8 seconds) before stitching all of them sequentially into video snapshot albums.
Tapping into the vast and diverse EOS ecosystem
As part of the EOS system, the EOS M is able to access Canon's entire arsenal of EF/EF-S lenses. The new EF-EOS M mount adapter allows the EOS M's strong frame structure to mount any existing EF/EF-S lens, greatly expanding the EOS M's imaging capabilities. Full functionality of all lenses is retained when used with the EF-EOS M mount adapter, and EOS users can conveniently use their existing lenses on the EOS M. This versatility enables the EOS M to handle all genres of photography, simply by selecting the appropriate lens.
The first two lenses released by Canon for the EOS M are the EF-M 18-55mm f/3.5-5.6 IS STM as well as the EF-M 22mm f/2.0 STM. These lenses are lightweight, compact, and provide smooth and silent AF performance. The Image Stabilizer on the EF-M 18-55mm f/3.5-5.6 IS STM also provides an equivalent of up to four shutter stops of stabilization, resulting in the sharper pictures without any decrease in quality.
Dynamic IS is a function that activates itself during movie shooting, and it ensures steady images while shooting movies. The lenses use an EMD (Electro Magnetic Diaphragm) with a 7-blade circular aperture, so shots with a shallow depth-of-field will have excellent circular blurs for a beautiful effect.
The EF-M 18-55mm f3.5/5.6 IS STM is a versatile zoom lens well-suited for everyday usage, and can be used as the default lens for casual users as it can capture both wide-angle and portrait shots. The EF-M 22mm f/2.0 STM is a compact and lightweight "pancake" lens for ultra-portability.
The EOS M is also equipped with a standard hot shoe which makes it compatible with Canon's full range of Speedlites. This includes the newly announced Speedlite 90EX, which can also be used a master unit for a wireless flash set up. Beyond external flashguns, the hot shoe also allows compatibility with other EOS accessories such as remote controls, Speedlite transmitters and GPS receivers.
The EOS M is available in four stylish colours – black, red, silver and white.
Price & Availability
The EOS M, EF-M lenses, EOS-EF M mount adapter and Speedlite 90EX will be available from early October at all Canon authorized dealers. Pricing will be confirmed at a later date.