Olympus has announced the launch of the OLYMPUS STYLUS TOUGH TG-630. This camera packs waterproof*1, shockproof*2, and freezeproof capability*3 into a tough, but stylish body, along with a quick start-up time, and iHS Technology, which allows users to perfectly and beautifully capture photographic moments.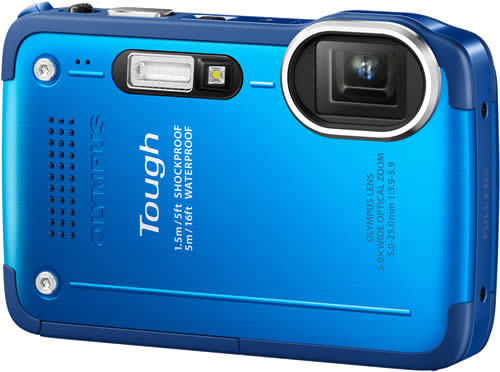 It is scheduled to go on sale in Singapore from end January.
Main Features
A fast start-up time and high-speed AF ensures that users never miss a shot.
With waterproof capability up to 5 m*1, drop/shockproof capability of 1.5 m*2, and freezeproof capability down to -10°C*3, the STYLUS TOUGH TG-630 is a TOUGH model, built to withstand harsh shooting environments.
With iHS Technology made possible by the combination of the 12 megapixel*4 high- sensitivity, high-speed CMOS sensor and the high-performance TruePic image processor, high sensitivity, and low noise image quality have been achieved.
The TOUGH series is a concept model equipped with three Tough qualities  waterproof, shockproof, and freezeproof  for worry-free shooting under water, during mountain climbing, and in other harsh environments that other cameras could not endure. With the ability to capture everyday scenes as well as photos in even the most difficult environments, the photographic opportunities are endless.
The OLYMPUS STYLUS TOUGH TG-630 boasts waterproof capabilities down to a depth of 5 m, shockproof durability against drops up to 1.5 m, and freezeproof resistance to -10°C. Not only is the STYLUS TOUGH TG-630 perfect for trips to beaches and mountains, users can feel at ease letting children handle it.
The lightweight, compact and stylish body slips in and out of a bag smoothly. Since the STYLUS TOUGH TG-630 is so easy to carry around, users can easily take it with them to photograph everyday scenes, like food, sweets, pets, parties, and a girls' night out. With its vividly coloured exterior, it is an enjoyable camera to both hold and use.
Low noise and high image quality shooting is available because of the iHS Technology, made possible by the combination of the high-sensitivity and high-speed CMOS sensor and the high- performance image processing engine.
In addition to image quality, the quick camera start up to shooting, fast focus time and fast continuous shooting time makes it the perfect camera for capturing split-second moments in outdoor sports, fleeting scenery, or antics of children and pets, and the once-in-a-lifetime expressions on their faces.
With the 5x optical zoom from 28mm wide-angle*5 to 140mm tele, a wide variety of shooting styles are available, from expansive landscapes and group shots, to narrow-angle underwater shooting.
The STYLUS TOUGH TG-630 comes equipped with the popular Magic Filter*6 and Beauty Make- up*7 mode. A total of 11 different effects for Magic Filter are available, 9 of which can be used when shooting movies. Users simply select a filter to give a slightly different flair to their still images and movies. Beauty Make-up is also available, offering 19 different makeup effects such as eye shadow and blush, in addition to effects which make skin appear smoother and more beautiful when shooting, or during playback.
With these effects, users can enjoy capturing images with an artistic, impressive flair, and make people look a bit more beautiful. This camera is packed with useful features that not only cover tough shooting conditions, but everyday situations, such as automatically detecting a pet's face (dogs and cats), and automatically capturing the shot at the best possible timing.
iHS Technology
iHS stands for "intelligence", "high-speed", and "high-sensitivity". With the combination of the 12 megapixel back-illuminated CMOS sensor and the TruePic VI image processor developed for the OLYMPUS PEN, high sensitivity, low noise, and a high-speed AF have all been achieved. Even in backlit or night-time scenes the camera can beautifully capture images, just as they are seen by the human eye.
With HDR backlit correction, the camera captures, with a single shot, three images at different exposures and automatically merges them into a single image. With Super Resolution technology, users can zoom with minimal image degradation. With Intelligence technology, iAUTO can automatically detect 29 different types of scenes.
AF Illuminator
The AF Focus Illuminator is a supplemental light included for those times when auto focus has difficulty focusing in dark places, or in scenes with particularly low contrast. When the shutter button is pressed halfway, the LED will automatically activate, illuminating the subject and improving auto focusing precision. This function is especially useful for shooting scenes indoors or in dark locations.
DUAL IS*8
DUAL IS image stabilisation employs digital SLR algorithms in a shift-type image stabilisation mechanism that moves the CMOS sensor in the direction of camera shake to counteract the effect. By using this function in combination with high-sensitivity shooting, camera shake and subject blur is effectively reduced, providing double image stabilisation.
Full High-Definition Movies*9 (MOV/H.264)
The STYLUS TOUGH TG-630 comes equipped with full HD (1920 x 1080) movie settings, and an extremely good compression format for computers. With MOV and H.264 formats, longer movies can be shot more smoothly and beautifully. A dedicated movie button makes starting and stopping movies easy with a single touch. The STYLUS TOUGH TG-630 is also equipped with Multi-Motion Movie IS image stabilisation.
As this function corrects for the gradual camera shake that commonly occurs when shooting a movie while walking, users can fully enjoy shooting beautiful, high-quality movies. With a high-speed movie shooting available in 240 fps*10 shooting speed, movies can appear as slow motion in playback.
Magic Filter
The popular Magic Filter is available on this model. Users can choose from up to 11 different filters, such as: Pop Art, Pin Hole, Fish-eye, Soft Focus, Punk, Watercolour, Miniature, Reflection, and Dramatic. Pop Art, Pin Hole, Fish-eye, Soft Focus, Punk, Watercolour, Miniature, Reflection, and Dramatic can also be used when shooting movies.
Beauty Make-up
Beauty Make-up allows users to apply desired makeup effects to up to three people at the same time during shooting or playback, and to register three favourite patterns of makeup for ease of use. This function offers a full range of 19 different makeup effects that will make women happy. In a menu screen designed to be similar to a cosmetic palette, effects such as blush, eye shadow, false eyelashes, and eye colour and sizes can be changed and applied easily, along with effects to make faces appear smaller and lifting effects to make subjects appear more beautiful.
Pet Mode (Scene Mode)*11
By selecting Pet-cat or Pet-dog modes, the camera will automatically detect cats or dogs and focus on their faces. Up to 10 dog or cat faces can be detected. With Auto Shutter, the camera will automatically shoot when a pet faces the camera head-on, so users will never miss the whimsical antics of their pets. (Auto Shutter can detect only one pet.)
Smartphone Application: OLYMPUS Image Share
With the iPhone and Android compatible smartphone application OLYMPUS Image Share, and the Toshiba FlashAirTM*12 SDHC card with an internal wireless LAN, uploading images to social networking services is easier than ever before. Using the smartphone connection function included on the STYLUS TOUGH TG-630 to set up a FlashAirTM card makes Wi-Fi connection simple.
With the OLYMPUS Image Share application, users can easily load images onto a smartphone via a thumbnail index, add Art Filters on a smartphone, and share images on various social networking services. A one-time password can also be issued for connecting to multiple smartphones
simultaneously to share images with friends and family.
Eye-Fi Support*13
Eye-Fi cards are SDHC memory cards that contain an internal wireless LAN. Images can be wirelessly uploaded to picture services, online photo albums, and computers.
SNS Upload Function
This function satisfies the demand of users who want to upload still images to social networking sites, such as Facebook and Flickr. By adding images to an upload list on the camera that users want to share, they can easily be uploaded to the desired social networking service.
To upload images, users simply add recorded images to a list on the camera, and then upload them to a computer. Images added to a list can be searched with a single touch and then easily uploaded. (It is necessary to preinstall the included software (OLYMPUS Viewer 3) on a computer.)
Other Features
Macro LED
Face and Back Control detects subjects faces and adjusts the focus, and optimises the exposure
HDMI Output Control enables control of the camera, such as selecting and switching images with a TV remote control*12
iAUTO allows never-fail, beautiful shooting of thirty different automatically detectable scenes for still images and movies
USB Battery Charge allows users to charge the camera battery while connected to a computer, and transferring or organising image data
Double lock mechanism – slide style double lock
Supported media: SD, SDHC, SDXC, Eye-Fi, Flash AirTM cards
Recommended Retail Price And Availability
The OLYMPUS STYLUS TOUGH TG-630 is available in Black, White, Red and Blue at Olympus authorised retailers from end January onwards. The recommended retail price of the STYLUS TOUGH TG-630 is S$328 (with GST)
*1 JIS/IEC protection class 8 (IPX8) equivalent (our in-house test condition)
*2 Under Olympus in-house test condition
*3 Number of recordable pictures is reduced in low temperatures
*4 Effective pixels
*5 35mm camera equivalent
*6 Recordable image size will differ depending on the filters in Magic Filter. Filters available for use when shooting movies are limited.
*7 Image size is limited to 5M or smaller. Beauty Mode effect varies depending on shooting conditions
*8 Image stabilization effect varies depending on shooting condition.
*9 Recording time per session is limited to less than 29 minutes. Recording is terminated automatically when the file size reaches 4
GB.
*10 The image size is limited to HVGA (320×240).
*11 The number of pets automatically detected is limited to 1 when Auto Shutter Release is set to ON, or up to 10 when it is set to OFF. Depending on the subject and shooting conditions the camera may not be able to correctly detect faces. In Pet mode, the flash and face detection of people's faces cannot be used.
*12 FlashAir™ is a trademark of Toshiba Corporation.
*13 The use of Eye-Fi cards is limited to the original country of purchase. Observe all the applicable laws of the country of use. Turn off the Eye-Fi setting or refrain altogether from using Eye-Fi cards inside airplanes or in other places where wireless communication is restricted or forbidden. Single files (images or movies) exceeding 2 GB cannot be transferred wirelessly. For any inquiries regarding Eye-Fi cards, please contact the card's manufacturer.
Get a FREE American Tourister Caravan 70cm TSA luggage (worth S$260) (with min spend) and 2-years annual fees waiver when you sign up for a HSBC Revolution credit card at www.hsbc.com.sg.