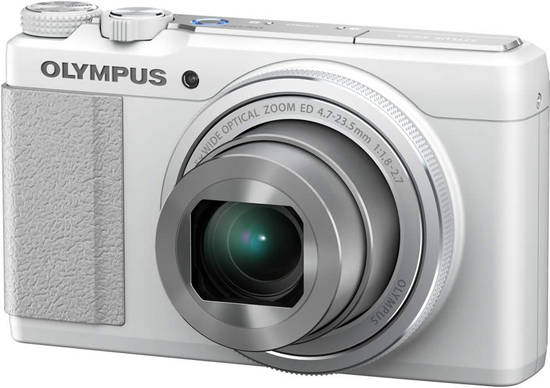 Olympus Imaging Singapore has announced the OLYMPUS STYLUS XZ-10. This model packs a high speed, high-quality i.ZUIKO DIGITAL 5x optical zoom lens, and versatile functions such as the new Photo Story for expanding photographic expression, all in a lightweight and compact camera body.
The camera is scheduled to go on sale in Singapore from March 2013.
With the 26mm – 130mm (35mm film camera equivalent) f/1.8 – 2.7, high speed 5x optical, high-quality i.ZUIKO DIGITAL lens, and the inclusion of iHS Technology, high-quality images with beautifully defocused backgrounds and shots under dim lighting are possible.
A compact, lightweight body coupled with a slim and solid design makes this model easy to carry around every day.
The new Photo Story function and Art Filter round out the expressive power of the OLYMPUS STYLUS XZ-10.
Controls that work exactly the way users want them to, from the Touch AF Shutter so a photo opportunity is never missed, the control ring that can be customised to users' preferences, to the Fn (Function) button.
Because forwarding high-quality images to a smartphone is easy with OI.Share smartphone application support, or using a FlashAir™*3 card in the camera, sharing images with others or posting them to social networking services is simple.
The OLYMPUS STYLUS X series is a line-up of compact digital cameras that offer superb image quality and expressive power, and is the first compact digital camera equipped with a lens bearing the ZUIKO name. The ZUIKO lens was first included on the Semi OLYMPUS; the first-ever OLYMPUS camera in 1936. The ZUIKO has been used for the past 77 years, continuing its tradition as a high-performance lens.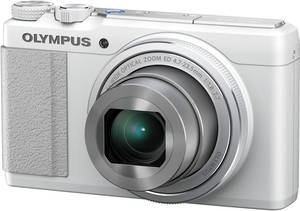 In January 2011, the OLYMPUS STYLUS XZ-1 was announced as the first model in the X series, and in September 2012, the OLYMPUS STYLUS XZ-2 was announced as the X series flagship model. Both models are equipped with a high speed f/1.8-2.5 lens which is bright from wide-angle to telephoto, achieving acclaim as capturing high-quality images that rival SLR cameras.
The OLYMPUS STYLUS XZ-10 brings the superb image quality of the X series to a high-end compact that can be enjoyed on a daily basis due to its advanced portability, functionality, and performance. A refined and solid design is used for the slim camera body with the pursuit of a compact and lightweight form.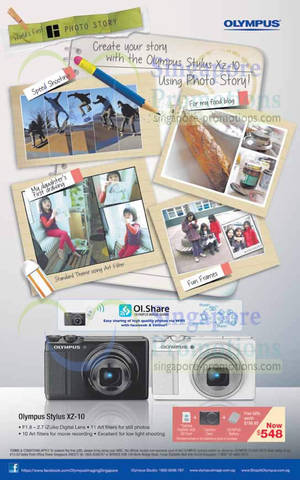 The control ring and Touch AF Shutter made popular on the OLYMPUS STYLUS XZ-2 are still available on the OLYMPUS STYLUS XZ-10, providing spectacular performance and the ability to capture every photo opportunity.
For those who want to capture everyday scenes as special memories, rich in personality, Photo Story has been added to Art Filters. This function captures multiple viewpoints in a single image and puts them together for an artistic creation. With the OI.Share smartphone application, users can quickly and easily share images and post them to social networking services. Keeping up with the times, OLYMPUS has compressed new ways to enjoy photos into a small package.
Compact, Lightweight Body and Slim, Solid Design
When compared to the OYLMPUS STYLUS XZ-2, the OLYMPUS STYLUS XZ-10 is slimmer and up to 40% smaller in volume. With this smaller design, high-quality images can be enjoyed in a camera with increased mobility.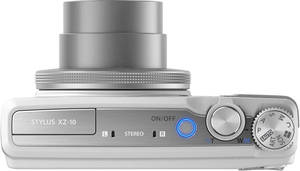 A built-in lens barrier and fixed grip have been included in response to users' feedback, improving portability and operability. With three colours to choose from including black, white, and brown, users can select one that best fits their lifestyle.
26mm-130mm Focal Length (conversion) f/1.8-2.5 iZUIKO Zoom Lens
The lens on the OLYMPUS STYLUS XZ-10 is a 5x optical zoom that covers a focal range from 26-130mm (35mm film camera equivalent). The OYLMPUS STYLUS XZ-10 boasts an f/1.8-2.7, high speed lens, with the brightest aperture value in its class at f/2.7 on the telephoto end over 100mm, making beautifully defocused images and high-quality images under dim light condition possible at telephoto settings. This bright lens is also perfect for capturing moving subjects.
This lens is a combination of OLYMPUS's superb lens technology, and the spare-no-expenses design process by including DSA (Dual Super Aspherical) and EDA (Extra-low Dispersion Aspherical) lenses in the lens group, for the high depictive quality equal to that of OLYMPUS interchangeable SLR ZUIKO DIGITAL lenses.
Additionally, to thoroughly eliminate ghosting and lens flares, reflectivity was kept to half of the previous value at a wavelength of 450 to 650 nm, thanks to the lens surface treated with the OLYMPUS-original ZERO (ZUIKO Extra-low Reflection Optical) coating. These measures ensure highly clear depictive performance with a sense of transparency, even in backlit or other unfavourable conditions.
iHS Technology
iHS stands for "intelligence", "high-speed", and "high-sensitivity". With a 1/2.3 type, 12.0 megapixel*1, high-speed, high-sensitivity, back-illuminated CMOS sensor, and the TruePic image processing engine designed for the OLYMPUS PEN, users will always be able to capture the subject they want beautifully and without ever missing a shot.
In addition, the OLYMPUS STYLUS XZ-10 also inherits Fast AF from the OLYMPUS PEN. The sensor is driven at double speed (120fps) of the previous system. And by accelerating the engine's logic processing, focusing speed is improved.
New Function: Photo Story
The new function, Photo Story, is included on the OLYMPUS STYLUS XZ-10 to bring out users' artistic abilities and powers of expression when shooting. By capturing a scene from multiple viewpoints and then combining them into a single image, everyday scenes and memorable scenes can be recorded in various ways.
Users simply turn the mode dial to Photo Story, choose a favourite theme (Standard, Speed, Zoom In/Out, Fun Frame), and touch inside the frame to use Touch AF Shutter and easily complete their artistic shots. At the same time, it is easy to create images with style and personality by combining the type, effect, frame aspect ratio, and number of images according to the selected theme.
The finished image can be checked in Live View and users can continue shooting various types of images. Multiple viewpoints are included in a single image, making it possible to recreate the story of the scene and easier to put yourself in that captured scene.
The four types of selectable Photo Story Themes are:
Standard: Simple type with split images
Speed: Slide a finger to shoot continuously (Finger can be slid to split multiple images)
Zoom In/Out: Combines both close-up and pull-back effects
Fun Frame: Film formats where the date can be added to the image
Art Filter*2
With 11 Art Filters and 5 Art Effects, users can create more stand-out pictures for them to enjoy. Depending on the theme set in Photo Story, some Art Filter effects can also be applied, expanding even further the freedom of photographic possibilities.
Touch AF Shutter
The Touch AF Shutter function allows users to instantly select the exact location they want to focus on simply by touching the screen on the rear of the camera. By including the FAST AF system, which is the crystallisation of years of OLYMPUS AF technology, and the easy controls of the touch screen, subjects throughout the screen can easily be focused on, whether in the centre, background, or edges, allowing users to snap the shutter at just the right moment.
Touch screen operations also include Live Guide settings, AF position selection, magnified playback and browsing of images. With these features, a truly comfortable photo experience is achieved.
Control Ring
Just as with the OLYMPUS STYLUS XZ-2, a function can be selected for each shooting mode and assigned to the control ring. Because settings such as the aperture value or exposure compensation can be quickly adjusted with a twist of the control ring, users can capture photos exactly the way they want without missing a shot.
These features realise an optimum control scheme for artistic expression.
Fn (Function) Button
The Fn (Function) button has been placed on the back of the camera for assigning frequently used functions. Users can choose multiple functions out of 16 options to assign based on their shooting style or convenience. Users can easily call up or switch between functions assigned to the Fn (Function) button and control ring and change setting values as needed, allowing them to quickly set up their preferred style.
Smartphone Application: OI.Share
OI.Share is a free iPhone and Android smartphone application used for easily sharing high-quality images. When used together with a Toshiba-brand FlashAir™*3 card (equipped with an internal wireless LAN), images can easily be sent using a smartphone. Communication settings can be made from within a dedicated menu on the camera, by connecting to a smartphone, thus making it easy to send images without ever using a computer.
After importing images, OI.Share can be used to apply Art Filters or link to social networking apps to share photos and communicate through images. A one-time password can also be issued for connecting to multiple smartphones simultaneously to share images with friends and family on the spot.
Basic Features
Effective number of pixels: 12 million*1
Zoom factor: 5x optical zoom, 2x super resolution zoom
Wide: 26mm wide-angle (35mm film camera equivalent)
Image stabilisation: Dual IS (CMOS shift type & high-sensitivity shooting, Multi-motion Movie IS)
Rear display: 3.0 type, 920,000 dots, TFT colour LCD
Movie shooting: Full High-definition movies (MOV/H.264)
Other Features
Handheld Night shooting mode with the flash can be used to beautifully capture night scenes and people
Advanced iAUTO function with 36 automatically detectable scenes
Dual IS – Cutting-edge image stabilisation technology for reducing subject blur
Multi Motion image stabilisation support for movies compensates for slow, strong camera shake that occurs when breathing or walking
High-Speed Movie for slow-motion playback of quickly moving subjects
Electric auto pop-up flash
Intuitive GUI linked with the control ring
Equipped with an ND filter for controlling exposure in 3 steps, for beautifully defocused shots even in bright condition
Super Macro shooting for distances up to a minimum of 1 cm
4 aspect ratios for matching the framing needs of any subject
Supported media: Memory cards, (SD, SDHC, SDXC, UHS-1 compatible), Eye-Fi cards, FlashAir™
*1 Camera effective pixels
*2 When shooting a movie with Art Filter, frame rate and the availability of audio recording will differ depending on the type of filter
*3 FlashAir™ is a trademark of Toshiba Corporation
The OLYMPUS STYLUS XZ-10 is available in Black and White at OLYMPUS authorised retailers from March 2013 onwards. The recommended retail price for the OLYMPUS STYLUS XZ-10 is $548.
Click on thumbnails to enlarge.
Get a FREE American Tourister Caravan 70cm TSA luggage (worth S$260) (with min spend of S$600 within a month of Card Account Opening Date) and 2-years annual fees waiver when you sign up for a HSBC Revolution credit card at www.hsbc.com.sg.