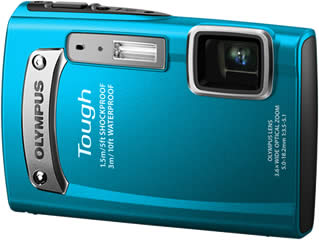 We are now on Telegram
Olympus Imaging has announceed the OLYMPUS TOUGH TG-320 Digital Camera, OLYMPUS DP-211 Voice Recorder and PEN pic (iPhone application).
OLYMPUS TOUGH TG-320 (Camera)
OLYMPUS TOUGH TG-320 is waterproof* to a depth of 3 meters, shockproof* against falls from as high as 1.5 metres, freezeproof* at temperatures as low as -10°C, and comes with DUAL IS features in a stylish design.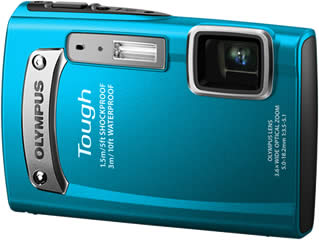 Waterproof*, shockproof* and freezeproof* in a stylish design
14-Megapixels CCD, 3.6x wide optical zoom and DUAL IS
Magic Filters can be recorded in HD movie (MPEG-4 AVC / H.264)
The OLYMPUS Tough Series of compact digital cameras feature a waterproof*, shockproof* and freezeproof* design that assures reliable, high-quality shooting under conditions that ordinary cameras would be unable to endure, such as underwater or in cold winter conditions. From the tranquil to the turbulent, whatever the conditions, whatever the situation, this camera assures great results, giving users the opportunity to expand their enjoyment of photography.
The new TG-320 achieves a good balance between toughness, such as being waterproof* to a depth of 3 metres, shockproof* against drop impacts from as high as 1.5 metres, and freezeproof* at temperatures as low as -10°C, and a stylish body design. The TG-320 also incorporates the easy mode to shoot the increasingly popular 3D photos, Beauty Mode and Beauty Make-up to touch up the human skin and eyes, and Pet Mode that automatically detects your pets' face and takes the shot at the best possible timing. With these features, you can trust the camera in everyday uses as well as the tough scenes.
Behind its tough exterior, the TG-320 offers the 3.6x optical zoom from the wide angle of 28mm**, making it easier to shoot an expansive scenery or a group photo, and even an underwater photo which usually results in a smaller angle of view. The outstanding imaging power of a 14-megapixel CCD and the Olympus' imaging processing engine TruePicIII produce high-quality and high-definition images.
Tough features and DUAL IS
The TG-320 incorporates tough features that can be used in various rugged conditions. Olympus' distinct lens barrier, a sliding double lock mechanism, and Tap control features make the camera more user-friendly. To prevent picture blur due to camera shake and subject motion, the TG-320 features DUAL IS uses a CCD-shift image stabilisation mechanism and high-sensitivity image capturing, by an effect of up to 4 shutter speed stops.
HD movie (MPEG-4 AVC / H.264) recording
Extended smooth and beautiful HDTV (1280 x 720 pixels) movie recording is available, as movies are encoded in MPEG-4 AVC/H.264 format.
When using any SD/SDHC/SDXC/Eye-Fi*** memory card, it is possible to select the preferred card to record in. When no memory card is used, movies will be recorded in internal memory. Movie recording can be manipulated by a dedicated movie REC button.
Magic Filters
The TG-320 features an expanded range of 8 Magic Filters – Pop, Pin Hole, Fisheye, Sketch, Soft Focus and Punk inherited from the previous model, and the newly-added Watercolour and Sparkle. Furthermore, Magic Movies recordings are available in Pop, Sketch, Fisheye, Soft Focus, Punk and Watercolour, giving them a distinct look and artistic feel.
Watercolour: Enjoy transforming your images with a finish like that of watercolour paintings
Sparkle: Enjoy photos with the luxurious feel created by added twinkling lights
3D Photo Shooting Function
You can shoot dynamic 3D photos in any mode from macro to landscape. Recreate a sense of depth like that of the original scene. You can then enjoy the full power of 3D images on compatible TV sets and computers. Simply select the 3D Photo in Shooting mode and then release the shutter and slide the camera sideways to easily get a 3D photo. During 3D Photo shooting, a 3D file and regular JPEG files are recorded at the same time.
There are two modes to shoot 3D photos:
Auto mode: After taking the first image, pan the camera slowly to line up the on-screen image and the second image will be shot automatically.
Manual mode: After taking the first image, pan the camera slowly to line up the on-screen image, and then press the shutter to capture the second image manually.
First select 3D photo playback or ordinary playback, and then you can get to enjoy the full power of 3D images by playing them back on 3D-compatible TV sets or computers.
When playing them back on the camera display, the 3D icon will be displayed on images in Single-frame playback and Thumbnail playback mode.
MP Format (Multi Picture Format)
This is a format standardised by CIPA to handle multiple images under a single image file. When you use the 3D Photo Shooting function, the images for the right and left eye are recorded in a single MP format file.
Pet Mode
The camera automatically detects dogs' and cats' faces. Selecting the [Pet Mode – Dog] or [Pet Mode – Cat] from the scene mode, the camera will quickly detect your pet's face and automatically focus on it before shooting the photo. The camera can detect up to 10 faces of different dogs or cats.
Auto Release
The camera captures your pet's cute expressions perfectly. Use the Auto Release function to have the camera automatically shoot the photo the moment your dog or cat turns to face the camera. You will never again miss your pet's whimsical facial expressions.
Eye-Fi Card Compatible
Eye-Fi Cards are SDHC*** memory cards with built-in wireless LAN functionality. The images that you take can easily be uploaded wirelessly to your computer and to photo printing services and online albums, such as "ib on the net".
Other Features
Shadow Adjustment Technology that detects faces of subjects and optimises focus and exposure accordingly
Magic Filters for adding creative effects to HD movies and/or stills: Pop, Pin Hole (photos only), Fisheye, Sketch, Soft Focus, Punk, Watercolour and Sparkle (photos only)
3D photo shooting mode for striking stills
Beauty Mode to touch up human faces for more attractive results
Pet Detection Mode for automatically capturing dog's or cat's faces when they look at the camera
Scene Modes for one-touch shooting adjustment in difficult environments including dedicated underwater scenes as well as in standard conditions
HDMI output control for operations including picture selection and frame-by-frame advancement using a TV's remote control
Face Detection AF to detect and focus on human faces automatically
iAUTO function that analyses the current composition and optimises camera settings automatically
In-camera panorama composition function that lets you shoot a panorama picture by simply panning the camera as guided
USB battery charging enables the camera battery to be recharged from a PC while automatically storing and organising recorded data in the PC
AF Tracking to keep a moving subject in focus by tracking it automatically
Photo-surfing and [ib] software allows you to search desired pictures according to recording keyword such as "date", and "subject"
Hard glass barrier to protect the lens
Compatible media: SD/SDHC/SDXD/Eye-Fi*** memory cards
* Waterproof according to IEC standard publication 529 IPX8. Shockproof figures equivalent to MIL Standard (Olympus test conditions).
** 35mm camera equivalent.
*** SD is a trademark of SD Card Association. UHS I is not supported.
The OLYMPUS TG-320 is available in Blue and Red at the recommended retail price of S$298 (with GST) at selected Olympus authorised retailers.
OLYMPUS DP-211 (Voice Recorder)
The OLYMPUS DP-211 maintains the same sense of convenience and ease-of-use of analogue recorders, but provides even more memory, enhanced battery life and a larger LCD screen.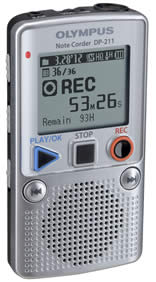 The Olympus DP-211 boasts a 1.7-inch LCD screen, allowing display content to be viewed easily, and large function buttons to make recording effortless.
Extended Recording, Powerful Battery Life, Simple Design
The Olympus DP-211 takes on a large increase in both recording time and battery life. With over 200 hours of recording time on 2GB of internal memory, users will have the ability to record everything they need with no fear of running out of space. The battery life is increased to last 80 hours on two AAA batteries. The Calendar Search feature makes it simpler to find audio files by organising them according to recording date.
Staying true to the simple design of the Olympus DP series, the Olympus DP-211's "Play," "Stop" and "Record" buttons are easily accessible and colour-coordinated for enhanced ease-of-use. The DP-211 enables fast and slow playback with the "Rewind" and "Fast-Forward" buttons and also has a clearly marked "Erase" button to prevent accidental data loss. The large front speaker and volume control allows the user to hear files during playback with ease. The Olympus DP-211 captures high-quality audio with the Noise Cancellation and Microphone Sense Setting. These two features allow background noises to be eliminated and stabilises soft or loud sounds.
2GB internal memory
Large LCD screen (1.78 inches) and font size
Large front speaker and function buttons
80 hours of battery life for recording (SP); 49 hours of battery life for playback (ear)
98 hours (HQ) / 202 hours (SP) of recording time
Easy-to-use calendar search (no folders) for added simplicity
Playback speed control (x 0.5 to x 2.0)
Noise cancellation
Beep On/Off control
Four-language display – EN, SP, FR, PT
Recording format in sub band codec
Microphone Sense Setting
The OLYMPUS DP-211 is available from September 2012 at the recommended retail price of S$78 (with GST) at selected Olympus authorised retailers.
PEN pic (iPhone application)
One of the OLYMPUS PEN series' camera functions – the Art Filters – is introduced into a photo-sharing application for iPhone called "PEN pic". It is produced by KAYAC Inc. under OLYMPUS' supervision.
Apply the exclusive Art Filters to shooting functions
Add comments to your Art Filter-ed images
Upload images from your iPhone and they will be "dropped" at your current location for other nearby users to "pick" up for viewing and commenting
Be notified when someone hits "Like" or make a comment on your images using the Feed function
One Day function for gallery of popular photos taken on the previous day
The PEN pic application is available in the iTunes store from 10 August 2012.