Samsung has announced the launch of the NX300 – the new flagship model in its successful NX series – in Singapore. The NX300 raises the bar for compact system cameras (CSC), delivering an outstanding combination of features, functionality and style for perfect shooting in every moment.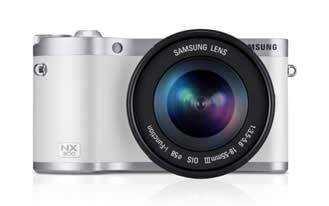 Samsung has also announced the new NX 45mm F1.8 2D/3D lens, the world's first one-lens 3D system capable of capturing both still images and full HD movies in perfect 3D quality.
"The NX300 is the epitome of the SMART CAMERA, designed with the professional photographer in mind. Like athletic superstar Usain Bolt, whom we've partnered with globally, the NX300 is super-fast, with its ability to capture life's most fleeting moments and share them instantaneously. "
"The NX300 delivers the ability to capture, edit and share the most beautiful pictures possible, all on a device with the most advanced connected technology available," said Irene Ng, Vice President, Marketing, Samsung Asia Pte Ltd.
Perfect Shooting
Central to the NX300's outstanding imaging performance is its brand new 20.3 Megapixel APS-C CMOS sensor, capable of capturing high quality details. Images boast sharp, life-like colors, and are crisp and clear in all light conditions.
The wide ISO range (ISO100-25600) further improves performance, letting users capture beautifully balanced images in even the darkest conditions. A brand new Hybrid Auto Focus (AF) system also delivers fast, accurate phase and contrast detection, while the 1/6000 sec shutter speed and 8.6fps continuous shooting mode ensure you never miss a moment.
Samsung's unique in-house developed DRIMe IV imaging engine provides outstanding developments in speed, and image quality. The DRIMe IV engine enables better color reproduction and greater noise reduction, as well as support for full 1080p HD video capture in both 2D and 3D (when combined with Samsung's new 45mm 2D/3D lens).
The NX300's 84mm (3.31″) AMOLED screen makes capturing and reviewing your images a pleasure, while the hybrid touch screen and 5-way manual key interface is simple and intuitive to use. The tilt display makes it easier than ever to take high and low angle shots, letting you capture your world from any angle you choose.
Easy Usability and Stylish Retro Design
The compact design of the NX300 makes it simple for anyone to capture impressive pictures like a professional with minimal technical knowledge or time spent adjusting parameters needed. Using the camera's Smart Mode, users can choose from 14 different settings such as Creative Shot, Landscape, Light Trace or Action Freeze which will automatically adjust parameters such as aperture and shutter speed in order to obtain the best shot possible for the desired situation.
The NX300 also includes i-Depth, an easy and simple way to adjust the depth of an image using the NX Series' unique i-Function system. This system enables users to modify camera parameters using the lens itself, adjusting the image without ever having to move off target.
The NX acclaimed design returns with the NX300 sporting a stylish yet simple retro feel that is available in either black, white or brown with a contrast silver band, conveying elegance and authenticity.
Instant sharing through enhanced Wi-Fi connectivity
The NX300's Wi-Fi connectivity allows users to share their cherished photos instantly and securely between their camera and smartphone (or tablet). To connect a smartphone to the camera, users simply need to download the Samsung SMART CAMERA app onto their smartphone or tablet and follow the easy steps to create a secure connection with the camera. This app is available for both Android and iOS based application markets.
The NX300 will be able to detect and auto-connect to the smartphone wirelessly whenever any of the SMART CAMERA features are activated. These include AutoShare, which automatically sends every high-quality photo to your smart phone for safe keeping and Mobile Link, which allows users to select and transfer images or album from the camera directly to your smartphone at your leisure. The SMART CAMERA app also features a Remote Viewfinder function for the NX300, allowing for even more inventive and exciting photography.
The NX300's enhanced Wi-Fi connectivity also lets users share images with friends and family directly from the camera via social networking sites using the cameras one-touch DIRECT LINK hot key. Alternatively, images can be automatically backed up or stored in the cloud through AllShare Play ensuring they are always safe and easily accessible.
Samsung 45mm 2D/3D lens
The Samsung 45mm 2D/3D lens (sold separately) opens up an exciting world of 3D imaging possibilities and is the world's first one-lens 3D system for a consumer camera. Capable of capturing both still pictures and full 1080p HD video, the Samsung NX300 and 45mm 2D/3D lens kit is the only compact system camera supporting both 3D still and 3D movie.
The NX300 is also compatible with Samsung's entire range of NX lenses and professional standard accessories, giving users an unparalleled range of options when striving for that perfect shot.
Usain Bolt Partnership
The 'NX Junior Photographer' campaign will see Samsung and Usain Bolt work in partnership to build on the athlete's natural love of being behind the camera and will see the six-time gold medal winning Olympian showcase his very own 'Usain Bolt Foundation' to provide equipment and lessons to children from disadvantaged backgrounds.
Over the coming months, other activities will be launched through the exclusive partnership with Usain Bolt for those that like speed.
Pricing and Availability
The Samsung NX300 and the 45mm 2D/3D lens is available now at a RRP of $999 and $649 respectively, inclusive of GST.The NX300 also comes bundled with Adobe® Photoshop® Lightroom® 4 valued at $178.
NX300 Product Specifications
Image Sensor
20.3 effective megapixel APS-C CMOS
IS
OIS mode is only provided on 2D shooting mode
Display
84.0mm (3.31″) AMOLED with a Tilt Touch Panel
WVGA (800×400) 768k dots
ISO
Auto, 100, 200, 400, 800, 1600, 3200, 6400, 12800, 25600
Image
JPEG (3:2):20.0M (5472×3648), 10.1M (3888×2592), 5.9M (2976×1984),
2.0M (1728×1152), 5.0M (2736×1824): Burst mode only
JPEG (16:9):16.9M (5472×3080), 7.8M (3712×2088), 4.9M (2944×1656), 2.1M (1920×1080)
JPEG (1:1):13.3M (3648×3648), 7.0M (2640×2640), 4.0M (2000×2000),
1.1M (1024×1024)
RAW : 20.0M (5472×3648)
* 3D Image Size : JPEG (16:9) 4.1M (2688×1512), (16:9) 2.1M (1920×1080)
Video
MP4 (Video: MPEG4, AVC/H.264, Audio: AAC)
1920×1080, 1920×810, 1280×720 , 640×480, 320×240 for Sharing
Video Output
HDMI 1.4a
Value-added Features
SMART Mode : Beauty Face, Landscape, Macro, Action Freeze, Rich Tone, Panorama, Waterfall, Silhouette, Sunset, Night, Fireworks, Light Trace, Creative Shot, Best Face
3D still image & video capturing
Wi-Fi Connectivity
IEEE 802.11b/g/n support Dual Channel (SMART Camera 2.0)
. AutoShare
. Cloud
. Email
. Auto Backup
. Remote Viewfinder
. MobileLink
. Wi-Fi Direct (playback)
. AllSharePlay
. Social Sharing
Bundle PC software
iLauncher, Adobe Lightroom
45mm 2D/3D lens Specifications
Focal Length
45mm (equivalent to 69.3mm in 35mm format)
Elements in Groups
7 elements in 6 groups
Angle of View
34.7°
Aperture
2D : F1.8
3D : T6
OIS
NO
Minimum
Focus Distance
0.5m
Maximum Magnification
Approx. 0.12X
i Scene
Night, Portrait, Beauty shot, Children, Backlight, Sports
Lens Hood
Included
Filter Size
43mm
Mount Type
NX Mount
Dimension (DxL)
62 x 44.5mm
Weight
122g (without hood)
*All functionality, features, specifications and other product information provided in this document including, but not limited to, the benefits, design, pricing, components, performance, availability, and capabilities of the product are subject to change without notice or obligation.
Get $120 cashback when you apply for a Citibank card at www.citibank.com.sg!