We are now on Telegram
Samsung is breaking new grounds with its award-winning NX series with three new compact system cameras (CSC) that includes built-in Wi-Fi connectivity: the NX1000, NX210 and NX20. Professional quality images can now be easily captured, stored and shared straight from your camera – wherever you are in the world.
The innovative additions to Samsung's NX range represent the future in CSC technology: SMART cameras with in-built Wi-Fi technology that allow users to connect to wireless networks without any additional cards or devices.
Full Wi-Fi connectivity is complemented by an impressive range of features, continuing the heritage of innovation that the NX series has been consistently recognized for since the launch of the NX10 in 2010.
All three NX models feature a 20.3 Megapixel APS-C CMOS sensor, developed in-house by Samsung to capture high quality images in rich color and detail. They are also fully compatible with the NX series' unique i-Function system, enabling users to control parameters using the lens itself, adjusting the image without ever having to move off target. With Samsung's range of nine lenses and professional standard accessories, the NX eco-system ensures that all imaging ambitions can be realised.
Enhancing Samsung's 2012 SMART Camera ecosystem, these latest additions to the NX range have been designed to satisfy the ambitions of users of all abilities, from experienced professionals to users who are looking to upgrade from their point-and-shoot cameras.
For the fashionista – Lightweight and compact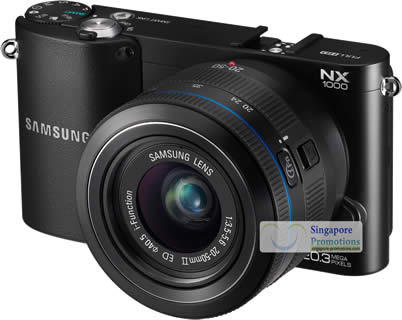 The NX1000 is highly portable and its eye-catching compact design makes it as functional as it is attractive. Available in stunning White, classic Black or eye-catching Pink, it houses a feature-rich range of specs, with technology such as Smart Auto 2.0 and the Smart Link Hot Key, making it simpler than ever to shoot and share great images instantly and wirelessly.
For the vintage lover – Retro and chic
The NX210 follows the NX's design heritage, with a retro-like premium metallic finish. Like its predecessor the NX200, the NX210 also offers a 3.0″ AMOLED display for viewing images and Full HD movies in brilliant resolution. With easy access to Wi-Fi functions, the NX210 allows quick sharing with friends and family.
The availability of Samsung Remote Viewfinder allows users to capture perfect group shots by remotely controlling the camera using a GALAXY Smartphone. Showing off amazing images on phones and tablets, or on the big screen wirelessly is now possible as well.
For the shutterbug – Fastest shutter speed
The NX20 is the perfect match for enthusiast amateurs or professional photographers looking for a highly portable camera that gives a professional look and feel of a DSLR but at a fraction of the size and weight, with the addition of an ergonomic grip to fit comfortably into the hand.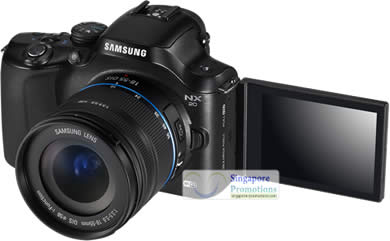 Delivering impressive speed with its 1/8000s Fast Shutter, breath-taking images are shown on its clear 3.0″ clear AMOLED swivel display, increasing visibility by approximately 20%. The NX20 also incorporates a range of functions and manual controls in order to deliver pro-standard pictures every time, including SVGA EVF so users can frame images like a professional.
In-Built Wi-Fi for simple sharing and saving
With Samsung's latest SMART features, users can share pictures at the touch of a button, uploading to social networks including Facebook and Picasa, or emailing them to friends and family – all straight from their new NX camera.
The cameras also offer further options for capturing and displaying images via other devices, including the ability to link to a Samsung smartphone and use it as a remote viewfinder, and – with the Samsung Mobile Link function – to display images on devices such as tablets or internet-enabled TV.
Creative control at the touch of a button
Pictures shared on the spur of the moment are no longer restricted to simply shooting and sending. Creative features such as the ten Smart Filters and added Selective Colour function, enable users to adjust the look and feel of shots on-the-go before sharing with their friends on social networks.
In addition, all three cameras also feature Panorama and 3D Panorama, allowing the whole story to be told in one complete picture. With the Smart Panel featured on all three models, settings and features can be easily accessed and applied, making creative photography easier than ever.
Availability
NX210 is available in Black and Two-Tone metallic at $1,299.
NX20 is available in Black at $1,499.
NX1000 is available in White, Pink and Black at $999.
Specifications
Samsung NX1000 Digital Camera
Image sensor
Type
CMOS
Sensor size
23.5×15.7mm
Effective Pixel
Approx. 20.3 Megapixels
Total Pixel
Approx. 21.6 Megapixels
Color Filter
RGB primary colour filter
Lens Mount
Mount
Samsung NX Mount
Useable lens
Samsung Lenses
Image Stabilization
Type
Lens Shift (depends on Lens)
Mode
OIS Mode1 / Mode2 / OFF
i-Function
i-Effect
i-Scene (depends on Lens)
Smart Filter (Vignetting, Miniature, Fish-Eye, Sketch, Defog, Halftone Dot)
i-Zoom
i-Zoom (x1.2, 1.4, 1.7, 2.0)
Dust Reduction
Type
Supersonic drive
Display
Type
TFT-LCD
Size
3.0″
Resolution
VGA (640X480) 921k dots
Field of View
Approx. 100%
Focusing
Type
Contrast AF
Focusing point
Selection: 1point (Free selection )
Multi : Normal 15points, Close-up 35points
Face Detection : Max. 10 faces
Modes
Single AF, Continuous AF, MF
AF-assist Lamp
Yes
Shutter Speed
Auto:1/4000sec. ~ 30sec.
Manual:1/4000sec. ~ 30sec. (1/3EV step)
Bulb ( Limit time : 4min. )
Exposure
Metering
System
TTL 221(17×13) Block segment
Metering : Multi, Centre-weighted, Spot
Metering range : EV 0-18 (ISO 100 · 30mm, F2)
Compensation
±3 EV (1/3EV step)
AE Lock
CUSTOM Key applicable
ISO Equivalent
Auto, 100, 200, 400, 800, 1600, 3200, 6400, 12800 (1 or 1/3EV step)
Drive Mode
Modes
Single, Continuous, Burst (5M size only), Self-timer, Bracket (AE/WB/PW)
Continuous
JPEG: High(8fps) up to 11 shots, Low(3fps) up to 15 shots selectable
Burst: 10, 15, 30fps selectable, 30 shots by 1 release
RAW: High(8fps), Low(3fps) selectable up to 8 shots
Bracket
Auto Exposure Bracket (±3EV), WB, PW
Self-timer
2 – 30sec. (1sec. step)
Flash
Type
External Flash only (Bundle with SEF8A)
Modes
Smart Flash, Auto, Auto+Red-eye reduction, Fill-in, Fill-in+Red-eye reduction, 1st Curtain, 2nd Curtain, Off
Guide Number
8 (at ISO 100) (SEF8A)
Angle of View Coverage
28mm wide-angle (Equivalent to 35mm) (SEF8A)
Sync. Speed
Less than 1/180sec.
Flash Compensation
-2 – +2EV (1/2EV step)
External Flash
Samsung External Flash available (SEF42A, SEF220A : Optional)
Synchro (Flash attachment)
Hot Shoe
White Balance
Auto, Daylight, Cloudy, Fluorescent (W, N, D), Tungsten, Flash, Custom, K(Manual)
Shooting
Modes
Smart Auto (2.0), Program, Aperture Priority, Shutter Priority, Manual, Lens Priority, Magic, Scene, Movie, Wi-Fi
Scene Mode
Panorama (Live, 3D), Beauty shot, Night, Landscape, Portrait, Children, Sports, Close-Up, Text, Sunset, Dawn, Backlight, Fireworks, Beach & Snow, 3D Photo
Smart Filter
Vignetting, Miniature, Fish-Eye, Sketch, De-fog, Half-Tone Dots, Soft Focus, Old Film1, Old Film2, Negative, Selective Colour (4 Colour Modes)
Magic Frame
Old Album, Old Film, Wave, Full Moon, Old Record, Magazine, Sunny Day, Classic TV, Wall Art, Holiday, Billboard 1, Billboard 2, Newspaper
Image Size
JPEG (3:2):20.0M (5472×3648), 10.1M (3888×2592), 5.9M (2976×1984), 2.0M (1728×1152), 5.0M (2736×1824): Burst mode only
JPEG (16:9):16.9M (5472×3080), 7.8M (3712×2088), 4.9M (2944×1656), 2.1M (1920×1080)
JPEG (1:1):13.3M (3648×3648), 7.0M (2640×2640), 4.0M (2000×2000), 1.1M (1024×1024)
RAW : 20.0M (5472×3648)
Movie
Format
MP4 (H.264)
Compression
Movie : H.264 , Sound : AAC
Modes
Program, Aperture Priority, Shutter Priority, Manual
Movie Clip
With Audio or without Audio
(user selectable, recording time : 25 minutes)
Smart Filter
Vignetting, Miniature, Fish-Eye, Sketch, De-fog, Half-Tone Dots, Soft Focus, Old Film1, Old Film2, Negative
Image size
1920×1080, 1920×810, 1280×720 , 640×480, 320×240 for Sharing
Frame rate
30fps, 24fps(1920×810 Only)
Multi-Motion Recording
x0.25 (640, 320 only), x0.5 (1280, 640, 320 only), x5, x10, x20
Movie Editing
Still Image Capture, Time Trimming
Image Play
Type
Single image, Thumbnails (3/15/40 images), Slide show, Movie
Editing
Smart Filter, Red-eye fix, Backlight., Resize, Rotate, Face Retouch, Brightness, Contrast, Vignetting
Smart Filter
Miniature, Soft Focus, Old Film1, Old Film2,, Halftone Dots, Sketch, Fish-Eye, De-fog Negative
<Size>
JPEG (3:2):5.9M (2976×1984), 5.0M (2736×1824), 2.0M (1728×1152)
JPEG (16:9):6.2M (3328×1872), 4.9M (2944×1656), 2.1M (1920×1080)
JPEG (1:1): 6.0M (2448×2448), 4.0M (2000×2000), 1.1M (1024×1024)
Storage
Media
SD, SDHC, SDXC (guarantee up to 128GB)
File format
RAW (SRW), JPEG (EXIF 2.21), DCF, DPOF 1.1, PictBridge 1.0
Capacity (2GB)
20.0M : RAW 53
20.0M (3:2) : Super Fine 186, Fine 364, Normal 535
10.1M (3:2) : Super Fine 378, Fine 724, Normal 1043
5.9M (3:2) : Super Fine 626, Fine 1168, Normal 1642
2.0M (3:2) : Super Fine 1627, Fine 2742, Normal 3553
Burst (5.0M) : Super Fine 731, Fine 1349, Normal 1878
16.9M (16:9) : Super Fine 230, Fine 448, Normal 655
7.8M (16:9) : Super Fine 485, Fine 919, Normal 1310
4.9M (16:9) : Super Fine 747, Fine 1376, Normal 1912
2.1M (16:9) : Super Fine 1573, Fine 2666, Normal 3468
13.3M (1:1) : Super Fine 289, Fine 560, Normal 814
7.0M (1:1) : Super Fine 536, Fine 1010, Normal 1432
4.0M (1:1) : Super Fine 893, Fine 1621, Normal 2224
1.1M (1:1) : Super Fine 2645, Fine 4057, Normal 4936
Movie : 1920×1080 30p : High Quality 17m 45s, Normal 22m 09s
1920×810 24p : High Quality 74m 08s, Normal 91m 51s
1280×720 30p : High Quality 29m 26s, Normal 36m 41s
640×480 30p : High Quality 74m 08s, Normal 91m 51s
320×240 30p : High Quality 238m 30s, Normal 289m 55s
Wi-Fi
. Mobile Link
. Remote Viewfinder
. Social Sharing
. Email
. Cloud (SkyDrive)
. Auto Backup
. TV Link
. Wi-Fi Direct
Interface
Digital Output Connector
USB 2.0 (HI-SPEED) (micro USB Jack)
Video output
NTSC, PAL (user selectable)
HDMI 1.4a : (1080i, 720P, 576P / 480P)
External Release
Yes
External Mic
Yes
Power
Source
Type
Rechargeable battery : BP1030 (1030mAh)
Charger: BC1030
Battery life
165min / 320shots (CIPA Standard)
Physical
Specification
Dimensions (WxHxD)
114 x 62.5 x 37.5mm (excluding the projection part)
Weight
222g (without battery and memory card)
Operating Temperature
0 ~ 40 °C
Operating Humidity
5 ~ 85%
Special Features
Intelli-studio 3.0, Samsung RAW Converter 4, PC Auto Backup
Adobe Reader
Samsung NX210 Digital Camera
Image sensor
Type
CMOS
Sensor size
23.5×15.7mm
Effective Pixel
Approx. 20.3 Megapixels
Total Pixel
Approx. 21.6 Megapixels
Colour Filter
RGB primary colour filter
Lens Mount
Mount
Samsung NX Mount
Useable lens
Samsung Lenses
Image Stabilization
Type
Lens Shift (depends on Lens)
Mode
OIS Mode1 / Mode2 / OFF
Distortion Correct
LDC On / Off (depends on Lens)
i-Function
i-Effect
i-Scene (depends on Lens)
Smart Filter (Vignetting, Miniature, Fish-Eye, Sketch, Defog, Half-Tone Dots)
i-Zoom
i-Zoom (x1.2, 1.4, 1.7, 2.0)
Dust Reduction
Type
Supersonic drive
Display
Type
AMOLED
Size
3.0″
Resolution
VGA ( 640X480 ) 614k dots ( PenTile )
Field of View
Approx. 100%
Angle
Fixed
Display
Grid (4types), Histogram, Icons : On/Off, Distance Scale : ft / m / Off, Electronic Level
Focusing
Type
Contrast AF
Focusing point
Selection: 1point ( Free selection )
Multi : Normal 15points, Close-up 35points
Face Detection : Max. 10 faces
Modes
Single AF, Continuous AF, MF
AF-assist Lamp
Yes
Shutter
Type
Electronically controlled vertical-run focal plane shutter
Speed
Auto:1/4000sec. ~ 30sec.
Manual:1/4000sec. ~ 30sec. (1/3EV step)
Bulb (Limit time : 4min.)
Exposure
Metering
System
TTL 221(17×13) Block segment
Metering : Multi, Centre-weighted, Spot
Metering range : EV 0-18 (ISO 100 · 30mm, F2)
Compensation
±3 EV (1/3EV step)
AE Lock
CUSTOM Key applicable
ISO Equivalent
Auto, 100, 200, 400, 800, 1600, 3200, 6400, 12800 (1 or 1/3EV step)
Drive Mode
Modes
Single, Continuous, Burst (5M size only), Self-timer, Bracket (AE/WB/PW)
Continuous
JPEG: High(8fps) up to 11 shots, Low(3fps) up to 15 shots selectable
Burst: 10, 15, 30fps selectable, 30 shots by 1 release
RAW : High(8fps), Low(3fps) selectable up to 8 shots
Bracket
Auto Exposure Bracket (±3EV), WB, PW
Self-timer
2 – 30sec. (1sec. step)
Flash
Type
External Flash only (Bundle with SEF8A)
Modes
Smart Flash, Auto, Auto+Red-eye reduction, Fill-in, Fill-in+Red-eye reduction, 1st Curtain, 2nd Curtain, Off
Guide Number
8 (at ISO 100) (SEF8A)
Angle of View Coverage
28mm wide-angle (Equivalent to 35mm) (SEF8A)
Sync. Speed
Less than 1/180sec.
Flash Compensation
-2 – +2EV (1/2EV step)
External Flash
Samsung External Flash available (SEF42A, SEF220A : Optional)
Synchro (Flash attachment)
Hot Shoe
White Balance
Auto, Daylight, Cloudy, Fluorescent (W, N, D), Tungsten, Flash, Custom, K(Manual)
Micro adjustment
each 7 steps in Amber / Blue / Green / Magenta axis
Dynamic Range Expansion
OFF / Smart Range
Picture Wizard
Modes
Standard, Vivid, Portrait, Landscape, Forest, Retro, Cool, Calm, Classic, Custom (1~3)
Parameter
Contrast, Sharpness, Saturation, Colour
Shooting
Modes
Smart Auto(2.0), Program, Aperture Priority, Shutter Priority, Manual, Lens Priority, Magic, Scene, Movie, Wi-Fi
Scene Mode
Panorama (Live, 3D), Beauty shot, Night, Landscape, Portrait, Children, Sports, Close-Up, Text, Sunset, Dawn, Backlight, Fireworks, Beach & Snow, Sound Picture, 3D Photo
Sound Picture
JPEG Only
Sound Recording Time (Before and after shooting each 5sec or 10sec)
Smart Filter
Vignetting, Miniature, Fish-Eye, Sketch, De-fog, Half-Tone Dots, Soft Focus,
Old Film1, Old Film2, Negative, Selective Colour (4 Colour Modes)
Magic Frame
Old Album, Old Film, Wave, Full Moon, Old Record, Magazine, Sunny Day, Classic TV, Wall Art, Holiday, Billboard 1, Billboard 2, Newspaper
Image Size
JPEG (3:2):20.0M (5472×3648), 10.1M (3888×2592), 5.9M (2976×1984), 2.0M (1728×1152), 5.0M (2736×1824): Burst mode only
JPEG (16:9):16.9M (5472×3080), 7.8M (3712×2088), 4.9M (2944×1656), 2.1M (1920×1080)
JPEG (1:1):13.3M (3648×3648), 7.0M (2640×2640), 4.0M (2000×2000), 1.1M (1024×1024)
RAW : 20.0M (5472×3648)
Quality
Super fine , Fine, Normal
RAW Format
SRW
Colour Space
sRGB, Adobe RGB
Movie
Format
MP4 (H.264)
Compression
Movie : H.264 , Sound : AAC
Modes
Program, Aperture Priority, Shutter Priority, Manual
Movie Clip
With Audio or without Audio
(user selectable, recording time : 25 minutes)
Smart Filter
Vignetting, Miniature, Fish-Eye, Sketch, De-fog, Half-Tone Dots, Soft Focus,
Old Film1, Old Film2, Negative
Image size
1920×1080, 1920×810, 1280×720 , 640×480, 320×240 for Sharing (Default : 1920×1080)
Frame rate
30fps, 24fps(1920×810 Only)
Multi-Motion Recording
x0.25 (640, 320 only), x0.5 (1280, 640, 320 only), x5, x10, x20
Quality
High Quality , Normal
Sound
Stereo Sound
Movie Editing
Still Image Capture, Time Trimming
Image Play
Type
Single image, Thumbnails (3/15/40 images), Slide show, Movie
Editing
Smart Filter, Red-eye fix, Backlight., Resize, Rotate, Face Retouch, Brightness, Contrast, Vignetting
Smart Filter
Miniature, Soft Focus, Old Film1, Old Film2,, Half-Tone Dots, Sketch, Fish-Eye, De-fog Negative
JPEG (3:2):5.9M (2976×1984), 5.0M (2736×1824), 2.0M (1728×1152)
JPEG (16:9):6.2M (3328×1872), 4.9M (2944×1656), 2.1M (1920×1080)
JPEG (1:1): 6.0M (2448×2448), 4.0M (2000×2000), 1.1M (1024×1024)
Storage
Media
SD, SDHC, SDXC (guarantee up to 128GB)
File format
RAW (SRW), JPEG (EXIF 2.21), DCF, DPOF 1.1, PictBridge 1.0
Capacity (2GB)
20.0M : RAW 53
20.0M (3:2) : Super Fine 186, Fine 364, Normal 535
10.1M (3:2) : Super Fine 378, Fine 724, Normal 1043
5.9M (3:2) : Super Fine 626, Fine 1168, Normal 1642
2.0M (3:2) : Super Fine 1627, Fine 2742, Normal 3553
Burst (5.0M) : Super Fine 731, Fine 1349, Normal 1878
16.9M (16:9) : Super Fine 230, Fine 448, Normal 655
7.8M (16:9) : Super Fine 485, Fine 919, Normal 1310
4.9M (16:9) : Super Fine 747, Fine 1376, Normal 1912
2.1M (16:9) : Super Fine 1573, Fine 2666, Normal 3468
13.3M (1:1) : Super Fine 289, Fine 560, Normal 814
7.0M (1:1) : Super Fine 536, Fine 1010, Normal 1432
4.0M (1:1) : Super Fine 893, Fine 1621, Normal 2224
1.1M (1:1) : Super Fine 2645, Fine 4057, Normal 4936
Movie : 1920×1080 30p : High Quality 17m 35s, Normal 21m 56s
1920×810 24p : High Quality 19m 00s, Normal 23m 43s
1280×720 30p : High Quality 29m 10s, Normal 36m 20s
640×480 30p : High Quality 73m 26s, Normal 91m 00s
320×240 30p : High Quality 236m 16s, Normal 287m 12s
Wi-Fi
. Mobile Link
. Remote Viewfinder
. Social Sharing
. Email
. Cloud
. Auto Backup
. TV Link
. Wi-Fi Direct
Interface
Digital Output Connector
USB 2.0 (HI-SPEED) (micro USB Jack)
Video output
NTSC, PAL (user selectable)
HDMI 1.4a : (1080i, 720P, 576P / 480P)
External Release
Yes
External Mic
Yes
Power
Source
Type
Rechargeable battery : BP1030 (1030mAh)
Charger: BC1030
Battery life
165min / 320shots (CIPA Standard)
Physical
Specification
Dimensions (WxHxD)
116.5 x 62.5 x 36.6mm (excluding the projection part)
Weight
222.2g (without battery and memory card)
Operating Temperature
0 ~ 40 °C
Operating Humidity
5 ~ 85%
Software
Application
Intelli-studio 3.0, Samsung RAW Converter 4, PC Auto Backup
Adobe Reader
Samsung NX20 Digital Camera
Image sensor
Type
CMOS
Sensor size
23.5×15.7mm
Effective Pixel
Approx. 20.3 Megapixels
Total Pixel
Approx. 21.6 Megapixels
Colour Filter
RGB primary colour filter
Lens Mount
Mount
Samsung NX Mount
Useable lens
Samsung Lenses
Image Stabilization
Type
Lens Shift (depends on Lens)
Mode
OIS Mode1 / Mode2 / OFF
Distortion Correct
LDC On / Off (depends on Lens)
i-Function
i-Effect
i-Scene (depends on Lens)
Smart Filter (Vignetting, Minature, Fish-Eye, Sketch, Defog, Half-Tone Dot)
i-Zoom
i-Zoom (x1.2, 1.4, 1.7, 2.0)
Dust Reduction
Type
Supersonic drive
Display
Type
AMOLED
Size
3.0″
Resolution
VGA ( 640X480 ) 614k dots ( PenTile ) OCR
Field of View
Approx. 100%
Viewfinder
Type
EVF w/ Eye Contact Sensor
Resolution
SVGA (800 x 600)
Field of view
Approx.100%
Magnification
Approx. 0.68X (Equivalent to a 50mm lens on a 35mm camera)
Eyepoint
Approx. 18.0mm
Diopter Adjustment
Approx. -4.0 ~ +4.0m-1
Focusing
Type
Contrast AF
Focusing point
Selection: 1point (Free selection )
Multi : Normal 15points, Close-up 35points
Face Detection : Max. 10 faces
Modes
Single AF, Continuous AF, MF
AF-assist Lamp
Yes
Shutter
Type
Electronically controlled vertical-run focal plane shutter
Speed
Auto:1/8000sec. ~ 30sec. (w/ E-Shutter)
Manual:1/8000sec. ~ 30sec. (w/ E-Shutter, 1/3EV step)
Bulb (Limit time: 4min.)
Exposure
Metering
System
TTL 221(17×13) Block segment
Metering : Multi, Centre-weighted, Spot
Metering range : EV 0-18 (ISO 100 · 30mm, F2)
Compensation
±3 EV (1/3EV step)
AE Lock
AEL button
ISO Equivalent
Auto, 100, 200, 400, 800, 1600, 3200, 6400, 12800 (1 or 1/3EV step)
Drive Mode
Modes
Single, Continuous, Burst (5M size only), Self-timer, Bracket (AE/WB/PW)
Continuous
JPEG: High(8fps) up to 11 shots, Low(3fps) up to 15 shots selectable
Burst: 10, 15, 30fps selectable, 30 shots by 1 release
RAW: High(8fps), Low(3fps) selectable up to 8 shots
Bracket
Auto Exposure Bracket (±3EV), WB, PW
Self-timer
2 – 30sec. (1sec. step)
Flash
Type
TTL Auto Pop-up flash
Modes
Smart Flash, Auto, Auto+Red-eye reduction, Fill-in, Fill-in+Red-eye reduction, 1st Curtain, 2nd Curtain, OFF
Guide Number
11(at ISO 100)
Angle of View Coverage
28mm wide-angle (Equivalent to 35mm)
Sync. Speed
Less than 1/180sec.
Flash Compensation
-2 – +2EV (0.5EV step)
External Flash
Samsung External Flash available (SEF-42A, SEF220A : Optional)
Synchro (Flash attachment)
Hot Shoe
White Balance
Auto, Daylight, Cloudy, Fluorescent (W, N, D), Tungsten, Flash, Custom, K(Manual)
Micro adjustment
each 7 steps in Amber / Blue / Green / Magenta axis
Dynamic Range Expansion
OFF / Smart Range
Picture Wizard
Modes
Standard, Vivid, Portrait, Landscape, Forest, Retro, Cool, Calm, Classic, Custom (1~3)
Parameter
Contrast, Sharpness, Saturation, Colour
Shooting
Modes
Smart Auto (2.0), Program, Aperture Priority, Shutter Priority, Manual, Custom, Lens Priority, Scene, Movie, Wi-Fi
Scene Mode
Live Panorama (2D, 3D), Beauty Shot, Night, Landscape, Portrait, Children, Sports, Close Up, Text, Sunset, Dawn, Backlight, Fireworks, Beach & Snow, Sound Picture, 3D Photo
Sound Picture
JPEG Only
Sound Recording Time (Before and after shooting each 5sec or 10sec)
Smart Filter
Vignetting, Miniature, Fish-Eye, Sketch, De-fog, Half-Tone Dots, Soft Focus, Old Film1, Old Film2, Negative, Selective Colour (R,G,B,Y)
Image Size
JPEG (3:2):20.0M (5472×3648), 10.1M (3888×2592), 5.9M (2976×1984), 2.0M (1728×1152), 5.0M (2736×1824): Burst mode only
JPEG (16:9):16.9M (5472×3080), 7.8M (3712×2088), 4.9M (2944×1656), 2.1M (1920×1080)
JPEG (1:1):13.3M (3648×3648), 7.0M (2640×2640), 4.0M (2000×2000), 1.1M (1024×1024)
RAW : 20.0M (5472×3648)
Quality
Super fine, Fine, Normal
RAW Format
SRW (Compressed)
Color Space
sRGB, Adobe RGB
Movie
Format
MP4 (H.264)
Compression
Movie : H.264 , Sound : AAC
Modes
Program, Aperture Priority, Shutter Priority, Manual
Movie Clip
With Audio or without Audio
(user selectable, recording time: 25 minutes)
Smart Filter
Vignetting, Miniature, Fish-Eye, Sketch, De-fog, Halftone Dots, Soft Focus, Old Film1, Old Film2, Negative
Image size
1920×1080, 1920×810, 1280×720 , 640×480, 320×240 for Sharing (Default : 1920×1080)
Frame rate
30fps, 24fps(1920×810 Only)
Multi-Motion Recording
x0.25 (640, 320 only), x0.5 (1280, 640, 320 only), x5, x10, x20
Quality
High Quality, Normal
Sound
Stereo Sound
Movie Editing
Still Image Capture, Time Trimming
Image Play
Type
Single image, Thumbnails (3/15/40 images), Slide show, Movie
Editing
Smart Filter, Red-eye fix, Backlight., Resize, Rotate, Face Retouch, Brightness, Contrast, Vignetting
Smart Filter
Miniature, Soft Focus, Old Film1, Old Film2, Half-Tone Dots, Sketch, Fish-Eye, De-fog Negative
JPEG (3:2):5.9M (2976×1984), 5.0M (2736×1824), 2.0M (1728×1152)
JPEG (16:9):6.2M (3328×1872), 4.9M (2944×1656), 2.1M (1920×1080)
JPEG (1:1): 6.0M (2448×2448), 4.0M (2000×2000), 1.1M (1024×1024)
Storage
Media
SD, SDHC, SDXC (guarantee up to 128GB)
File format
RAW (SRW), JPEG (EXIF 2.21), DCF, DPOF 1.1, PictBridge 1.0
Capacity (2GB)
20.0M RAW : Super Fine 37, Fine 47, Normal 51
20.0M (3:2) : Super Fine 186, Fine 365, Normal 537
10.1M (3:2) : Super Fine 397, Fine 727, Normal 1047
5.9M (3:2) : Super Fine 628, Fine 1172, Normal 1648
2.0M (3:2) : Super Fine 1633, Fine 2752, Normal 3566
Burst (5.0M) : Super Fine 733, Fine 1354, Normal 1885
16.9M (16:9) : Super Fine 230, Fine 450, Normal 658
7.8M (16:9) : Super Fine 487, Fine 922, Normal 1314
4.9M (16:9) : Super Fine 749, Fine 1381, Normal 1920
2.1M (16:9) : Super Fine 1579, Fine 2675, Normal 3481
13.3M (1:1) : Super Fine 290, Fine 562, Normal 817
7.0M (1:1) : Super Fine 538, Fine 1014, Normal 1437
4.0M (1:1) : Super Fine 897, Fine 1627, Normal 2232
1.1M (1:1) : Super Fine 2654, Fine 4072, Normal 4954
Movie : 1920×1080 30p : High Quality 17m 35s, Normal 21m 56s
1920×810 24p : High Quality 19m 0s, Normal 23m 43s
1280×720 60p : High Quality 20m 16s, Normal 25m 17s
1280×720 30p : High Quality 29m 10s, Normal 36m 20s
640×480 30p : High Quality 73m 26s, Normal 91m 0s
320×240 30p : High Quality 236m 16s, Normal 287m 12s
Wi-Fi
. Cloud
. Email
. Auto Backup
. Remote Viewfinder
. Mobile Link
. Wi-Fi Direct
. TV Link
. Social Sharing
Interface
Digital Output Connector
USB 2.0 (HI-SPEED) (micro USB Jack)
Video output
NTSC, PAL (user selectable)
HDMI 1.4a : (1080i, 720P, 576P / 480P)
External Release
Yes
External Mic
Yes
Power
Source
Type
Rechargeable battery : BP1310 (1300mAh)
Charger: BC1310
Battery life
360 shot (CIPA Standard)
Physical
Specification
Dimensions (WxHxD)
122 x 89.6 x 39.5mm
Weight
341g (without batteries and Memory card)
Operating Temperature
0 ~ 40 °C
Operating Humidity
5 ~ 85%
Software
Application
Intelli-studio 3.0, Samsung RAW Converter 4, PC Auto Backup
Adobe Reader