We are now on Telegram
Samsung has announced the launch of the EX2F, the latest model in its growing range of Wi-Fi-enabled SMART CAMERAs. Following the success of the EX1 with F1.8 lens, the new model is engineered to deliver super-bright photography thanks to its F1.4 lens, the brightest available in any compact camera today.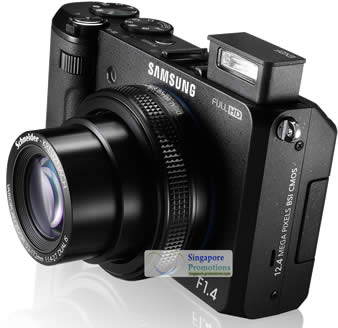 The high image and video quality of the EX2F also comes with the advantage of being able to store and share images remotely using Wi-Fi functionality.
The world's brightest compact camera lens
The EX2F combines a number of features to deliver incredible picture quality in all conditions. With the segment-leading advanced F1.4 24mm Lens, the wide range of aperture steps delivers clear images and video even in very low light conditions. These are easily controlled using the professional front wheel key and Dual Dials, which enable switching between parameters and modes quickly for greater manual control. The low-light capabilities of the EX2F are also added to by the 1/1.7″ 12 Megapixel BSI CMOS sensor, which delivers clear, blur-free images – even when shooting objects in low-light situations.
The EX2F's F1.4 24mm wide-angle lens is approximately four times as bright as a F2.8 camera lens. A further development is that the lens unit now consists of eleven elements in nine groups, with four aspherical lenses and two high refractive lenses. Combined, these provide a 20% increase in the amount of light on the sensor, a 20% increase in image quality and a 10% increase in zoom ratio.
The lens on the EX2F also incorporates a Neutral Density (ND) filter, giving the user greater control over exposure time in different conditions and making photos appear more neutral in situations of over-exposure. It also allows for shooting at a very shallow depth of field, so users can isolate their subjects from backgrounds to create stunning portraits. To make bright images clearer, the EX2F also includes Dual IS (OIS and DIS) to minimize the effect of shaking – particularly useful in low-light situations.
Complete control
Housed in a sleek yet durable high-intensity magnesium body, more commonly found on DSLR models, the EX2F combines high-end image quality with convenience and speed. Equipped with Full Manual Control, the EX2F is ideal for DSLR-owners looking for more portable equipment to capture images spontaneously and subtly, and for photographers looking for a step-up in quality from their point-and-shoot whilst retaining ease-of-use and portability.
For those accustomed to the level of creative control on DSLRs, the EX2F allows for shooting in RAW mode for professional standard pictures and also features Aperture and Shutter Priority modes. The Dual Dial and front wheel keys also allow users to quickly and easily adjust exposure for effortless pro-style control.
Bright and intuitive swivel display
The 3.0″ Swivel AMOLED display is perfect for lining up great shots and viewing them under any light conditions – and does so whilst consuming little battery power. The screen responds swiftly and displays images in high contrast, while the swivel display allows picture-taking from low and high angles – even self-portraits. The screen also incorporates Samsung's Smart Panel user interface, which integrates all parameters into one display for easy control over the end result.
Shooting and sharing from anywhere
The EX2F is the latest in Samsung's SMART CAMERA range of Wi-Fi-enabled cameras, which take the combination of high-quality imaging paired with connectivity to a new level. Wi-Fi connectivity enables the secure storage of images through Auto Backup to a PC or saving to the Cloud. In addition, sharing to social networking sites such as Facebook or Picasa is easy – or pictures can be sent via email.
The EX2F's Mobile Link opens doors for connectivity with smartphones, without even having to resize images or video. Users can also access the Remote Viewfinder to use their smartphone's screen to frame shots from a variety of angles. Through the SMART LINK button, all these functions can be accessed with one touch for simplified sharing and storage.
Capture with Full HD Brilliance
Fusing quality with creativity, 1080/30p Full HD Movie Recording with stereo sound allows users to capture video in high enough quality to enjoy on a Full HD TV. The EX2F also allows still 12 Megapixel photos and video to be captured simultaneously using the Dual Capture feature, so that any scene can be shot as both photo and video.
Pricing and Availability
The EX2F will be available in black from August at $699.
Samsung EX2F Product Specifications
Attribute
Long value
Image Sensor
Sensor Type
1/1.7″ (Approx. 10.9mm) BSI CMOS
Effective Pixel
Approx. 12.4 Megapixels
Total Pixel
Approx. 12.76 Megapixels
Lens
Focal Length
f = 5.2-17.2mm (35mm film equivalent : 24-80mm)
F No.
F1.4(W)-F2.7(T), Include ND filter
Optical Zoom
Schneider-KREUZNACH 3.3X Zoom Lens
Digital Zoom
Still Image mode : 1.0X-4.0X (Smart Zoom : 1.33X), Play mode : 1.0X-12.0X (depends on image size)
Image Stabilization
Mode
DUAL IS [Optical Image Stabilization (OIS) + Digital Image Stabilization (DIS)]
Display
Type
AMOLED Type
Size
3.0″ Size
Feature
3.0″(7.62cm) VGA( 640X480 ) 614k dots(PenTile), Rotating
Focusing
Type
TTL Auto Focus (Center AF, Multi AF, Tracking AF, Face Detection AF, Face Recognition AF, Selection AF), Manual Focus
Range
Normal : 40cm ~ Infinity (Wide), 100cm ~ Infinity (Tele) / Macro : 1cm ~ 40cm (Wide), 40cm ~ 100cm (Tele) / Auto Macro : 1cm ~ Infinity (Wide), 40cm ~ Infinity (Tele) / Manual : 1cm ~ Infinity (Wide), 40cm ~ Infinity (Tele)
Shutter Speed
Smart Auto : 1/8 ~ 1/2,000 sec, Program : 1 ~ 1/2,000 sec, Night : 8 ~ 1/2,000 sec, Manual : 30 ~ 1/2,000 sec
Exposure
Control
Program AE, Aperture Priority AE, Shutter Priority AE, Manual Exposure
Metering System
Metering : Multi, Spot, Center-weighted, Face Detection AE
Compensation
Compensation : ±2EV (1/3EV steps)
ISO Equivalent
• 1 Step: Auto, ISO 80, ISO 100, ISO 200, ISO 400, ISO 800, ISO 1600, ISO 3200, ISO 6400*, ISO 12800* • 1/3 Step: ISO 80, ISO 100, ISO 120, ISO 160, ISO 200, ISO 240, ISO 320, ISO 400, ISO 480, ISO 640, ISO 800, ISO 1000, ISO 1280, ISO 1600, ISO 1920, ISO 2560, ISO 3200, ISO 6400*, ISO 12800* (* Available only when ISO Expansion is activated)
Flash
Mode
Auto, Auto & Red-eye reduction, Fill-in flash, Slow sync, Flash Off, Red-eye fix
Range
• Wide : 0.8m-7.8m (ISO Auto) • Tele : 0.8m-4.1m (ISO Auto) • Flash EVC : ±1EV(1/2 steps)
Recharging Time
Approximately 4 sec.
White Balance
Mode
Auto WB, Daylight, Cloudy, Fluorescent_H, Fluorescent_L, Tungsten, Custom, K
Still Image
Mode
• Modes: Smart Auto (Portrait, Night Portrait, Backlight Portrait, Night, Backlight, Landscape, White, Natural Green, Blue Sky, Sunset, Macro, Macro text, Macro Color, Tripod, Action, Fireworks, Candle, Spotlight, Spotlight (Macro), Spotlight (Portrait)), Program, Aperture Priority, Shutter Priority, Manual, Scene (Beauty Shot, Night, Landscape, Text, Sunset, Dawn, Backlight, Beach & Snow, 3D Photo), Magic Plus (Panorama, Magic Frame, Split Shot, Picture in Picture, Artistic Brush, HDR) • Burst: Single, High-speed (10fps, 5fps, 3fps), Precapture, Bracket (WB, AE), Timer • Timer: 10 Sec, 2 Sec • ND Filter effect: On, Off
Image Play
Single image, Thumbnails, Multi Slide Show with Music and Effect, Movie Clip, Smart Album, Creative Movie Maker
Date Imprinting
Date&Time, Date, Off
Movie Clip
Recording
• Modes: Smart Scene Detection (Landscape, Blue Sky, Natural Green, Sunset), Movie, Magic Plus (Picture in Picture) • Format: MP4 (H.264) (Max recording time: 20 min) • Size: 1920 X 1080, 1280 X 720, 640 X 480, 320 X 240 • High-speed: 480fps (192 X 144), 240fps (384 X 288), 120fps (640 X 480) • Sound Alive: Sound Alive On, Sound Alive Off, Mute • Image Stabilizer: Off, OIS, Dual IS • Capturing during recording : 9M (1280 X 720, 1280 X 720p), 12M (640 X 480)
Effect
Smart Filter : Palette Effect 1, Palette Effect 2, Palette Effect 3, Palette Effect 4, Miniature, Vignetting, Half Tone Dot, Sketch, Fish Eye, Classic, Retro
Edit
Pause during recording and playing, Still Image Capture, Time Trimming
Storage
Media
External Memory (Optional) : SD card (up to 2GB guaranteed), SDHC card (up to 32GB guaranteed), SDXC card (up to 64GB guaranteed)
File Format
• Still Image: JPEG (DCF), EXIF 2.21, DPOF 1.1 • Movie Clip: MP4 (Video: MPEG-4.AVC/H.264, Audio: AAC)
Image Size
12M : 4000×3000 pixels, 10MP : 4000 X 2672 (10.69M), 9MW : 4000 X 2248 pixels, 8M : 3264 X 2448 pixels, 8M(1:1): 2832 X 2832 pixels, 5M : 2592×1944 pixels, 3M : 1984 X 1488 pixels, 2MW : 1920 x 1080 pixels, 1M : 1024×768 pixels
Interface
Digital Output Connector
USB 2.0 (Hi-Speed)
Audio
Microphone: Stereo, Internal Speaker: Mono
Video Output
• A/V: NTSC, PAL (selectable) • HDMI 1.4: NTSC, PAL (selectable
DC Power Input
5V
Power
Power Source
Type
Lithium-ion Battery: SLB-10A (1,030mAh), DC power input Connector: Micro USB (7 pin) *Included Battery may Vary Depending on Sales Region
Physical Specification
Dimension
Dimension (WxHxD)
111.9 x 62.0 x 28.9 mm (Dimension excluding the projection part)
Weight
294.3 g (Without battery and memory card media)
Operating Temperature
0 – 40 ℃
Operating Humidity
5 – 85 %
S/W and PC OS
Bundle PC S/W
iLauncher, PC Auto Backup, Samsung Raw Converter
Compatible OS
Windows XP SP2 / Vista / Windows 7 / Mac OS 10.4 or higher
Wireless
Wireless
Wireless : Yes (Mobile Link, Remote Viewfinder, Social Sharing, Email, SkyDrive, Auto Backup, TV Link, Wi-Fi Direct)
System Requirement in General
For Macintosh
• iLauncher (OS : Mac OS 10.5 or higher, RAM : Minimum 256MB RAM (512MB or more recommended), Hard disk capacity : Minimum 110MB, Others : USB port, CD-ROM drive) • Samsung RAW converter 4 (OS : Apple Mac OS X 10.4 or higher, CPU : Power PC / Intel Processor-based or compatible computer (Core 2 Quad or later recommended), RAM : 1GB or more, Hard disk capacity : Minimum 100MB or more, Others : 1024×768 pixels, Full Color (24-bit or higher) color display compatible monitor)
For Windows
• iLauncher (CPU : PC with processor better than Intel Core 2 Duo 1.66 GHz / AMD Athlon X2 Dual-Core 2.2 GHz or higher, RAM : Minimum 512MB RAM (Over 1GB recommended), OS : Windows XP SP2 / Vista / 7, Hard disk capacity : 250MB or more (1GB and above recommended), Others : CD-ROM drive, USB 2.0 port, 1024×768 pixels, 16-bit color display compatible monitor (1280×1024, 32-bit color display recommended), nVIDIA Geforce 7600GT or later / Ati X1600 series or later, Microsoft DirectX 9.0c or later) • Samsung RAW converter 4 (OS : Windows XP / Vista / 7, CPU : Intel Pentium, AMD Athlon Processor (Intel Pentium 4, AMD Athlon XP or later recommended), RAM : 1GB or more, Hard disk capacity : Minimum 100MB or more, Ohters : 1024×768 pixels, Full Color (24-bit or higher) color display compatible monitor)
* All functionality, features, specifications and other product information provided in this document including, but not limited to, the benefits, design, pricing, components, performance, availability, and capabilities of the product are subject to change without notice or obligation.