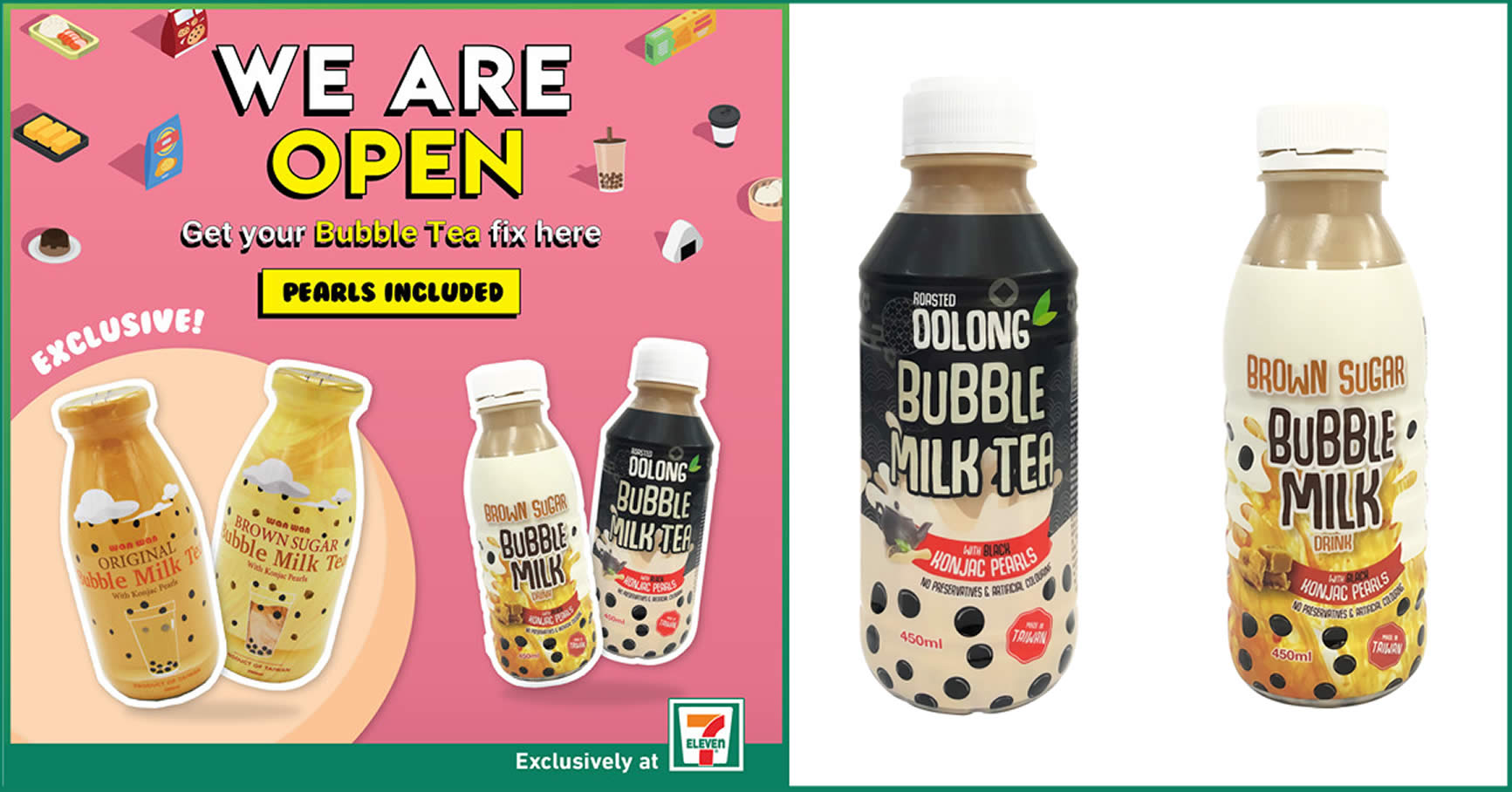 SINGPromos is now on Telegram
The Bubble's Not Burst – 7-Eleven's Got You Covered
Looking at online listings of $300 bubble teas and worrying how to get your BBT fix? Don't worry, 7-Eleven got you covered during this crucial circuit breaker period!
To ensure all cravings are met, and no one is turned away disappointed, 7-Eleven is stocking up on their range of exclusive bubble and milk teas. Get your 7-Eleven-exclusive Wan Wan Bubble Milk Tea and Wan Wan Bubble Milk Tea with Brown Sugar only at 7-Eleven stores islandwide.
Those not crazy about boba but missing the luxurious silkiness of Taiwanese milk teas can also get their hands on the new Nestea Okinawa Brown Sugar Milk Tea and Nestea Royal Milk Tea – again only to 7-Eleven. Want a bit of east-meet-west fusion? 7-Eleven has got your back with 7-Eleven's exclusive Lipton British Milk Tea and Lipton Green Milk Tea from Hong Kong.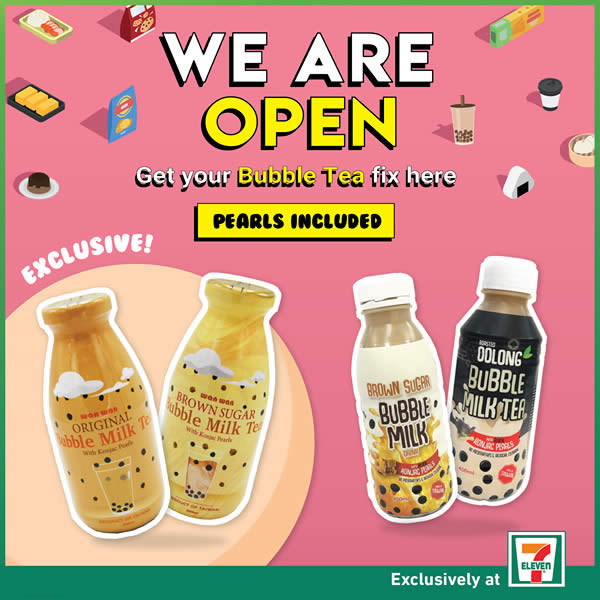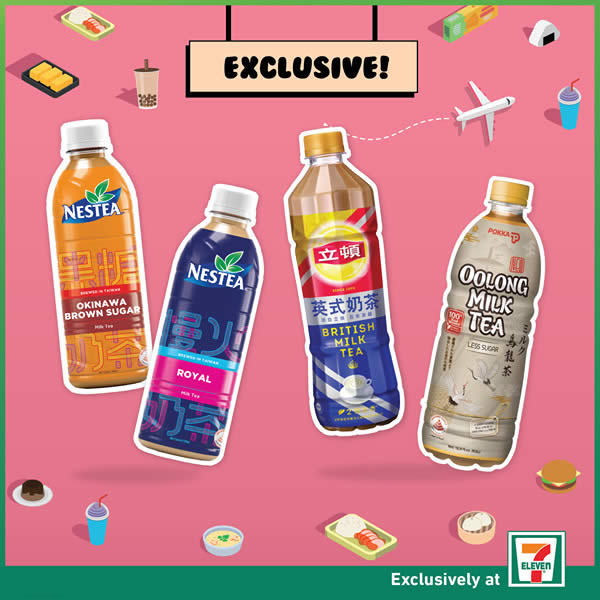 Caffeine addicts who woke up to the unfortunate realisation that many of their favourite coffee joints are lowering their shutters will also be pleased to know that 7-Eleven has a range of My Cafe Latte exclusives direct from South Korea, from My Cafe Latte Nutty Cappuccino to the decadent My Cafe Latte Caramel Macchiato.
Throughout this important circuit breaker period, 7-Eleven's freshly brewed-on-demand 7Café coffee will remain available round the clock for those who need a strong, affordable and delicious cuppa to start the day or as a perk-me-up – made with 100% Arabica beans from Latin America.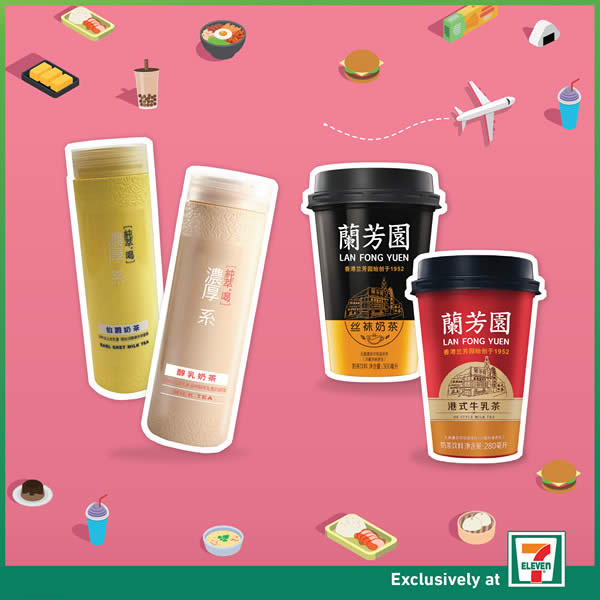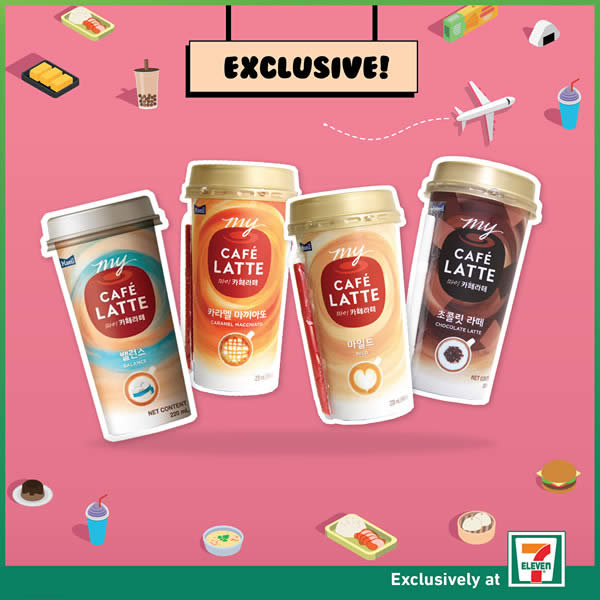 With ice cream stores now closed nation-wide, 7-Eleven understands the need for depression-busting ice cream, and they will be ensuring that they are well-stocked with delicious Japanese Melon Mr. Softee soft serve. Looking for other sweets? There's a range of desserts available for you to take home and snuggle up to, including 7-select Chocolate Lava Cake, Goomedo Sando dessert sandwiches in chocolate, chocolate banana and peach flavours, and Japanese dessert range which includes the popular Dorayaki Red Bean Cream Paste and Choux Cream with Green Tea Custard. Want something to drink instead? Have a delicious slurp of 7-Eleven's new Melon Slurpee!
7-Eleven also has a range of everyday items for your daily needs.
While we hunker down to break the circuit of transmission, 7-Eleven hopes that these sinfully delicious drinks, snacks and sweet delights help bring little moments of joy as we get through these challenging times together.
The full range of bubble teas, milk teas and My Cafe products include
(products marked with * are exclusive to 7-Eleven)
Bubble Teas with Real Pearls

Wan Wan bubble milk tea*

Wan Wan bubble milk tea brown sugar*

Polar oolong bubble tea

Polar brown sugar bubble tea

Polar bubble tea peach

Made-in-Taiwan Milk Teas

Nestea Okinawa brown sugar milk tea*

Nestea royal milk tea*

Chun Cui He milk tea

Chun Cui Earl Grey milk tea

Milk Teas

Lipton British milk tea*

Lipton green milk tea*

Lan Fong Yuen HK milk tea

Lan Fong Yuen milk tea

Vita HK style milk tea

Made-in-Korea My Café Latte

My Café Latte Mild Latte*

My Café Latte Caramel Macchiato*

My Café Latte Chocolate Latte*

My Café Latte Balanced Latte*

My Café Latte Nutty Cappuccino*
For more information, visit www.7-eleven.com.sg.