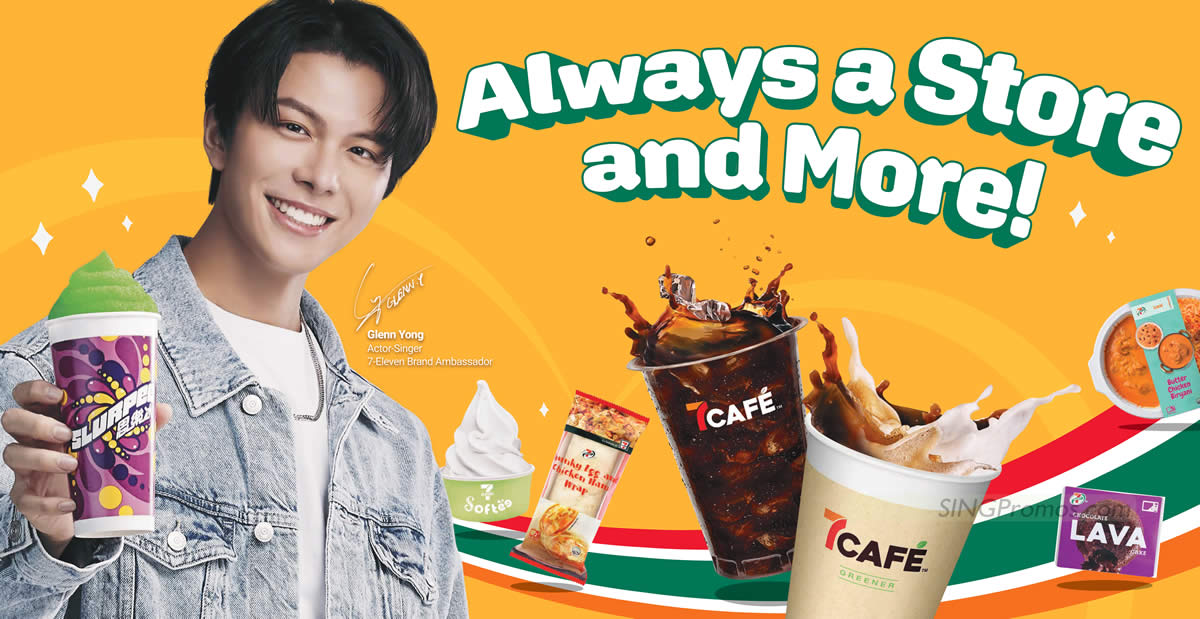 We are now on Telegram
Celebrate 40 years of 7-Eleven with new ready-to-eats and exclusive collectables
(Update 27 Oct: 7-Eleven offering Doraemon glass cups and homeware merch from 27 Oct)
(Updated 26 Oct with Doraemon offers)
Starting 25th October, 7-Eleven will be launching all-new ready-to-eat meals inspired by childhood favourite snacks like the Craze Hottis and Instant Mashed Potato as part of their month-long anniversary celebrations.
Homeware enthusiasts – Look out for charming limited-edition collectables such as stylish glass cups and coffee mugs starring iconic cartoon characters Doraemon and Snoopy.
Multi-talented local singer and actor Glenn Yong launches new rap song in commemoration of 7-Eleven's 40th anniversary
40 lucky 7-Eleven patrons will stand a chance to win $40 worth of vouchers by taking part in an exciting snap-and-win contest.
This October, Singapore's favourite convenience store, 7-Eleven is commemorating four decades of providing customers with unparalleled convenience and value! Gearing up for month-long celebrations starting 25 October, 7-Eleven is excited to launch brand-new ready-to-eat meals inspired by cherished childhood snacks such as 7-Eleven's Craze Hottis and Instant Mashed Potato; limited-edition homeware and merch featuring nostalgic cartoon character Doraemon, and an upbeat collaboration with popular local singer and actor Glenn Yong.
A blast from the past! A modern twist on throwback snacks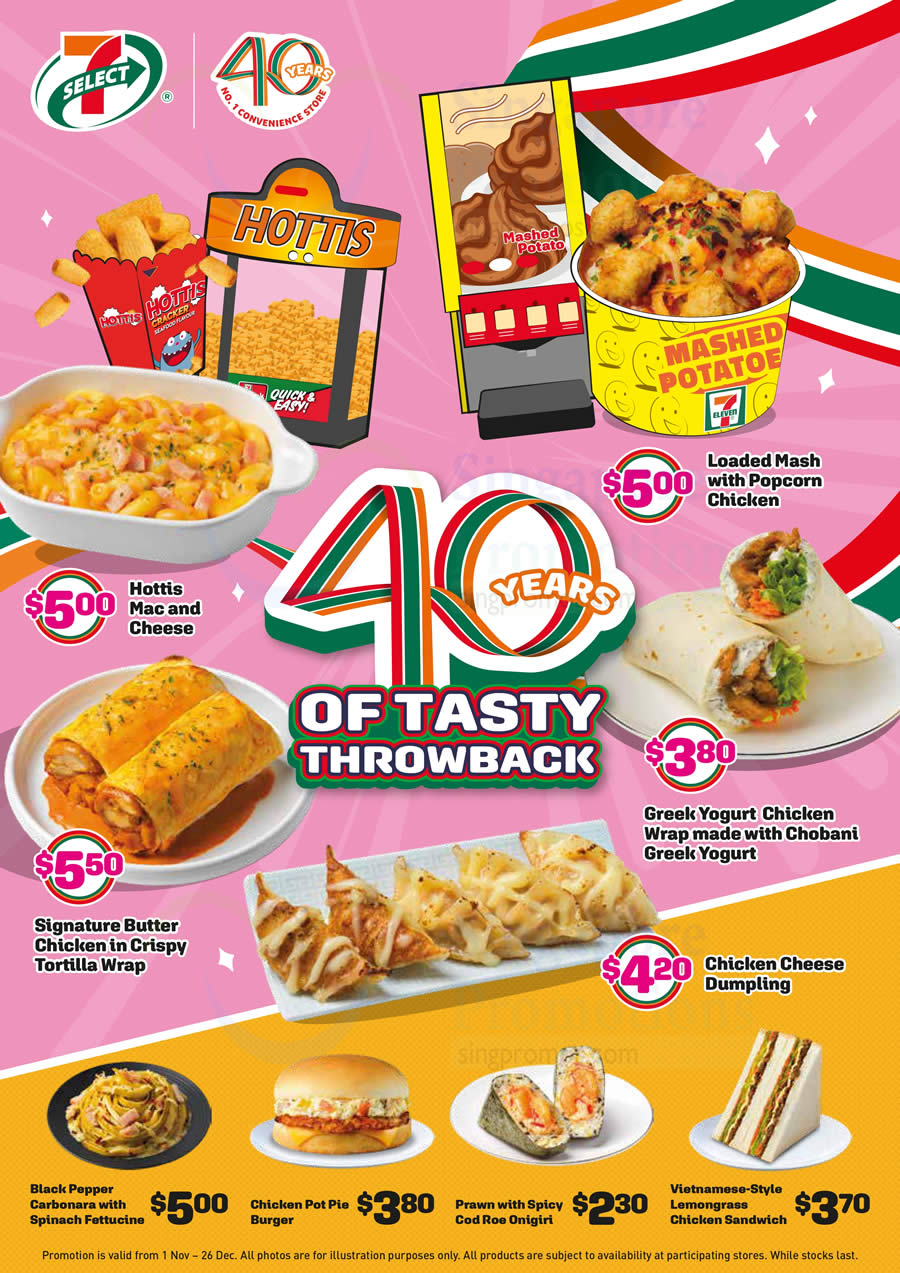 7-Eleven's latest ready-to-eat range is set to bring you on a walk down memory lane with innovative meals inspired by classic good old customer favourites such as Craze Hottis, Instant Mashed Potato and Butter Chicken Biryani.
Here's a list of the tasty, nostalgic delights to look out for –
7-Select Hottis Mac and Cheese (RSP $5.00) – Topped with the fondly remembered crispy Craze Hottis, 7-Eleven's classic best-seller Mac and Cheese dish now features an added crunch. Combining seafood flavour and luscious cream sauce with loads of melted cheddar and mozzarella layered between al dente macaroni, this comforting dish offers a symphony of flavours that will leave you wanting more!
7-Select Signature Butter Chicken in Crispy Tortilla Wrap (RSP $5.50) – Inspired by 7-Eleven's signature Butter Chicken Biryani, this is a delectable fusion of flavours tucked inside a crispy tortilla shell – this wrap features buttery chicken pieces with cubed onions. It is topped off with luscious butter chicken gravy with shredded cheese, making it a quick on-the-go meal that is sure to impress.
7-Select Chicken Cheese Dumpling (RSP $3.90) – Fans of 7-Eleven's best-selling chicken dumplings can now enjoy an added cheesy oomph in this revamped dish! The all-new Chicken Cheese Dumplings feature bite-sized treats that are generously stuffed with gooey cheese fillings, offering a mouthwatering twist that will satisfy your cravings.
7-Select Greek Yogurt Chicken Wrap made with Chobani Greek Yogurt (RSP $3.70) – This Greek-inspired meal takes 7-Eleven's signature roasted kebab wrap to the next level. Featuring juicy chicken that's marinated to perfection and crisp fresh vegetables, all brought together by a zesty and refreshing yogurt-based Tzatziki sauce, this wrap is a must-try!
7-Select Loaded Mash with Popcorn Chicken (RSP $5.00) – Elevating the rich, comforting flavour of 7-Eleven's iconic Instant Mashed Potato, the dish is generously topped with savoury brown sauce, crispy popcorn chicken and flavourful turkey bacon bits, making each bite an indulgent experience.
Refer to the summary table below for the full, exciting lineup of the latest ready-to-eat meals and snacks.
Product Category
Product
RSP
Onigiri
7-Select Prawn with Spicy Cod Roe Onigiri
$2.30
Packmeal
7-Select Black Pepper Carbonara with Spinach Fettucine
$5.00
7-Select Loaded Mash with Popcorn Chicken
$5.00
7-Select Mie Goreng with Spicy Chicken
$5.00
7-Select Hottis Mac & Cheese
$5.00
7-Select Signature Butter Chicken in Crispy Tortilla Wrap
$5.50
7-Select TomyumFried Rice
$5.00
Snacks
7-Select Chicken Cheese Dumpling
$4.20
7-Select Curry Chee Cheong Fun
$3.90
Sandwich
7-Select Vietnamese-Style

Lemongrass Chicken Sandwich

$3.70
7-Select Vegetable Omelette and Chicken Ham Sandwich
$3.70
Burger / Wrap
7-Select Greek Yogurt Chicken Wrap made with Chobani Greek Yoghurt
$3.70
7-Select Chicken Pot Pie Burger
$3.70
Unveiling exclusive collectables you can't miss!
Glassware and homeware enthusiasts stand ready for 7-Eleven's limited-edition homeware and merchandise featuring beloved cartoon characters – Doraemon and the iconic beagle from the Peanuts comics, Snoopy!
7-Eleven's latest Shop and Earn Stamps Programme returns with a first-of-its-kind collaboration with Kyoto-based designer fashion and homeware label SOU•SOU featuring Doraemon-themed glass cups and merchandise such as stylish Doraemon umbrellas and cuddly plushies!
Fans of Doraemon will also be able to purchase the exclusive SOU GOOD Glass Cups with every eight stamps collected and a top-up of $8.90, or 400 YUU points and a top-up of $8.50. From now till 19th December 2023, one stamp will be issued upon a $5 purchase at any 7-Eleven stores. Keep an eye out for 7-Eleven's star products to earn an additional stamp!
For those who have a soft spot for Snoopy's timeless charm, 7-Eleven is celebrating its 40th anniversary with an online-exclusive collection of coffee mugs featuring Snoopy, available for purchase only on 7-Eleven's website. These heat-sustaining mugs come in a classy matte black and white and are the perfect companion for your morning or mid-day coffee! These Snoopy mugs are available while stocks last, so hurry to 7-Eleven's website and get your hands on them before it's gone!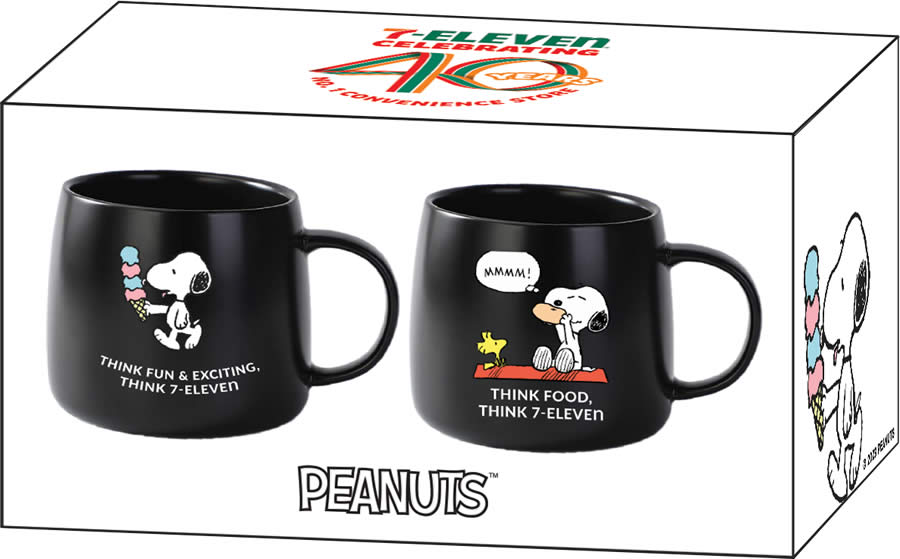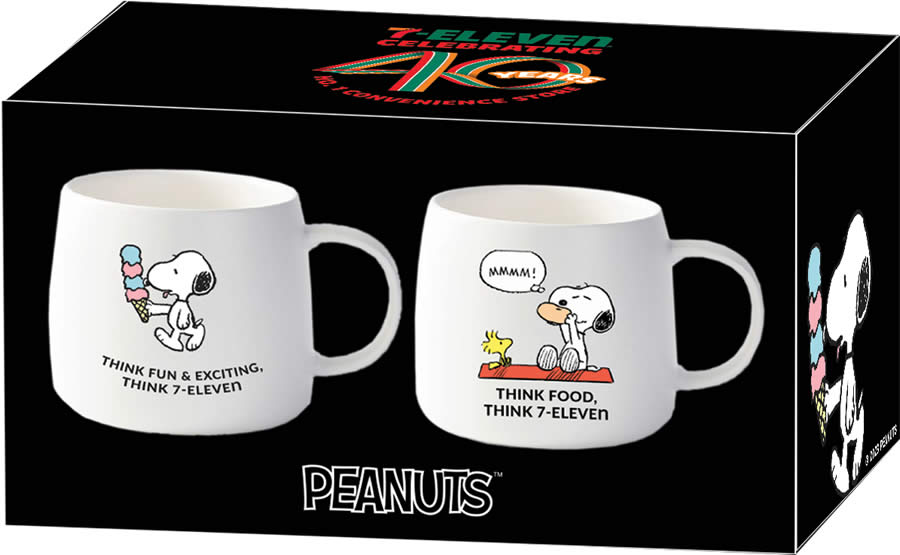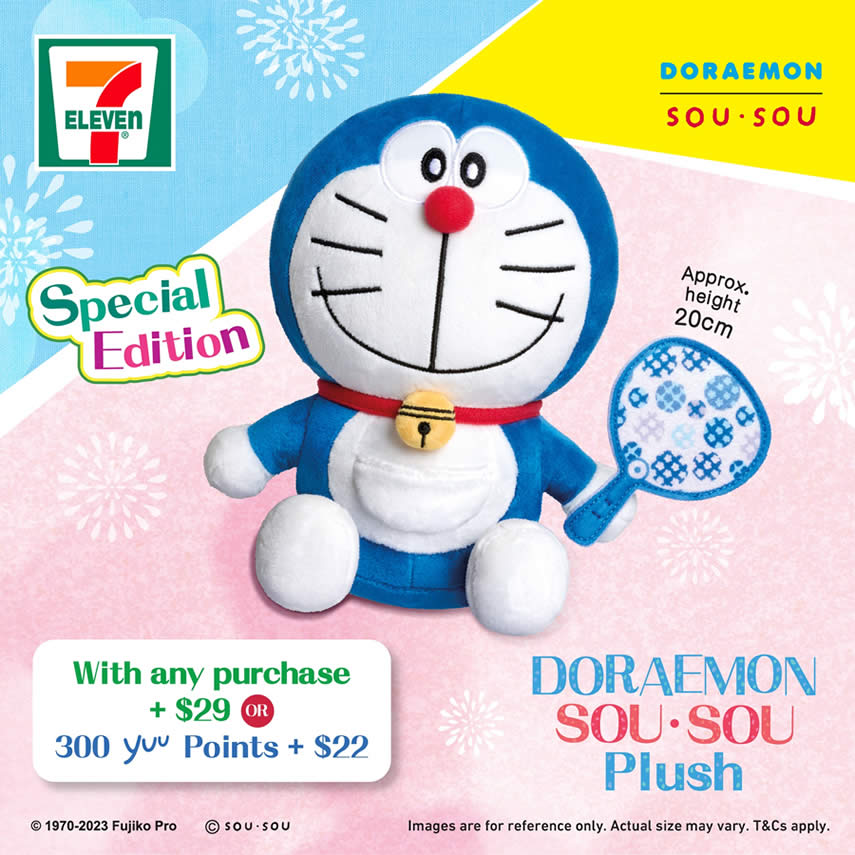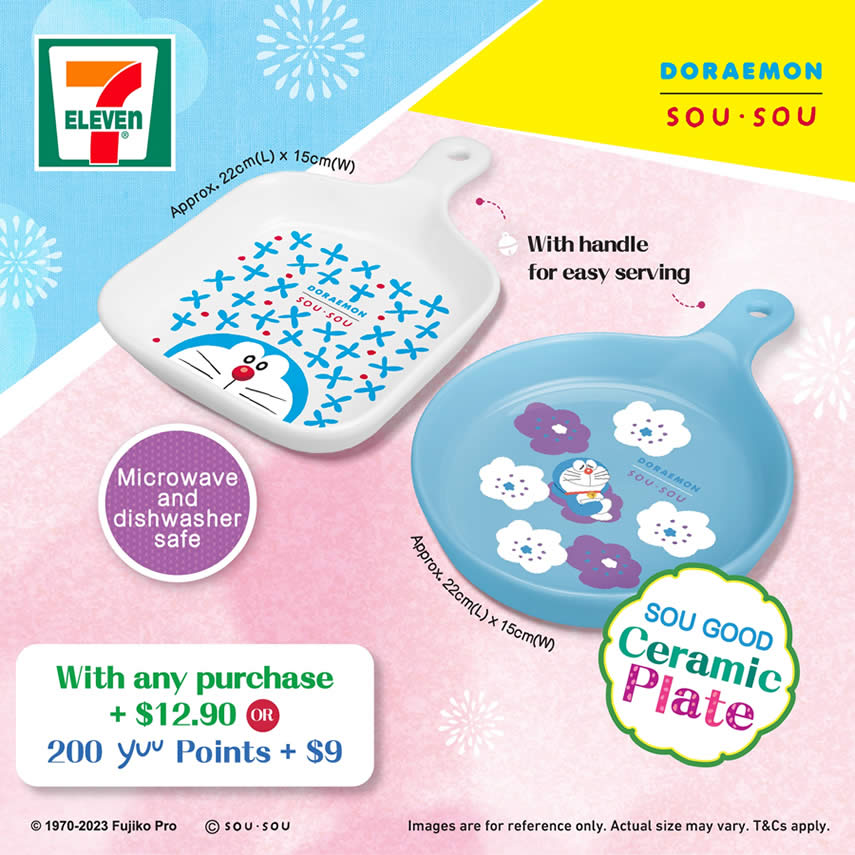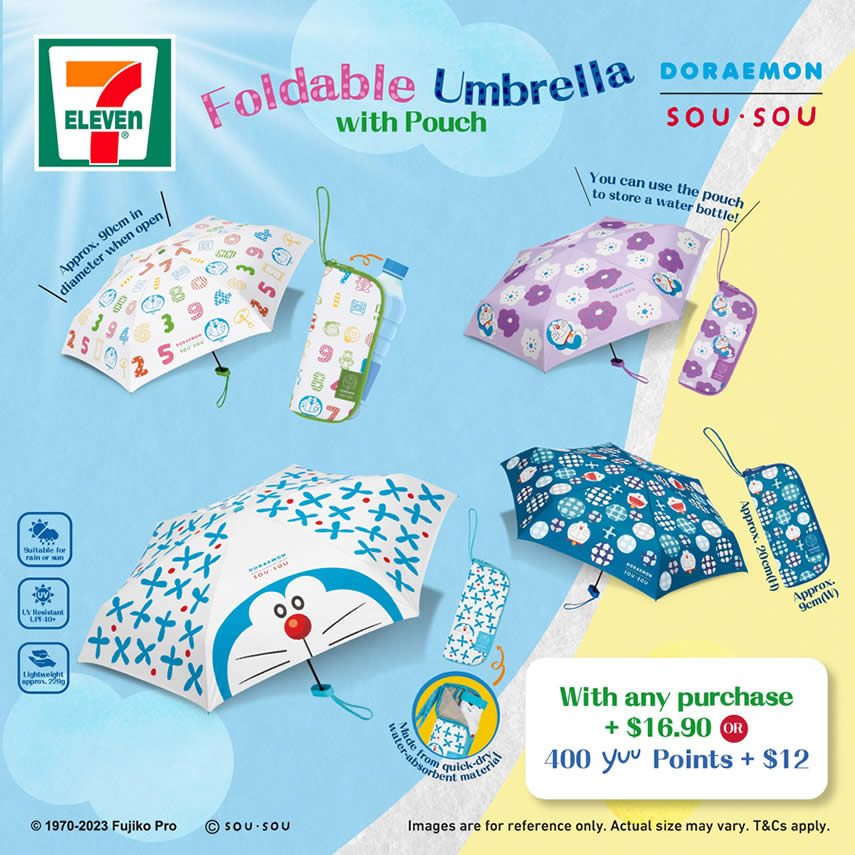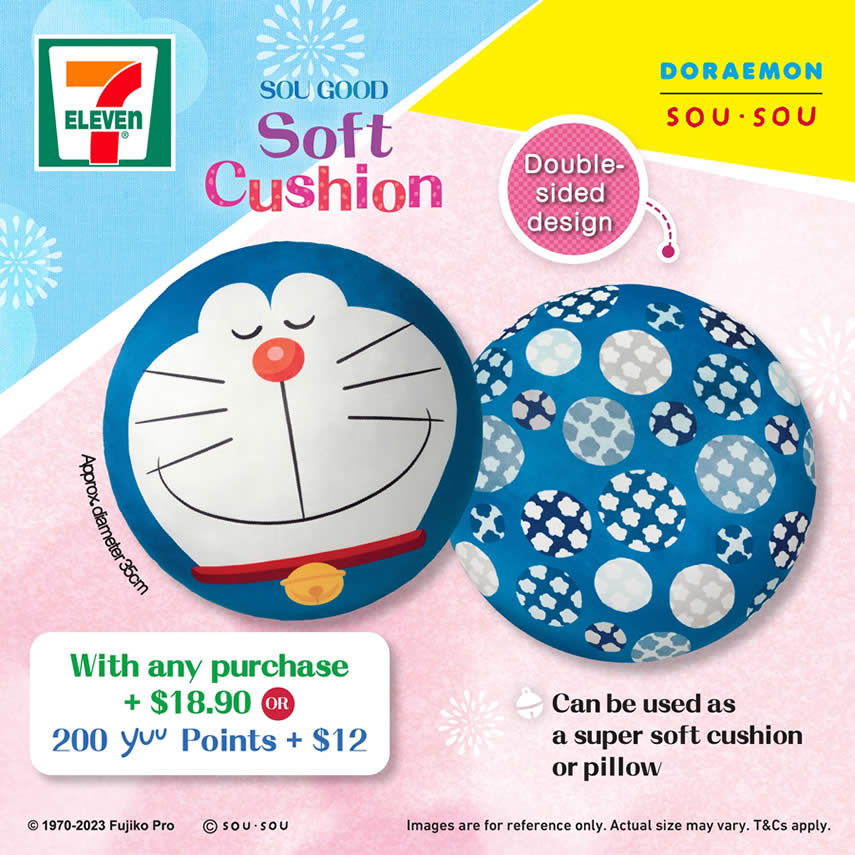 Shop, Save, Celebrate: 7-Eleven's 40th Anniversary special promotion deals
Don't miss out on the following irresistible limited-time offers:
Promotional period
Details
25th Oct – 21st Nov
Grocery and Merchandise Promotions

Discover new and exclusive grocery products
Redeem a free 7Café Tumbler with a minimum spend of $28 on a single receipt
Buying double? No trouble! Purchase two of the same grocery items and get 40% off the second item!
Celebrate 11.7 Day and enjoy 20% off your total bill with a minimum spend of $11 (only valid on 7th Nov)

25th Oct – 7th Nov
Food Promotions

Enjoy 40% more meat sauce in your 7-Select Chicken Bolognaise at the same price!

25th Oct – 31st Oct

40% off 12oz 7Cafe Hot Coffee

25th Oct – 21st Nov
YUU Promotions

Collect 4x the amount of YUU Points with selected products
Redeem selected products with just 400 YUU points!
YUU Members could enjoy exclusive offers worth up to $40
Get ready to be starstruck for 7-Eleven's anniversary celebrations!
Last but certainly not least, 7-Eleven is amping up its anniversary celebrations with an exciting collaboration with sensational local artiste Glenn Yong! Dance to the beat of 7-Eleven's catchy new rap song by Glenn Yong and revel in fond memories of the brand's unforgettable jingle – "Always a store and more!".
Can't get enough of 7-Eleven and Glenn Yong? Customers can participate in the 7-Eleven's Snap and Win Competition, where 40 lucky winners will stand a chance to snag $40 worth of 7-Eleven vouchers each! To get in on the action, all you need to do is:
Keep an eye out for a life-sized standee of Glenn Yong at selected 7-Eleven stores.
Strike a pose and snap a photo of yourself next to Glenn's standee.
Share your picture-perfect moment on your Instagram story and tag 7-Eleven (@7elevensg) to enter your name into the competition.

Note: Instagram Accounts must be made public to enter the competition
More promotions and updates can also be found on the official 7-Eleven Singapore Facebook and 7-Eleven Singapore Instagram pages.
7-Eleven's 'Always A Store and More' video will premier here on 25th October.
Find your nearest 7-Eleven Store here