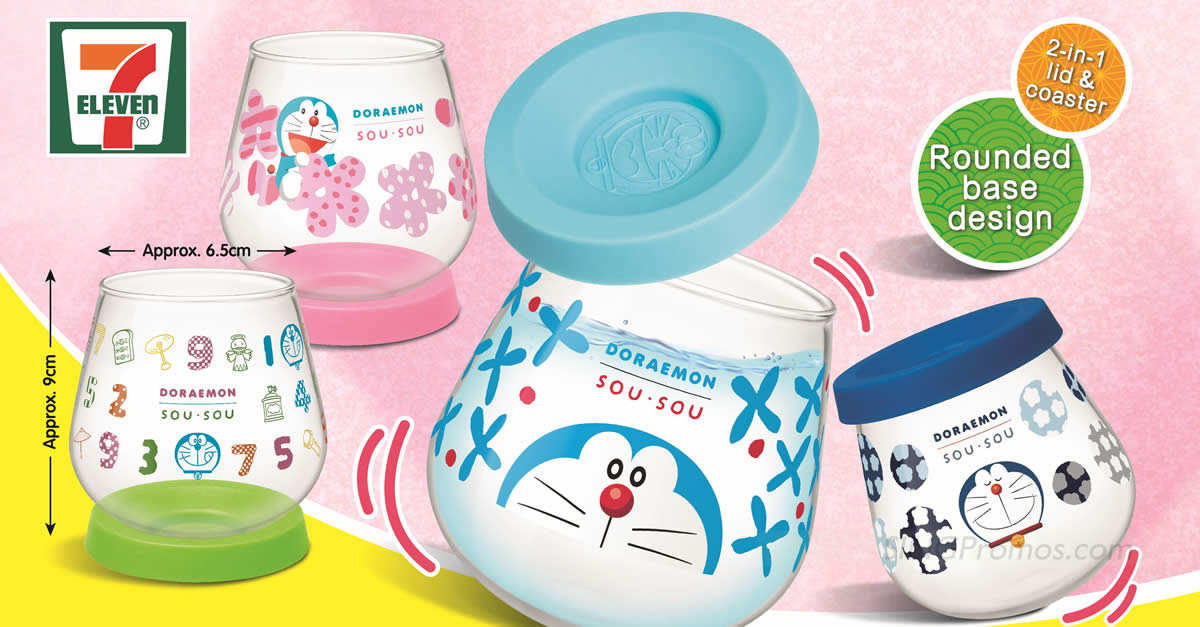 We are now on Telegram
7-Eleven is teaming up with renowned Kyoto-based designer fashion and homeware label SOU•SOU
For the first time ever, 7-Eleven is teaming up with renowned Kyoto-based designer fashion and homeware label SOU•SOU to bring the beloved Japanese cartoon character Doraemon to Singapore!
The latest Shop and Earn Programme will see 7-Eleven launching an all-new Japanese-inspired homeware collection to add "A Touch of Kyoto Style" and Doraemon cuteness to your home.
The SOU GOOD Glass Cups from the new range will feature an enchanting blend of SOU•SOU's exquisite prints alongside the endearing charm of Doraemon. This dual design series includes the Roly Poly Glass with Lid and the Dome Glass with Lid. Crafted from crystal-clear borosilicate glass, these glass cups are a true reflection of refined Japanese aesthetics.
The glass cups are designed with organic shapes and bold hues, showcasing the iconic style of SOU•SOU designers, who are known for their vibrant and modernised spin on traditional Japanese motifs. Doraemon and SOU•SOU fans – get ready to infuse your home with some Japanese-inspired style today!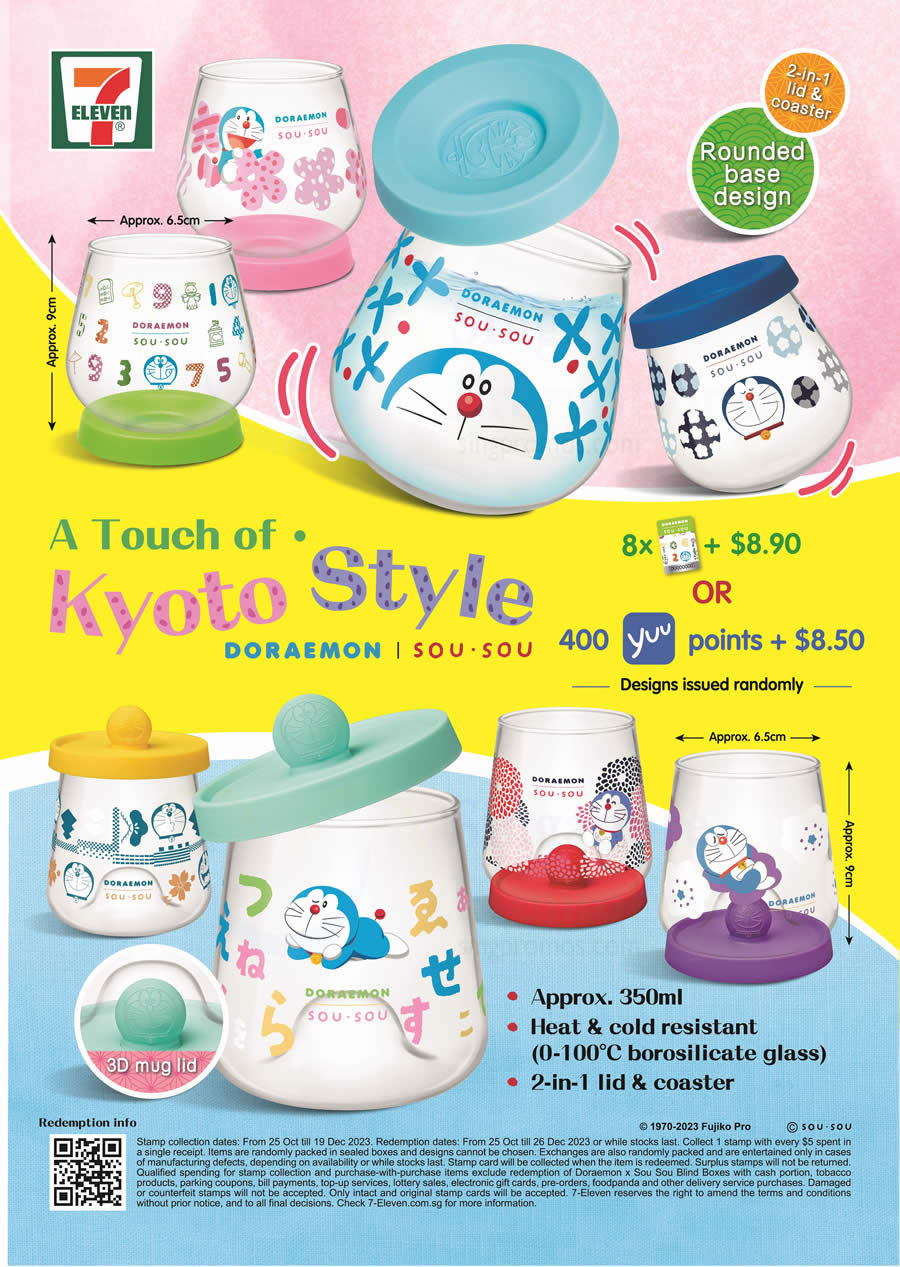 SOU GOOD Roly Poly Glass with Lid Series
These are not your run-of-the-mill glass cups — they have a special round bottom that allows them to sway in all directions without toppling over! These Doraemon cups are designed to hold both icy cool refreshments and piping hot brews, which are perfect for helping you unwind after a long day.
Available in four designs – 'Daikon Leaf, 'Blossom', 'Serenity' in Doraemon's signature blue, and 'Number Games' featuring iconic gadgets like the Anywhere Door and Bamboo Copter, this vibrant and colourful set will transport you straight into Doraemon's whimsical world. The lids also have a charming additional detail as they are individually adorned with different Doraemon designs!
Size: Approx. 6.5cm (diameter of the mouth of the cup) x 9cm (height)
Capacity: Approx. 350ml
SOU GOOD Dome Glass with Lid Series
Indulge in your favourite beverage alongside the delightful company of Doraemon with the SOU GOOD Dome Glass with Lid Series. These cups feature a little surprise – simply place the lid beneath the glass to find Doraemon playfully peeking out as you enjoy your drink!
The glasses are available in four designs – '50 Sounds Song', 'Playful Patterns', 'Smile', and 'Chrysanthemum' They can even double up as companions for your desk, elegantly storing everything from stationery to makeup brushes or even succulent plants.
Size: Approx. 6.5cm (diameter of the mouth of the cup) x 9cm (height)
Capacity: Approx. 350ml
Stamps Collection and Redemption Details
Stamp collection period – 25 October to 19 December 2023
Redemption period – 25 October to 26 December 2023
7-Eleven's Shop and Earn stamps programme mechanics:
Receive 1 stamp upon a $5 purchase at any 7-Eleven store.
Redeem one blind box containing a SOU GOOD Glass Cup with every eight stamps collected and a top-up of $8.90 or 400 YUU points and a top-up of $8.50.
7-Eleven's star products will earn you an additional stamp.
Bring a bit of Doraemon's magic to your home!
That's not all! 7-Eleven is pulling out all the stops and bringing to town a variety of unique homeware merchandise that will jazz up your house.
And, if you can't get enough of Doraemon, 7-Eleven has got you covered – literally – on rainy days with their new foldable umbrellas that are also part of this merchandise collection! Don't miss this opportunity to infuse your life with some Doraemon magic.
SOU GOOD Ceramic Dish with Handle
Whether it's showcasing your culinary masterpieces or warming up a quick bite in the microwave, this food-grade ceramic dish can be your go-to companion. Available in two designs: "Smile" and "Daikon Leaf," it effortlessly combines practicality with style.
Not just microwave friendly, it braves the dishwasher too, promising ease of use for the modern connoisseur.
Bring this enchanting dish home with a top-up of just $12.90 with any purchase at 7-Eleven stores, or redeem it with 200 YUU points and an additional $9.
Size of dish: approx 15cm (wide) and 22cm (height)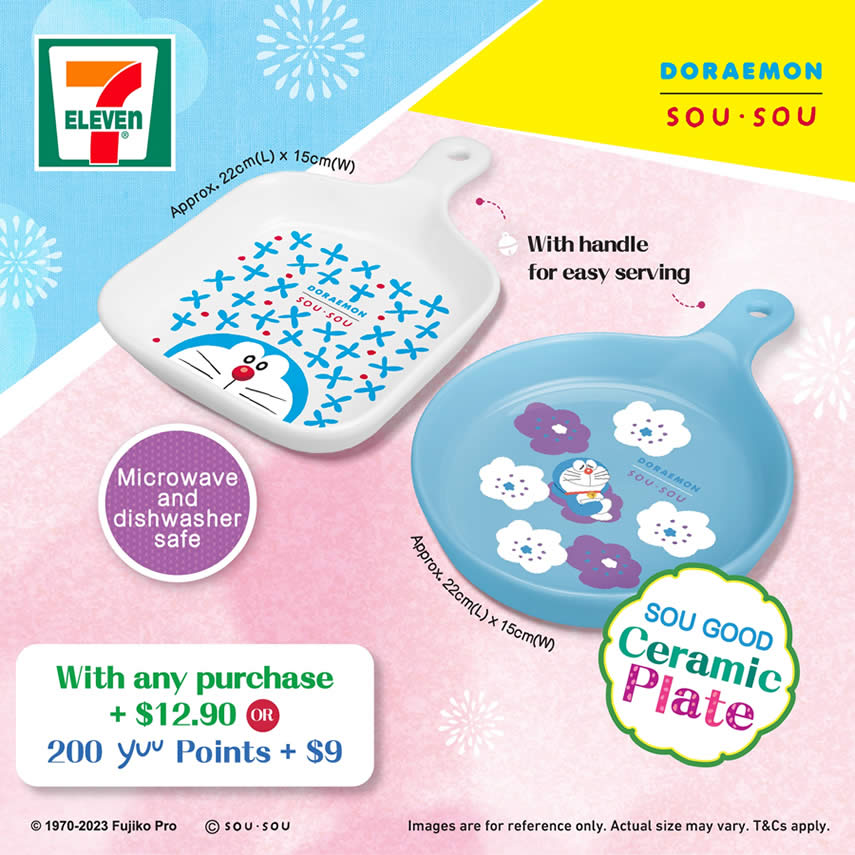 SOU GOOD Soft Cushion
Infuse your living area with a dose of cuteness, courtesy of these Doraemon Soft Cushions. Perfect to snuggle with during a TV drama binge or to add a comforting touch when you have guests over, these cushions offer both comfort and a sprinkle of joy.
Make these delightful cushions yours with a top-up of $18.90 on any purchase at 7-Eleven stores, or exchange them for 200 YUU points and an additional $12.
Size of cushion: approx 35cm wide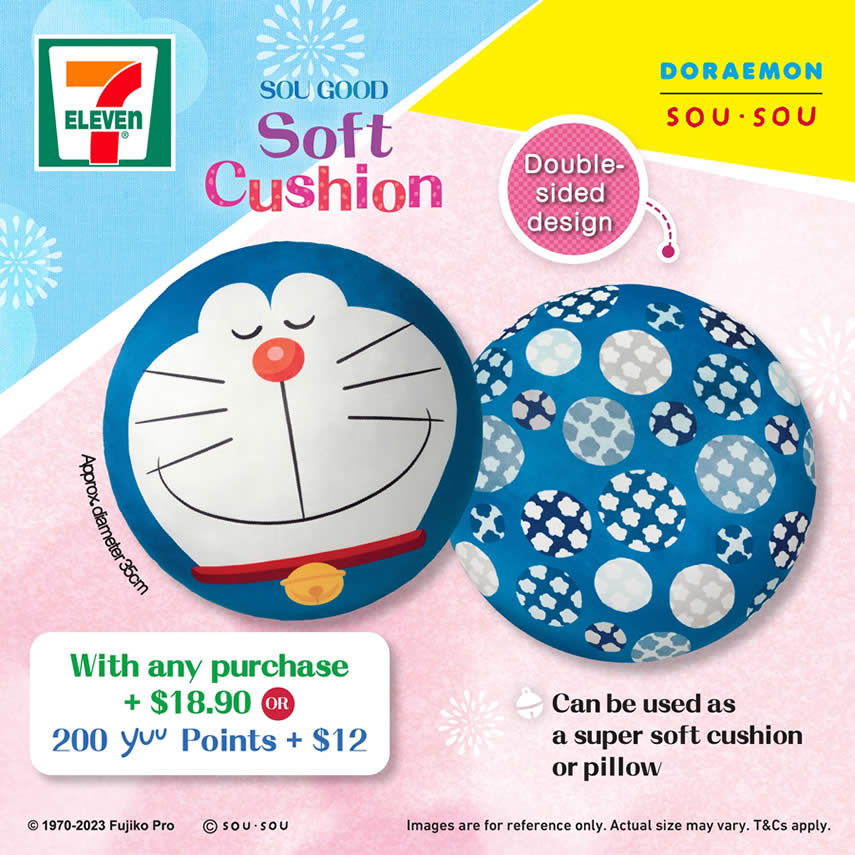 SOU GOOD Collectible Plush
Say goodbye to restless nights and embrace sweet dreams with the Doraemon Collectible Plush by your side!
Adopt this lovable plush with a top-up of $29 on any purchase at 7-Eleven stores, or redeem it for 300 YUU points and an extra $22.
Size of plush: approx 20cm (height)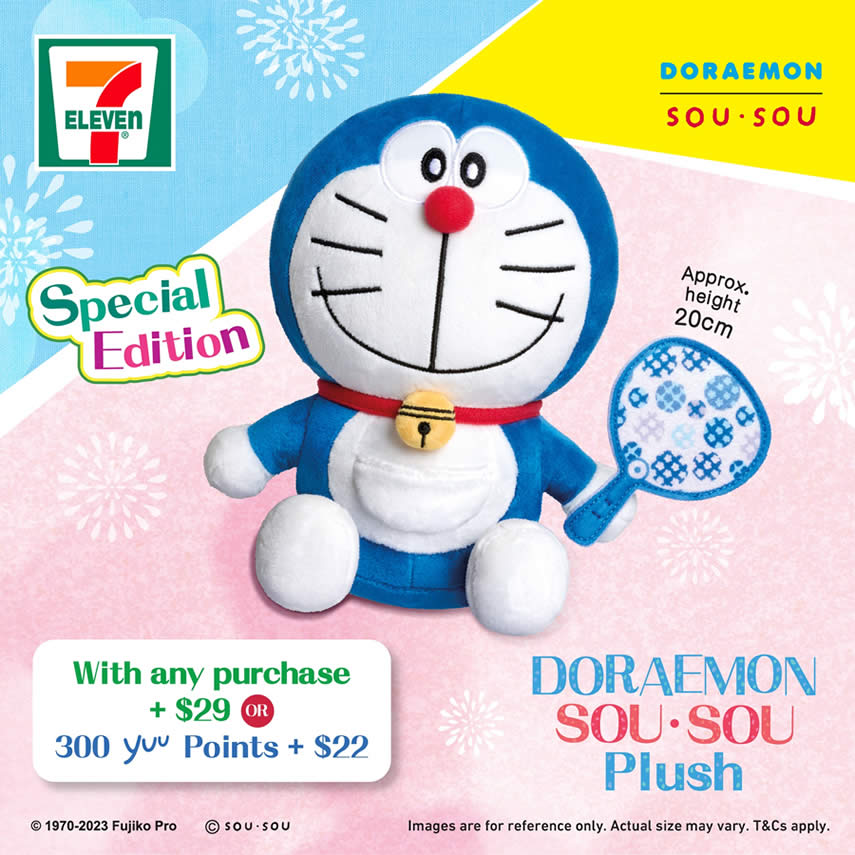 SOU GOOD Umbrella with Quick Dry Pouch
Be it shielding you from unexpected downpours or providing refuge from scorching UV rays, Doraemon has got you covered with this trusty foldable umbrella that's available in four enchanting designs.
Arm yourself against the weather with a Doraemon umbrella available with a top-up of $16.90 on any purchase at 7-Eleven stores, or for 400 YUU points and an added $12 in cash.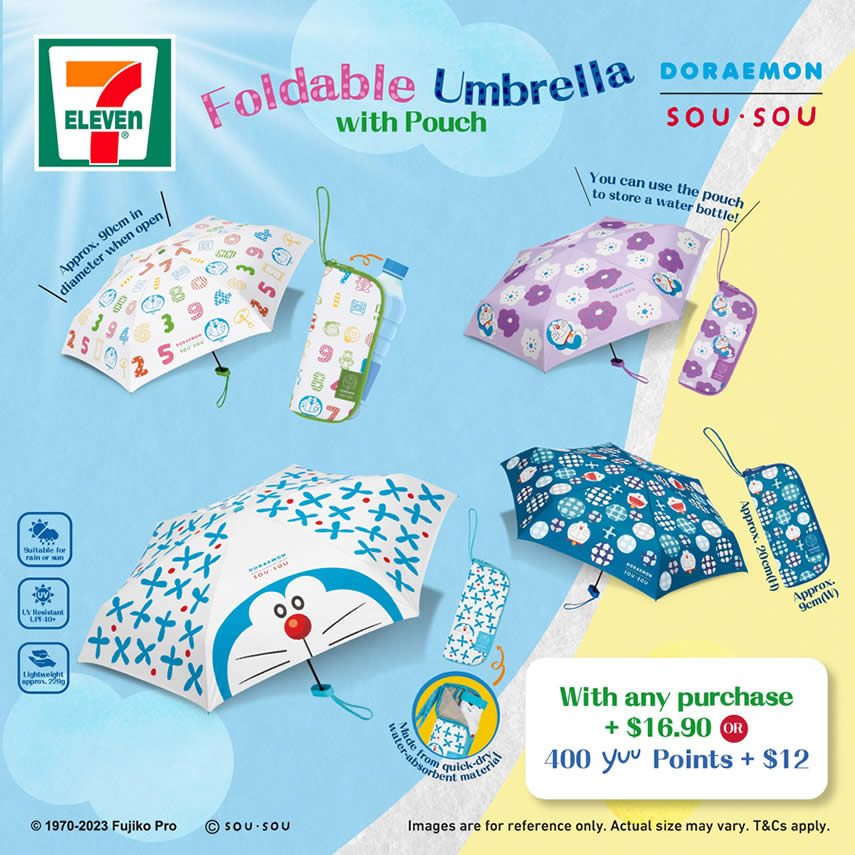 Transactions involving tobacco products, parking coupons, bill payments, top-up services, electronic gift cards, lottery sales, and sales from pre-order, delivery platforms and 7-Eleven's website do not qualify for stamp collection.
Amp Up Your Homeware with A Touch of Kyoto and Doraemon from 7-Eleven's Latest Shop and Earn Stamps Programme
7-Eleven Singapore's latest Shop and Earn Stamps Programme will feature an exclusive collection of eight glass cups featuring your futuristic childhood friend – Doraemon!
The SOU GOOD glass cups come in two designs – a Roly Poly glass or a Dome Glass.
Earn a stamp with every $5 spent at 7-Eleven; collect eight stamps and top up $8.90 to redeem a blind box.
Stamp issuance begins on 25 October 2023 and ends on 19 December 2023 at all 7-Eleven stores. Redemption ends on 26 December 2023 or while stocks last.
Find your nearest 7-Eleven Store here