We are now on Telegram
A popular lunar harvest festival celebrated by Chinese across the world, the Mid-Autumn Festival is a time of celebration among families and loved ones.
This September, Au Chocolat, a made-in-Singapore chocolate brand with French-inspired Bistro and Confiserie adds a refreshing twist to this 3,000 year old tradition by bringing to you a delectable selection of mooncake-inspired cheesecakes and pralines – a perfect marriage of East meets West.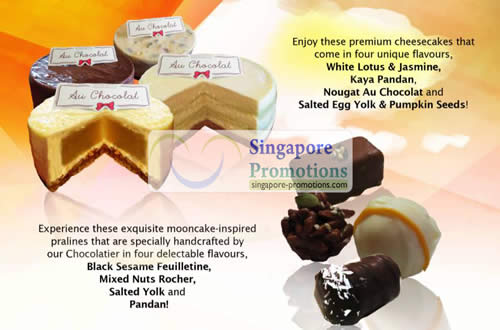 Creating a novel representation to celebrate Mid-Autumn Festival, Chef Mai, the Pastry Chef at Au Chocolat, has specially weaved in local ingredients into her cheesecake creations in a cacophony of familiar flavours. Taking a step beyond snow-skin and ice cream mooncakes, Au Chocolat introduces four uniquely flavoured cheesecakes namely, Salted Egg Yolk & Pumpkin Seeds, Kaya Pandan, Nougat Au Chocolat and White Lotus & Jasmine, ready to tease your palette.
Priding itself as Singapore's chocolate paradise, Au Chocolat's in-house Chocolatier, Chef Tai's has also created an interesting assortment of chocolate pralines infused with delicate local flavours this season such as Salted Yolk, Pandan and even Black Sesame, exclusively for the month of September. Each praline has a winning combination that promises to astound and surprise chocolate lovers with a burst of oriental flavours in every bite.
These creations are exclusively available for a limited time in the month of September at Au Chocolat.
Prices for pralines and cheesecakes are as follows:
Mid-Autumn Creations
Variety
Price
Mooncake–inspired Cheesecakes
Salted Egg Yolk & Pumpkin Seeds
$12.80
Kaya Pandan
$12.80
Nougat Au Chocolat
$12.80
White Lotus & Jasmine
$12.80
Set of 4
$46.00
Chocolate Pralines
Box of 4 pralines (Salted Yolk, Pandan, Black Sesame Feuilletine, Mixed Nut Rocher)
$14.90
Visit their outlet at Bay Level L1-03, The Shoppes at Marina Bay Sands, 2 Bayfront Avenue, Singapore 018956 to taste them!