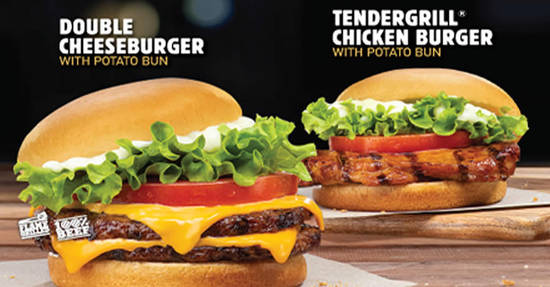 SINGPromos is now on Telegram
Satisfying Classics at BURGER KING®!
Introducing the Potato Bun for a fulfilling burger experience
Look forward to an incredibly delicious time at BURGER KING® starting from 27 August 2019 with two types of burgers enveloped with the Potato Bun. One may argue that a burger is all about the meat and the condiments built around it. At BURGER KING®, the perfectly flame-grilled or cooked meat, its mouth-watering condiments, and the bun are all equally important for a gratifying burger taste and experience.
Available while stocks last at all BURGER KING® restaurants island-wide and by way of delivery, the Potato Bun will be served with two of BURGER KING®' classic favourite burgers – the Tendergrill® Chicken burger and the Double Cheeseburger with potato bun. Regarded as a traditional American-style bun, the matt, smooth top, flavourful Potato Bun is reputed to be soft to the touch but leaves a denser and a fulfilling mouthfeel when one takes a bite.
For those who like their chicken thigh meat, flame-grilled and tender, the Tendergrill® Chicken burger with Potato Bun will satiate cravings. Enveloped in between the soft and fluffy Potato Bun, the burger is made up of the Tendergrill® chicken thigh, a dollop of flavoursome mayonnaise, layered with sweet and crispy Batavia lettuce, as well as tomato slices.
Next on the menu, make room for BURGER KING®'s Double Cheeseburger with Potato Bun. This scrumptious classic is made up of the Potato Bun, two signature flame-grilled beef patties topped with a heavenly layer of melted American cheese, Batavia lettuce and tomato slices.
Available at a price of SGD$5.40 for ala carte order of each burger, the Value Meals for each burger are served with an Iced Milo® (small) and French Fries (medium) at a price of SGD$6.90.
Upsized Meals for each burger comprising an Iced Milo® (medium) and French Fries (large) are available at SGD$7.50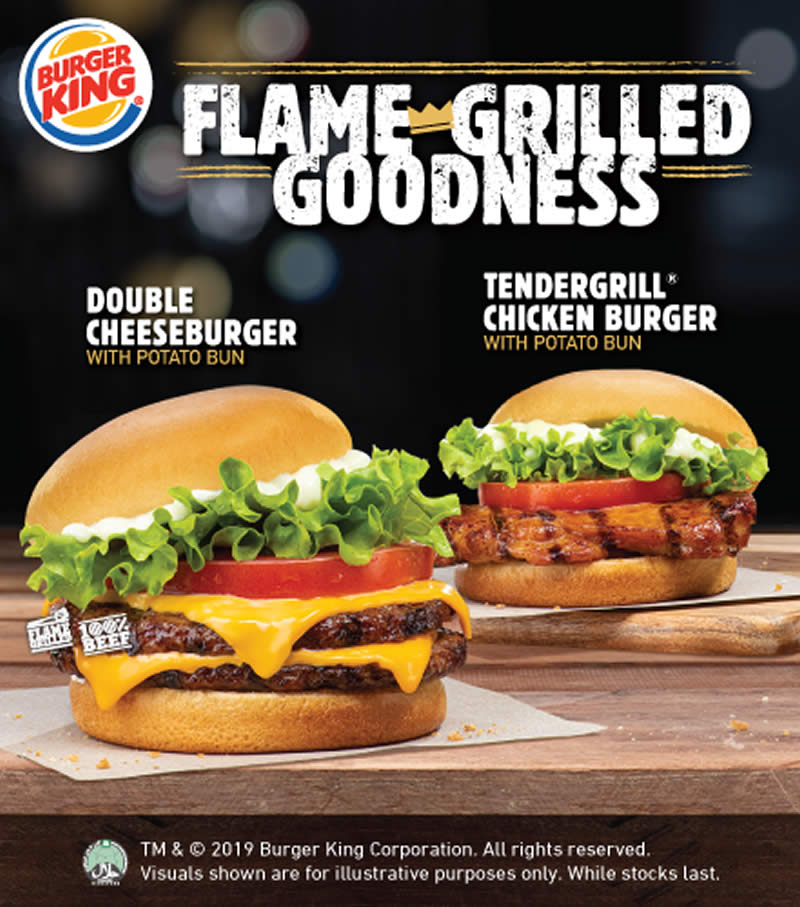 Photo Credits: BURGER KING®
Find your nearest Burger King outlet here