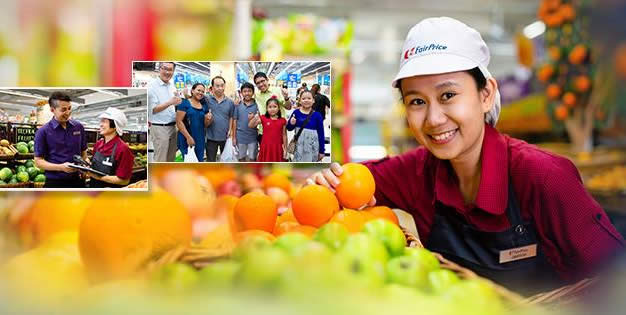 33 stores will operate for 24 hours on eve of Lunar New Year to cater to last minute grocery needs
NTUC Fairprice
P2W1D
EXPIRED


Oh no, the event has ended. Don't miss out again, get the latest news via e-mail, Telegram, Facebook, Twitter or RSS feed!
| | | | |
| --- | --- | --- | --- |
| Starts | 17 Jan 2022 (Mon) | Ends | 1 Feb 2022 (Tue) |
| Location | NTUC Fairprice | | |

SINGPromos is now on Telegram
33 stores will operate for 24 hours on eve of Lunar New Year to cater to last minute grocery needs
NTUC FairPrice (FairPrice) today announced that 133 stores across Singapore will remain open on the first day of Lunar New Year (LNY), while 33 stores will remain operating for 24 hours on the eve of LNY to facilitate any essential shopping needs.
On the eve of LNY (31 Jan), 117 stores will operate until 5pm while FairPrice on Wheels will operate till 2pm. Additionally, 33 stores will continue to operate at their usual 24 hours on the LNY eve to facilitate any urgent shopping needs.
To provide convenience for shoppers, 133 stores will remain open for shopping on the first day of LNY (1 Feb). Of these, 40 stores will operate at their usual 24 hours, 91 stores will close at 5pm, whilst stores at Jewel and Balmoral Plaza will operate as usual and close at 11pm and 10pm respectively. Operations at all stores will resume business as usual for the second day of LNY (2 Feb).
Over the LNY period between 31 January to 2 February, FairPrice Online will continue deliveries between 8am to 6pm. Regular delivery timings will resume on 3 February.
Click on a link to jump to a specific section
FairPrice Neighbourhood Stores
Central
FairPrice Store
FairPrice Address
Opening Hours
FairPrice Bishan Blk 510
Blk 510 Bishan St 13, #01-520 S(570510)
Original Operating Hours: 7am-11pm
Before CNY (17 – 20 Jan) : Closed 11pm
Before CNY (21 – 24 Jan) : Closed 12mn
Before CNY (25 – 30 Jan) : Closed 2am
CNY Eve (31 Jan): Close 5pm
CNY (1 Feb): 5pm
FairPrice Bishan North Blk 279
Blk 279 Bishan Street 24, #01-62/64, S(570279)
Original Operating Hours: 24 hours
Before CNY (17 – 30 Jan): 24 hours
CNY Eve (31 Jan): Open 24 hours
CNY (1 Feb): Open 24 hours
FairPrice Cambridge Blk 43
Blk 43 Cambridge Road, #01-15 S(210043)
Original Operating Hours: 7am-11pm
Before CNY (17 – 20 Jan) : Closed 11pm
Before CNY (21 – 24 Jan) : Closed 12mn
Before CNY (25 – 30 Jan) : Closed 2am
CNY Eve (31 Jan): Close 5pm
CNY (1 Feb): 5pm
FairPrice Chinatown Point
133 New Bridge Road, #B1-01 Chinatown Point S(059413)
Original Operating Hours: 8am-11pm
Before CNY (17 – 20 Jan) : Closed 11pm
Before CNY (21 – 30 Jan) : Closed 12mn
CNY Eve (31 Jan): Close 5pm
CNY (1 Feb): 5pm
FairPrice City Square Mall
180 Kitchener Road, City Square Mall, #B1-09/10 S(208539)
Original Operating Hours: 8am-11pm
Before CNY (17 – 20 Jan) : Closed 11pm
Before CNY (21 – 30 Jan) : Closed 12mn
CNY Eve (31 Jan): Close 5pm
CNY (1 Feb): 5pm
FairPrice Kitchener Complex
Blk 808 French Road, #01-01 S(200808)
Original Operating Hours: 7am-11pm
Before CNY (17 – 20 Jan) : Closed 11pm
Before CNY (21 – 24 Jan) : Closed 12mn
Before CNY (25 – 30 Jan) : Closed 2am
CNY Eve (31 Jan): Close 5pm
CNY (1 Feb): 5pm
FairPrice Lorong Limau
Blk 80 Lorong Limau, #01-191 S(320080)
Original Operating Hours: 24 hours
Before CNY (17 – 30 Jan): 24 hours
CNY Eve (31 Jan): Open 24 hours
CNY (1 Feb): Open 24 hours
FairPrice Orchard Grand Court
131 Killiney Rd #01-01/02/03, Orchard Grand Court S(239571)
Original Operating Hours: 24 hours
Before CNY (17 – 30 Jan): 24 hours
CNY Eve (31 Jan): Open 24 hours
CNY (1 Feb): Open 24 hours
FairPrice Serangoon Central
Blk 253 Serangoon Central Drive, #01-241 S(550253)
Original Operating Hours: 24 hours
Before CNY (17 – 30 Jan): 24 hours
CNY Eve (31 Jan): Open 24 hours
CNY (1 Feb): Open 24 hours
FairPrice Square 2
10 Sinaran Dr #04-46/47/48/49, Square 2 S(307506)
Original Operating Hours: 9am-10pm
Before CNY (17 – 30 Jan): 10pm
CNY Eve (31 Jan): Close 5pm
CNY (1 Feb): Closed
FairPrice Tanjong Pagar Plaza
Blk 1 Tanjong Pagar Plaza, #01-01 S(082001)
Original Operating Hours: 24 hours
Before CNY (17 – 30 Jan): 24 hours
CNY Eve (31 Jan): Open 24 hours
CNY (1 Feb): Open 24 hours
FairPrice Tekka Place
2 Serangoon Road, #B1-06/10 Tekka Place S(218227)
Original Operating Hours: 8am-10pm
Before CNY (17 – 30 Jan): 10pm
CNY Eve (31 Jan): Close 5pm
CNY (1 Feb): Closed
FairPrice Toa Payoh HDB Hub
Blk 500 Lorong 6 Toa Payoh, #B1-32/#01-33 S(310500)
Original Operating Hours: 7am-12mn
Before CNY (17 – 24 Jan) : Closed 12mn
Before CNY (25 – 30 Jan) : Closed 2am
CNY Eve (31 Jan): Close 5pm
CNY (1 Feb): 5pm
FairPrice Toa Payoh Lorong 4
Blk 192 Toa Payoh Lorong 4, #01-670/672 S(310192)
Original Operating Hours: 24 hours
Before CNY (17 – 30 Jan): 24 hours
CNY Eve (31 Jan): Open 24 hours
CNY (1 Feb): Open 24 hours
Central East
FairPrice Store
FairPrice Address
Opening Hours
FairPrice Bedok North Blk 212
Blk 212 Bedok Nth St 1, #01-147 S(460212)
Original Operating Hours: 24 hours
Before CNY (17 – 30 Jan): 24 hours
CNY Eve (31 Jan): Close 11pm
CNY (1 Feb): 7am-5pm
FairPrice Chai Chee
Blk 29B Chai Chee Avenue, #01-62 S(462029)
Original Operating Hours: 24 hours
Before CNY (17 – 30 Jan): 24 hours
CNY Eve (31 Jan): Open 24 hours
CNY (1 Feb): Open 24 hours
FairPrice Geylang East
Blk 114 Aljunied Ave 2, #01-75 S(380114)
Original Operating Hours: 24 hours
Before CNY (17 – 30 Jan): 24 hours
CNY Eve (31 Jan): Close 5pm
CNY (1 Feb): 7am-5pm
FairPrice Geylang Lorong 38
612/620 Geylang Lorong 38 S(389551)
Original Operating Hours: 24 hours
Before CNY (17 – 30 Jan): 24 hours
CNY Eve (31 Jan): Open 24 hours
CNY (1 Feb): Open 24 hours
FairPrice Jalan Tiga
Blk 41 Jalan Tiga, #01-05 S(390041)
Original Operating Hours: 24 hours
Before CNY (17 – 30 Jan): 24 hours
CNY Eve (31 Jan): Open 24 hours
CNY (1 Feb): Open 24 hours
FairPrice Joo Chiat Complex
Blk 2 Joo Chiat Road, #01-1139/#02-1139, Joo Chiat Complex S(420002)
Original Operating Hours: 7am-11pm
Before CNY (17 – 28 Jan) : Closed 11pm
Before CNY (29 – 30 Jan) : Closed 2am
CNY Eve (31 Jan): Close 5pm
CNY (1 Feb): 5pm
FairPrice Kallang Bahru
Blk 71 Kallang Bahru, #01-529/#02-531 S(330071)
Original Operating Hours: 7am-11pm
Before CNY (17 – 28 Jan) : Closed 11pm
Before CNY (29 – 30 Jan) : Closed 2am
CNY Eve (31 Jan): Close 5pm
CNY (1 Feb): 5pm
FairPrice Lengkong Tiga
Blk 110 Lengkong Tiga, #01-233/235 S(410110)
Original Operating Hours: 24 hours
Before CNY (17 – 30 Jan): 24 hours
CNY Eve (31 Jan): Open 24 hours
CNY (1 Feb): Open 24 hours
FairPrice POIZ
51 Upper Serangoon road, #01-30 to 32, 41 to 49, The POIZ Centre S(347697)
Original Operating Hours: 24 hours
Before CNY (17 – 30 Jan): 24 hours
CNY Eve (31 Jan): Open 24 hours
CNY (1 Feb): Open 24 hours
FairPrice Siglap New Market
934 East Coast Road, Siglap New Market S(459125)
Original Operating Hours: 24 hours
Before CNY (17 – 30 Jan): 24 hours
CNY Eve (31 Jan): Open 24 hours
CNY (1 Feb): Open 24 hours
FairPrice SingPost Centre
10 Eunos Road 8, SingPost Centre, #B1-101 to 107 S(408600)
Original Operating Hours: 8am – 11pm
Before CNY (17 – 28 Jan) : Closed 11pm
Before CNY (29 – 30 Jan) : Closed 2am
CNY Eve (31 Jan): Close 5pm
CNY (1 Feb): 5pm
FairPrice Tai Seng
18 Tai Seng Street, Maple Tree 18, #B1-13 S(539775)
Original Operating Hours: 8am-10pm
Before CNY (17 – 28 Jan) : Closed 10pm
Before CNY (28 – 30 Jan) : Closed 11pm
CNY Eve (31 Jan): Close 5pm
CNY (1 Feb): Closed
FairPrice Upper Boon Keng
Blk 5 Upper Boon Keng Road, #01-05 S(380005)
Original Operating Hours: 24 hours
Before CNY (17 – 30 Jan): 24 hours
CNY Eve (31 Jan): Close 5pm
CNY (1 Feb): 7am-5pm
East
FairPrice Store
FairPrice Address
Opening Hours
FairPrice Bedok North Blk 89
Blk 89 Bedok Nth St 4, #01-77/79 S(460089)
Original Operating Hours: 24 hours
Before CNY (17 – 30 Jan): 24 hours
CNY Eve (31 Jan): Open 24 hours
CNY (1 Feb): Open 24 hours
FairPrice Bedok Reservoir Rd
Blk 745 Bedok Reservoir Rd, #01-3015 S(470745)
Original Operating Hours: 24 hours
Before CNY (17 – 30 Jan): 24 hours
CNY Eve (31 Jan): Close 5pm
CNY (1 Feb): 7am-5pm
FairPrice Downtown East
e! Hub Downtown East, 1 Pasir Ris Close, #02-127 S(519599)
Original Operating Hours: 8am-11pm
Before CNY (17 – 30 Jan) : Closed 12mn
CNY Eve (31 Jan): Close 5pm
CNY (1 Feb): 5pm
FairPrice Eastpoint
3 Simei St 6, #05-01 Eastpoint S(528833)
Original Operating Hours: 24 hours
Before CNY (17 – 30 Jan): 24 hours
CNY Eve (31 Jan): Close 5pm
CNY (1 Feb): 7am-5pm
FairPrice New Upper Changi
Blk 57 New Upper Changi Rd, #01-1334/1336/1338 S(461057)
Original Operating Hours: 24 hours
Before CNY (17 – 30 Jan): 24 hours
CNY Eve (31 Jan): Open 24 hours
CNY (1 Feb): Open 24 hours
FairPrice Our Tampines Hub
1 Tampines Walk, Our Tampines Hub, #B1-01 S(528523)
Original Operating Hours: 24 hours
Before CNY (17 – 30 Jan): 24 hours
CNY Eve (31 Jan): Close 5pm
CNY (1 Feb): 7am-5pm
FairPrice Pasir Ris West Plaza
Blk 734 Pasir Ris St 72 #01-37, Pasir Ris West Plaza S(510734)
Original Operating Hours: 24 hours
Before CNY (17 – 30 Jan): 24 hours
CNY Eve (31 Jan): Close 5pm
CNY (1 Feb): 7am-5pm
FairPrice Tampines Blk 107
Blk 107 Tampines St 11, #01-353/355/357/359 S(521107)
Original Operating Hours: 24 hours
Before CNY (17 – 30 Jan): 24 hours
CNY Eve (31 Jan): Open 24 hours
CNY (1 Feb): Open 24 hours
FairPrice Tampines Blk 138
Blk 138 Tampines St 11, #01-136 S(521138)
Original Operating Hours: 24 hours
Before CNY (17 – 30 Jan): 24 hours
CNY Eve (31 Jan): Open 24 hours
CNY (1 Feb): Open 24 hours
FairPrice Tampines Blk 475
Blk 475 Tampines St 44, #01-145 S(520475)
Original Operating Hours: 24 hours
Before CNY (17 – 30 Jan): 24 hours
CNY Eve (31 Jan): 24 hours
CNY (1 Feb): 24 hours
FairPrice Tampines Central CC
Blk 866A Tampines St83, #01-01 S(521866)
Original Operating Hours: 7am-11pm
Before CNY (17 – 30 Jan) : Closed 12mn
CNY Eve (31 Jan): Close 5pm
CNY (1 Feb): 5pm
FairPrice Tampines Mall
4 Tampines Central 5, #B1-12 Tampines Mall S(529510)
Original Operating Hours: 8am-11pm
Before CNY (17 – 30 Jan) : Closed 12mn
CNY Eve (31 Jan): Close 5pm
CNY (1 Feb): 5pm
FairPrice Whitesands
1 Pasir Ris Central St 3, #B1-10 Whitesands S(518457)
Original Operating Hours: 8am-11pm
Before CNY (17 – 30 Jan) : Closed 12mn
CNY Eve (31 Jan): Close 5pm
CNY (1 Feb): 5pm
North
FairPrice Store
FairPrice Address
Opening Hours
FairPrice Canberra Plaza
133 Canberra View, #B1-03/04 Canberra Plaza S(750133)
Original Operating Hours: 8am-11pm
Before CNY (17 – 24 Jan) : Closed 11pm
Before CNY (25 – 30 Jan) : Closed 12mn
CNY Eve (31 Jan): Close 5pm
CNY (1 Feb): 5pm
FairPrice Canberra Road Blk 511
Blk 511 Canberra Road, #02-03 S(750511)
Original Operating Hours: 7am-11pm
Before CNY (17 – 20 Jan) : Closed 11pm
Before CNY (21 – 28 Jan) : Closed 12mn
Before CNY (29 – 30 Jan) : Closed 2am
CNY Eve (31 Jan): Close 5pm
CNY (1 Feb): 5pm
FairPrice Kampung Admiralty
Blk 676 Woodlands Drive 71, #B1-02, Kampung Admiralty S(730676)
Original Operating Hours: 24 hours
Before CNY (17 – 30 Jan): 24 hours
CNY Eve (31 Jan): Close 5pm
CNY (1 Feb): 7am-5pm
FairPrice Khatib
Blk 849 Yishun Ring Rd, #01-3701/#01-3703 S(760849)
Original Operating Hours: 24 hours
Before CNY (17 – 30 Jan): 24 hours
CNY Eve (31 Jan): Close 5pm
CNY (1 Feb): 7am-5pm
FairPrice Marsiling MRT Station
71 Woodlands Ave 3 #01-01, Marsiling MRT Station S(739044)
Original Operating Hours: 7am-11:30pm
Before CNY (17 – 28 Jan) : Closed 12mn
Before CNY (29 – 30 Jan) : Closed 2am
CNY Eve (31 Jan): Close 5pm
CNY (1 Feb): 5pm
FairPrice Northpoint City
1 Northpoint Drive, Northpoint City, #B2-103 to 107 S(768019)
Original Operating Hours: 8am-11pm
Before CNY (17 – 30 Jan) : Closed 12mn
CNY Eve (31 Jan): Close 5pm
CNY (1 Feb): 5pm
FairPrice Sembawang Way
Blk 355 Sembawang Way #01-01 S(750355)
Original Operating Hours: 24 hours
Before CNY (17 – 30 Jan): 24 hours
CNY Eve (31 Jan): Close 5pm
CNY (1 Feb): 7am-5pm
FairPrice Sun Plaza
30 Sembawang Drive, #B1-01/02 Sun Plaza S(757713)
Original Operating Hours: 8am-11pm
Before CNY (17 – 28 Jan) : Closed 12mn
Before CNY (29 – 30 Jan) : Closed 2am
CNY Eve (31 Jan): Close 5pm
CNY (1 Feb): 5pm
FairPrice Woodlands 888
Blk 888 Woodlands Dr 50, #01-757 S(730888)
Original Operating Hours: 24 hours
Before CNY (17 – 30 Jan): 24 hours
CNY Eve (31 Jan): Close 5pm
CNY (1 Feb): 7am-5pm
FairPrice Woodlands Ave 1
Blk 570B Woodlands Ave 1, #01-06 S(732570)
Original Operating Hours: 7am-11pm
Before CNY (17 – 24 Jan) : Closed 10pm
Before CNY (25 – 30 Jan) : Closed 12mn
CNY Eve (31 Jan): Close 5pm
CNY (1 Feb): 5pm
FairPrice Woodlands Civic Centre
900 South Woodlands Drive, #B1-01, Woodlands Civic Centre, S(730900)
Original Operating Hours: 7am-11pm
Before CNY (17 – 20 Jan) : Closed 11pm
Before CNY (21 – 30 Jan) : Open 24hrs
CNY Eve (31 Jan): Close 5pm
CNY (1 Feb): 5pm
FairPrice Yishun MRT
301 Yishun Ave 2, #01-02, Yishun MRT Station S(769093)
Original Operating Hours: 7am-11.30pm
Before CNY (17 – 30 Jan) : Closed 12mn
CNY Eve (31 Jan): Close 5pm
CNY (1 Feb): 5pm
FairPrice Yishun Ring Rd
Blk 414 Yishun Ring Rd, #01-1853 S(760414)
Original Operating Hours: 24 hours
Before CNY (17 – 30 Jan): 24 hours
CNY Eve (31 Jan): Open 24 hours
CNY (1 Feb): Open 24 hours
North East
FairPrice Store
FairPrice Address
Opening Hours
FairPrice Ang Mo Kio Blk 215
Blk 215 Ang Mo Kio Ave 1, #01-877 S(560215)
Original Operating Hours: 24 hours
Before CNY (17 – 30 Jan): 24 hours
CNY Eve (31 Jan): Open 24 hours
CNY (1 Feb): Open 24 hours
FairPrice Ang Mo Kio Ave 10 Blk 453
Blk 453 Ang Mo Kio Ave 10 #01-1801 S(560453)
Original Operating Hours: 24 hours
Before CNY (17 – 30 Jan): 24 hours
CNY Eve (31 Jan): Open 24 hours
CNY (1 Feb): Open 24 hours
FairPrice Blk 712 Ang Mo Kio Ave 6
Blk 712 Ang Mo Kio Ave 6, #01-4056 S(560712)
Original Operating Hours: 7am-11pm
Before CNY (17 – 20 Jan) : Closed 11pm
Before CNY (21 – 27 Jan) : Closed 12mn
Before CNY (28 – 29 Jan) : Closed 2am
Before CNY (30 Jan) : Open 24hrs
CNY Eve (31 Jan): Close 5pm
CNY (1 Feb): 5pm
FairPrice Compassvale Link
Blk 277C Compassvale Link, #01-13 S(544277)
Original Operating Hours: 24 hours
Before CNY (17 – 30 Jan): 24 hours
CNY Eve (31 Jan): Close 5pm
CNY (1 Feb): 7am-5pm
FairPrice Hougang Blk 682
Blk 682 Hougang Ave 4, #01-310 S(530682)
Original Operating Hours: 24 hours
Before CNY (17 – 30 Jan): 24 hours
CNY Eve (31 Jan): Open 24 hours
CNY (1 Feb): Open 24 hours
FairPrice Hougang Mall
90 Hougang Ave 10, Hougang Mall, #B1-07 S(538766)
Original Operating Hours: 8am-10pm
Before CNY (17 – 20 Jan) : Closed 10pm
Before CNY (21 – 27 Jan) : Closed 11pm
Before CNY (28 – 30 Jan) : Closed 12mn
CNY Eve (31 Jan): Close 5pm
CNY (1 Feb): Closed
FairPrice Jalan Kayu
Blk 447A Jalan Kayu, #01-01/02 S(791447)
Original Operating Hours: 24 hours
Before CNY (17 – 30 Jan): 24 hours
CNY Eve (31 Jan): Open 24 hours
CNY (1 Feb): Open 24 hours
FairPrice Kang Kar Mall
100 Hougang Ave 10 #01-01/#02-01, Kang Kar Mall S(538767)
Original Operating Hours: 24 hours
Before CNY (17 – 30 Jan): 24 hours
CNY Eve (31 Jan): Close 5pm
CNY (1 Feb): 7am-5pm
FairPrice Punggol Drive Blk 612
Blk 612 Punggol Drive, #01-06 S(820612)
Original Operating Hours: 24 hours
Before CNY (17 – 30 Jan): 24 hours
CNY Eve (31 Jan): Open 24 hours
CNY (1 Feb): Open 24 hours
FairPrice Punggol Oasis
681 Punggol Drive Oasis Terraces, #B1-01 S(820681)
Original Operating Hours: 7am-11pm
Before CNY (17 – 20 Jan) : Closed 11pm
Before CNY (21 – 27 Jan) : Closed 12mn
Before CNY (28 – 30 Jan) : Open 24hrs
CNY Eve (31 Jan): Close 5pm
CNY (1 Feb): 5pm
FairPrice Punggol Plaza
Blk 168 Punggol Field Rd, Punggol Plaza #03-01/02 S(820168)
Original Operating Hours: 7am-11pm
Before CNY (17 – 27 Jan) : Closed 11pm
Before CNY (28 – 30 Jan) : Closed 12mn
CNY Eve (31 Jan): Close 5pm
CNY (1 Feb): 5pm
FairPrice Rivervale Mall
11 Rivervale Crescent, #03-01 Rivervale Mall S(545082)
Original Operating Hours: 8am-10pm (Open at 7am from 21 -30 Jan)
Before CNY (17 – 20 Jan) : Closed 10pm
Before CNY (21 – 27 Jan) : Closed 11pm
Before CNY (28 – 30 Jan) : Closed 12mn
CNY Eve (31 Jan): Close 5pm
CNY (1 Feb): 5pm
FairPrice Rivervale Plaza
118 Rivervale Dr #01-08, Rivervale Plaza S(540118)
Original Operating Hours: 24 hours
Before CNY (17 – 30 Jan): 24 hours
CNY Eve (31 Jan): Close 5pm
CNY (1 Feb): 7am-5pm
FairPrice Sengkang East Avenue
Blk 279 Sengkang East Avenue, #01-06 S(540279)
Original Operating Hours: 24 hours
Before CNY (17 – 30 Jan): 24 hours
CNY Eve (31 Jan): Open 24 hours
CNY (1 Feb): Open 24 hours
FairPrice Serangoon North Ave 1
Blk 152B Serangoon North Ave 1, #01-384 S(552152)
Original Operating Hours: 24 hours
Before CNY (17 – 30 Jan): 24 hours
CNY Eve (31 Jan): Open 24 hours
CNY (1 Feb): Open 24 hours
FairPrice Serangoon View
Blk 476 Upper Serangoon View, #02-18 S(530476)
Original Operating Hours: 7am-11pm
Before CNY (17 – 20 Jan) : Closed 11pm
Before CNY (21 – 30 Jan) : Open 24hrs
CNY Eve (31 Jan): Close 5pm
CNY (1 Feb): 5pm
North West
FairPrice Store
FairPrice Address
Opening Hours
FairPrice Bukit Batok East
Blk 280 Bukit Batok East Ave 3, #01-315 S(650280)
Original Operating Hours: 24 hours
Before CNY (17 – 30 Jan): 24 hours
CNY Eve (31 Jan): Open 24 hours
CNY (1 Feb): Open 24 hours
FairPrice Bukit Batok HT
2 Bukit Batok West Ave 7, #01-10, HomeTeamNS Bukit Batok Clubhouse S(659003)
Original Operating Hours: 8am-11pm
Before CNY (17 – 24 Jan) : Closed 12mn
Before CNY (25 – 30 Jan) : Closed 2am
CNY Eve (31 Jan): Close 5pm
CNY (1 Feb): Closed
FairPrice Bukit Batok MRT
10 Bukit Batok Central, #01-08 S(659958)
Original Operating Hours: 7am-11.30pm
Before CNY (17 – 24 Jan) : Closed 12mn
Before CNY (25 – 30 Jan) : Closed 2am
CNY Eve (31 Jan): Close 5pm
CNY (1 Feb): 5pm
FairPrice Bukit Batok West
Blk 166 Bukit Batok West Ave 8, #01-256/258 S(650166)
Original Operating Hours: 24 hours
Before CNY (17 – 30 Jan): 24 hours
CNY Eve (31 Jan): Open 24 hours
CNY (1 Feb): Open 24 hours
FairPrice Hillion Mall
17 Petir Road, #B2-67 S(678278)
Original Operating Hours: 24 hours
Before CNY (17 – 30 Jan): 24 hours
CNY Eve (31 Jan): Close 5pm
CNY (1 Feb): 7am-5pm
FairPrice Jalan Teck Whye
Blk 140 Teck Whye Lane, #01-351 S(680140)
Original Operating Hours: 24 hours
Before CNY (17 – 30 Jan): 24 hours
CNY Eve (31 Jan): Close 5pm
CNY (1 Feb): 7am-5pm
FairPrice Jurong East
Blk 135 Jurong Gateway Road, #01-337 S(600135)
Original Operating Hours: 24 hours
Before CNY (17 – 30 Jan): 24 hours
CNY Eve (31 Jan): Close 5pm
CNY (1 Feb): 7am-5pm
FairPrice Jurong East 345
Blk 345 Jurong East St 31, #01-29 S(600345)
Original Operating Hours: 24 hours
Before CNY (17 – 30 Jan): 24 hours
CNY Eve (31 Jan): Open 24 hours
CNY (1 Feb): Open 24 hours
FairPrice Jurong West St 41
Blk 498 Jurong West St 41, #01-434/436/438 S(640498)
Original Operating Hours: 24 hours
Before CNY (17 – 30 Jan): 24 hours
CNY Eve (31 Jan): Open 24 hours
CNY (1 Feb): Open 24 hours
FairPrice Limbang Shopping Centre
Blk 533 Choa Chu Kang St 51 #01-01, Limbang Shopping Centre S(680533)
Original Operating Hours: 7am-11pm
Before CNY (17 – 20 Jan) : Closed 11pm
Before CNY (21 – 24 Jan) : Closed 12mn
Before CNY (25 – 30 Jan) : Closed 2am
CNY Eve (31 Jan): Close 5pm
CNY (1 Feb): Closed
FairPrice Lot 1 Shoppers' Mall
21 Choa Chu Kang Ave 4, #B1-05 Lot 1 Shoppers' Mall S(689812)
Original Operating Hours: 7am-11pm
Before CNY (17 – 18 Jan) : Closed 11pm
Before CNY (19 – 30 Jan) : Closed 12mn
CNY Eve (31 Jan): Close 5pm
CNY (1 Feb): 5pm
FairPrice Senja Grand
Blk 628 Senja Rd #01-01, Senja Grand S(670628)
Original Operating Hours: 24 hours
Before CNY (17 – 30 Jan): 24 hours
CNY Eve (31 Jan): Close 5pm
CNY (1 Feb): 7am-5pm
FairPrice Yew Tee Point
21 Choa Chu Kang North 6, Yew Tee Point, #B1-01 S(689578)
Original Operating Hours: 7am-11pm
Before CNY (17 – 18 Jan) : Closed 11pm
Before CNY (19 – 30 Jan) : Closed 12mn
CNY Eve (31 Jan): Close 5pm
CNY (1 Feb): 5pm
South
FairPrice Store
FairPrice Address
Opening Hours
FairPrice Bukit Ho Swee
Blk 50 Havelock Rd, #01-755 S(160050)
Orginal Operating Hours: 24 hours
Before CNY (17 – 30 Jan): 24 hours
CNY Eve (31 Jan): Close 5pm
CNY (1 Feb): 7am-5pm
FairPrice Bukit Merah Central
Blk 166 Bukit Merah Central, #01-3531 & 02-3531, S(150166)
Orginal Operating Hours: 7am-11pm
Before CNY (17 – 20 Jan) : Closed 11pm
Before CNY (21 – 27 Jan) : Closed 12mn
Before CNY (28 – 30 Jan) : Closed 2am
CNY Eve (31 Jan): Close 5pm
CNY (1 Feb): 5pm
FairPrice Buona Vista CC
Blk 36 Holland Drive, #01-03/04/05 S(270036)
Orginal Operating Hours: 24 hours
Before CNY (17 – 30 Jan): 24 hours
CNY Eve (31 Jan): Close 5pm
CNY (1 Feb): 7am-5pm
FairPrice Coronation Plaza
587 Bukit Timah Rd, #01-01, Coronation Plaza S(269707)
Orginal Operating Hours: 8am-11pm
Before CNY (17 – 20 Jan) : Closed 11pm
Before CNY (21 – 30 Jan) : Closed 12mn
CNY Eve (31 Jan): Close 5pm
CNY (1 Feb): 5pm
FairPrice Dawson Place
Blk 57 Dawson Rd, #01-07 Dawson Place S(142057)
Orginal Operating Hours: 24 hours
Before CNY (17 – 30 Jan): 24 hours
CNY Eve (31 Jan): Close 5pm
CNY (1 Feb): 7am-5pm
FairPrice Depot
Blk 108 Depot Rd, #01-01, Depot Heights Shopping Centre S(100108)
Orginal Operating Hours: 8am-11pm
Before CNY (17 – 20 Jan) : Closed 11pm
Before CNY (21 – 30 Jan) : Closed 12mn
CNY Eve (31 Jan): Close 5pm
CNY (1 Feb): 5pm
FairPrice Dover
Blk 28 Dover Crescent, #01-83 S(130028)
Orginal Operating Hours: 8am-11pm
Before CNY (17 – 20 Jan) : Closed 11pm
Before CNY (21 – 30 Jan) : Closed 12mn
CNY Eve (31 Jan): Close 5pm
CNY (1 Feb): 5pm
FairPrice Ghim Moh Link
Blk 29A, Ghim Moh Link, #01-01 S(271029)
Orginal Operating Hours: 24 hours
Before CNY (17 – 30 Jan): 24 hours
CNY Eve (31 Jan): Open 24 hours
CNY (1 Feb): Open 24 hours
FairPrice Jalan Bukit Merah
1 Jalan Bukit Merah, #01-4500 S(150001)
Orginal Operating Hours: 7am-11pm
Before CNY (17 – 20 Jan) : Closed 11pm
Before CNY (21 – 30 Jan) : Closed 12mn
CNY Eve (31 Jan): Close 5pm
CNY (1 Feb): 5pm
FairPrice Kim Tian
18/20 Kim Tian Road, S(169252)
Orginal Operating Hours: 7am-10pm
Before CNY (17 – 20 Jan) : Closed 11pm
Before CNY (21 – 30 Jan) : Closed 12mn
CNY Eve (31 Jan): Close 5pm
CNY (1 Feb): 5pm
FairPrice NUH Medical Centre
1 Lower Kent Ridge Road, #02-16 NUH Medical Centre S(119082)
Orginal Operating Hours: 9am-10pm
Before CNY (17 – 30 Jan): 10pm
CNY Eve (31 Jan): Close 5pm
CNY (1 Feb): Closed
FairPrice PSA Branch
460 Alexandra Road, #01-09 and #01-16 S(119963)
Orginal Operating Hours: 8am-10pm
Before CNY (17 – 30 Jan): 10pm
CNY Eve (31 Jan): Close 5pm
CNY (1 Feb): Closed
FairPrice Redhill
20 Lengkok Bahru, #01-13 S(159053)
Orginal Operating Hours: 8am-9pm
Before CNY (17 – 26 Jan) : Closed 9pm
Before CNY (27 – 30 Jan) : Closed 10pm
CNY Eve (31 Jan): Close 5pm
CNY (1 Feb): Closed
FairPrice Stirling Road
Blk 170 Stirling Road, #01-1147 S(140170)
Orginal Operating Hours: 8am-11pm
Before CNY (17 – 20 Jan) : Closed 11pm
Before CNY (21 – 30 Jan) : Closed 12mn
CNY Eve (31 Jan): Close 5pm
CNY (1 Feb): 5pm
FairPrice Telok Blangah
Blk 78A Telok Blangah St32, #01-01/02 S(101078)
Orginal Operating Hours: 24 hours
Before CNY (17 – 30 Jan): 24 hours
CNY Eve (31 Jan): Open 24 hours
CNY (1 Feb): Open 24 hours
West
FairPrice Store
FairPrice Address
Opening Hours
FairPrice Bendemeer Road
Blk 30 Bendemeer Road, #01-871 S(330030)
Original Operating Hours: 8am-10pm
Before CNY (17 – 25 Jan) : Closed 10pm
Before CNY (26 – 30 Jan) : Closed 11pm
CNY Eve (31 Jan): Close 5pm
CNY (1 Feb): 5pm
FairPrice Boon Lay Shopping Complex
Blk 221 Boon Lay Place, #02-200, Boon Lay Shopping Complex S(640221)
Original Operating Hours: 24 hours
Before CNY (17 – 30 Jan): 24 hours
CNY Eve (31 Jan): Close 5pm
CNY (1 Feb): 7am-5pm
FairPrice Circuit Road Blk 77
Blk 77 Circuit Road, #01-464/466 S(370077)
Original Operating Hours: 8am-10pm
Before CNY (17 – 25 Jan) : Closed 10pm
Before CNY (26 – 30 Jan) : Closed 11pm
CNY Eve (31 Jan): Close 5pm
CNY (1 Feb): Closed
FairPrice Clementi A (Blk 451)
Blk 451 Clementi Ave 3, #01-307 S(120451)
Original Operating Hours: 24 hours
Before CNY (17 – 30 Jan): 24 hours
CNY Eve (31 Jan): Close 5pm
CNY (1 Feb): 7am-5pm
FairPrice Clementi Blk 352
Blk 352 Clementi Ave 2, #01-141/143 S(120352)
Original Operating Hours: 24 hours
Before CNY (17 – 30 Jan): 24 hours
CNY Eve (31 Jan): Open 24 hours
CNY (1 Feb): Open 24 hours
FairPrice Eunos Crescent Blk 5
Blk 5 Eunos Crescent, #01-2619/21 S(400005)
Original Operating Hours: 8am-10pm
Before CNY (17 – 25 Jan) : Closed 10pm
Before CNY (26 – 30 Jan) : Closed 11pm
CNY Eve (31 Jan): Close 5pm
CNY (1 Feb): Closed
FairPrice Jurong East Blk 249
Blk 249 Jurong East St 24, #01-106 S(600249)
Original Operating Hours: 8am-10pm
Before CNY (17 – 25 Jan) : Closed 10pm
Before CNY (26 – 30 Jan) : Closed 11pm
CNY Eve (31 Jan): Close 5pm
CNY (1 Feb): 5pm
FairPrice Jurong Point
No.1 Jurong West Central 2, #B1-09 Jurong Point S(648886)
Original Operating Hours: 9am-10pm
Before CNY (17 – 20 Jan) : Closed 10pm
Before CNY (21 – 30 Jan) : Closed 12mn
CNY Eve (31 Jan): Close 5pm
CNY (1 Feb): Closed
FairPrice Silat Ave Blk 150
Blk 150 Silat Ave, #01-44 S(160150)
Original Operating Hours: 8am-10pm
Before CNY (17 – 25 Jan) : Closed 10pm
Before CNY (26 – 30 Jan) : Closed 11pm
CNY Eve (31 Jan): Close 5pm
CNY (1 Feb): Closed
FairPrice Taman Jurong Shopping Centre
Taman Jurong Shopping Centre,Blk 399 Yung Sheng Rd, #01-35 S(610399)
Original Operating Hours: 24 hours
Before CNY (17 – 30 Jan): 24 hours
CNY Eve (31 Jan): Close 5pm
CNY (1 Feb): 7am-5pm
FairPrice Teban Garden
Blk 37 Teban Garden Rd, #01-304/305/306 S(600037)
Original Operating Hours: 24 hours
Before CNY (17 – 30 Jan): 24 hours
CNY Eve (31 Jan): Open 24 hours
CNY (1 Feb): Open 24 hours
FairPrice Toa Payoh Blk 95
Blk 95 Toa Payoh Lorong 4, #01-68/70/72 S(310095)
Original Operating Hours: 8am-10pm
Before CNY (17 – 25 Jan) : Closed 10pm
Before CNY (26 – 30 Jan) : Closed 11pm
CNY Eve (31 Jan): Close 5pm
CNY (1 Feb): 5pm
FairPrice West Coast
Blk 502 West Coast Drive, #01-41 S(120502)
Original Operating Hours: 7am-11pm
Before CNY (17 – 20 Jan) : Closed 11pm
Before CNY (21 – 30 Jan) : Closed 12mn
CNY Eve (31 Jan): Close 5pm
CNY (1 Feb): 5pm
FairPrice Yung Kuang
Blk 63/66 Yung Kuang Rd, #01-119/#02-119 S(610063)
Original Operating Hours: 8am-10pm
Before CNY (17 – 20 Jan) : Closed 10pm
Before CNY (21 – 30 Jan) : Closed 12mn
CNY Eve (31 Jan): Close 5pm
CNY (1 Feb): Closed
FairPrice on Wheels
FairPrice Store
FairPrice Address
Opening Hours
Bukit Purmei
Near Blk 108
Original Operating Hours: 9am – 2pm(Sun-Tue)
16 Jan – 18 Jan: 9am – 2pm
23 Jan -25 Jan: 9am – 2pm
CNY EVE(31 Jan ): 9am – 2pm
CNY (1 Feb): Close
Kaki Bukit Community Centre
At Kaki Bukit CC
Original Operating Hours: 9am – 8pm (Sat)
15 Jan: 9am – 1pm (Sat)
22 Jan: 9am – 1pm (Sat)
29 Jan: 9am – 8pm (Sat)
Telok Blangah Rise
Near Blk 32
Original Operating Hours: 3 pm – 8pm(Sun-Tue)
16 Jan – 18 Jan: 3 pm – 8pm
23 Jan -25 Jan: 3 pm – 8pm
CNY EVE(31 Jan):close
CNY(1Feb):close
Clementi West St 2
Near Blk 708
Original Operating Hours: 9am – 2pm (Wed- Fri)
19 -21 Jan: 9am – 2pm
26 -28 Jan: 9am – 2pm
CNY 2nd day (2 Feb): 9am – 2 pm
West Coast Road
Near Blk 518
Original Operating Hours: 3pm – 8pm (Wed- Fri)
19 Jan -21 Jan :3pm – 8pm (Wed- Fri)
15 &22 Jan : 3 pm – 8pm (Sat)
CNY 2nd Day (2 Feb): 3pm- 8pm
FairPrice Finest
FairPrice Store
FairPrice Address
Opening Hours
FairPrice Finest 100AM
100 Tras Street, #B1-01 100AM S(079027)
Original Operating Hours: 8am-10:30pm
Before CNY (17 – 30 Jan): 10:30pm
CNY Eve (31 Jan): Close 5pm
CNY (1 Feb): Closed
FairPrice Finest 111 Somerset
111 Somerset Road, #01-01/02, #01-21 to 30 S(238164)
Original Operating Hours: 8am-11pm
Before CNY (17 – 30 Jan): 11pm
CNY Eve (31 Jan): Close 5pm
CNY (1 Feb): 5pm
FairPrice Finest Artra
12 Alexandra View, #01-18 S(158736)
Original Operating Hours: 8am-11pm
Before CNY (17 – 30 Jan): 11pm
CNY Eve (31 Jan): Close 5pm
CNY (1 Feb): 5pm
FairPrice Finest Bedok Mall
311 New Upper Changi Road #B2-60, Bedok Mall S(467360)
Original Operating Hours: 8am-11pm
Before CNY (17 – 21 Jan) : Closed 11pm
Before CNY (22 – 30 Jan) : Closed 12mn
CNY Eve (31 Jan): Close 5pm
CNY (1 Feb): 5pm
FairPrice Finest Blk 202 Hougang St 21
Blk 202 Hougang St 21#01-00 S(530202)
Original Operating Hours: 24 hours
Before CNY (17 – 30 Jan): 24 hours
CNY Eve (31 Jan): Close 5pm
CNY (1 Feb): Open from 7am onwards
FairPrice Finest Bukit Panjang Plaza
No.1 Jelebu Rd, #01-15 & #02-20 Bukit Panjang Plaza S(677743)
Original Operating Hours: 8am-11pm
Before CNY (17 – 21 Jan) : Closed 11pm
Before CNY (22 – 30 Jan) : Closed 12mn
CNY Eve (31 Jan): Close 5pm
CNY (1 Feb): 5pm
FairPrice Finest Bukit Timah Plaza
No.1 Jln Anak Bukit #B1-01 & #B2-01 Bukit Timah Plaza S(588996)
Original Operating Hours: 24 hours
Before CNY (17 – 30 Jan): 24 hours
CNY Eve (31 Jan): Close 5pm
CNY (1 Feb): Open from 7am onwards
FairPrice Finest Changi Airport T3
65 Airport Boulevard, Basement 2 North Unit B2LS2, #B2-10, Terminal 3, S(819663)
Original Operating Hours: 10am-10pm
Before CNY (17 – 30 Jan): 10pm
CNY Eve (31 Jan): Close 5pm
CNY (1 Feb): 5pm
FairPrice Finest Changi City Point
5 Changi Business Park Central ,1 #B1-09/10/11 Changi City Point S(486038)
Original Operating Hours: 10am-10pm
Before CNY (17 – 30 Jan): 10pm
CNY Eve (31 Jan): Close 5pm
CNY (1 Feb): Closed
FairPrice Finest Funan Mall
107 North Bridge Road, #B1-10 Funan Mall S(179105)
Original Operating Hours: 10am-10pm
Before CNY (17 – 30 Jan): 10pm
CNY Eve (31 Jan): Close 5pm
CNY (1 Feb): Closed
FairPrice Finest Jewel Changi Airport
78 Airport Boulevard, #B2-205 to 208 Jewel Changi Airport S(819666)
Original Operating Hours: 10am-11pm
Before CNY (17 – 30 Jan): 11pm
CNY Eve (31 Jan): Close 5pm
CNY (1 Feb): 10am-11pm
FairPrice Finest Junction 8
9 Bishan Place, #B1-01 Junction 8 Shopping Centre S(579837)
Original Operating Hours: 8am-11pm
Before CNY (17 – 21 Jan) : Closed 11pm
Before CNY (22 – 30 Jan) : Closed 12mn
CNY Eve (31 Jan): Close 5pm
CNY (1 Feb): 5pm
FairPrice Finest Katong Village Hotel
30 East Coast Road Katong Village Hotel, #01-06/07/08/09 S(428751)
Original Operating Hours: 8am-11pm
Before CNY (17 – 30 Jan): 11pm
CNY Eve (31 Jan): Close 5pm
CNY (1 Feb): 5pm
FairPrice Finest Le Quest
4 Bukit Batok Street 41, #01-91/92 Singapore 657991
Original Operating Hours: 8am-11pm
Before CNY (17 – 30 Jan): 11pm
CNY Eve (31 Jan): Close 5pm
CNY (1 Feb): 5pm
FairPrice Finest Marine Parade
No. 6 Marine Parade Central S(449411)
Original Operating Hours: 8am-11pm
Before CNY (17 – 21 Jan) : Closed 11pm
Before CNY (22 – 30 Jan) : Closed 12mn
CNY Eve (31 Jan): Close 5pm
CNY (1 Feb): 5pm
FairPrice Finest MyVillage
1 Maju Ave #B1-11 to #B1-K09 Serangoon Garden Village S(556679)
Original Operating Hours: 24 hours
Before CNY (17 – 30 Jan): 24 hours
CNY Eve (31 Jan): Close 5pm
CNY (1 Feb): Open from 7am onwards
FairPrice Finest Paya Lebar Quarter
10 Paya Lebar Road, #B2-09 Paya Lebar Quarter, Singapore S(409057)
Original Operating Hours: 8am-11pm
Before CNY (17 – 30 Jan): 11pm
CNY Eve (31 Jan): Close 5pm
CNY (1 Feb): 5pm
FairPrice Finest Scotts Square
6 Scotts Road, #B1-03 to 07 and #B1-10 Scotts Square S(228209)
Original Operating Hours: 8am-11pm
Before CNY (17 – 30 Jan): 11pm
CNY Eve (31 Jan): Close 5pm
CNY (1 Feb): 5pm
FairPrice Finest The Clementi Mall
3155 Commonwealth Avenue West, #B1-12/13/14 The Clementi Mall S(129588)
Original Operating Hours: 7am-11pm
Before CNY (17 – 21 Jan) : Closed 11pm
Before CNY (22 – 30 Jan) : Closed 12mn
CNY Eve (31 Jan): Close 5pm
CNY (1 Feb): 5pm
FairPrice Finest The Seletar Mall
33 Sengkang West Avenue #B2-24 Seletar Mall S(797653)
Original Operating Hours: 24 hours
Before CNY (17 – 30 Jan): 24 hours
CNY Eve (31 Jan): Close 5pm
CNY (1 Feb): Open from 7am onwards
FairPrice Finest The Woodgrove
30 Woodlands Ave 1 #01-11 The Woodgrove S(739065)
Original Operating Hours: 24 hours
Before CNY (17 – 30 Jan): 24 hours
CNY Eve (31 Jan): Close 5pm
CNY (1 Feb): Open from 7am onwards
FairPrice Finest Thomson Plaza
301 Upper Thomson Rd, #03-37/38 Thomson Plaza S(574408)
Original Operating Hours: 8am-11pm
Before CNY (17 – 30 Jan) : Closed 12mn
CNY Eve (31 Jan): Close 5pm
CNY (1 Feb): 5pm
FairPrice Finest Tiong Bahru Plaza
302 Tiong Bahru Rd, #B1-01/02 Tiong Bahru Plaza S(168732)
Original Operating Hours: 8am-11pm
Before CNY (17 – 30 Jan): 11pm
CNY Eve (31 Jan): Close 5pm
CNY (1 Feb): 5pm
FairPrice Finest Valley Point
491 River Valley Road #01-14 Valley Point S(248371)
Original Operating Hours: 7:30am-11pm
Before CNY (17 – 30 Jan): 11pm
CNY Eve (31 Jan): Close 5pm
CNY (1 Feb): 5pm
FairPrice Finest Waterway Point
83 Punggol Central #B2-32 Waterway Point S(828761)
Original Operating Hours: 24 hours
Before CNY (17 – 30 Jan): 24 hours
CNY Eve (31 Jan): Close 5pm
CNY (1 Feb): Open from 7am onwards
FairPrice Finest Wisteria Mall
598 Yishun Ring Road, #01-01Wisteria Mall S(768698)
Original Operating Hours: 8am-11pm
Before CNY (17 – 30 Jan): 11pm
CNY Eve (31 Jan): Close 5pm
CNY (1 Feb): 5pm
FairPrice Finest Yew Tee MRT
61 Choa Chu Kang Drive, #01-01 Yew Tee MRT Station S(689715)
Original Operating Hours: 24 hours
Before CNY (17 – 30 Jan): 24 hours
CNY Eve (31 Jan): Close 5pm
CNY (1 Feb): Open from 7am onwards
FairPrice Finest Zhong Shan Park
20 Ah Hood Road, #02-01 Zhong Shan Park S(329984)
Original Operating Hours: 8am-11pm
Before CNY (17 – 21 Jan) : Closed 11pm
Before CNY (22 – 30 Jan) : Closed 12mn
CNY Eve (31 Jan): Close 5pm
CNY (1 Feb): 5pm
FairPrice Raffles Holland V
118 Holland Avenue #B1-01 to #B1-13 Raffles Holland Village S(278997)
Original Operating Hours: 8am-11pm
Before CNY (17 – 21 Jan) : Closed 11pm
Before CNY (22 – 30 Jan) : Closed 12mn
CNY Eve (31 Jan): Close 5pm
CNY (1 Feb): 5pm
FairPrice Gourmet
FairPrice Store
FairPrice Address
Opening Hours
FairPrice Gourmet Balmoral Plaza
271 Bukit Timah Road, #01-08/08A, Balmoral Road S(259708)
Original Operating Hours: 8am-10pm
Before CNY (17 – 30 Jan): 10pm
CNY Eve (31 Jan): Close 5pm
CNY (1 Feb): 8am-10pm
FairPrice Xtra and Warehouse Club
FairPrice Store
FairPrice Address
Opening Hours
FairPrice Xtra AMK Hub
53 Ang Mo Kio Ave 3, #B2-40 Ang Mo Kio Hub, S(569933)
Original Operating Hours: 24 hours
Before CNY (17 – 30 Jan): 24 hours
CNY Eve (31 Jan): Close 5pm
CNY (1 Feb): 7am-5pm
FairPrice Xtra Changi Business Park
8 Changi Business Park Ave 1, #01-51& #02-51, S(486018)
Original Operating Hours: 8am-11pm
Before CNY (17 – 20 Jan) : Closed 11pm
Before CNY (21 – 24 Jan) : Closed 12mn
Before CNY (25 – 30 Jan) : Closed 2am
CNY Eve (31 Jan): Close 5pm
CNY (1 Feb): 5pm
FairPrice Xtra Hougang One
No.1 Hougang St 91, #02-01 Hougang 1, S(538692)
Original Operating Hours: 7am-11pm
Before CNY (17 – 20 Jan) : Closed 11pm
Before CNY (21 – 24 Jan) : Closed 12mn
Before CNY (25 – 30 Jan) : Closed 2am
CNY Eve (31 Jan): Close 5pm
CNY (1 Feb): 5pm
FairPrice Xtra Jem
50 Jurong Gateway Road, #B1-21/22 & #B3-01, S(608549)
Original Operating Hours: 7am-11pm
Before CNY (17 – 20 Jan) : Closed 11pm
Before CNY (21 – 24 Jan) : Closed 12mn
Before CNY (25 – 30 Jan) : Closed 2am
CNY Eve (31 Jan): Close 5pm
CNY (1 Feb): 5pm
FairPrice Xtra Jurong Point (JP2)
63 Jurong Central 3, #03-01 Jurong Point, S(648331)
Original Operating Hours: 24 hours
Before CNY (17 – 30 Jan): 24 hours
CNY Eve (31 Jan): Close 5pm
CNY (1 Feb): 7am-5pm
FairPrice Xtra Kallang Wave
1 Stadium Place, #01-29 Singapore Sports Hub, S(397628)
Original Operating Hours: 8am-11pm
Before CNY (17 – 20 Jan) : Closed 11pm
Before CNY (21 – 24 Jan) : Closed 12mn
Before CNY (25 – 30 Jan) : Closed 2am
CNY Eve (31 Jan): Close 5pm
CNY (1 Feb): 5pm
FairPrice Xtra nex
23 Serangoon Central, #03-42 Nex Mall, S(556083)
Original Operating Hours: 24 hours
Before CNY (17 – 30 Jan): 24 hours
CNY Eve (31 Jan): Close 5pm
CNY (1 Feb): 7am-5pm
FairPrice Xtra Parkway Parade
80 Marine Parade Road, #03-28 Parkway Parade S(449269)
Original Operating Hours: 8am-11pm
Before CNY (17 – 20 Jan) : Closed 11pm
Before CNY (21 – 24 Jan) : Closed 12mn
Before CNY (25 – 30 Jan) : Closed 2am
CNY Eve (31 Jan): Close 5pm
CNY (1 Feb): 5pm
FairPrice Xtra VivoCity
1 HarbourFront Walk, #B2-23/#01-23, VivoCity, S(098585)
Original Operating Hours: 8am-11pm
Before CNY (17 – 20 Jan) : Closed 11pm
Before CNY (21 – 24 Jan) : Closed 12mn
Before CNY (25 – 30 Jan) : Closed 2am
CNY Eve (31 Jan): Close 5pm
CNY (1 Feb): 5pm
Warehouse Club
1 Joon Koon Circle, Level 3 S(629117)
Original Operating Hours: 9am-10pm
Before CNY (17 – 30 Jan): 10pm
CNY Eve (31 Jan): Close 5pm
CNY (1 Feb): Closed
Find your nearest Fairprice outlet here or shop online at www.fairprice.com.sg