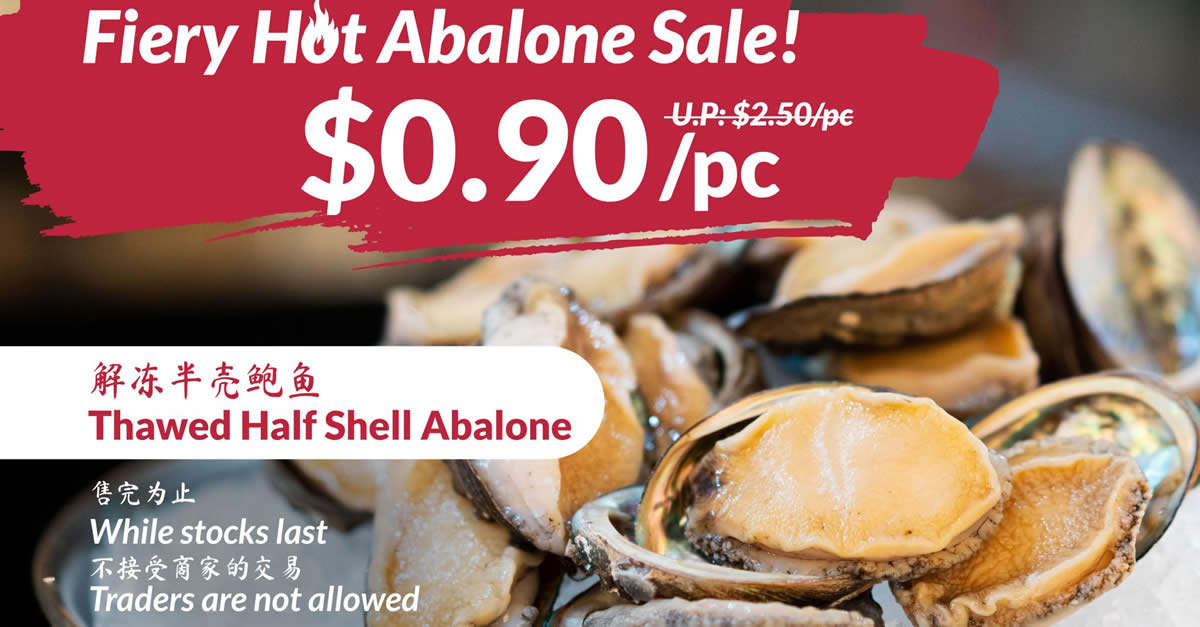 SINGPromos is now on Telegram
Cheapest abalone in Singapore
Fiery Hot Abalone Sale at only $0.90 per abalone, while stocks last! It is also FairPrice's first time doing a promotion that is this jaw dropping and unbeatable.
You'll never be abalonely, FairPrice is open through the festivities. Rain or shine, you can count on them for a wide selection from daily essentials to fresh and frozen produce to whip up your gourmet feast, and everyday great deals!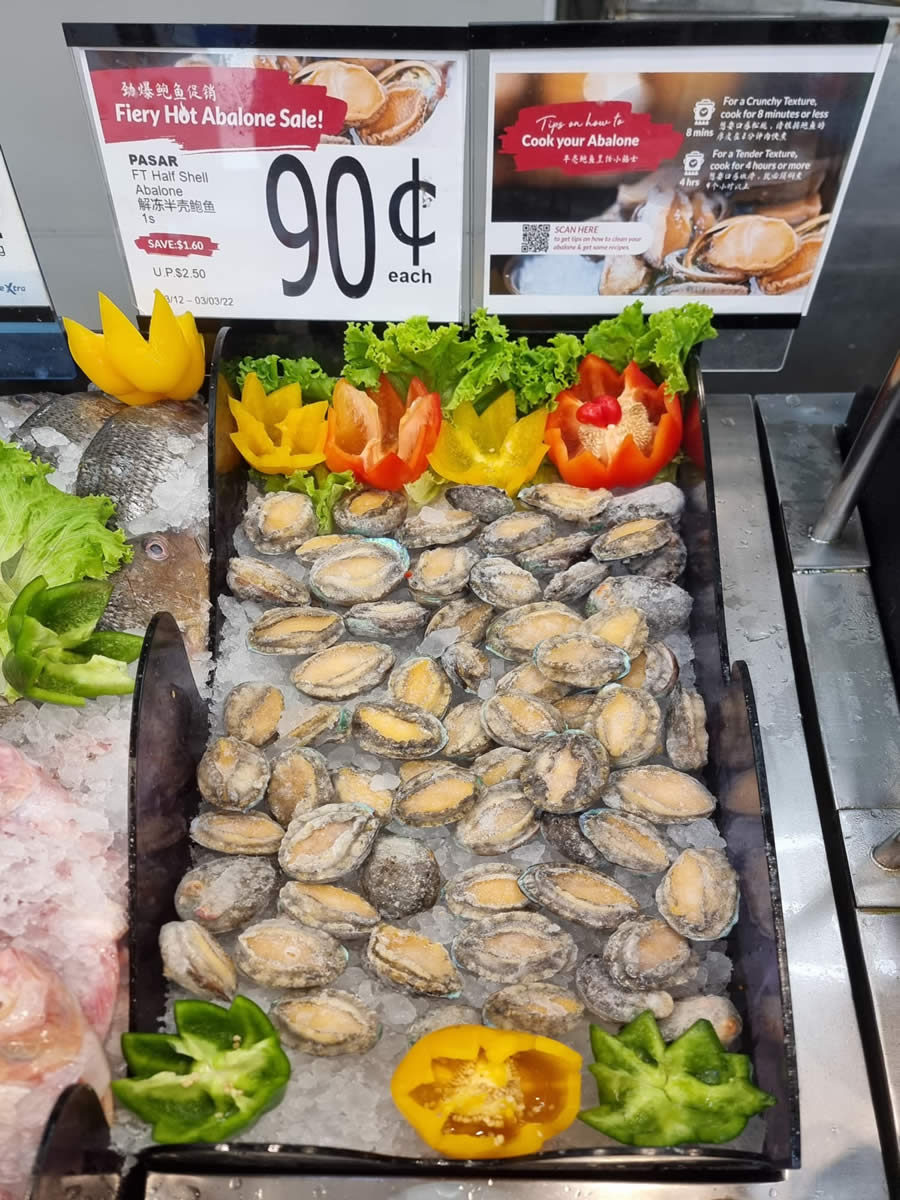 This December, bag the Frozen Thawed Half Shell Abalone at only $0.90 (U.P.$2.50) per piece (30g – 40g) from 23 December 2021, while stocks last! Shoppers are not limited to a maximum purchase quantity so snap up as much, or as little as you want. They are best savoured for its oceanic goodness by simply steaming with garlic and ginger.
The promotion is exclusively available in-stores at selected FairPrice outlets listed below only.
FairPrice stores with abalone stocks promotion
Store Name
Store address
Store operating hours
FairPrice Bedok North
Blk 212 Bedok Nth St 1, #01-147 S(460212)
24 hr
FairPrice Bishan Blk 510
Blk 510 Bishan St 13, #01-520 S(570510)
7AM – 11PM
FairPrice Blk 712 Ang Mo Kio Ave 6
Blk 712 Ang Mo Kio Ave 6, #01-4056 S(560712)
7AM – 11PM
FairPrice Boon Lay Shopping Complex
Blk 221 Boon Lay Place, #02-200, Boon Lay Shopping Complex S(640221)
24 hr
FairPrice Bukit Merah Central
Blk 166 Bukit Merah Central, #01-3531 & 02-3531, S(150166)
7AM – 11PM
FairPrice Canberra Plaza
133 Canberra View, #B1-03/04 Canberra Plaza S(750133)
8AM – 11PM
FairPrice Chinatown Point
133 New Bridge Road, #B1-01 Chinatown Point S(059413)
8AM – 11PM
FairPrice City Square Mall
180 Kitchener Road, City Square Mall, #B1-09/10 S(208539)
8AM – 11PM
FairPrice Clementi A (Blk 451)
Blk 451 Clementi Ave 3, #01-307 S(120451)
24 hr
FairPrice Compassvale Link
Blk 277C Compassvale Link, #01-13 S(544277)
24 hr
FairPrice Coronation Plaza
587 Bukit Timah Rd, #01-01, Coronation Plaza S(269707)
8AM – 11PM
FairPrice Dawson Place
Blk 57 Dawson Rd, #01-07 Dawson Place S(142057)
24 hr
FairPrice Downtown East
e! Hub Downtown East, 1 Pasir Ris Close, #02-127 S(519599)
8AM – 11PM
FairPrice Eastpoint
3 Simei St 6, #05-01 Eastpoint S(528833)
24 hr
FairPrice Geylang East
Blk 114 Aljunied Ave 2, #01-75 S(380114)
24 hr
FairPrice Hillion Mall
17 Petir Road, #B2-67 S(678278)
24 hr
FairPrice Hougang Mall
90 Hougang Ave 10, Hougang Mall, #B1-07 S(538766)
8AM – 10PM
FairPrice Jalan Teck Whye
Blk 140 Teck Whye Lane, #01-351 S(680140)
24 hr
FairPrice Joo Chiat Complex
Blk 2 Joo Chiat Road, #01-1139/#02-1139, Joo Chiat Complex S(420002)
7AM – 11PM
FairPrice Jurong East
Blk 135 Jurong Gateway Road, #01-337 S(600135)
24 hr
FairPrice Jurong Point
No.1 Jurong West Central 2, #B1-09 Jurong Point S(648886)
8AM – 11PM
FairPrice Kallang Bahru
Blk 71 Kallang Bahru, #01-529/#02-531 S(330071)
7AM – 11PM
FairPrice Kang Kar Mall
100 Hougang Ave 10 #01-01/#02-01, Kang Kar Mall S(538767)
24 hr
FairPrice Khatib
Blk 849 Yishun Ring Rd, #01-3701/#01-3703 S(760849)
24 hr
FairPrice Limbang Shopping Centre
Blk 533 Choa Chu Kang St 51 #01-11, Limbang Shopping Centre S(680533)
7AM – 11PM
FairPrice Lorong Limau
Blk 80 Lorong Limau, #01-191 S(320080)
24 hr
FairPrice Lot 1 Shoppers' Mall
21 Choa Chu Kang Ave 4, #B1-05 Lot 1 Shoppers' Mall S(689812)
7AM – 11PM
FairPrice Northpoint City
1 Northpoint Drive, Northpoint City, #B2-103 to 107 S(768019)
8AM – 11PM
FairPrice Orchard Grand Court
131 Killiney Rd #01-01/02/03, Orchard Grand Court S(239571)
24 hr
FairPrice Our Tampines Hub
1 Tampines Walk, Our Tampines Hub, #B1-01 S(528523)
24 hr
FairPrice Pasir Ris West Plaza
Blk 734 Pasir Ris St 72 #01-37, Pasir Ris West Plaza S(510734)
24 hr
FairPrice Punggol Oasis
681 Punggol Drive Oasis Terraces, #B1-01 S(820681)
7AM – 11PM
FairPrice Punggol Plaza
Blk 168 Punggol Field Rd, Punggol Plaza #03-01/02 S(820168)
7AM – 11PM
FairPrice Rivervale Mall
11 Rivervale Crescent, #03-01 Rivervale Mall S(545082)
8AM – 10PM
FairPrice SingPost Centre
10 Eunos Road 8, SingPost Centre, #B1-101 to 107 S(408600)
8AM – 11PM
FairPrice Sun Plaza
30 Sembawang Drive, #B1-01/02 Sun Plaza S(757713)
8AM – 11PM
FairPrice Taman Jurong Shopping Centre
Taman Jurong Shopping Centre,Blk 399 Yung Sheng Rd, #01-35 S(610399)
24 hr
FairPrice Tampines Blk 475
Blk 475 Tampines St 44, #01-145 S(520475)
24 hr
FairPrice Tampines Mall
4 Tampines Central 5, #B1-12 Tampines Mall S(529510)
8AM – 11PM
FairPrice Toa Payoh HDB Hub
Blk 500 Lorong 6 Toa Payoh, #B1-32/#01-33 S(310500)
7AM – 12MN
FairPrice Upper Boon Keng
Blk 5 Upper Boon Keng Road, #01-05 S(380005)
24 hr
FairPrice Whitesands
1 Pasir Ris Central St 3, #B1-10 Whitesands S(518457)
8AM – 11PM
FairPrice Woodlands 888
Blk 888 Woodlands Dr 50, #01-757 S(730888)
24 hr
FairPrice Woodlands Civic Center
900 South Woodlands Drive, #B1-01, Woodlands Civic Centre, S(730900)
7AM – 11PM
FairPrice Yew Tee Point
21 Choa Chu Kang North 6, Yew Tee Point, #B1-01 S(689578)
7AM – 11PM
FairPrice Yishun Ring Rd
Blk 414 Yishun Ring Rd, #01-1853 S(760414)
24 hr
FairPrice Finest Bukit Panjang Plaza
No.1 Jelebu Rd, #01-15 & #02-20 Bukit Panjang Plaza S(677743)
8AM – 11PM
FairPrice Finest Atra
12 Alexandra View, #01-18 S(158736)
8am – 11pm
FairPrice Finest Bedok Mall
311 New Upper Changi Road #B2-60, Bedok Mall S(467360)
8AM – 11PM
FairPrice Finest Blk 202 Hougang St 21
Blk 202 Hougang St 21#01-00 S(530202)
24 hr
FairPrice Finest Bukit Timah Plaza
No.1 Jln Anak Bukit #B1-01 & #B2-01 Bukit Timah Plaza S(588996)
24 hr
FairPrice Finest Junction 8
9 Bishan Place, #B1-01 Junction 8 Shopping Centre S(579837)
8AM – 11PM
FairPrice Finest Katong Village Hotel
30 East Coast Road Katong Village Hotel, #01-06/07/08/09 S(428751)
8AM – 11PM
FairPrice Finest Marine Parade
No. 6 Marine Parade Central S(449411)
8AM – 11PM
FairPrice Finest MyVillage
1 Maju Ave #B1-11 to #B1-K09 Serangoon Garden Village S(556679)
24 hr
FairPrice Finest Paya Lebar Quarter
10 Paya Lebar Road, #B2-09 Paya Lebar Quarter, Singapore S(409057)
7AM – 11PM
FairPrice Finest The Clementi Mall
3155 Commonwealth Avenue West, #B1-12/13/14 The Clementi Mall S(129588)
7AM – 11PM
FairPrice Finest The Seletar Mall
33 Sengkang West Avenue #B2-24 Seletar Mall S(797653)
24 hr
FairPrice Finest The Woodgrove
30 Woodlands Ave 1 #01-11 The Woodgrove S(739065)
24 hr
FairPrice Finest Thomson Plaza
301 Upper Thomson Rd, #03-37/38 Thomson Plaza S(574408)
8AM – 11PM
FairPrice Finest Tiong Bahru Plaza
302 Tiong Bahru Rd, #B1-01/02 Tiong Bahru Plaza S(168732)
8AM – 11PM
FairPrice Finest Waterway Point
83 Punggol Central #B2-32 Waterway Point S(828761)
24 hr
FairPrice Finest Wisteria Mall
598 Yishun Ring Road, #01-01Wisteria Mall S(768698)
8AM – 11PM
FairPrice Finest Zhong Shan Park
20 Ah Hood Road, #02-01 Zhong Shan Park S(329984)
8AM – 11PM
FairPrice Xtra AMK Hub
53 Ang Mo Kio Ave 3, #B2-40 Ang Mo Kio Hub, S(569933)
24 hr
FairPrice Xtra Changi Business Park
8 Changi Business Park Ave 1, #01-51& #02-51, S(486018)
8AM – 11PM
FairPrice Xtra Hougang One
No.1 Hougang St 91, #02-01 Hougang 1, S(538692)
7AM – 11PM
FairPrice Xtra Jem
50 Jurong Gateway Road, #B1-21/22 & #B3-01, S(608549)
7AM – 11PM
FairPrice Xtra Jurong Point (JP2)
63 Jurong Central 3, #03-01 Jurong Point, S(648331)
24 hr
FairPrice Xtra Kallang Wave
1 Stadium Place, #01-29 Singapore Sports Hub, S(397628)
8AM – 11PM
FairPrice Xtra nex
23 Serangoon Central, #03-42 Nex Mall, S(556083)
24 hr
FairPrice Xtra Parkway Parade
80 Marine Parade Road, #03-28 Parkway Parade S(449269)
8 am to 11 pm
FairPrice Xtra VivoCity
1 HarbourFront Walk, #B2-23/#01-23, VivoCity, S(098585)
8AM – 11PM