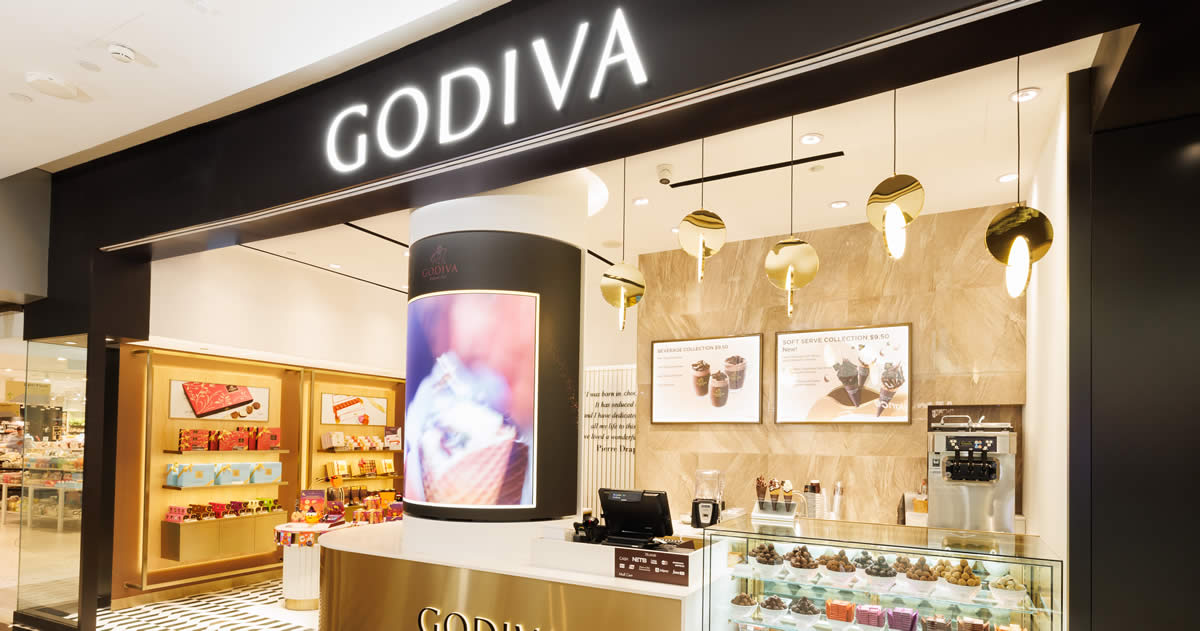 We are now on Telegram
Godiva unveils its first outlet in the east at Jewel Changi Airport
GODIVA, the iconic Belgian chocolatier celebrated worldwide for crafting premium chocolates of exquisite quality and luxurious taste, is thrilled to announce the opening of its first outlet in the east of Singapore this October. Nestled within Jewel Changi Airport, the brand-new GODIVA boutique beckons all chocolate lovers to a haven of sweet indulgence.
Exclusive to the boutique is an array of unique and delectable offerings, including specially curated gift boxes that are perfect as travel gifts for loved ones and a distinctive Waffle Bowl that is only available at this outlet worldwide.
The interior of the boutique exudes elegance, as customers are transported into a realm of chocolate delights and warmly invites them to embark on a tantalising journey into GODIVA's irresistible chocolates, soft serves and milkshakes.
Jewel Changi Airport Exclusive Items
Waffle Bowl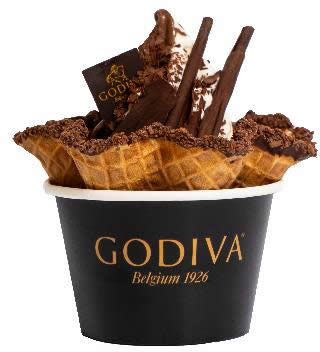 The showstopper here is undoubtedly the Singapore-exclusive Waffle Bowl ($9.90), which comes with a vanilla and chocolate soft serve twist, chocolate crumbs as well as shavings, along with a divine GODIVA-branded chocolate slab.
Specially Curated Gift Boxes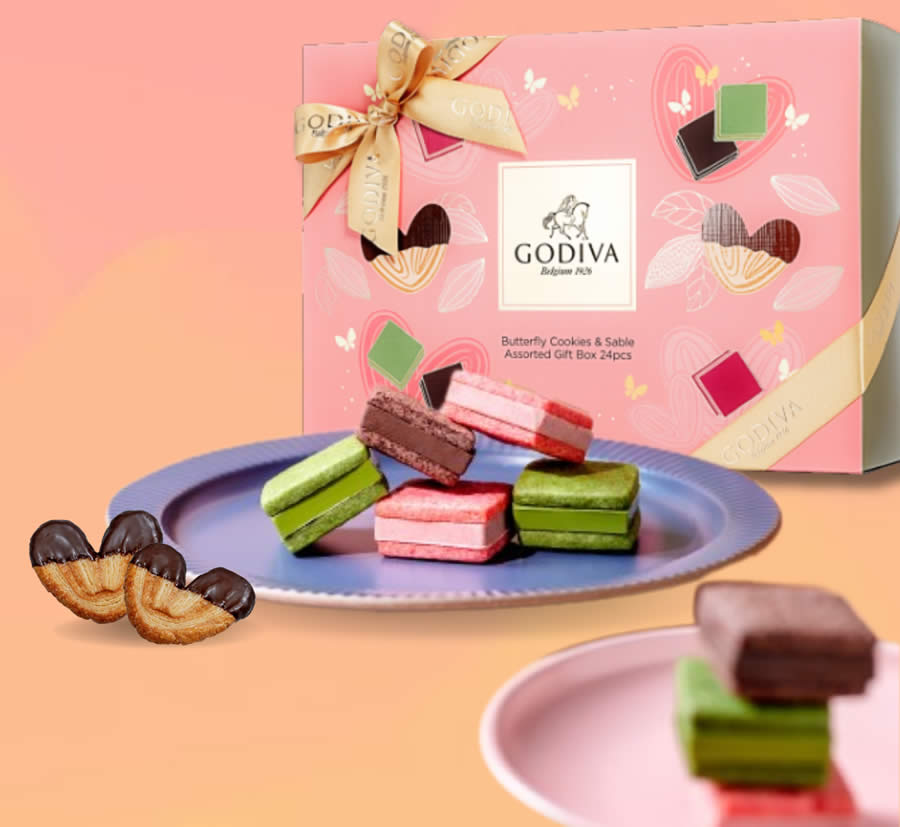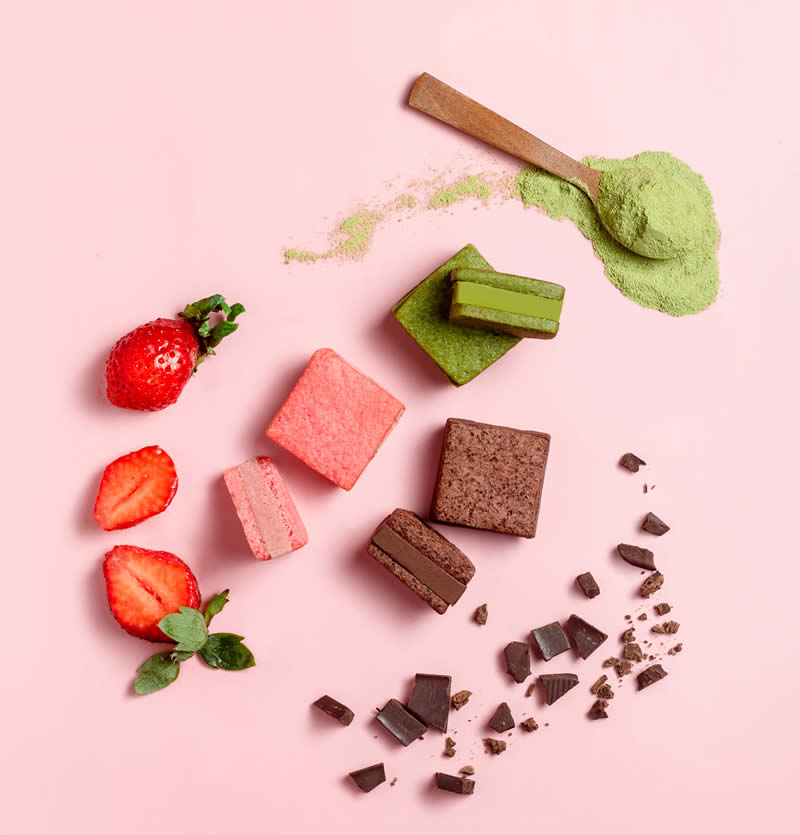 From T-B: Butterfly Cookies & Sablé Assorted Gift Box 24pcs, Assorted Sablé Cookies
The boutique will also offer a curated selection of GODIVA's finest cookies and pastries in elegant gift boxes; options include Dark & Milk Chocolate Butterfly Cookies Gift Box 22 pcs ($77.00) and Butterfly Cookies & Sablé Assorted Gift Box 24 pcs ($98.00).
Dark & Milk Chocolate Butterfly Cookies
These delightful treats feature a caramelised sugar layer that creates a beautifully crisp and glossy exterior. Dipped in rich dark or milk chocolate, they provide a satisfying crunch and a harmonious sweetness for a comforting chocolate indulgence.
Matcha White Chocolate Sablé Cookies
Savour the fusion of lucious white chocolate ganache infused with the essence of Uji matcha and tencha, encased between two cake-like Uji matcha sablé cookies to give a delicate crunch.
Strawberry White Chocolate Sablé Cookies
Indulge in the harmonious notes of tangy strawberries and creamy white chocolate, complemented by the delightful surprise of raspberry chips that add a vibrant burst of fruitiness.
Dark Chocolate Sablé Cookies
Luscious, velvety dark chocolate ganache is artfully embraced by decadently rich and intensely flavoured chocolate cookies.
Gift Boxes
| Name | Visual | Description | Price |
| --- | --- | --- | --- |
| Dark & Milk Chocolate Butterfly Cookies Gift Box 22 pcs | | Enclosed in this chic gift box is a selection of dark and milk chocolate butterfly cookies that are perfect for a delightful afternoon tea treat. | $77 |
| Butterfly Cookies & Sablé Assorted Gift Box 24 pcs | | A luxurious gift option for loved ones, families and friends, this thoughtfully put together gift box features chocolate- dipped butterfly cookies and soft Sablé cookies in Matcha White Chocolate, Strawberry White Chocolate and Dark Chocolate. | $98 |
Other Signature Offerings
Artisanal Chocolates
For chocolate aficionados, relish in the famous carré collection, including the PURE 85% Dark Chocolate Carré Gift Box 21pcs ($42.00), Ruby Chocolate Carré Collection 21pcs ($42.00), and Orange Dark Chocolate Carré Collection 21pcs ($42.00). Chocolate bars, tablets, pretzels and pearls are also available in assorted flavours for a quick chocolate fix.
Soft Serves & Milkshakes
Satisfy sweet cravings with GODIVA's soft serves that are available in three flavours; options include a lusciously creamy Vanilla White Chocolate Soft Serve ($9.50), Dark Chocolate Soft Serve ($9.50) and Chocolate Twist Soft Serve ($9.50), each crowned with a generous topping of chocolate shavings. A range of irresistible velvety-smooth chocolate milkshakes also make for the perfect treat to beat the heat.
GODIVA outlets in Singapore
#01-60/60A, Bugis Junction
#02-207, Jewel Changi Airport
B1-K1/K2, Raffles City
#02-307, Suntec City Mall
B2, Takashimaya S.C