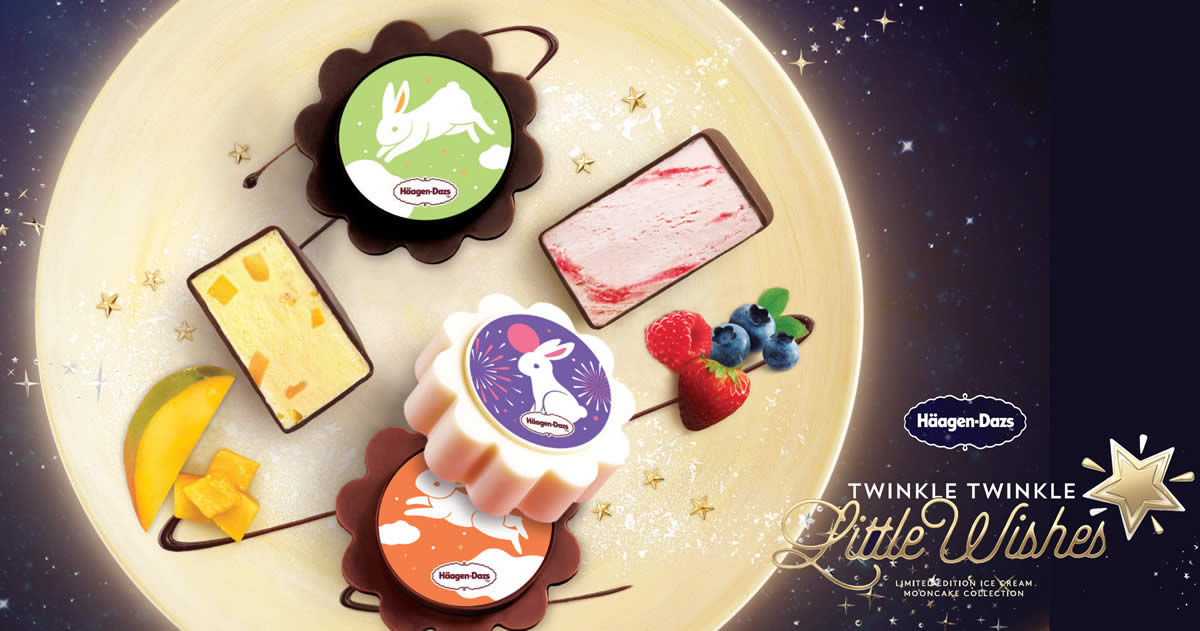 SINGPromos is now on Telegram
Häagen-Dazs' expertly-crafted ice cream mooncakes have arrived.
Join in on this upcoming Mid-Autumn occasion to enjoy delectable mooncakes with your loved ones.
Now available in Belgian Chocolate and Hazelnut, Vanilla, Strawberry , Matcha Green Tea, Chocolate, Dark Chocolate Ganache and Almond, Summer Berries, and Mango ice cream flavours.
From now till 16 August, get 10% off the purchase of mooncake vouchers.
Preorder now:
* Limited time, while stocks last.
Click on image to enlarge
Greeny Moonlight
1 x Matcha Green Tea ice cream coated with Roasted Rice Tea Chocolate
1 x Matcha Green Tea ice cream coated with Green Tea Chocolate
1 x Vanilla ice cream coated with Sri Lanka Ceylon Tea Chocolate
1 x Chocolate ice cream coated with Sri Lanka Earl Grey Tea Chocolate
S$68
Choco Moonlight
1 x Chocolate ice cream coated with Mint Chocolate
1 x Chocolate ice cream coated with Sea Salt Caramel Chocolate
1 x Belgian Chocolate & Hazelnut ice cream coated with Hazelnut Chocolate
1 x Dark Chocolate Ganache & Almond ice cream coated with Orange Chocolate
S$68
Harmony Moonlight
1 x Summer Berries ice cream coated with Black Sesame Chocolate
1 x Mango ice cream coated with Purple Sweet Potato Chocolate
1 x Vanilla ice cream coated with Peanut Butter Chocolate
1 x Vanilla ice cream coated with White Sesame Chocolate
S$68
Twinkle Fruity
2 x Mango ice cream
1 x Summer Berries ice cream
1 x Strawberry ice cream
S$68
Twinkle Night
2 x Chocolate ice cream
1 x Summer Berries ice cream
1 x Vanilla ice cream
S$68
Twinkle Night Mix
2 x Chocolate ice cream
2 x Mango ice cream
1 x Summer Berries ice cream
1 x Vanilla ice cream
S$78
#DontHoldBack #HaagenDazsSG #HDandMe #DontHoldBackSG #TwinkleTwinkleLittleWishes #MidAutumn