McDonald's brings you the biggest 2014 FIFA World Cup fiesta in Singapore!
Join McDonald's as they bring you football fun 24/7 with live screenings of FIFA World Cup matches at 39 outlets island-wide.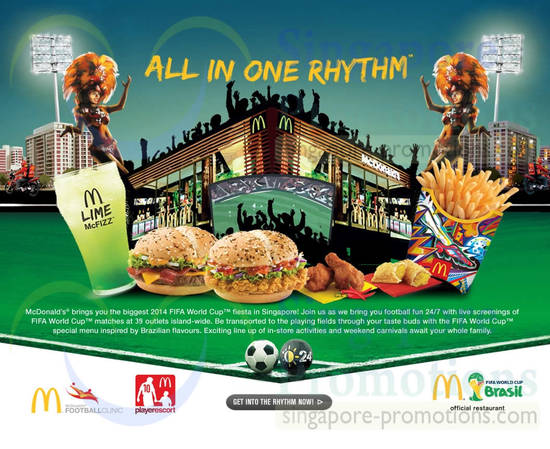 Be transported to the playing fields through your taste buds with the FIFA World Cup special menu inspired by Brazilian flavours. Exciting line up of in-store activities and weekend carnivals await your whole family.
Treat your Taste Buds to Sensational Brazilian Flavours with McDonald's special Fifa World Cup Special Menu
Ole Crispy Chicken Breakfast Platter
A hearty breakfast platter of tasty crispy chicken patty made with juicy whole muscle chicken, scrambled eggs, fluffy hotcakes, toasted muffin and golden Hashbrown.
Beef Picante
A delicious beef burger inspired by Brazilian flavours – the Beef Picante is lovingly created with gloriously tender beef slathered with a spicy Malagueta pepper sauce, topped with crispy turkey bacon, velvety cheese and served up on soft chilli chive buns.
Chicken Caramba
Tender, golden-crisped chicken burger topped with sweet chilli lime sauce, crisp mixed vegetables and lightly toasted chilli chive bun.
Fifa World Cup Share Box
Catching the match with friends? Liven up the party with the special FIFA World Cup share box.
With 6pc Chicken McNuggets, 6pc Samba Spicy drumlets and 2 Copa-Banana Pies, you'll have the perfect accompaniment for the game!
Samba Spicy Drumlets
Satisfy your craving for spice and heat with the Samba Spicy Drumlets marinated with chilli, bell pepper and cumin. Available in 2pc and 10pc.
Copa-Banana Pie
An all-time favourite returns! Feast on delightful sweet banana filling in a crispy pie crust.
Fiesta Lime Mcfizz
Tropical zesty lime flavour with nata de coco bites.
Brasilia Green Cone
Enjoy your favourite vanilla soft serve with a green cone – "The colour of the season"!
Mango Flavour Burst
Treat your taste buds to the exotic flavour of the tropics with Mango Flavour Burst*.
Horlicks Mcflurry
Malty goodness of Horlicks meets the creamy deliciousness of McFlurry and Shake!
Fifa World Cup Fry Box
McDonald's signature fries comes alive this season! Packed in an array of 12 vibrantly exciting fry boxes, they are sure to gear you and your buddies up for the exhilaration of the 2014 FIFA World Cup.
These never-before fry boxes are designed to echo the glory of the beautiful game that binds people together across races, cultures and languages. Twelve artists around the world are handpicked and commissioned to communicate the magnificence of the game through art form.
Live painting duo Doppel is made up of Mr. Kohei Yamao and Mr. Koutaro Ooyama. They came together in 2011 with the goal of "pursuing the expression of art not just as individuals or society, but as a twosome."
Much in the way musicians in a jam session feed of one another, these two artists collaborate seamlessly and build off each other's energy to create the end product. Their work spans the gamut from pieces in the Museum of Kyoto to commercials with LeBron James.
Other terms and conditions apply. For more info, visit fifaworldcup.mcdonalds.com.sg.
Get $120 cashback when you apply for a Citibank card at www.citibank.com.sg. Plus get additional welcome vouchers when you apply for a Citibank Rewards Visa Card!