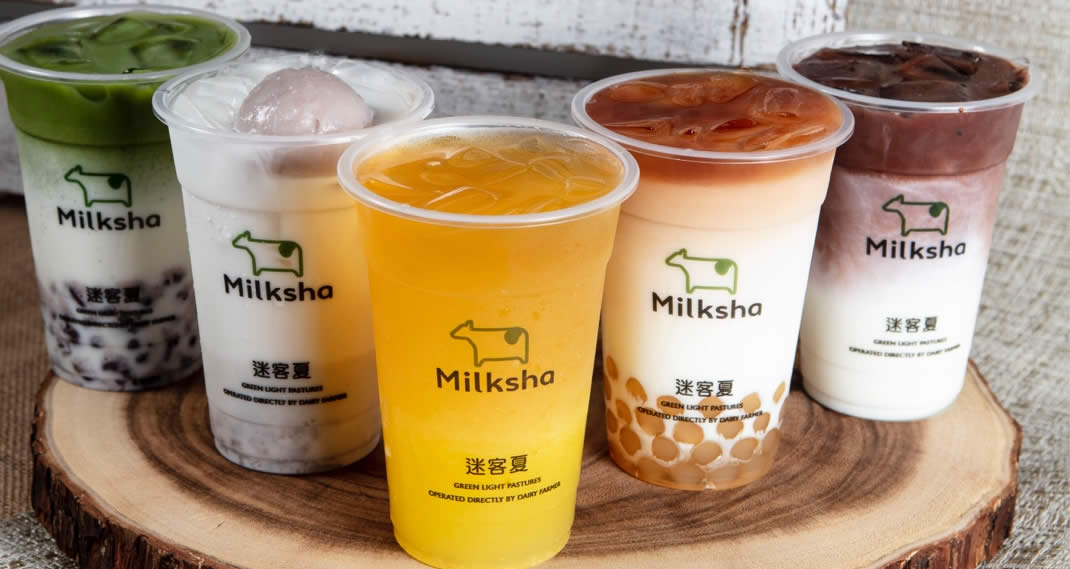 SINGPromos is now on Telegram
Milksha's offerings are handmade with 100% natural milk as well as fresh ingredients, and without any preservatives or chemical additives

The bubble tea hype in Singapore is not over. In fact, it is here to stay! Be amongst the first in Singapore to discover leading Taiwanese bubble tea brand Milksha's first-ever outpost in Southeast Asia, opening right here in Singapore!
The brand is voted No. 1 by university students and loved by all in Taiwan. Its brand mission of using only 100% fresh milk and all-natural ingredients has elevated its status as a market leader – in Taiwan, consumers often wait in a long queue to buy it. Now, you can enjoy this famous, fresh and handmade beverage right here in Singapore!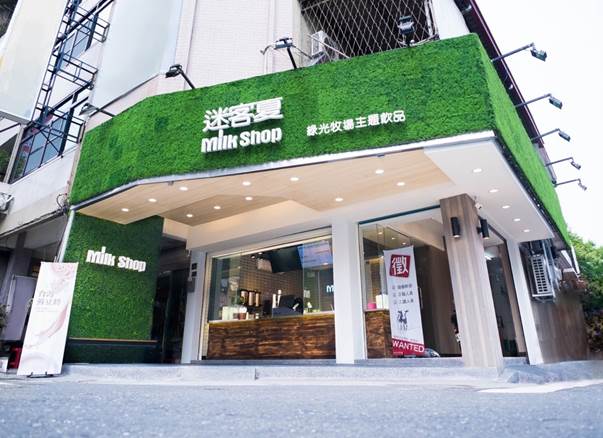 (Above) Milkshop" (迷客夏) in Taiwan
Known as "Milkshop" (迷客夏) in Taiwan and "Milksha" in the international market, the brand was founded by dairy farmer Kevin Lin in 2002. The first Milkshop outlet was opened in Tainan, circa 2004. Since then, the brand has grown from strength to strength, boasting over 230 outlets in Taiwan, 20 in China and three in Hong Kong.
"We chose Singapore as the city has an established, stable and encouraging growth in the food and beverage industry. Singapore is the gateway to Southeast Asia, and our entry to Singapore opens a whole new range of opportunities geographically," says Peter Huang, General Manager of Milkshop International.
Doling Out High-quality Handmade Bubble Tea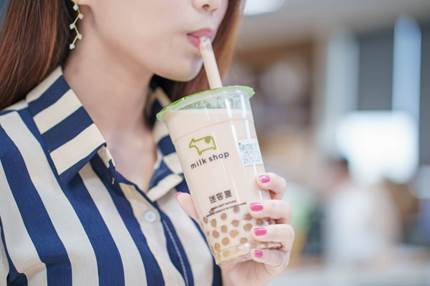 Driven by the brand mission of "Natural, Handmade and Unique Milk Beverages", Milksha insists on using 100% natural fresh milk, not creamer, as well as natural ingredients such as sugar from sugar cane to create its products. No preservatives, chemical ingredients or artificial colouring is used in the beverages.
One quintessential key ingredient of 'Bubble Tea' is its 'bubbles', otherwise known as pearls. Milksha features honey pearls which are freshly cooked and then frozen before being air-flown directly to Singapore. Instead of using dried pearls, Milksha invests in quick freeze technology to maintain the texture and taste consistency of each pearl.
In Singapore, the brand will launch four series: Fresh Milk Series, Fresh Milk Tea Latte Series, Premium Tea Series and Special Concoctions. The five signatures include Azuki Matcha Milk, Fresh Taro Milk, Valrhona 100% Cocoa Milk, Refreshing Orange Green Tea and Earl Grey Latte with Honey Pearl. Toppings include honey pearls; grass jelly; and pudding.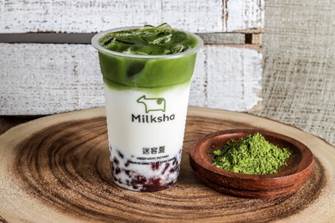 (Above)Azuki Matcha Milk
(Above) Fresh Taro Milk
Sweet and earthy, the Azuki Matcha Milk ($5.60) features matcha specially imported from Izumo Tousuien (桃翠園). Milksha works with the hundred-year-old brand Izumo Matcha to procure the matcha. The matcha is first chilled, then directly air-flown to Singapore. Bound to delight bubble-tea lovers of all ages, the Fresh Taro Milk ($5.60) is made with unique taro from Dajia (大甲), Taiwan. The taro is mashed by hand, then blended with the fresh milk.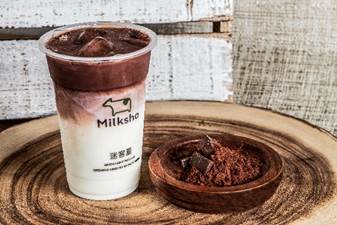 (Above) Valrhona 100% Cocoa Milk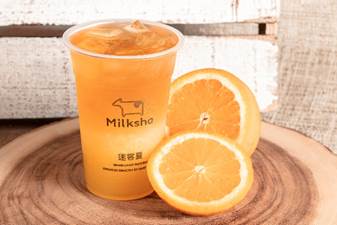 (Above) Refreshing Orange Green Tea
Next is the indulgent Valrhona 100% Cocoa Milk ($4.80), which calls for the use of premium Valrhona cocoa from France. Every sip is sweet, rich and addictive. The Refreshing Orange Green Tea ($4.20) features whole oranges imported from Taiwan. Inclusive of the zest for an extra zing, this drink boasts a refreshing sweet note. Finally, there is the Earl Grey Latte with Honey Pearl ($4.80). Sri Lankan earl grey leaves are used for this invigorating beverage.
Milksha's Cosy and Modern Space
Keeping in mind that Singapore is one of the world's top financial centre, designers integrated modern sleek metallic elements into the architectural design of the shop. The visually stunning facade of the shopfront is finished in lustrous copper, capturing the eyes of passers-by.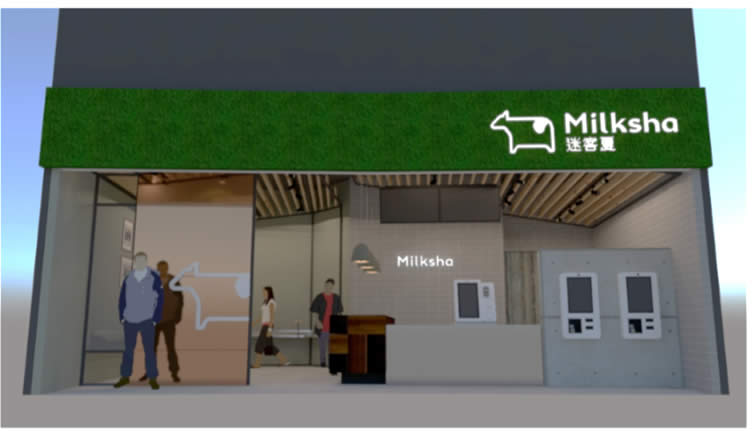 (Above) Singapore flagship Outlet
The classic iron material forms the foundation of the interior design at the shop, from its walls to its furniture. With the use of a simple stainless steel topped-bar counter and meticulously designed stylish seats, the space exudes a decidedly unique and modernistic flair which sets them apart from other shops in the Taiwan's market.
Milksha treats customers like family and wish esfor them to feel at home in-store. To ensure everyone who walks through the door can enjoy and relax in a comfortable environment, Milksha's eagle-eyed designer specially curated innovative uses of wood around the shop to accentuate the warmth of a home.
One such example is the brilliant match of natural wood and luscious green synthetic grass-furnished signboard in the collection area. The dining area features a rustic wall to give the store its earthy accent. Through its impeccable design, Milksha hopes that every customer can feel and relate to the brand's core values of health, nature, comfort.
Milksha Towards Sustainability
In an effort to reduce the usage of single-use plastics, Milksha has taken baby steps to specially engineer Milksha tumblers and specially designed Singapore-exclusive cup sleeves featuring a series of adorable uniquely Singapore illustrations of iconic landmarks.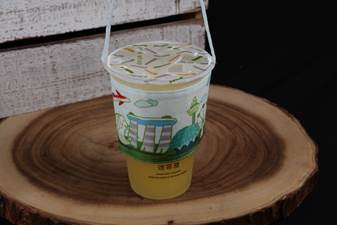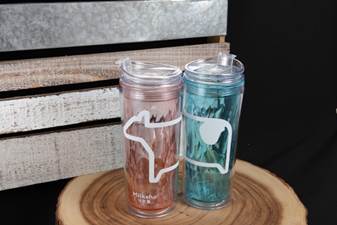 Opening Promotion
Get your hands on Milksha's uniquely designed cup sleeves with every purchase of drinks whilst stock last. Suntec City and Funan outlets offers their own store-exclusive cup sleeves designs.
Milksha will be opening its first flagship outlet at Suntec City Mall on 22nd June 2019, followed by its second outlet at Funan on 28th June 2019.
In celebration of Milksha's Funan outlet opening, purchase any 4 drinks and get a Milksha tumbler for free. Promotion is valid from 28th June 2019 onwards.