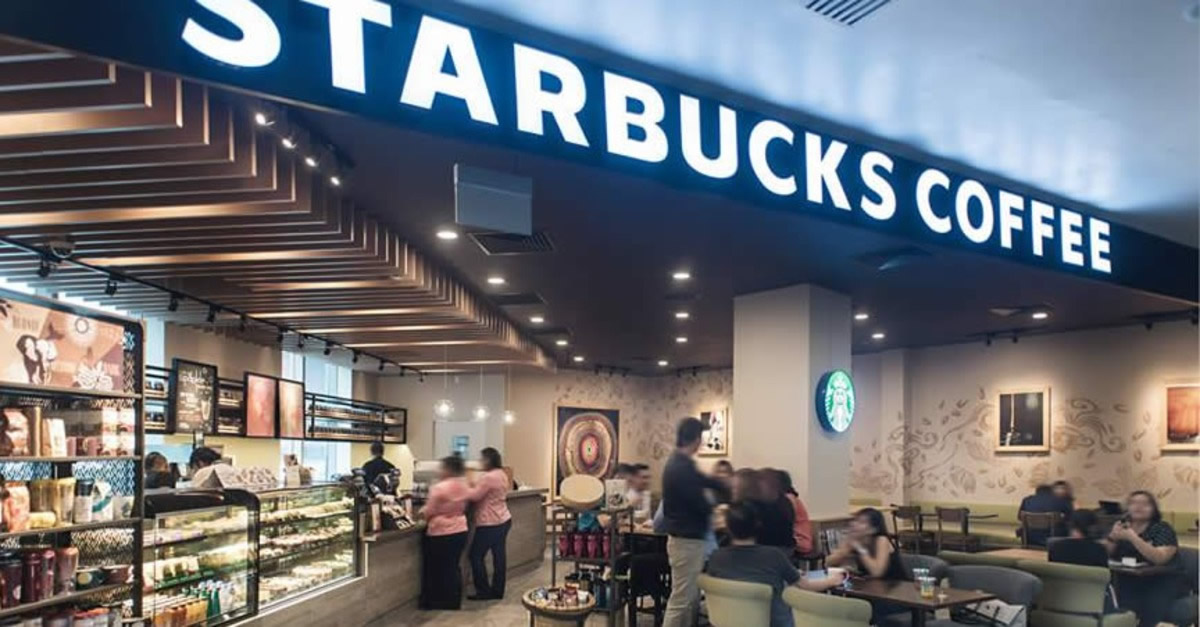 Due to COVID-19, some offers may no longer be valid or temporarily suspended. Please verify the validity (even if it says "ON TODAY" below) before heading down
Here are Starbucks's operating hours during the Lunar New Year 2019 festive period.
Starbucks
P3D
Past Event


Oh no, the event has ended. Don't miss out again, get the latest news via Newsletter, Telegram, Facebook, Twitter or RSS feed!
| | | | |
| --- | --- | --- | --- |
| Starts | 4 Feb 2019 (Mon) | Ends | 7 Feb 2019 (Thu) |
| Location | Starbucks | | |

SINGPromos is now on Telegram. Click here to follow us now
Here are Starbucks's operating hours during the Lunar New Year 2019 festive period
Hours stated are subject to change without prior notification. Check store locator page for store's contact detail
Click on image to enlarge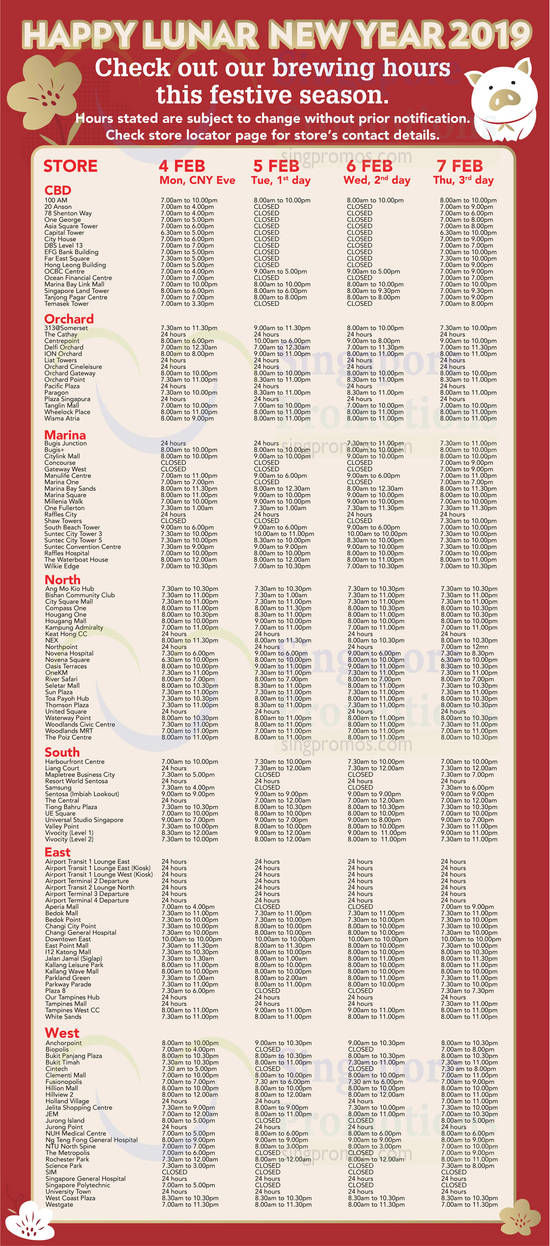 STORE
4 FEB
5 FEB
6 FEB
7 FEB
CBD
Mon, CNY Eve
Tue, 1st day
Wed, 2nd day
Thu, 3rd day
100 AM
7am to 10.00pm
8am to 10.00pm
8am to 10.00pm
8am to 10.00pm
20 Anson
7am to 4.00pm
CLOSED
CLOSED
7am to 9pm
78 Shenton Way
7am to 4.00pm
CLOSED
CLOSED
7am to 6pm
One George
7am to 5pm
CLOSED
CLOSED
7am to 8.00pm
Asia Square Tower
7am to 6pm
CLOSED
CLOSED
7am to 8.00pm
Capital Tower
6.30am to 5pm
CLOSED
CLOSED
6.30am to 10.00pm
City House
7am to 6pm
CLOSED
CLOSED
7am to 9pm
DBS Level 13
7am to 7.00pm
CLOSED
CLOSED
7am to 7.00pm
EFG Bank Building
7am to 5pm
CLOSED
CLOSED
7am to 10.00pm
Far East Square
7.30am to 5pm
CLOSED
CLOSED
7.30am to 10.00pm
Hong Leong Building
7am to 5pm
CLOSED
CLOSED
7am to 9pm
OCBC Centre
7am to 4.00pm
9am to 5pm
9am to 5pm
7am to 9pm
Ocean Financial Centre
7am to 7.00pm
CLOSED
CLOSED
7am to 7.00pm
Marina Bay Link Mall
7am to 10.00pm
8am to 10.00pm
8am to 10.00pm
7am to 10.00pm
Singapore Land Tower
8am to 6pm
8am to 6pm
8am to 9.30pm
7am to 9.30pm
Tanjong Pagar Centre
7am to 7.00pm
8am to 8.00pm
8am to 8.00pm
7am to 9pm
Temasek Tower
7am to 3.30pm
CLOSED
CLOSED
7am to 8.00pm
Orchard
313@Somerset
7.30am to 11.30pm
9am to 11.30pm
8am to 10.00pm
7.30am to 10.00pm
The Cathay
24 hours
24 hours
24 hours
24 hours
Centrepoint
8am to 6pm
10.00am to 6pm
9am to 8.00pm
9am to 10.00pm
Delfi Orchard
7am to 12.30am
7am to 12.30am
7am to 11.30pm
7am to 11.30pm
ION Orchard
8am to 8.00pm
9am to 11.00pm
8am to 11.00pm
8am to 11.00pm
Liat Towers
24 hours
24 hours
24 hours
24 hours
Orchard Cineleisure
24 hours
24 hours
24 hours
24 hours
Orchard Gateway
8am to 10.00pm
8am to 10.00pm
8am to 10.00pm
8am to 10.00pm
Orchard Point
7.30am to 11.00pm
8.30am to 11.00pm
8.30am to 11.00pm
8.30am to 11.00pm
Pacific Plaza
24 hours
24 hours
24 hours
24 hours
Paragon
7.30am to 10.00pm
8.30am to 11.00pm
8.30am to 11.00pm
8am to 11.00pm
Plaza Singapura
24 hours
24 hours
24 hours
24 hours
Tanglin Mall
7am to 10.00pm
7am to 10.00pm
7am to 10.00pm
7am to 10.00pm
Wheelock Place
8am to 11.00pm
8am to 11.00pm
8am to 11.00pm
8am to 11.00pm
Wisma Atria
8am to 9pm
8am to 11.00pm
8am to 11.00pm
8am to 11.00pm
Marina
Bugis Junction
24 hours
24 hours
7.30am to 11.00pm
7.30am to 11.00pm
Bugis+
8am to 10.00pm
8am to 10.00pm
8am to 10.00pm
8am to 10.00pm
Citylink Mall
8am to 10.00pm
9am to 10.00pm
9am to 10.00pm
8am to 10.00pm
Concourse
CLOSED
CLOSED
CLOSED
7am to 9pm
Gateway West
CLOSED
CLOSED
CLOSED
7am to 9pm
Manulife Centre
7am to 11.00pm
9am to 6pm
9am to 6pm
7am to 11.00pm
Marina One
7am to 7.00pm
CLOSED
CLOSED
7am to 7.00pm
Marina Bay Sands
8am to 11.30pm
8am to 12.30am
8am to 12.30am
8am to 11.30pm
Marina Square
8am to 11.00pm
9am to 10.00pm
9am to 10.00pm
8am to 10.00pm
Millenia Walk
7am to 10.00pm
9am to 10.00pm
9am to 10.00pm
7am to 10.00pm
One Fullerton
7.30am to 1.00am
7.30am to 1.00am
7.30am to 11.30pm
7.30am to 11.30pm
Raffles City
24 hours
24 hours
24 hours
24 hours
Shaw Towers
CLOSED
CLOSED
CLOSED
7.30am to 10.00pm
South Beach Tower
9am to 6pm
9am to 6pm
9am to 6pm
7am to 10.00pm
Suntec City Tower 3
7.30am to 10.00pm
10.00am to 11.00pm
10.00am to 10.00pm
7.30am to 10.00pm
Suntec City Tower 5
7.30am to 10.00pm
8.30am to 10.00pm
8.30am to 10.00pm
7.30am to 10.00pm
Suntec Convention Centre
7.30am to 9pm
9am to 9pm
9am to 10.00pm
7.30am to 10.00pm
Raffles Hospital
7am to 10.00pm
8am to 10.00pm
8am to 10.00pm
7am to 10.00pm
The Waterboat House
8am to 12.00am
8am to 12.00am
8am to 11.00pm
8am to 11.00pm
Wilkie Edge
7am to 10.30pm
7am to 10.30pm
7am to 10.30pm
7am to 10.30pm
North
Ang Mo Kio Hub
7.30am to 10.30pm
7.30am to 10.30pm
7.30am to 10.30pm
7.30am to 10.30pm
Bisnan Community Club
7.30am to 11.00pm
7.30am to 1.00am
7.30am to 11.00pm
7.30am to 11.00pm
City Square Mall
7.30am to 11.00pm
7.30am to 11.00pm
7.30am to 11.00pm
7.30am to 11.00pm
Compass One
8am to 11.00pm
8am to 11.30pm
8am to 10.30pm
8am to 10.30pm
Hougang One
8am to 10.30pm
8.30am to 11.00pm
8am to 11.00pm
8am to 10.30pm
Hougang Mall
8am to 10.00pm
9am to 10.00pm
8am to 10.00pm
8am to 10.00pm
Kampung Admiralty
7am to 11.00pm
7am to 11.00pm
7am to 11.00pm
7am to 11.00pm
Keat Hong CC
24 hours
24 hours
24 hours
24 hours
NEX
8am to 11.30pm
8am to 11.30pm
8am to 10.30pm
8am to 10.30pm
Northpoint
24 hours
24 hours
24 hours
7am to 12mn
Novena Hospital
7.30am to 6pm
9am to 6pm
9am to 6pm
7.30am to 8.30pm
Novena Square
6.30am to 10.00pm
8am to 10.00pm
8am to 10.00pm
6.30am to 10.00pm
Oasis Terraces
8am to 10.00pm
9am to 11.00pm
9am to 11.00pm
8.30am to 10.30pm
OneKM
7.30am to 11.00pm
7.30am to 11.00pm
7.30am to 11.00pm
7.30am to 11.00pm
River Safari
8am to 7.00pm
8am to 7.00pm
8am to 7.00pm
8am to 7.00pm
Seletar Mall
8am to 10.30pm
8.30am to 11.00pm
8am to 11.00pm
7.30am to 10.30pm
Sun Plaza
7.30am to 11.00pm
7.30am to 11.00pm
7.30am to 11.00pm
7.30am to 11.00pm
Toa Payoh Hub
7.30am to 10.30pm
8am to 11.00pm
8am to 11.00pm
8am to 10.30pm
Thomson Plaza
7.30am to 11.00pm
8.30am to 11.00pm
7.30am to 11.00pm
8am to 10.30pm
United Square
24 hours
24 hours
24 hours
24 hours
Waterway Point
8am to 10.30pm
8am to 11.00pm
8am to 11.00pm
8am to 10.30pm
Woodlands Civic Centre
7.30am to 11.00pm
8am to 11.00pm
8am to 11.00pm
7.30am to 11.00pm
Woodlands MRT
7am to 11.00pm
7am to 11.00pm
7am to 11.00pm
7am to 11.00pm
The Poiz Centre
8am to 11.00pm
8am to 11.00pm
8am to 11.00pm
8am to 10.30pm
South
Harbourfront Centre
7am to 10.00pm
7.30am to 10.00pm
7.30am to 10.00pm
7am to 10.00pm
Liang Court
24 hours
7.30am to 12.00am
7.30am to 12.00am
7.30am to 12.00am
Mapletree Business City
7.30am to 5pm
CLOSED
CLOSED
7.30am to 7.00pm
Resort World Sentosa
24 hours
24 hours
24 hours
24 hours
Samsung
7.30am to 4.00pm
CLOSED
CLOSED
7.30am to 6pm
Sentosa (Imbiah Lookout)
9am to 9pm
9am to 9pm
9am to 9pm
9am to 9pm
The Central
24 hours
7am to 12.00am
7am to 12.00am
7am to 12.00am
Tiong Bahru Plaza
7.30am to 10.30pm
8am to 10.30pm
8am to 10.30pm
7.30am to 10.30pm
UE Square
7am to 10.00pm
8am to 10.00pm
8am to 10.00pm
7am to 10.00pm
Universal Studio Singapore
9am to 7.00pm
9am to 7.00pm
9am to 8.00pm
9am to 7.00pm
Valley Point
7.30am to 10.00pm
8am to 10.00pm
8am to 10.00pm
7.30am to 11.00pm
Vivocity (Level 1)
8.30am to 12.00am
9am to 12.00am
9am to 11.00pm
9am to 11.00pm
Vivocity (Level 2)
7.30am to 10.00pm
8am to 12.00am
8am to 11.00pm
7.30am to 11.00pm
East
Airport Transit 1 Lounge East
24 hours
24 hours
24 hours
24 hours
Airport Transit 1 Lounge East (Kiosk)
24 hours
24 hours
24 hours
24 hours
Airport Transit 1 Lounge West (Kiosk)
24 hours
24 hours
24 hours
24 hours
Airport Terminal 2 Departure
24 hours
24 hours
24 hours
24 hours
Airport Transit 2 Lounge North
24 hours
24 hours
24 hours
24 hours
Airport Terminal 3 Departure
24 hours
24 hours
24 hours
24 hours
Airport Terminal 4 Departure
24 hours
24 hours
24 hours
24 hours
Aperia Mall
7am to 4.00pm
CLOSED
CLOSED
7am to 9pm
Bedok Mall
7.30am to 11.00pm
7.30am to 11.00pm
7.30am to 11.00pm
7.30am to 11.00pm
Bedok Point
7.30am to 10.00pm
7.30am to 10.00pm
7.30am to 10.00pm
7.30am to 10.00pm
Changi City Point
7.30am to 10.00pm
8am to 10.00pm
8am to 10.00pm
7.30am to 10.00pm
Changi General Hospital
7.30am to 10.00pm
8am to 10.00pm
8am to 10.00pm
7.30am to 10.00pm
Downtown East
10.00am to 10.00pm
10.00am to 10.00pm
10.00am to 10.00pm
10.00am to 10.00pm
East Point Mall
7.30am to 11.30pm
8am to 11.30pm
8am to 10.00pm
7.30am to 10.00pm
112 Katong Mall
7.30am to 10.30pm
8am to 10.00pm
8am to 10.00pm
8am to 10.30pm
Jalan Jamal (Siglap)
7.30am to 1.30am
8am to 1.00am
8am to 11.00pm
8am to 11.30pm
Kallang Leisure Park
8am to 11.00pm
8am to 10.00pm
8am to 10.00pm
8am to 11.00pm
Kallang Wave Mall
8am to 10.00pm
8am to 10.00pm
8am to 10.00pm
8am to 10.00pm
Parkland Green
7.30am to 1.00am
8am to 2.00am
8am to 11.00pm
7.30am to 11.00pm
Parkway Parade
7.30am to 11.00pm
8am to 11.00pm
8am to 10.00pm
7.30am to 10.00pm
Plaza 8
7.30am to 6pm
CLOSED
CLOSED
7.30am to 7.30pm
Our Tampines Hub
24 hours
24 hours
24 hours
24 hours
Tampines Mall
24 hours
24 hours
24 hours
7.30am to 11.00pm
Tampines West CC
8am to 11.00pm
9am to 11.00pm
9am to 11.00pm
8am to 11.00pm
White Sands
7.30am to 11.00pm
8am to 11.00pm
8am to 11.00pm
8am to 11.00pm
West
Anchorpoint
8am to 10.00pm
9am to 10.30pm
9am to 10.30pm
8am to 10.30pm
Biopolis
7am to 4.00pm
CLOSED
CLOSED
7am to 8.00pm
Bukit Panjang Plaza
8am to 10.30pm
8am to 10.30pm
8am to 10.30pm
8am to 10.30pm
Bukit Timah
7.30am to 10.30pm
8am to 11.00pm
7.30am to 11.00pm
7.30am to 11.00pm
Cintech
7.30 am to 5pm
CLOSED
CLOSED
7.30 am to 8.00pm
Clementi Mall
7am to 10.00pm
8am to 10.00pm
8am to 10.00pm
7am to 11.00pm
Fusionopolis
7am to 7.00pm
7.30 am to 6pm
7.30 am to 6pm
7am to 9pm
Hillion Mall
8am to 10.00pm
8am to 10.00pm
8am to 10.00pm
8am to 10.00pm
Hillview 2
8am to 12.00am
8am to 12.00am
8am to 12.00am
8am to 11.00pm
Holland Village
24 hours
24 hours
24 hours
7am to 11.00pm
Jelita Shopping Centre
7.30am to 9pm
8am to 9pm
7.30am to 10.00pm
7.30am to 10.00pm
JEM
7am to 12.00am
8am to 11.00pm
8am to 11.00pm
7am to 10.30pm
Jurong Island
8am to 5pm
CLOSED
CLOSED
8am to 5pm
Jurong Point
24 hours
24 hours
24 hours
24 hours
NUH Medical Centre
7am to 5pm
8am to 6pm
8am to 6pm
8am to 6pm
Ng Teng Fong General Hospital
8am to 9pm
9am to 9pm
9am to 9pm
8am to 9pm
NTU North Spine
7am to 7.00pm
8am to 3.00pm
8am to 3.00pm
7am to 10.00pm
The Metropolis
7am to 6pm
CLOSED
CLOSED
7am to 9pm
Rochester Park
7.30am to 12.00am
8am to 12.00am
8am to 12.00am
8am to 11.00pm
Science Park
7.30am to 3.00pm
CLOSED
CLOSED
7.30am to 8.00pm
SIM
CLOSED
CLOSED
CLOSED
CLOSED
Singapore General Hospital
24 hours
24 hours
24 hours
24 hours
Singapore Polytechnic
7am to 5pm
CLOSED
CLOSED
CLOSED
University Town
24 hours
24 hours
24 hours
24 hours
West Coast Plaza
8.30am to 10.30pm
8.30am to 10.30pm
8.30am to 10.30pm
8.30am to 10.30pm
Westgate
7am to 11.30pm
8am to 11.30pm
8am to 11.30pm
7am to 11.30pm