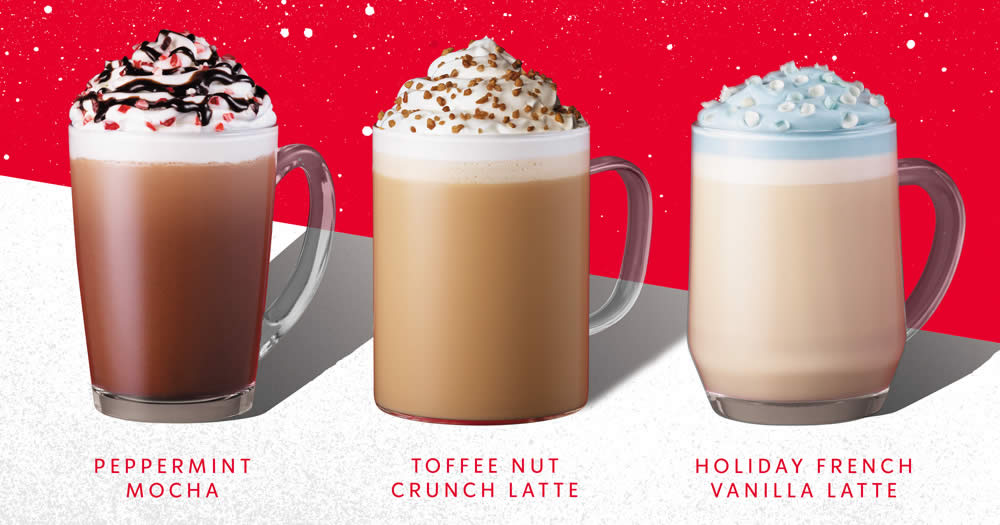 SINGPromos is now on Telegram
There's something about drinking coffee this time of year. It just tastes better.
Maybe it's that the holidays give us permission to get excited about the small stuff. Here's the enjoying the small, good stuff.
Toffee Nut Crunch Latte
Mmm, Toffee Nut Crunch Latte, so luxuriously buttery and sweet. Starbucks signature espresso is combined with steamed milk and toffee nut sauce before being topped with whipped cream and crunchy toffee nut bits.
Sipping one feels like a big, warm hug. Available hot, iced and blended.
Peppermint Mocha
Hot and cool at the same time, the Peppermint Mocha is like a party for your taste buds. This holiday classic is made with Starbucks signature espresso, steamed milk, sweet mocha sauce and peppermint-flavored syrup.
It's all topped off with whipped cream, a dash of mocha drizzle and crunchy red and white candy bits. Available hot, iced and blended.
Holiday French Vanilla Latte
Rich, smooth, and oh-so-festive. This creamy beverage brings together Starbucks signature espresso and creamy French Vanilla flavor before being topped with smooth butterfly pea cold foam.
The drink is then finished with festive blue and white sprinkles. Available hot, iced and blended.
Merry Coffee.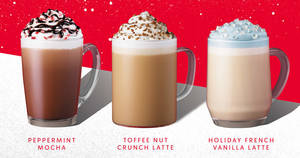 Find your nearest Starbucks store here.