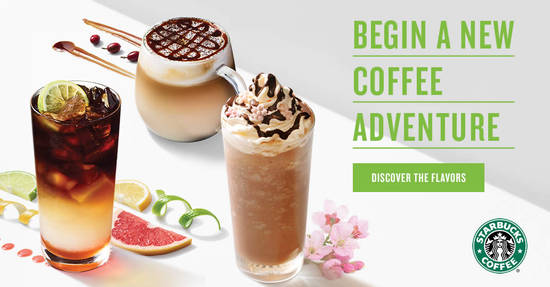 SINGPromos is now on Telegram
Begin a New Coffee Adventure. A delicious twist on your favorite beverages. Available from 20 Feb 2019.
Inside each coffee cherry are the seeds we've all come to know as coffee beans. Cascara is the dried fruit of the cherry itself. It lends delicious, subtle notes of dark brown sugar and luscious maple. The new Cascara Macchiato combines freshly steamed milk with subtly sweet cascara syrup. The drink is then marked with espresso and finished with cascara sauce and a dash of Turkish coffee. Available hot, iced and blended.
Keep cool in the afternoon heat with the new super-smooth Triple Citrus Cold Brew. Sip on slow-steeped cold brew, with a kiss of lemon, lime and grapefruit. A delightfully refreshing treat.
The new Sakura Rose Mocha Frappuccino is a glorious combination of rose, chocolate, milk and ice that's topped with mocha sauce and pretty pink Sakura chocolate flowers. A drink that looks gorgeous and tastes like happiness.
Find your nearest Starbucks store here.