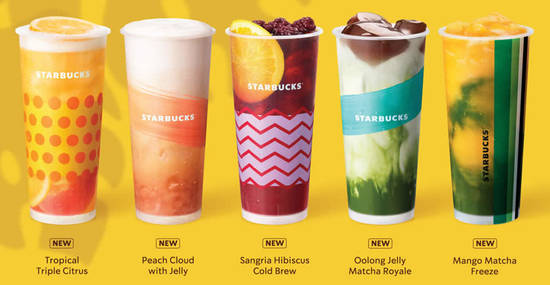 SINGPromos is now on Telegram
Tea-ology. A delightful study of Tea making.
Tropical Triple Citrus
Make everyday a tropical getaway with the new Tropical Triple Citrus. Hand shaken Teavana™ Emperor's Clouds & Mist green tea mixed with a zesty blend of three orange juices topped with grapefruit, lemon and oranges slices.
Sangria Hibiscus Cold Brew
A deliciously fruity twist to signature Cold Brew.
Made with Teavana™ Hibiscus tea, this drink is flavored with luscious hibiscus flowers and real mixed berries that complement the smooth and naturally sweet flavor of Cold Brew.
Garnished with an orange slice of citrus, the summer beverage is as delicious as it is beautiful.
Peach Cloud with Jelly
Savor sweet, juicy peaches all summer long with the new Peach Cloud with Jelly. A combination of white peach juice, Teavana™ Emperor's Clouds & Mist green tea, peach jelly and diced white peaches.
Topped with velvety white peach cold foam for a sweet, creamy finish.
Matcha Mango Freeze
The new Mango Matcha Freeze offers a tangy, tropical twist on the classic Matcha. This summer beverage is an icy blend of smooth and creamy Matcha with mango and passionfruit juice.
Complete with a scoop of mango jelly for a vibrant pop of flavor and color.
Oolong Jelly Matcha Royale
The new Oolong Jelly Matcha Royale is a tea lover's dream, featuring lively and rich flavors of Teavana™ Matcha and oolong tea jelly.
Matcha is mixed together with silky milk, served over ice and topped with oolong tea jelly, creating a luxurious, smooth finish sure to satisfy your cravings.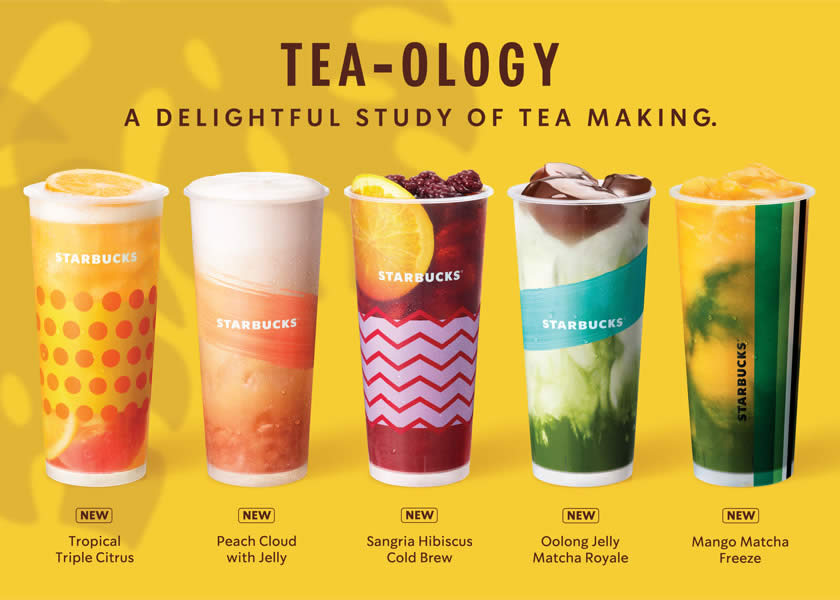 Available iced and in Grande size only from 8 April.
Starbucks remains open for all takeaway orders or order ahead via Mobile Order & Pay and pick up from a store near you.
Find your nearest Starbucks store here.