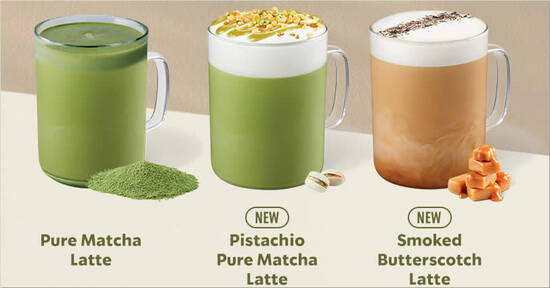 SINGPromos is now on Telegram
Enter the New Year with a blissful balance of creamy and refreshing blends that will satisfy your palate.
Available for a limited time only in stores from 4 Jan. Or order ahead via Mobile Order & Pay and pick up from a store near you.
Pistachio Pure Matcha Latte
A nutty twist for your Matcha Latte. A delicate blend of pure Japanese matcha with pistachio-flavored sauce and steamed milk topped with a layer of cold foam, sprinkles of pistachio waffle bits and a drizzle of pistachio sauce for a nutty delight.
Available hot or iced.
Smoked Butterscotch Latte
A blissful balance of brown sugar, velvety butter and rich butterscotch. Luscious smoked butterscotch mixed with Starbucks® signature espresso and steamed milk, topped with a sprinkle of Turkish coffee grounds topping.
Available hot, iced, or blended.
Pure Matcha Latte
The perfect drink for tea lovers. A smooth and creamy mix of pure Japanese matcha and steamed milk. Try it unsweetened to experience the full flavor of the matcha in every sip.
Available hot or iced.
Find your nearest Starbucks store here.