Due to COVID-19, some offers may no longer be valid or temporarily suspended. Please verify the validity (even if it says "ON TODAY" below) before heading down

SINGPromos is now on Telegram. Click here to follow us now
Starbucks will be unveiling a unique tea experience with Starbucks Teavana handcrafted beverages and full leaf tea sachets.
Available island-wide tomorrow, 14th September 2016, customers can enjoy tea like never before!
Starbucks Teavana is boldly new in flavour and experience, with a modern take on tea, for people looking for new and different tastes. Featuring innovative handcrafted beverages — shaken iced teas, unique layered beverages, tea lattes and combinations of tea and espresso – each with a unique and surprising element, this is tea reimagined.
The three new handcrafted beverages available in Singapore include Matcha & Espresso Fusion, Black Tea with Ruby Grapefruit & Honey and Iced Shaken Hibiscus Tea with Pomegranate Pearls.
In addition Starbucks will be offering eight new, delicious and vibrant Starbucks Teavana hot teas – English Breakfast, Earl Grey, Chai, Youthberry, Emperor's Clouds and Mist, Mint Citrus, Mint Blend and Chamomile.
This modern tea experience gives customers the opportunity to enjoy a range of unique iced and hot tea beverages with bold, layered flavors, handcrafted the way only Starbucks can, for the first time.

Fueled by innovation, the new individually handcrafted beverages are the result of an in-depth, creative exploration of flavor, culinary trends and premium ingredients by Starbucks industry-leading beverage innovation team, with the goal of bringing something new and unexpected to customers. These ingredients come to life as skilled baristas craft each beverage by hand and unleash a sophisticated, delicious flavor profile.
With Starbucks Teavana, Starbucks also draws on its long heritage of commitment to using only the most premium, high-quality ingredients. Leveraging deep relationships with tea growers, Teavana sources the world's highest-quality teas and botanicals. Starbucks sourcing and blending experts cup (taste) hundreds of teas daily to select only the finest teas for Starbucks Teavana.
Beginning today, Starbucks Singapore is offering three new Starbucks Teavana Handcrafted Beverages:
Matcha & Espresso Fusion

Our fine Matcha powder layered with milk and Starbucks signature Espresso Roast creates a beautiful layered beverage and is an inventive combination of coffee and tea, to be enjoyed hot or iced.
Black Tea with Ruby Grapefruit and Honey+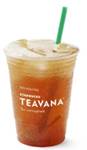 Traditional western black tea combined with tart Star Ruby red grapefruit, perfectly portioned in honey for a touch of added sweetness. Delicious hot or iced.
Iced Shaken Hibiscus Tea with Pomegranate Pearls+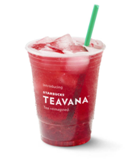 This refreshing beverage combines Starbucks Teavana hibiscus tea and bursting pearls of real pomegranate juice for a tart kick of flavor.
+Iced versions can also be enjoyed sparkling
In addition to handcrafted beverages, Starbucks is also introducing Starbucks Teavana Full Leaf Tea Sachets. Through a curated selection of packaged full leaf tea sachets, customers now can choose to enjoy a new Tea Service Experience – perfectly steeped for the customer in custom-designed tea pots and cups in stores – or in the comfort of their own home through a contemporary at-home experience.
The eight new, delicious and vibrant Starbucks Teavana hot teas available include:
*All teas are available for purchase in sachets in-stores except for Mint Blend and Chamomile
Black Teas
English Breakfast – A handcrafted blend of Indian Assam, Sir Lankan Ceylon and Chinese black tea. This tastes great with or without milk.
Earl Grey – A bright blend of black teas, fragrant bergamot essence and soft lavender.
Chai – This distinctive chai tea blend is a bold black tea with strong ginger and black pepper, cooling cardamom and sweet cinnamon notes.
White Teas
Youthberry – Inspired by super fruits, acai fruit is blended with tropical pineapple and mango flavors with high quality white tea, balanced by rosehips and tart green apple.
Green Teas
Emperor's Clouds and Mist – Exclusively harvested during the month of April and grown on the steep, windy slopes of Huangshan Mountain at 3,500 feet above sea level, this tea has a rich body and a naturally sweet flavor.
Mint Citrus – This refreshing blend combines green tea, lemon verbena, tropical lemongrass, and U.S. Pacific Northwest sourced spearmint for a bright and citrus green tea experience. Chun Mee, also referred to as "Precious Eyebrows," is the natural green tea base used in this blend.
Herbal Teas
Mint Blend – This tea's spearmint base is rounded out with cool peppermint notes and undertones of spicy-sweet lemon verbena. The mint leaves come from the highly sought after and prized Pacific Northwest mint known for its high amount of mint oil.
Chamomile – The Chamomile used for this tea is sourced from Croatia. It provides the overarching flavor for this soft, soothing floral blend.
Find your nearest Starbucks store here.