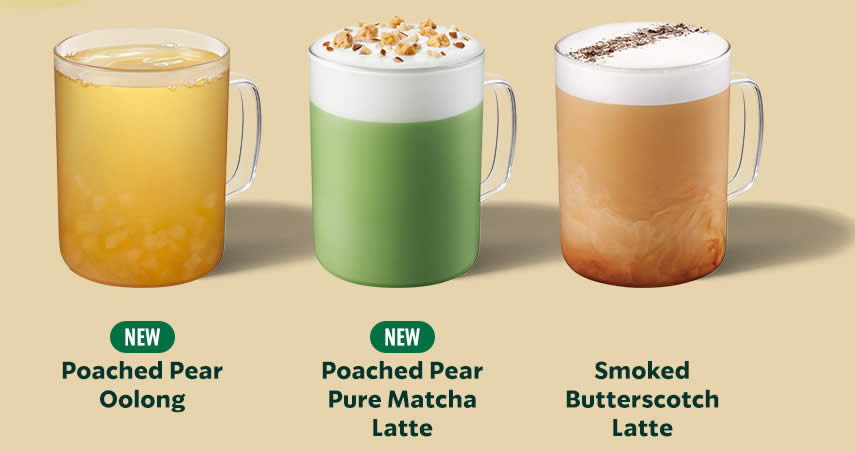 SINGPromos is now on Telegram
Unwind and recharge for the New Year with comforting new drinks.
Immerse yourself in all-new Starbucks Winter beverages – Poached Pear Oolong, Poached Pear Pure Matcha Latte and the returning of Smoked Butterscotch Latte! Your pear-fect year starts with the first sip
Poached Pear Oolong
Get cozy with the soothing Poached Pear Oolong – Starbucks floral Teavana™ Zen Clouds Oolong tea lightly sweetened with vanilla pear sauce and real pear chunks for comforting sips.
Available hot and iced.
$6.80 (Tall, Hot/Iced)
Poached Pear Pure Matcha Latte
Treat your palate to a delightful twist on the classic Pure Matcha Latte. A unique combination of delicately sweet vanilla poached pear syrup and Starbucks classic Pure Matcha Latte finished with fluffy pear cold foam and crunchy almond pear toppings for a cup of comfort.
Available hot and iced.
$7.80 (Tall, Hot/Iced)
Smoked Butterscotch Latte
Rich coffee meets creamy butterscotch with the return of the Smoked Butterscotch Latte. Smoked butterscotch sauce mixed with Starbucks signature espresso and steamed milk, topped with a sprinkle of fragrant Turkish coffee grounds for a perfect balance of sweet and savory flavors.
Available hot, iced and blended.
$7.80 (Tall, Hot/Iced)
$8.20 (Tall, Frappuccino)
Available for a limited time in stores from 5 Jan. Skip the queue and order ahead via Mobile Order & Pay, or enjoy them via delivery partners Foodpanda or Deliveroo.
Find your nearest Starbucks store here or order online via Foodpanda or Deliveroo.