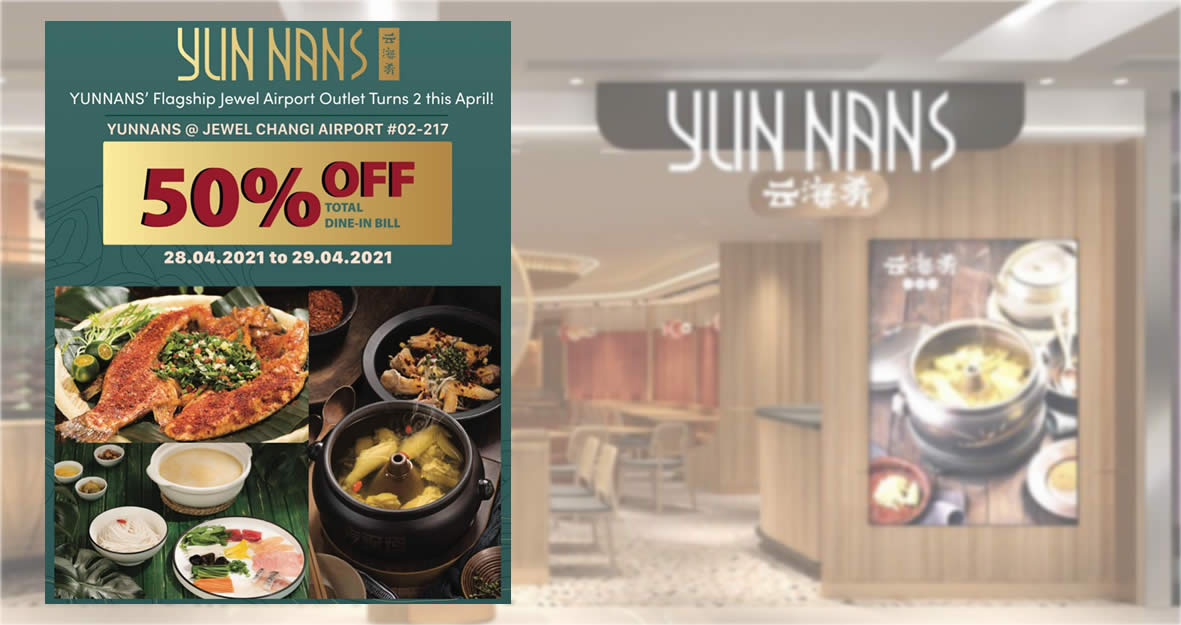 The promotion will run on 28 and 29 April 2021 at Jewel outlet exclusively
Jewel Changi Airport
P1D
EXPIRED


Oh no, the event has ended. Don't miss out again, get the latest news via e-mail, Telegram, Facebook, Twitter or RSS feed!

SINGPromos is now on Telegram
The promotion will run on 28 and 29 April 2021 at Jewel outlet exclusively
Hailing from and known in China as 云海肴 (pronounced as "Yunhaiyao"), YUN NANS is the largest Yunnan F&B chain in the world, with over 200 outlets in China. This April, it is celebrating the second anniversary of its Jewel Airport outlet opening. To mark this special occasion, it is offering 50% off total dine-in bill on 28 and 29 April 2021.
The restaurant has been winning over the hearts of local gourmands with its repertoire of highland cuisine (gao yuan liao li). The dishes are prepared with authentic Yunnan ingredients specially imported from the province. There are seven tropical belts in Yunnan, and the highest measures 6,000 metres above sea level. Free from pollution, the natural terrain teems with morel mushroom, wild porcini, wild black truffle, wheat pumpkin (green pumpkin) and edible flowers such as jasmine flowers, rose and chrysanthemum. YUN NANS Singapore imports these premium ingredients directly.
Must-try specialities
YUN NANS's signature dish is the Steam Pot Chicken Soup 云海肴汽锅鸡 (S$23.90). The restaurant uses only the special breed of black feet chickens. The soup is brewed using a unique technique that does not require a single drop of water. Instead, the chicken is pressure-steamed for three hours. The soup is clear, delicate, nourishing and robust in flavour without any hint of greasiness.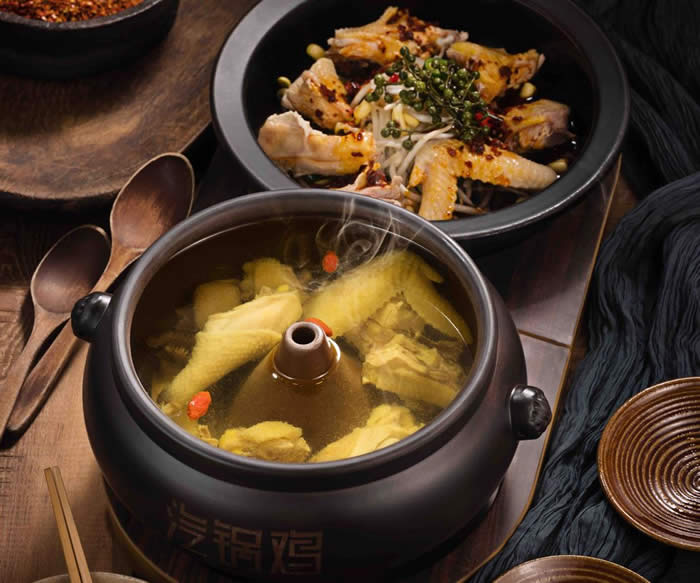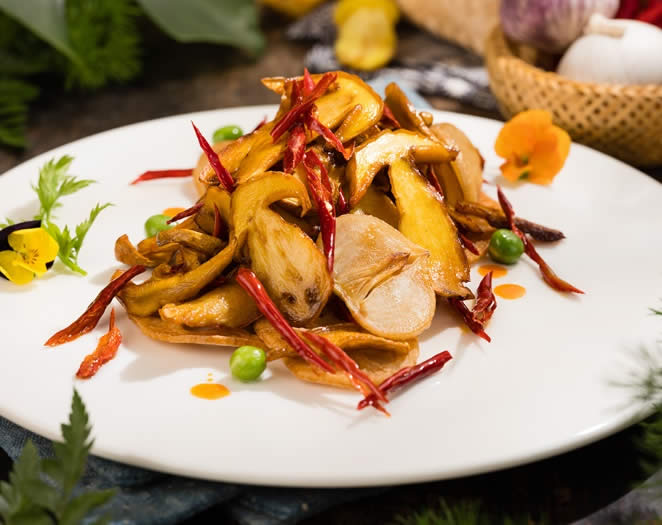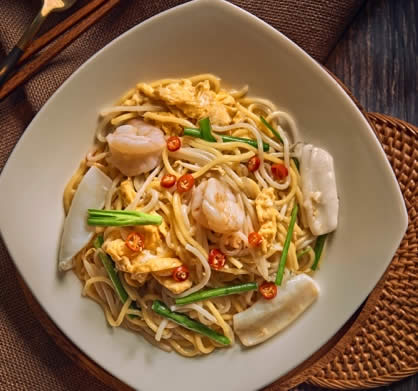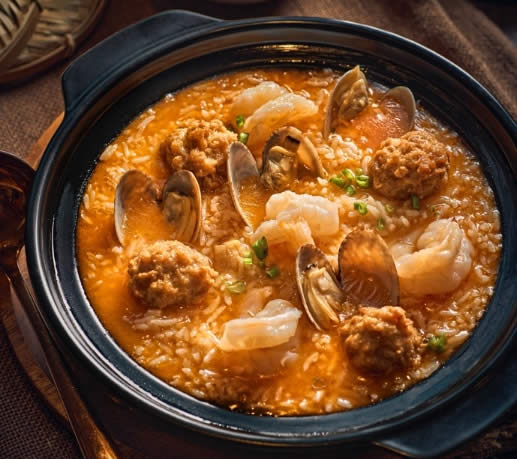 Accompany the dishes with the Stir Fried Wild Porcini Mushroom with Dried Chillies 干椒野生牛肝菌 (S$24.90). This savoury and aromatic dish comprises the pairing of wild porcini with special Yunnan chillies. The quick frying of the porcini gives it a slight crunchy texture with deep flavours.
Its fragrance wafting through the air when served, the Stir Fried Yunnan Rice Noodles with Assorted Seafood 海鲜虾汤炒米线 (S$12.90) is made with YUN NANS' signature prawn broth. Yunnan's famous rice noodles are stir-fried with an assortment of fresh seafood such as squid and prawns. This dish is full of umami flavour. For the Poached Seafood Rice in Prawn Broth 海鲜虾汤泡饭 (S$18.80), poached rice, along with fresh seafood such as clams and prawns, are cooked with YUN NANS' signature prawn broth. The dish is then topped with crispy rice pops. This exquisite dish promises an interplay of flavours and texture with every bite, from the sweetness and freshness of the seafood to the savoury punch and crunchiness of the rice pops.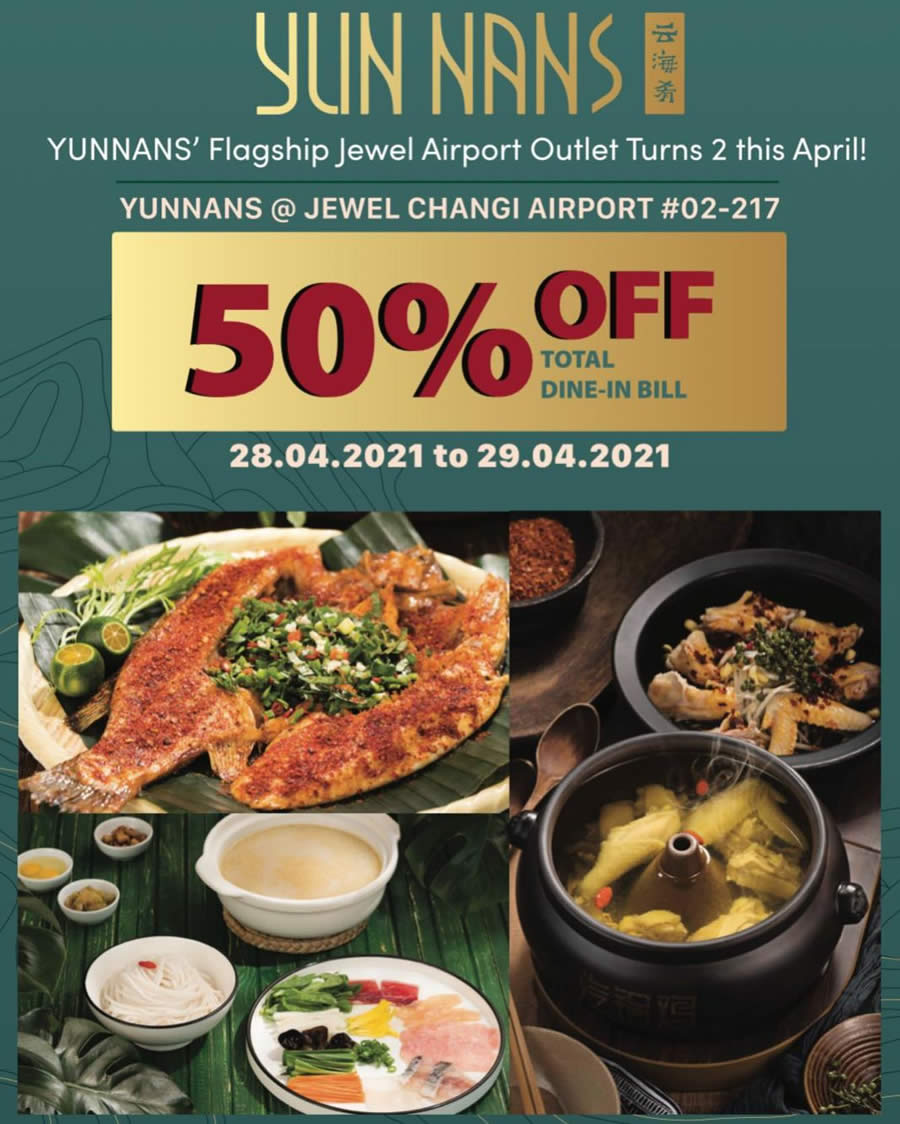 About YUN NANS
YUN NANS 云海肴 is the first overseas outpost of Yun Hai Yao, the largest casual Yunnan restaurant chain hailing from China. First established in Beijing in 2009, Yun Hai Yao now has over 200 outlets in China, specialising in Yunnan ethnic highland cuisines. The restaurant uses fresh ingredients procured from the highlands of the Yunnan Province, offering specialities such as Steamed Pot Chicken Soup, Braised Wild Porcini Mushrooms and many more. At the Singapore outlet, there are exclusive dishes to savour as well.
Location
Venue: Jewel Changi Airport, #02-217 Singapore 819666
Contact number: +65 6908 3677
Opening hours: Monday to Friday (11:30am – 10:00pm), Saturday, Sunday and Public Holidays (11:00am – 10:00pm)
Seating Capacity: 78 pax (inclusive of 1 private room for 8 pax)