P1D
Past Event


Oh no, the event has ended. Don't miss out again, get the latest sales via our newsletter, Facebook, Twitter or RSS feed!
| | | | |
| --- | --- | --- | --- |
| Starts | 31 Dec 2014 (Wed) (ONE day only) | | |
| Location | | | |
Join more than 100,000 residents in ushering in 2015 at over 50 Community Countdown Parties in the heartlands
Look forward to an evening of non-stop exciting stage performances such as juggling, stilt walking, flash mob dancing, and cold pyro fireworks with confetti and giant balloons!
RELATED: Marina Bay Countdown 2015 and Siloso Beach Party 2014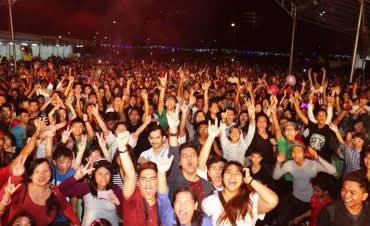 For the first time, there will also be a 'live' telecast and feed-ins from three community countdown parties in the heartlands – at Bishan-Ang Mo Kio Park, Punggol and Boon Lay – during the 'Celebrate SG50' national countdown concert held at The Float @ Marina Bay.
Organised by the various PA Grassroots Organisations (GROs), this year's Community Countdown Parties will support the SG50 themes of reflect, celebrate and inspire.
Gather your family and friends and head on down to the Community Countdown Party happening near to you this December
No
Time (start
and end)
Activity Name / Venue
Highlights
Contact
Central Singapore District
1.
31 Dec
21:30
To
01:00
MK GRC & Whampoa SMC Countdown Celebrations 2015

Venue: Open Field opposite
Kwong Wai Shiu Hospital

Catch stage performances featuring celebrity host Jeff Goh, popular artistes such as Marcus Chin and Meryl Joan Lee, multi-lingual singers D'easton Ritmo, local band Too Much Drama (T.M.D) and album artiste, MICappella, as well as cultural and interest groups performances.
Revel in the festive atmosphere with a magnificent firework display at the stroke of midnight.

Kolam Ayer CC
62964011
2.
31 Dec
20:00
To
00:30
Countdown 2015 and Celebrate
SG50 @ Ang Mo Kio & Sengkang
West

Venue: Bishan – AMK Park Grand
Lawn 1

Check out Clay Art Tablets, all handmade by residents with their SG 50 Wishes.
Participate and make a Guinness World Records for 'Most people wearing balloon hats' – made by GRLs and residents from the Balloon Sculpting Interest Group.
Enjoy a 5 min display of fireworks.
Catch multi-cultural stage performances, which will include Spanish dance, children ballet, Bollywood dancing, Wushu etc.
Various Interest Groups will also be showcased.

Teck Ghee CC
64567123
3.
31 Dec
19:00
To
00:30
Year End Countdown Dinner &
Dance

Venue: Thomson CC Hall

Enjoy a sumptuous dinner while enjoying a musical concert and dance.

Thomson CC
62516344
4.
30 Dec
21:00
To
02:30
Retro Mambo-The Pre-New Year's
Eve Party

Venue: Zouk

Blast to the past and a Mambo Jumbo good time at this year-end celebration @ Zouk.

Step back in time and participate in some retro games.
Glow in the dark with luminous body art.
Grab a bite at the food stalls.

Tiong Bahru CC
62230748
North East District
5.
31 Dec
20:00
To
00:00
Pasir Ris-Punggol countdown to
SG50

Venue: Hardcourt near Riviera
LRT station

Celebrate with some fireworks @ the hardcourt.
Catch stage and ground performances such as juggling, stilt walker and even a LED lights performance!
Join in the cupcakes making sessions, make your own terrarium, and We Love SG Flowers.

Punggol 21 CC
63120508
6.
31 Dec
20:00
To
01:00
Tampines GRC – Beyond 50
Countdown 2015

Venue: Tampines Community
Plaza

Enjoy performances by local artistes including Jeremy Teng, Tay Kexin, MICAppella and The Freshmen,Tampines Secondary School and Tampines West CC YEC Breakdance Interest Group.
Participate in off-stage fringe activities which include game booths and food stalls.
Shop a rustic provision shop for old school party items and childhood knick-knacks.

Tampines Central
CC
67850004
7.
31 Dec
22:00
To
00:30
Eunos Welcomes 2015 & Launch
of SG50 Celebrations @ Eunos

Venue: Eunos Petal Garden

Multi-racial Mascot Flash Mob

Join in a flah mob led by four mascots representing multi-racial Singapore.

Drum Up Eunos

Participate in a drumming contest led by former UFM 100.3FM DJ, Dennis Loi.

Eunos CC
64486971
8.
31 Dec
19:00
To
00:30
Countdown to 2015

Venue: Paya Lebar Zone 7 RC

Gather at the Countdown Block Party with your neighbours.
Participate in games while watching performances by Interest Groups.

Paya Lebar Kovan
CC
62844261
9.
31 Dec
19:00
To
00:00
Countdown 2015 Carnival

Venue: Kaki Bukit Neighbourhood
Park

There will be stage performances, a flea market and bouncing castles.

Kaki Bukit CC
64454223
10.
27 Dec
19:00
To
22:00
Countdown Dinner and Karaoke
Competition 2015

Venue: Harmony RC Hardcourt

Enjoy your dinner as the best voices in your neighbourhood belt it out in a Karaoke Competition.

Punggol CC
63851039
North West District
11.
31 Dec
20:00
To
00:00
Nee Soon South Community Day

Venue: Blk 838, Multi-purpose Court and Open Field (opp Khatib MRT) @ Yishun St 81

View our "Tribute to our Pioneer RCs" photo exhibition.
Participate in the various childhood game and food stalls.
Catch exciting performances from popular singers and artistes including Rui En and Tracey Lee, The Final 1 winner Farisha Ishak, veteran XinYao singers Li Fei Hui, Pang Ying, Huang Xiu Ling, and a host of other popular singers.
Hosted by MediaCorp Radio Personalities Leelian Chua and Bukoh Mary.
Audience can expect an evening of familiar tunes, as well as a 5-minute- long fireworks display.

Nee Soon South CC
64811880
12.
31 Dec
19:00
To
00:00
Sembawang GRC Hypesteria
Countdown to 2015

Venue: Open field in between of North Woodlands Way and North Woodlands Link

Kick-start the SG50 celebration with other residents as you use Ping Pong balls to form up the SG50 logo.
The Countdown program includes performances from local young talents.
Participants can expect performances from local young talents (Solo Singers, Duets, Bands and Dance) to get the atmosphere hyped for the Countdown and the Grand Finale –a fireworks display.
Look forward to entertainments such as face painting, balloon sculpturing and airbrush tattooing.
Early birds will receive a goodie bag, items include custom-made beach mat and finger lights which encourage the public to enjoy the concert in a "picnic style" and party with finger lights!

Woodlands Galaxy
CC
63662218 or
Woodlands CC
63689938
13.
31 Dec
18:00
To
12:30
Bukit Panjang Countdown

Venue: Bukit Panjang CC

Enjoy Wonderland carnival rides for kids.
Get your groove on at a Dance party.
Check out game stalls, stilt walkers, live jazz band.
Finally, usher in the New Year by catching the fireworks at the rooftop!

Bukit Panjang CC
65060900
14.
31 Dec
19:00
To
00:30
Countdown 2015

Venue: Multi-purpose hall, Bukit
Timah CC

Look forward to stage performances, lucky draw, goodie bag & etc.

Bukit Timah CC
64662912
15.
31 Dec
18:00
To
00:00
CACC & SCEC Bling Bling
Countdown Party

Venue: Senja-Cashew CC #02-01

A countdown celebration where there will be singing, dancing and playing of games.
Dinner and supper will be provided.

Senja-Cashew CC
62194562
16.
31 Dec
19:30
To
00:00
Countdown to 2015 with Zone 2
RC

Venue: Blk 163 Linkhouse

Participate in carnival activities, such as creating balloon sculptures.
Catch Getai performances and shop the Pasar Malam.

Senja-Cashew CC
62194562
17.
31 Dec
19:30
To
00:30
Countdown Party 2015

Venue: UIu Pandan CC, Multi- purpose hall

Enjoy karaoke singing, a lucky draw while having dinner with your neighbours.

Ulu Pandan CC
64662968
18.
31 Dec
20:00
To
00:00
Chong Pang Zone 2 RC Year End
Count down

Venue: Blk 701 Yishun Ave 5

Learn a trick or two about magic as you ring in the New Year and welcome 2015 in a magical fashion.

Fu Chun CC
67588258
19.
31 Dec
18:00
To
22:00
Chong Pang Zone 7 RC Block
Party

Enjoy a cosy block party which includes lucky draw, talent show and a cake-cutting for December babies.
There will be fringe activities too, including an art session for children.

Fuchun CC
67588258
South East District
20.
31 Dec
20:30
To
12:15
Bedok Countdown to 2015

Venue: Open Field in front of Blk
21 Bedok South Road

Sing-a-long some 'Oldies' with celebrity artiste Marcus Chin.
Have fun at the traditional game stalls to celebrate SG50.

Bedok CC
64425317
21.
31 Dec
19:00
To
00:30
Retro Countdown 2014 cum
Launching of SG 50

Venue: Braddell Heights CC Hardcourt

Countdown to the new year with cold pyro fireworks, confetti and giant balloons.
Have a Kampong Style good time with photo booth at an attap house setting, Indian Parrot Tarot Reading and nostalgic game stalls.
Stage Performance will feature young singer-songwriter, Ruth Kueo Miaoru and band, hot and sexy Korean Medley Dances, Electric Violin and LED Drums. There will also be Hits of the last Five Decades performed by Braddell Heights CC Singing Groups.
Other performances include flash mob dance, Zumba, Bollywood dance and Malay Dance by Braddell Heights CC Interest Groups.

Braddell Heights CC
62881258
22.
31 Dec
21:00
To
00:30
Zone 4 RC Countdown
Celebrations

Venue: Changi-Simei Zone 4 RC

Join in a mini get-together where the residents get to participate in the karaoke and sing-along sessions, while enjoying a buffet dinner.

Changi Simei CC
67816058
23.
31 Dec
18:00
To
00:30
Countdown 2015

Venue: Potong Pasir CC

Participate in family-friendly games such as Frisbee.
Join in the Karaoke Session and Talent Time show.

Potong Pasir CC
62801182
24.
31 Dec
18:00
To
23:59
Year End Countdown

Venue: Chempaka Park

Enjoy performances by Interest Groups.

Potong Pasir CC
62801182
South West District
25.
31 Dec
19:00
To
01:00
Celebrate SG50 @ Boon Lay

Venue: Blk 215 Boon Lay Place Hardcourt and whole street of Boon Lay Place

Taufik, who is a former resident of Boon Lay, will be performing together with the winners of 'Boon Lay Got Talent Competition' "SWAT" Hip Hop Group which also comprises of former Boon Lay residents.

Boon Lay CC
62619947
26.
31 Dec
21:30
To
00:30
Yuhua Countdown 2014

Venue: Hardcourt next to Blk 252
Jurong East St 24

Unleash the Superhero in you. Come dressed in your favourite superhero outfits!
Catch stage performances which include cheerleading and string and wind instruments performances.
Join in the Zumba fun before the countdown.
Launch of SG50 elements – Lego adopting.

Yuhua CC
65604490
27.
31 Dec
20:30
To
00:30
Countdown 2015 @ Hong Kah
North

Venue: Hong Kah North CC

Form a Singapore Map using friendship bands (loom bands) made by residents and volunteers.
Dance the Hong Kah North SG50 dance.

Hong Kah North CC
65673130
28.
31 Dec
20:00
To
01:00
Countdown @ Yew Mei Green

Venue: Yew Mei Green

Bring your own wines & share it with your neighbours!
Participate in Champagne Popping at 12am.
Grab a bite at the food stalls and participate in the lucky draw.

Chua Chu Kang CC
67655001
29.
31 Dec
20:00
To
02:00
Countdown Bowling 2015

Venue: Bukit Batok CSC Club
House

Enjoy a Buffet dinner while participating in the cosmic bowling with family and friends.

Chua Chu Kang CC
67655001
30.
31 Dec
20:00
To
1:00
Chua Chu Kang Countdown to
2015

Venue: Chua Chu Kang CC Hall & Basketball Court

Celebrate Countdown to 2015 with our own Chua Chu Kang group of talents.
Explore the Carnival: Food booths, game booths, balloon sculpturing.
Catch stage performances by Interest Groups and winners from past competitions.

Chua Chu Kang CC
67655001
31.
31 Dec
20:00
To
00:30
Countdown Celebrations

Venue: Bukit Batok CC Hall

Enjoy a sumptuous dinner while watching the performances put up by your neighbours and a live band.

Bukit Batok CC
65647061
32.
31 Dec
20:00
To
00:30
Countdown Event

Venue: U-Square, next to Blk 283
Bukit Batok East Ave 3

Catch a 'live' variety show involving residents from Bukit Batok East.
Join in the mass line dance and folk dance with other residents!

Bukit Batok East CC
65659330
33.
31 Dec
21:00
To
01:00
Jurong Central – Countdown to
2015

Venue: Jurong Green CC Basketball Court

Catch performances by artistes such as Crystal Priya (Artiste from Vasantham), Wendy Tseng Xiao Ying (MediaCorp Love 97.2FM DJ), Sylvester Sim and Donna Daniel.

Jurong Green CC
65671374
Other terms and conditions apply.
Sales on 31 Dec 2014
Get a FREE American Tourister Caravan 70cm TSA luggage (worth S$260) (with min spend) and 2-years annual fees waiver when you sign up for a HSBC Revolution credit card at www.hsbc.com.sg.