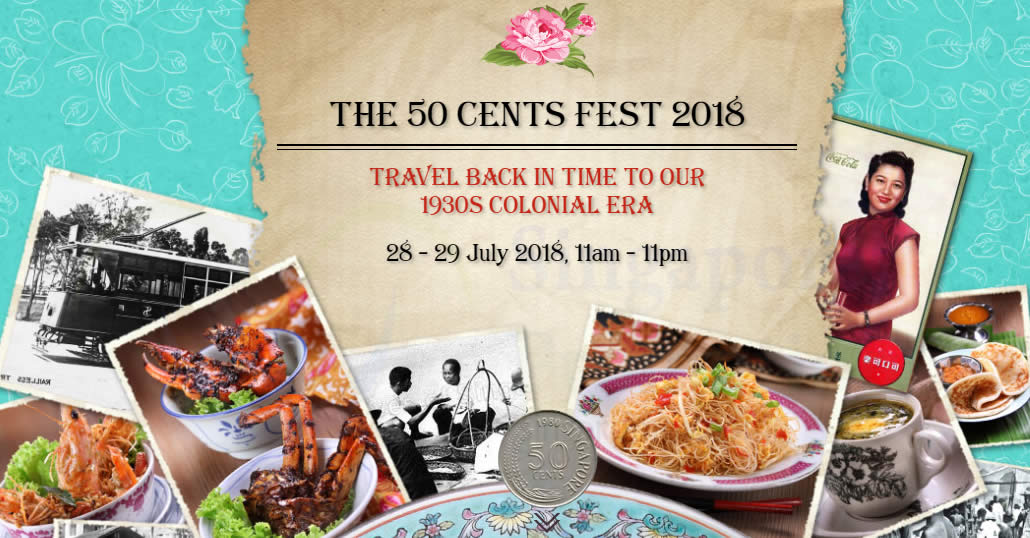 This July, Singapore Food Festival (SFF) returns to Chinatown Food Street (CFS) for the 5th consecutive year!
Chinatown Food Street
P1D
Past Event


Oh no, the event has ended. Don't miss out again, get the latest sales via our newsletter, Facebook, Twitter or RSS feed!
This July, Singapore Food Festival (SFF) returns to Chinatown Food Street (CFS) for the 5th consecutive year!
Themed Savour Singapore in Every Bite, this popular festival celebrates the diversity and rich multi-cultural heritage through the many facets of local food and their story.
Back to 1930s Singapore
Representing the retrospective element of this year's Singapore Food Festival, Chinatown Food Street brings back the award-winning 'The 50 Cents Fest' event for the third consecutive year running.
This 2-day event held on 28-29 July 2018 will transport visitors back to 1930s Colonial Singapore, the era where early immigrants and our forefathers set foot to our shores. It will be an immersive journey back to our early beginnings through authentic 1930s food, ambience, décor and activities.
30s Ambience & 30s Eat
To complement the 1930s gastronomic experience, foodies can also look forward to a complete multi-sensory journey as the CFS's landscape will undergo a 1930s makeover by echoing the Neoclassical and Palladian architecture style and neon lights feature that were prevalent in 1930s amusement parks.
Indulge in multi-cultural fares introduced by Singapore's early immigrants which some are not commonly sold today. The 50 Cents Fest will be featuring more than 40 dishes such as Fish Molee, Kerabu Bee Hoon, Kway Chap, Black Pepper Crab, Gula Melaka Ice Ball, Kopi Gu You and more!
Feast With 50 Cents!
Just like previous years, visitors will be able to enjoy the wide variety of colonial dishes from as little as 50 cents!
Staying true to the name of this event, whereby one can truly relive not just the 30s experience but also the affordable pricing of the good ol' days.
Street Fun
Not to be missed are the common 30s street activities like listening to an exciting story told by a traditional street storyteller or even getting a haircut by a back-alley barber!
This year, The 50 Cents Fest incorporates modern technology where visitors can virtually see and walk the streets of 1930s with the one-of-a-kind augmented reality walkthrough which brings iconic 1930s "characters" like the Samsui Lady, Coolie and Opium Smokers back to life.
Additional Perks!
No more fumbling for cash as you can now scan to pay at 50 cents Fest with DBS PayLah!, DBS/ POSB digibank and DBS iWealth®.
What's more, download PayLah! to get S$5 with promo code 'STEADYLAH'. Download now: dbs.com.sg/dbspaylah
List of Food Items on Sales at The 50 Cents Fest
Featured Food Item
Description
Price
Oyster Sauce Shredded

Chicken Hor Fun

蚝油鸡丝河粉

This dish was originally created by Woh Hup Food Industries in the 1930s, when it was operating as a noodle stall in Chinatown. The star of this dish is definitely the oyster sauce, which was a rare condiment back in the day.
$0.50
Gula Melaka Ice Ball

椰糖冰球

Gula Melaka is made from palm sugar which was widely used in Singapore before cane sugar was introduced by Europeans. Over the years, Gula Melaka continues to be one of Singapore's favourite ingredient in many traditional desserts.
$0.50
Kopi Gu You

牛油咖啡

This was believed to be introduced by Hainanese coffee shops in the 1930s by adding butter to black coffee, giving it a caramelised flavour. This traditional variation of Kopi was rumoured to be a beverage choice for opium smokers back in the 1930s as a remedy for their scratchy throats.
$0.50
Kerabu Bee Hoon

娘惹炒米粉

Made with Chinese rice vermicelli tossed in Peranakan-influenced marinade of shallots, belacan, lime juice, ginger and toasted grated coconut, this old-time favourite Peranakan dish that used to be commonly sold in 1930s can occasionally be spotted in the kitchen of traditional Peranakan homes.
$0.50
Lontong

蔬菜咖喱米糕

In Singapore, Lontong refers to a compressed rice cake in vegetable stew with coconut milk, which is called Lontong Sayur Lodeh in other countries. Back in the 1930s, this dish was often consumed during breakfast or festive season such as weddings and Hari Raya Puasa.
$0.50
Enche Kabin

娘惹炸鸡和伍斯特蘸醬

Believed to gain its name when a British sailor (or "Encik", which means Captain in Malay), called for a meal in the cabin ("Kabin"). This deep fried chicken marinated in a paste of coconut milk and rempah with the western Worchester sauce was created to suit the Western palate – making it a Malay British fusion dish in olden Singapore.
$0.50 per portion
Walnut Cookie

小合桃

Introduced at Tong Heng since its establishment back in 1935, this Walnut cookie is a pastry that survived the test of time. Through the years, Tong Heng stayed true to the pastry's traditional recipe which does not actually contain any walnut! It is actually the pastry's walnut-looking appearance that gave it its name.
$0.50 x 2 (2 pcs)
Fish Molee

传统印度咖喱鱼

Lightly spiced creamy fish curry dish with Indian and Portuguese origins that was introduced to Singapore in the 30s. It is believed that the originally strong-flavoured Kerela cuisine is modified to cater to the Portuguese taste and is well received by the British and South East Asian palates.
$0.50 x 2
Kong Bak Pau

扣肉包

Singapore's oldest restaurant Spring Court – then known as Wing Choon Yuen, presents their original Kong Bak Pau recipe that has been on sale since its inception in 1929! Serving only authentic Singaporean Chinese cuisine, it has been the venue of choice for many grand celebrations including weddings back in the day.
$0.50 x 2
Black Pepper Crab

黑胡椒螃蟹

Pepper was an important source of income for Singapore in 1930s. This accessible spice was then used by Long Beach Seafood in their creation of this dish, that has become one of Singapore's most iconic dish today.
$0.50 x 4
Food Item
Price
Char Kway Teow

炒粿条

$0.50
Sweet Potato Soup

番薯汤

$0.50
Soon Kueh

笋粿

$0.50
Lei Cha

雷茶

$0.50
Kacang Goreng

炒花生

$0.50
Kueh Lopis
$0.50
Kaya Bun

咖椰面包

$0.50
Mee Siam

米暹

$0.50
Putu Piring
$0.50 (1 pc)
Epok Epok
$0.50
Roti John

印度漢堡

$0.50
Uttapam
$0.50
Chicken Satay

鸡肉沙爹

$0.50 (1 stick)
Banana Ball

香蕉球

$0.50
Belacan Fried Rice

峇拉煎炒饭

$0.50
Samosa

咖喱角

$0.50 (1 piece)

$0.50 x 2 (3 pieces)

Oyster Omelette

蚝煎

$0.50 x 2
Braised Duck Noodle (Dry)

卤鸭面 (干)

$0.50 x 2
Bak Chor Mee Pok

肉脞面

$0.50 x 2
Sweet Sour Pork Rice

酸甜猪肉饭

$0.50 x 2
Teochew Beef Kway Teow

潮州牛肉河粉

$0.50 x 2
Kway Chap

粿汁

$0.50 x 2
Hainanese Fish Maw Soup

海南鱼漂汤

$0.50 x 2
Steamed Pork and Cabbage Dumpling

蒸菜肉饺

$0.50 x 2 (3 pieces)
Popiah

薄饼

$0.50 x 2
Pig Stomach Soup

猪肚汤

$0.50 x 2
Egg Cookie

鸡蛋饼

$0.50 x 2 (2 pieces)
Curry Chicken with Bread

咖喱鸡 + 面包

$0.50 x 2
Indian Rojak

印度囉喏

$0.50 x 2
Hokkien Mee

福建面

$0.50 x 3
White Pepper Prawn

白胡椒虾

$0.50 x 4
Bird's Nest Drink

燕窝水

$0.50
Teh Tarik

印度拉茶

$0.50
Magnolia Raspberry Ripple
$0.50
Coke

可乐

$0.50

–

$0.50 x 4

Fanta Orange

Fanta 橙

$0.50
Tiger Beer
$0.50 x 4

–

$0.50 x 6

Milo

美祿

$0.50
Spices

香料

$0.50

–

$0.50 x 4
Event Venue:
Chinatown Food Street, Smith Street, Chinatown, Singapore
28 July 2018, Saturday: 11am- 11pm
29 July 2018, Sunday: 11am- 11pm
For more info, click here
Apply for selected Citibank credit cards & get free gifts such as $120 Cash Back, 10,000 Citi Miles & more at www.citibank.com.sg!