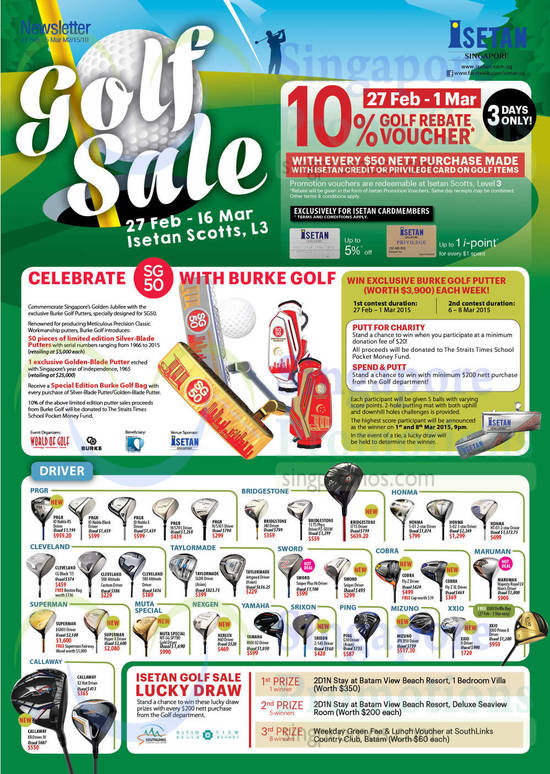 Isetan Scotts
P2W3D
Past Event


Oh no, the event has ended. Don't miss out again, get the latest sales via our newsletter, Facebook, Twitter or RSS feed!
| | | | |
| --- | --- | --- | --- |
| Starts | 27 Feb 2015 (Fri) | Ends | 16 Mar 2015 (Mon) |
| Location | Isetan Scotts | | |
Isetan will be having a Golf Sale at Isetan Scotts, L3 from 27 February to 16 March 2015.
Click on a link to jump to a specific section
10% Golf rebate voucher 27 Feb – 1 Mar.
With every $50 nett purchase made with Isetan Credit or Privilege card on golf items
Promotion vouchers are redeemable at Isetan Scotts, Level 3. Rebate will be given in the form of Isetan Promotion vouchers.
Same day receipts may be combined. Other terms and conditions apply. Exclusively for Isetan cardmembers
Celebrate SG50 with Burke Golf
Commemorate Singapore's Golden Jubilee with the exclusive Burke Golf Putters, specially designed for SG50.
Renowned for producing meticulous precision classic workmanship putters, Burke Golf introduces:
50 pieces of limited edition Silver-Blade putters with serial numbers ranging from 1966 to 2015 (retailing at $5000 each)
1 exclusive Golden-Blade putter etched with Singapore's year of independence, 1965 (retailing at $25000)
Receive a special edition Burke Golf bag with every purchase of Silver-Blade putter/Golden-Blade putter.
10% of the above limited edition putter sales proceeds from Burke Golf will be donated to The Straits Times School Pocket Money Fund.
Update 27 Feb: HSBC Cardholders enjoy 5% off
5% Rebate Voucher with every $100 nett purchase charged to art HSBC credit card on golf items apply. T&C apply
RELATED: Sign up for a HSBC Visa Platinum credit card (with Visa Paywave) and receive up to 12 one-day adult passes to attractions in Resorts World Sentosa (worth up to S$396)
Drivers
Some offers listed are
PRGR ID Habla RS Driver
PRGR ID Habla Black Driver
PRGR ID Habla X Driver
PRGR H/5701 Driver
PRGR H/5301 Driver
Cleveland CG Black'15 Driver
Cleveland 548 Altitude Custom Driver
Cleveland 568 Altitude Driver
Superman EG003 Driver
Superman Hyper X Driver
Callaway X2 Hot Driver
Callaway XR Driver
Muta Special MT-SG SP700 Gold Driver
Taylormade SLDR Driver
Taylormade Jetspeed Driver
Nexgen 460 Driver
Yamaha RMX 02 Driver
Srixon Z-545 Driver
Ping G90 Driver
Sword Sniper Plus Hi Driver
Sword Sniper Driver
Bridgestone J40 Driver
Bridgestone 13 TS Phyz Driver
Bridgestone J715 Driver
Honma S-01 2-Star Driver
Honma S-02 3-Star Driver
Honma HT-01 2-Star Driver
Cobra Fly 2 Driver
Cobra Fly 2 XL Driver
Mizuno JPX 850 Driver
Maruman Majesty Royal LV Men's Driver
XXIO 8 Driver
XXIO X00 Prime 8 Driver
Fairway, Hybrid, Utility, Iron Sets, Complete Sets
Some offers listed are
PRGR ID Nabla RS Fairway Wood
PRGR H/S 701 Fairway Wood
PRGR ID Habla RS Utility Graphite
PRGR ID Habla R5 Utility Steel
PRGR H/S 301 Utility
Bridgestone J15 Fairway Wood
Bridgestone J40 10.5 Graphite S Fairway Wood
Bridgestone 2012 VIQ Graphite Fairway Wood
Bridgestone Phyz Fairway Wood
Bridgestone J15 Utility
Bridgestone J40 UT 3H Graphite S
Bridgestone 2012 VIQ Utility
Bridgestone T3 TS Phyz Utility
Honma HT-01 2-Star Fairway
Honma Perfect Switch 3-S Hybrid/Fairway
Cleveland 588 Altitude Fairway
Cleveland 588 Altitude Hybrid
Sword Sniper F Fairway Wood
Sword Sniper Hybrid
XXIO XXIO 8 Fairway Wood
XXIO Prime 8 Fairway Wood
Taylormade Jetspeed Fairway Wood
Taylormade SLDR Fairway Wood
Taylormade SLDR Rescue
Taylormade Jetspeed Rescue
Cobra Fly Z Fairway Wood
Cobra Fly Z XL Fairway Wood
Cobra Fly Z Hybrid
Cobra Fly Z XL Hybrid
Maruman Shuttle Fairway Wood
Yamaha RMX 513/613 Fairway Wood
Yamaha RMX Utility Wood
Srixon Z-F4S Fairway Wood
Srixon H45 Hybrid
Ping G30 Fairway Wood
Ping G30 Hybrid
Callaway XR Fairway Wood
Callaway X2 Hot Fairway Wood
Callaway XR Hybrid
Callaway X2 Hot Hybrid
Superman SPM Fairway Wood
Mizuno JPX850 Fairway Wood
PRGR ID Habla RS Forged #4-P
PRGR ID Nabla RS Titan ST #5-P
PRGR ID Nabla RS Titan CB #5-P
PRGR Iron New EGG4 #5-P
Taylormade Speedblade Steel/Graphite Iron
Taylormade Tour Preferred CB Irons 4-P
Taylormade Tour Preferred MC #4-P
Taylormade SLDR Irons 5-P, A, S Graphite/Steel
Cobra Fly Z Graphite IRons
Cobra Fly Z Steel Irons
Cobra Fly Z XL Irons
Fourteen PC-555 NS950 Irons
Cleveland 588 TT/MT Graphite #4-PW
Cleveland 588 MT Steel #4-PW
Cleveland 588 Altitude Graphite #5-PW
Yamaha RMX Maraging Irons
Yamaha RMX UD2 8pc Graphite Irons
Srixon Z-745 6-pc Irons
Srixon Z-545 Graphite Iron
Honma S-03 Art Series 3-Star Graphite #5-11
Honma TW 717 P 2-Star Graphite #4-SW
Honma TW 717 P Steel #4-SW
Bridgestone J15 DPF Tour AD S #5-P
Bridgestone T3 TS Phyz Iron
Mizuno JPX-850 Forged Graphite #4-PW
Mizuno MP-H5 HS PRO Iron
Mizuno JPX-EZ NSPRO #S-PW
Mizuno JPX-EZ Graphite #5-PW
Mizuno MP-54 NSPRO Iron $4-PW
Muira Passing Point Forged Irons #4-P
Muira CB501 KBS Shaft 4-P Irons
Sword Sniper Irons
Callaway XR Graphite Irons
XXIO XXIO8 Graphite Irons
XXIO Forge 5 Steel Iron
XXIO Prime 8 Irons
Maruman Zeta T713 Graphite Irons
Maruman Verity VGR Graphite IRons
Maruman RV Red II Graphite Set
Ping G30 Graphite IRons
Ping G30HSPRO Irons
Muta Special MT-FG Gold Graphite #5-FAS Fujitec Shaft
Honma S-02 2-Star 14-pc Set
Wilson Ultra Graphite Men's Set
Kasco Fereina Ladies' Set
Mizuno T Zoid Men's Set
Mizuno New Efil Ladies' Set
Gosen Limited 888 Ladies' Package Set
Cleveland Men's Box Set
PRGR Premium Gold Complete Set
Cleveland Bloom Women's Set
Maruman VGR Men's Set
Maruman Figaro Mix Ladies' Set
Junior Complete Sets, Golf Bags, Wedges, Putters, Golf Balls
Some offers listed are
Tour Edge Junior Set
PG Junior Set
Cleveland CG Junior
PRGR ID Nabia RS Forged Wedge
Bridgestone J15 Forged Wedge
Bridgestone J40 NSPRO Wedge
Cleveland RTX Wedge
Cleveland RTX 2.0 Wedge
Fourteen RM21 Wedge
Bettinardi H2 Forged Bronze Wedge
Bettinardi H2 Forged Nickel Wedge
PRGR L.E.D. Putter 01
Precise Platinum Tour Putter
TaylorMade Spider Blade Slant Putter
TaylorMade Spider Mallet Putter
TaylorMade H15218 PT-Spider Blade 2.0-12 RH
TaylorMade H15221 PT-Spider Mallet 14 RH
TaylorMade Ghost Spider Belly Putter
Cleveland HB Classic Black Pearl Putter
Odyssey Versa Putter
Odyssey Metal X
Odyssey White Hot Pro 2.0
Bettinardi B8 Series Putter
Fisher Riviera
Muta Special MT-Jina Gold
Muta Special MT-Nana
Muta Special MT-Yuko
Mizuno T Zoid Putter
Wilson Harmonised Putter
TaylorMade H24189 Carrylite Stand Bag
TaylorMade H23805 Microlite Stand Bag
Cleveland V2 Cart Bag / Hybrid Stand
Adidas Golf Samba Stand Bag N62069
Callaway Big Bertha Stand Bag
Gosen Half Set Stand Bag
Muta Special MT-TCB Tiger Cart Bag
Muta Special MT-GCB Generic Cart Bag
Mega Travel Golf Bag #9035
Porterline 901 / 905 / 908 Hybrid Bag
Maruman CB9310 Cart Bag
Maruman CB9311 Cart Bag
XXIO GGC-XO46 Limited Bag
XXIO GGC-XO46 Ladies' Bag
Puma Golf SMU CN1 Cart Bag
Puma Golf Formstripe Cart / Stand Bag
Nike Golf Sport Lite Carry Stand Bag B60343
Kasco Sea Spider Stand Bag
Sun Mountain SM'14 C130 Cart Bag
TaylorMade San Clemente Cart Bag
Honma CB 3412 Cart Bag
Sesame Street Caddle Bag
Bridgestone Zodiac B330-RX Gold Golf Ball
Bridgestone 2012 B330 Golf Tour
Bridgestone E Series
Bridgestone Lady IQ
TaylorMade Noodle 12 Long & Soft
Precept Laddie X 15 Ball
Tour Special Soft Feel
Nike Golf Super Far DD 2 Wings 24-pack Golf Ball
Volvik DS77 Golf Ball
Volvik Crystal Golf Ball
Srixon Trispeed
Srixon Z Star
Srixon AD333
Srixon Soft Feel
Mizuno D201 Golf Ball
Wilson Duo GRH Golf Ball
Wilson Hyper Titanium Golf Ball
Apparel, Polo Tees, Bermudas, Pants, Junior Wear, Skirts, Accessories
Vermogen : Less 15% with purchase of 2 pcs and above.
Some offers listed are
Loudmouth Men's & Ladies' Apparel
Adidas Golf Men's & Ladies' Apparel
Nike Golf Selected Men's, Ladies' & Junior Apparel
Greg Norman Selected Men's Apparel
Mizuno Men's Polo Tee
Mizuno Men's Half Pants
Mizuno Ladies' Polo Tee
Mizuno Ladies' Skirt
Vermogen Men's Polo Tee
Vermogen Men's Bermudas
Vermogen Ladies' Polo Tee
Vermogen Ladies' Pants
Le Coq Sportif Golf Men's & Ladies' Apparel
Dennis The Menace Men's Polo Tee
Dennis The Menace Men's Pants
Dennis The Menace Skirt
Sesame Street Ladies' Polo Tee
U9 Men's Polo Tee
U9 Men's Bermudas
U9 Ladies' Polo Tee
U9 Skirt
Callaway Men's Polo Tee
Callaway Men's Pants
Puma Golf Assorted Apparel
Arnold Palmer Men's Polo Tee
Arnold Palmer Men's Bermudas
Sligo Assorted 148 Polo Tee
Katana Assorted Polo Tees
IJP Design Junior Polo Tee
IJP Design Junior Bermudas
IJP Design Men's Apparel & Accessories
P.G. 2014 Collection Men's Polo Tee
Skins A400 Men's & Ladies' Long Sleeve Top
Kasco Quick-Dry Golf Shirt
Shoes, Accessories, Stand Bags, Cart Bags, Caps, Wristbands, Gloves, Trolleys, Watches, Belts, Armsocks
Some offers listed are
Adidas Golf Q46706 Crossflex SP1
Adidas Golf Q47001 Tour 360 ATVM1
Adidas Golf Q46705 Crossflex SO1
Adidas Golf Q46348 Adistar Ladies
Adidas Golf Q46341 Adistar Ladies
Adidas Golf Q46776 Adizero Sport III
Adidas Golf Q46974 Climacool Ballerina
Adidas Golf Q46365 Pure 360
Ecco Bicom Hybrid
Ecco Golf Street
Honma SR-3402 Shoes
Crocs Preston Drayden
Nike Golf Selected Men's Footwear
Puma Golf AMP Cell Fusion Silver Golf Shoes
Puma Golf Fass Trac Golf Shoes
Mizuno Light Style Men's Shoes
Mizuno Comfort Style Men's Shoes
Skechers Go-Golf Drive Golf Shoes 53523
Skechers Go-Golf Drive Golf Shoes 53528
Skechers Go-Golf Tour Golf Shoes 53526
TaylorMade 2014 Tour Radar Adjustable Cap
Vermogen Unisex Cap
Dennis The Menace Assorted Cap
Colantotte Active Wade Neck & Wrist
Colantotte Crest Necklace
Colantotte Active Loop Wristband
Colantotte Trion Z Loop
Colantotte Duoloop Wristband
Vermogen Sunglass
Reygrande Boston Bag B81105
Cleveland CG Duffle Bag
Puma Golf SMU Boston Bag
TaylorMade H24104 Active Boston Bag
P.G. 3017 Boston Bag
Gosen 48CQ Boston Bag
Muta Special MT-BBFG Boston Bag
Sesame Street Boston Bag
TaylorMade Player Rolling Carry-on N23240
Katana Trolley Bag KT4604
Katana Travel Cover KT4612
Gosen Travel Cover with Wheels
Gosen Travel Cover Without Wheels
P.G. Travel Cover PGT5005
TaylorMade H24108 Active Sunday Bag
Gosen #4890-6 Sunday Bag
P.G. Sunday Bag
Kasco Palm Fit Glove
Kasco Star Kids KJ-515 Glove
TaylorMade ST2 Pack Gloves
Mizuno Bioflex Men's Glove
Cobra Web Belt
Mizuno Men's Belt
Mizuno Arm Guard
Mega Compression Sleeve
Bushnell Tour V3
Golf Buddy WT4
Garmin Approach S6 GPS Golf Watch
Gosen 3-fold Trolley
Gosen Junior Trolley
Gosen Neporne Iron Cover
Gose #4321-1 Shoe Bag
TaylorMade Performance Golf Valuables Pouch
Adidas Golf Golf Ball Marker
Sesame Street Headcover
Sesame Street Pouch
Hamex 2-hole Putting Mat
Gosen Windproof Umbrella
Mizuno Twin Canopy Umbrella
Sesame Street Ball Holder
Other terms and conditions apply.
See ad image for price list and more details
Click on thumbnail[s] to enlarge. Sales on 27 Feb – 16 Mar 2015.
Get $120 cashback when you apply for a Citibank card at www.citibank.com.sg!