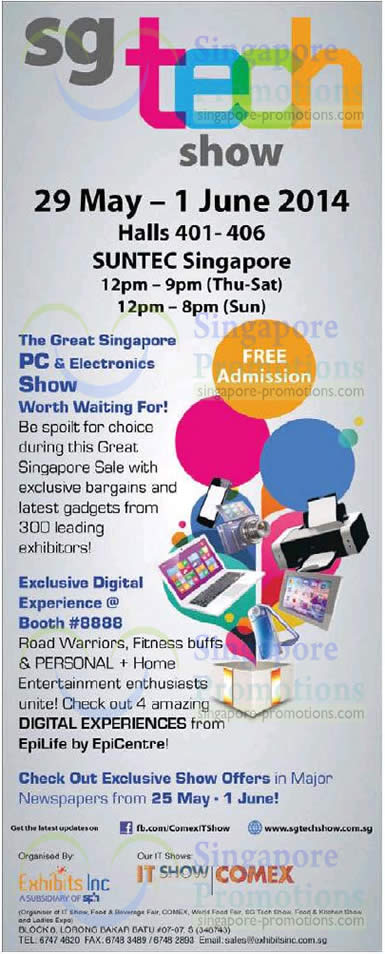 The show promises exclusive bargains and the latest gadgets from leading exhibitors
Suntec Convention Centre
P3D
EXPIRED


Uh oh, the event has ended. Don't miss out again, get the latest news via e-mail, Telegram, Facebook, Twitter or RSS feed!

SINGPromos is now on Telegram
SG Tech Show (by the organisers of IT Show and Comex) will be happening at Suntec Convention Centre from 29 May to 1 June 2014
It will be held at Halls 401 – 406, 12pm – 9pm (Thu-Sat) and 12pm – 8pm (Sun)
The show promises exclusive bargains and the latest gadgets from leading exhibitors
Exclusive Digital Experience @ Booth #8888
For Road Warriors, Fitness buffs & Personal + Home Entertainment enthusiasts.
Check out 4 amazing Digital Experiences from EpiLife by Epicentre
Electronics Offers Teaser
Look forward to an electronics trade show that includes products from Samsung, Toshiba, LG, Sharp, Panasonic, Mitsubishi, Philips, Nikon, Apple, Hitachi, Acer, Dell, HP, Electrolux, Redmi and more
| Items | UP | Show Price |
| --- | --- | --- |
| Samsung Galaxy Tab 3, 7″ WiFi (SM-T110) | $299 | $148 |
| iPad 2 (Refurbished) | $528 | $288 |
| Apple Macbook Pro 13 (i5) (Refurbished) | $1,888 | $998 |
| Redmi Phone (4.7″, Duo Sim, Android OS v4.2 Jelly Bean) | $299 | $168 |
| Lenovo 6″ 3G Phablet PC (Quad Core) | $399 | $188 |
| Samsung Galaxy Note 3 (N7505) | $898 | $588 |
| Xiaomi TV Box (Free access to all international sport contents) | $399 | $98 |
| Panasonic NR-BN221SNSG 2 Door Fridge | $459 | $178 |
| Panasonic NA-F75B3 Top Load Washer | $399 | $85 |
| Nikon DSLR + Lens | $899 | $358 |
| Canon MG-2570 Printer (Free: Ink) | $119 | $69 |
| Philips 32″ LED TV | $599 | $158 |
| Toshiba 39″ Full HD LED TV | $899 | $288 |
| Acer 7″ Tablet PC | $249 | $98 |
| Android 5″ 3G Smart Phone | $399 | $88 |
| Android 7″ 3D WiFi Tablet PC (Support 3G Dongle) | $499 | $58 |
| Acer Notebook | $799 | $298 |
| Branded Camcorder | $199 | $68 |
| HP Desktop (CPU Only) | $899 | $388 |
| Dell i3 Notebook | $899 | $488 |
| Acer i5 Notebook | $1,099 | $598 |
| Electrolux Vacuum cleaner | $99 | $58 |
| Stand Fan | $59 | $18 |
| Rice Cooker | $49 | $8 |
| Kettle Jug | $29 | $8 |
| Hitachi R-Z411EMS SLS 2 Door Fridge (335L). | $729 | $498 |
| Samsung WF-8804CPG Front Load Washer (8kg) | $999 | $528 |
All electronics items like TVs, IT products, tablets, cameras, phones, kitchen appliances, refrigerators, washing machines etc. including 2014 models, are all sold on first come first serve basis every day while stocks last.
Each customer is entitled to only 1 purchase for the hot promotion items. Consumers who would like to snap up these good deals are advised to come early.
No wholesalers and exhibitors are allowed at this expo.
SG Tech Show 2014 Price List, Brochures, Flyers
SG Tech show offers are expected (not confirmed, but possibly) to be similar to that of the current offers, many of which are overlapping the show's date. You may want to wait out for the upcoming PC SHOW 2014
Click on the links below for the respective flyers
Other flyers will be uploaded below as they come.
27 May
Trade-in Promotion for Casio Exilim EX-100
Get $200 Off When you upgrade your old camera to the brand new EX-100
3 month waiver savings. 24 months instalment plan! For credit card holders of participating banks CITIBANK / DBS / UOB / Standard Chartered
Camera Features
Powerful all-in-one with Selfie Function
Constant aperture F2.8 through 23-300mm
Intelligent Bracketing
3.5-inch Tilt-type LCD
Offers
Some items listed are
Samsung Galaxy Note 3
Panasonic NR-BN221SNSG Fridge
Hitachi RZ411EMZ Fridge
Each customer is only allowed to purchase one promotional item during the 4 days promotion. No repeat purchase is allowed. One set per customer. While stocks last. Pictures are for Illustration only. Prices are inclusive of GST.
28 May
ASUS Offers
ROG Gaming Desktop PCs, Slim Series Desktop PCs listed are ASUS G70AB-SG001S Desktop PC, ASUS G50AB-SG001S-Ext Desktop PC, ASUS G30AB-SG005S Desktop PC, ASUS G10AC-SG010S-UPS Desktop PC, ASUS M70AD-SG002S Desktop PC, ASUS M51AC-SG002S-UPS Desktop PC, ASUS M51AD-SG002S Desktop PC, ASUS P30AD-SG004S Desktop PC, ASUS P30AD-SG003S Desktop PC and ASUS EB1505-B02M Desktop PC
AIO Desktop PCs listed are ASUS ET2321INTH-B026Q AIO Desktop PC, ASUS ET2702IGTH-B036K AIO Desktop PC, ASUS ET2311INTH-B006Q AIO Desktop PC, ASUS ET2301INTH-B010K AIO Desktop PC, ASUS P1801-T-B015M AIO Desktop PC, ASUS P1801-B184K AIO Desktop PC and ASUS ET2221INTH-B009Q AIO Desktop PC
Monitors listed are ASUS PB278Q Monitor, ASUS PA248Q Monitor, ASUS VG248QE Monitor, ASUS VK278Q Monitor and ASUS VK228H Monitor
Monitors, Projectors listed are ASUS MX239H Monitor, ASUS VS239H-J Monitor, ASUS MB168B+ Monitor, ASUS VS207DE Monitor, ASUS VS248H Monitor, ASUS VX238H Monitor, ASUS VS278H Monitor, ASUS B1M Projector, ASUS P2M Projector and ASUS P2B Projector
Other Offers
Added
Acer Notebooks, V5, S7, Predator G3, Aspire U5
Casio EX 100, Digital Experience, Digital Cameras, Notebooks, Washers, Fridges
Maka GPS Geomate 500S Free VR1 Roader
Maka GPS Marbella Car Camcorders MX5, MX6, MaxPower Power Bank
Maka GPS Marbella Luxury Gift Box Upsize, Galactio Key Features
Maka GPS Navgiators Geomate 500S, uNav HD7, uNav, Geomate 400S, N52
Maka GPS Teltonkia FM1100
Philips PicoPix Projectors PPX2055, PPX2340, PPX3410, PPX3610
Pixelplay Kuro Smart Player Android
Memory World Synology DiskStation NAS
Memory World Drobo NAS 5N 5D Transporter Mini, Lenovo ix2
Memory World QNAP NAS Disk Station
29 May
Electronics Offers
Tablets, Cameras, TVs, Notebooks listed are Samsung Galaxy Tab 3 7.0, Apple iPad 2, Canon MG-2570 Printer, Panasonic NR-BN221SNSG Fridge, Hitachi R-Z411EMS SLS Fridge, Panasonic NA-F75B3 Washer, Samsung WF-8804CPG Washer and Samsung Galaxy Note 3 Neo
TVs listed are Samsung UA55ES6200 TV, LG 42LN5710 TV, Samsung UA46EH5306 TV, LG 55LA7400 TV, Samsung UA55ES8000 TV, LG 60LM6450 TV, Samsung UA65HU9000 TV, Samsung UA55HU8500 TV, LG 49UB850T TV, LG 55LA9700 TV and LG 65LA9650 TV
Home Appliances, Kitchen Appliances listed are Panasonic NA-F75B3 Washer, Panasonic NR-BW465XSSG Fridge, Panasonic NR-BY551XSSG Fridge, Hitachi SF-130LJS Washer, Hitachi R-Z481EMS SLS Fridge, Samsung WF-0804W8E Washer, Samsung RT-46H5200SL Fridge, Samsung RS-552NRUAI Fridge, Toshiba AW-B1000GS Washer, Toshiba GR-S20SPB Fridge, LG WD-10B7QDT Washer, LG WD-1485ADP Washer and LG GR-M4923CSN Fridge
Also listed are Electrolux EWF-85661 Washer, Electrolux EDV-6051 Dryer, Toyomi VC-8215WD Vacuum Cleaner, Toyomi BBQ-304WS Grill with Stand, 707 AF-151WH Air Fryer, Russell Hobbs RH-18260 Toaster, Russell Hobbs RH-18980 Blender, KDK R60VW Fan, Iona GL-1000 Induction Cooker and Iona GLDB-25MC Micro Double Boil
Digital Cameras, Keyboards, Notebooks listed are Nikon D7100 DSLR Digital Camera, Samsung NX2000 Digital Camera, Nikon D3300 DSLR Digital Camera, Nikon L830 Digital Camera, Olympus OM-D E-M10 Digital Camera, Nikon D5300 DSLR Digital Camera, Nikon P600 Digital Camera, Olympus SP100 Digital Camera and Casio LK-160 Keyboard
Other Offers
Toshiba Notebooks Satellite NB10t, L40, L50, S40t, U840W, U840t, P50, Qosmio PX30t
Toshiba Notebooks, Tablets, Satellite U920t, Portege Z10t, Encore, Excite Write AT10PE, Pure AT10
ACE Peripherals Western Digital Internal HDD Bazaar
ACE Peripherals Synology NAS DiskStations DS1513, DS1813, DS2413, RS214, RS814, DX213, VS80, VS240HD, DX513
ACE Peripherals Synology NAS DiskStations DS413J, DS414J, DS413, DS414, DS412
ACE Peripherals Synology NAS DiskStations DS214se, DS213J, DS213air, DS214, DS214play, DS214plus, DS713 Plus
ACE Peripherals Synology 2014 Models DS114, DS214se, DS214+, DS414, DS214play DS214plus
ACE Peripherals Seagate NAS HDD, Enterprise Value HDD
ACE Peripherals Seagate Internal HDD Bazaar Solid State Hybrid, Surveillance, Constellation, Barracuda, NASworks
ACE Peripherals Samsung Internal SSD Bazaar Samsung 840 EVO, 840 mSata, 840PRO
ACE Peripherals Nuance PDF Converter Professional, PaperPort, Omnipage, Dragon Dictate, Naturally Speaking, Bluetooth, Mac
ACE Peripherals MyRepublic Home Voice Plans, TV Online with Teleport
ACE Peripherals MyRepublic Fibre Broadband 1Gbps
ACE Peripherals MyRepublic 1Gbps Ultra, Gamer, Business 100, 200, Plus, Pro
ACE Peripherals MyRepublic 1GBPS Features
ACE Peripherals Hiti Photo Printers P110S, S420i, P720L, P510S, P510K, CS 200e
ACE Peripherals Fujitsu ScanSnap Scanners SV600, IX500, S1300i, S1100
ACE Peripherals Foscam IP Cameras FI8909W, FI8918W, FI8910W ,FI9821W, FI9851W, FI9831W, FI9831P, FI9826P, FI8904W, FI8906W, FI8918, FI8620
ACE Peripherals Dlink Wireless Routers, USB Adapters, Mobile Routers, Range Extender, Homeplug, Access Point, Modem Router NAS, NVR, Switches
ACE Peripherals Dlink IP Cameras, Wi Fi Baby Cameras, Cloud IP Cameras Starter, H.264, HD, Fisheye, Outdoor, Pan, Tilt, Zoom
ACE Peripherals Asustor NAS AS202T AS202TE AS204T AS204TE AS302T AS304T AS602T AS604T AS606T AS 608T AS604RS AS609RS
ACE Peripherals ACTI Foscam Wifi, POE Network IP Cameras, Night Vision Recording, Cube, Dome, Bullet, Hemispherix, Box
ACE Peripherals ACE Bazaar Hiti Event Photo Printer, Plastic Card Printer, PDF Converter
ACE Peripherals ACE Bazaar Asustor Multimedia HDMI NAS, Trade-In Old NAS
ACE Peripherals Western Digital Portable HDDs My Cloud, MyBook, My Cloud Mirror, WD Elements, My Cloud EX2, EX4, My Passport, Ultra 2.5
City Music Audio Playback System DS-DAC-100, 100M, NanoKey 2, NanoPad 2, NanoControl 2
Belkin Accessories Music Receivers, Adapters, Surge Protector, HDMI Cable, Wemo Switch, Baby Monitor, Handsfree
Linksys EpiLife Networking Router, Wireless Extender, TravelPac Mouse, Denon Headsets
Fuji Xerox Printers M355DF, CM305DF, P355D, CP305D, 8570DN, 3105, C3055DX, C5005D
Fuji Xerox Printers Docuprint P215B, P255DW, M215B, M215FW, M255Z, CM215B, CM215FW, CP105B, CP215W
City Music Xkey, Amplifi 75, Amphones, Sonic Port" and "City Music Video, Audio Recorders Q4, H6, H2N, H1, IQ5, H4N
Lenovo Notebooks G500s, G40-70, S410, Z510, U330p, U430 Touch
Lenovo Notebook, Desktop PC, Y510p, Erazer X510
Lenovo Desktop PCs, AIO Desktop PCs Q190, H530s, C360, C560, C560 Touch, B550 Touch
Lenovo Notebooks Yoga 2 Pro Notebook
Lenovo Notebooks Yoga 11s, Flex 14, Flex 15
Lenovo Table PCs Flex 20, Horizon
HP Printers P1102w, M1132, M127fn, M1536dnf, M425dw, M435nw, CP1025nw, M251nw, M176n, M177fw, M276nw, M475dn
HP Printers 2540, 4500, 120, 5520, 6520, 7520, 6100, 4630, 6700, 8600, Pro 8600
HP Notebooks Pavilion n217TX, n234TX, x360 n007TU, Spectre Touchsmart 3001TU, 3003TU, Envy J126TX, J127TX
HP Desktop PCs, AIO Desktop PCs, Monitors, Envy Recline, Pavilion Slimline, Pavilion Touchsmart
EpiCentre Speakers, Powerbanks, Casing, Headphones, Earphones, Fitness Accessories
EpiCentre MacBook Pro with Retina Display Notebook, Air, iMac
EpiCentre iPad Air Wifi, Cellular
EpiCentre EOL Products Apple iMac 27 Inch, iPad Mini 64GB
Dell Notebooks Vostro 5560, 5470, XPS 11, XPS 15, XPS 12
Dell Notebooks Inspiron 14, 15, 14 5000 Series, 15 5000 Series
Dell Monitors, Notebooks Alienware, Inspiron
Dell Desktop PCs Inspiron 23, 3000, XPS 27, 8700, Alienware X51, Aurora R4
30 May
Added
Acer Aspire V5-452PG Notebook
Acer Aspire S7-392-54208G12t Notebook
Acer Predator G3-605 Desktop PC
Acer Aspire U5-610 Desktop PC
Terms and conditions apply.
See ad images for price list and more details
Click on thumbnail[s] to enlarge. Sales on 29 May – 1 Jun 2014
(Updated 27 May with "27 May Phone, Tablet, TVs, Notebooks, Fridges, Samsung, Apple, Toshiba, Lenovo, Philips, Panasonic, Acer, Hitachi" and "27 May Philips TV, Dell Notebook, Nikon DSLR Digital Camera" images)
(Updated 28 May with "28 May Memory World Synology DiskStation NAS", "28 May Memory World Drobo NAS 5N 5D Transporter Mini, Lenovo ix2", "28 May Memory World QNAP NAS Disk Station", "28 May Maka GPS Marbella Car Camcorders MX5, MX6, MaxPower Power Bank", "28 May Maka GPS Geomate 500S Free VR1 Roader", "28 May Maka GPS Navgiators Geomate 500S, uNav HD7, uNav, Geomate 400S, N52", "28 May Maka GPS Marbella Luxury Gift Box Upsize, Galactio Key Features", "28 May Maka GPS Teltonkia FM1100", "28 May Philips PicoPix Projectors PPX2055, PPX2340, PPX3410, PPX3610", "28 May Acer Notebooks, V5, S7, Predator G3, Aspire U5", "28 May Pixelplay Kuro Smart Player Android", "28 May Casio EX 100, Digital Experience, Digital Cameras, Notebooks, Washers, Fridges", "28 May Asus Monitors Professional, Gaming Series, Webcam Series", "28 May Asus Monitors IPS Series, LED Series, Projector", "28 May Asus AIO Desktop PCs. Transformer" and "28 May Asus ROG Gaming Desktop PCs, Slim Series Desktop PCs" images)
(Updated 29 May with "29 May Lenovo Notebooks G500s, G40-70, S410, Z510, U330p, U430 Touch", "29 May Lenovo Notebook, Desktop PC, Y510p, Erazer X510", "29 May Lenovo Desktop PCs, AIO Desktop PCs Q190, H530s, C360, C560, C560 Touch, B550 Touch", "29 May HP Printers P1102w, M1132, M127fn, M1536dnf, M425dw, M435nw, CP1025nw, M251nw, M176n, M177fw, M276nw, M475dn", "29 May HP Printers 2540, 4500, 120, 5520, 6520, 7520, 6100, 4630, 6700, 8600, Pro 8600", "29 May HP Notebooks Pavilion n217TX, n234TX, x360 n007TU, Spectre Touchsmart 3001TU, 3003TU, Envy J126TX, J127TX", "29 May HP Desktop PCs, AIO Desktop PCs, Monitors, Envy Recline, Pavilion Slimline, Pavilion Touchsmart", "29 May EpiCentre Speakers, Powerbanks, Casing, Headphones, Earphones, Fitness Accessories", "29 May EpiCentre MacBook Pro with Retina Display Notebook, Air, iMac", "29 May EpiCentre iPad Air Wifi, Cellular", "29 May EpiCentre EOL Products Apple iMac 27 Inch, iPad Mini 64GB", "29 May Dell Notebooks Vostro 5560, 5470, XPS 11, XPS 15, XPS 12", "29 May Dell Notebooks Inspiron 14, 15, 14 5000 Series, 15 5000 Series", "29 May Dell Monitors, Notebooks Alienware, Inspiron", "29 May Dell Desktop PCs Inspiron 23, 3000, XPS 27, 8700, Alienware X51, Aurora R4", "29 May Lenovo Table PCs Flex 20, Horizon", "29 May Lenovo Notebooks Yoga 11s, Flex 14, Flex 15", "29 May Lenovo Notebooks Yoga 2 Pro Notebook", "29 May Toshiba Notebooks Satellite NB10t, L40, L50, S40t, U840W, U840t, P50, Qosmio PX30t", "29 May Toshiba Notebooks, Tablets, Satellite U920t, Portege Z10t, Encore, Excite Write AT10PE, Pure AT10", "29 May ACE Peripherals Western Digital Internal HDD Bazaar", "29 May ACE Peripherals Synology NAS DiskStations DS1513, DS1813, DS2413, RS214, RS814, DX213, VS80, VS240HD, DX513", "29 May ACE Peripherals Synology NAS DiskStations DS413J, DS414J, DS413, DS414, DS412", "29 May ACE Peripherals Synology NAS DiskStations DS214se, DS213J, DS213air, DS214, DS214play, DS214plus, DS713 Plus", "29 May ACE Peripherals Synology 2014 Models DS114, DS214se, DS214+, DS414, DS214play DS214plus", "29 May ACE Peripherals Seagate NAS HDD, Enterprise Value HDD", "29 May ACE Peripherals Seagate Internal HDD Bazaar Solid State Hybrid, Surveillance, Constellation, Barracuda, NASworks", "29 May ACE Peripherals Samsung Internal SSD Bazaar Samsung 840 EVO, 840 mSata, 840PRO", "29 May ACE Peripherals Nuance PDF Converter Professional, PaperPort, Omnipage, Dragon Dictate, Naturally Speaking, Bluetooth, Mac", "29 May ACE Peripherals MyRepublic Home Voice Plans, TV Online with Teleport", "29 May ACE Peripherals MyRepublic Fibre Broadband 1Gbps", "29 May ACE Peripherals MyRepublic 1Gbps Ultra, Gamer, Business 100, 200, Plus, Pro", "29 May ACE Peripherals MyRepublic 1GBPS Features", "29 May ACE Peripherals Hiti Photo Printers P110S, S420i, P720L, P510S, P510K, CS 200e", "29 May ACE Peripherals Fujitsu ScanSnap Scanners SV600, IX500, S1300i, S1100", "29 May ACE Peripherals Foscam IP Cameras FI8909W, FI8918W, FI8910W ,FI9821W, FI9851W, FI9831W, FI9831P, FI9826P, FI8904W, FI8906W, FI8918, FI8620", "29 May ACE Peripherals Dlink Wireless Routers, USB Adapters, Mobile Routers, Range Extender, Homeplug, Access Point, Modem Router NAS, NVR, Switches", "29 May ACE Peripherals Dlink IP Cameras, Wi Fi Baby Cameras, Cloud IP Cameras Starter, H.264, HD, Fisheye, Outdoor, Pan, Tilt, Zoom", "29 May ACE Peripherals Asustor NAS AS202T AS202TE AS204T AS204TE AS302T AS304T AS602T AS604T AS606T AS 608T AS604RS AS609RS", "29 May ACE Peripherals ACTI Foscam Wifi, POE Network IP Cameras, Night Vision Recording, Cube, Dome, Bullet, Hemispherix, Box", "29 May ACE Peripherals ACE Bazaar Hiti Event Photo Printer, Plastic Card Printer, PDF Converter", "29 May ACE Peripherals ACE Bazaar Asustor Multimedia HDMI NAS, Trade-In Old NAS", "29 May ACE Peripherals Western Digital Portable HDDs My Cloud, MyBook, My Cloud Mirror, WD Elements, My Cloud EX2, EX4, My Passport, Ultra 2.5", "29 May Tablets, Cameras, TVs, Notebooks, Toshiba, Apple, Samsung, Lenovo, Nikon", "29 May Home Appliances, Kitchen Appliances, Samsung, Toshiba, LG, Toyomi, Russell Hobbs", "29 May Fridges, Washer, Vacuum Cleaner, TVs, Notebooks, Digital Cameras, Apple iPad", "29 May Digital Cameras, Keyboards, Notebooks, Samsung, Olympus, Casio, Acer, Dell", "29 May TVs, Samsung, Toshiba, LG", "29 May City Music Audio Playback System DS-DAC-100, 100M, NanoKey 2, NanoPad 2, NanoControl 2", "29 May Belkin Accessories Music Receivers, Adapters, Surge Protector, HDMI Cable, Wemo Switch, Baby Monitor, Handsfree", "29 May Linksys EpiLife Networking Router, Wireless Extender, TravelPac Mouse, Denon Headsets", "29 May Fuji Xerox Printers M355DF, CM305DF, P355D, CP305D, 8570DN, 3105, C3055DX, C5005D", "29 May Fuji Xerox Printers Docuprint P215B, P255DW, M215B, M215FW, M255Z, CM215B, CM215FW, CP105B, CP215W", "29 May City Music Xkey, Amplifi 75, Amphones, Sonic Port" and "29 May City Music Video, Audio Recorders Q4, H6, H2N, H1, IQ5, H4N" images)