We are now on Telegram
Hurting from an abrasion or burn and dreading the pain of going through the recovery process even more? Fret not!
Global diversified company 3M is proud to introduce the new range of Nexcare™ Large Dressings to care for your wounds and provide protection for your various injury needs, even shielding it against wetness.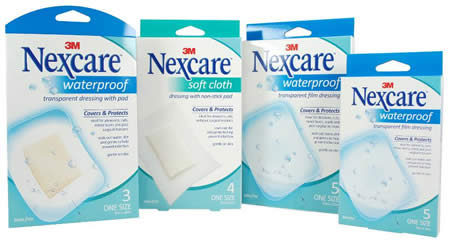 The preferred brand by hospitals for waterproof bandages, Nexcare™ has developed a range of large dressings that are ideal for abrasions, cuts, minor burns, scalds and post-surgical incisions.
These bandages aim to help you through the hassles of recovery – painful dressing changes, the inconvenience of keeping the wound dry whilst bathing or engaging in water sports, and the possibility of infections.
Nexcare large dressings cover and protect various types of injuries, and are also breathable to aid recovery.
Using the appropriate dressing for your wound will ensure a more efficient and effective healing process:
New incisions and light to moderate draining wounds – Protect your wound with waterproof, breathable dressings such as the Nexcare™ Waterproof Transparent Film Dressing, a bandage that holds securely yet conforms naturally to skin. Its waterproof yet breathable feature provides the ideal conditions to promote healing of the wound.
Wounds with moderate to heavy drainage – Cover the affected area with a highly absorbent gauze pad to prevent fluids from soaking through. The Nexcare™ Soft Cloth Dressing with Non-stick Pad features an absorbent pad that will wick away fluids from wounds, yet does not stick to the injury. The non-stick pad is easy to apply and remove with minimal pain during removal, making it suitable for frequent dressing changes.
Minor deep cuts – Cover up securely with sterilized skin closures. These will reduce the risk of infection and provide better cosmetic results.
Minor burns or scalds – Apply some antiseptic and protect the burned area with a transparent dressing and gauze pad such as the Nexcare™ Waterproof Transparent Film Dressing with Pad. The pad provides some cushioning for the raw and injured skin, whilst the transparent window allows you to monitor the progress of recovery of the wound.
For more serious burns where the skin becomes white or charred, consult your doctor immediately.
Benefits of Nexcare™
Protection – The Nexcare™ Large Dressings cover and protect wounds, providing superior protection against dirt and germs to prevent infection. A trusted technology widely used by doctors and nurses, the waterproof range prevents liquids, bacteria and other contaminants from infecting the injury during hand washing, showers, swimming and other water sports.
Comfort – Widely used in many hospitals and homes, Nexcare™ Large Dressings are designed with ultra-thin, lightweight and breathable material for all-day comfort. These bandages are latex free and gentle on the skin, holding securely without sticking to wounds.
Convenience – Highly versatile for various types of large wounds, these Nexcare™ Large Dressings are easy to use and require only one hand to administer. Simply peel away the paper frame upon application; removal is also clean, without leaving any adhesive.
Nexcare™ tips for better wound treatment
Here are some steps to take to care for your wound:
Always wash and dry hands thoroughly before handling the wound to prevent the spread of germs, which can cause infections.
Clean and dry the affected area. Do note that the area should not be washed for at least 24 hours post-surgery – follow the doctor's instructions closely.
For burns, immediately cool the burn under cold water or ice until the pain subsides (approximately 20 minutes), then gently blot dry with a sterile gauze or clean cloth.
Cover and protect the wound with a suitable dressing.
Check your wound or burned area daily. If there are any signs of infection, contact your doctor immediately.
Change the dressing if it becomes wet or dirty.
The Nexcare™ Waterproof Transparent Film Dressing (5 dressings at $4.95, 6x7cm and $5.95, 10x12cm), the Nexcare™ Waterproof Transparent Film Dressing with Pad (3 dressings at $3.95, 8x10cm) and the Nexcare™ Soft Cloth Dressing with Non-Stick Pad (4 dressings at $4.65, 8x12cm) are available from November 1, 2012 at all leading pharmacies, including Watsons and Guardian.
Take proper care of your wounds and burns, and enjoy a speedy and hassle-free recovery process with 3M™ Nexcare today!