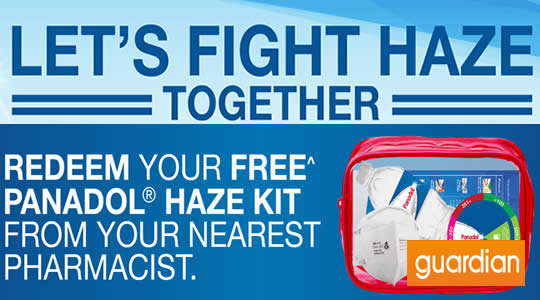 Due to COVID-19, some offers may no longer be valid or temporarily suspended. Please verify the validity (even if it says "ON TODAY" below) before heading down

SINGPromos is now on Telegram. Click here to follow us now
Redeem your free Panadol Haze Kit at all Guardian pharmacies!
RELATED: Guardian 20% OFF Storewide (NO Min Spend) from 25 – 28 Aug
UPDATE 26 Aug 1530hrs: All Panadol haze kits are out of stock.
The Panadol Haze Kit contains the following items:
Panadol Cough and Cold Leaflet
N95 Haze Mask
Haze Health Tips Info Wheel
Bottle of Water
To redeem, get your online code at www.guardian.com.sg/panadol-haze-kit and show it to your nearest Guardian pharmacist. While stocks last!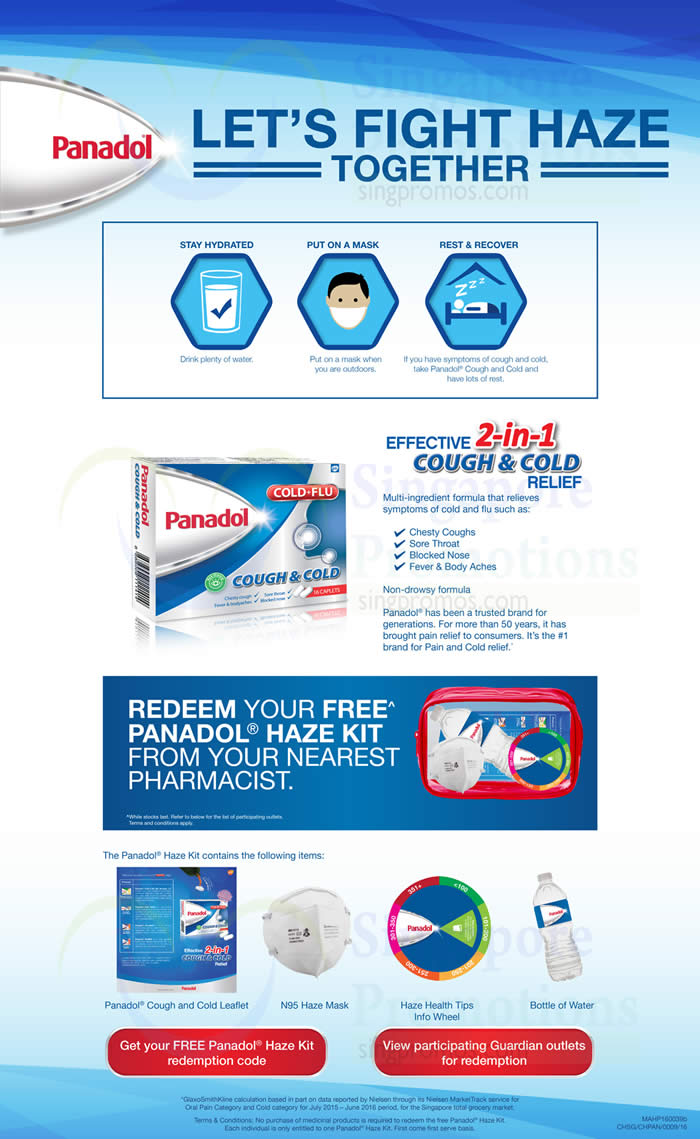 Redeem your free panadol haze kit at all Guardian pharmacies!
| STORE NAME | Monday to Thursday | Friday | Sat | Sun | PH |
| --- | --- | --- | --- | --- | --- |
| Admiralty Place | 11 30 : 20 00 | 11 30 : 20 00 | Closed | Closed | Closed |
| Ang Mo Kio Blk704 | 11 00 : 20 00 | 11 00 : 20 00 | 11 00 : 20 00 | 11 00 : 20 00 | Closed |
| Balestier Medical Centre | 13 30 : 19 00 | 13 30 : 19 00 | 13 30 : 19 00 | Closed | Closed |
| Bedok Mall | 10 00 : 22 00 | 10 00 : 22 00 | 10 00 : 22 00 | 10 00 : 22 00 | Closed |
| Bedok Central | 9 30 : 21 30 | 9 30 : 21 30 | 9 30 : 21 30 | 9 30 : 21 30 | 9 30 : 21 30 |
| Bishan Junction 8 | 10 00 : 22 00 | 10 00 : 22 00 | 10 00 : 22 00 | 10 00 : 22 00 | 10 00 : 22 00 |
| Bugis Junction 3 | 11 00 : 19 30 | 11 00 : 19 30 | 10 30 : 19 00 | 10 30 : 19 00 | 10 30 : 19 00 |
| Bugis MRT | 9 30 : 21 30 | 9 30 : 21 30 | 11 00 : 21 00 | 11 00 : 21 00 | Closed |
| Bukit Panjang | 11 00 : 20 00 | 11 00 : 20 00 | 11 00 : 20 00 | 11 00 : 20 00 | 11 00 : 20 00 |
| Clifford Centre | 8 30 : 17 00 | 8 30 : 17 00 | Closed | Closed | Closed |
| Clementi Mall | 10 00 : 22 00 | 10 00 : 22 00 | 10 00 : 22 00 | 10 00 : 22 00 | 10 00 : 22 00 |
| Chinatown Point | 11 00 : 19 30 | 11 00 : 19 30 | Closed | Closed | Closed |
| City Square Mall | 11 00 : 20 00 | 11 00 : 20 00 | 11 00 : 20 00 | Closed | Closed |
| CityLink | 11 00 : 20 00 | 11 00 : 20 00 | Closed | Closed | Closed |
| Causeway Point 2 | 10 00 : 22 00 | 10 00 : 22 00 | 10 00 : 22 00 | 10 00 : 22 00 | 10 00 : 22 00 |
| Gleneagles | 8 30 : 18 30 | 8 30 : 18 30 | 8 30 : 14 00 | Closed | Closed |
| Great World City | 10 00 : 22 00 | 10 00 : 22 00 | 10 00 : 22 00 | 10 00 : 22 00 | 10 00 : 22 00 |
| Hougang H205 | 10 00 : 22 00 | 10 00 : 22 00 | 10 00 : 22 00 | 10 00 : 22 00 | 10 00 : 22 00 |
| Harbourfront Centre | 11 00 : 19 30 | 11 00 : 19 30 | Closed | Closed | Closed |
| Hong Leong Building | 10 00 : 18 30 | 10 00 : 18 30 | Closed | Closed | Closed |
| Hougang Mall | 11 00 : 19 30 | 11 00 : 19 30 | Closed | Closed | Closed |
| Holland Shopping Centre | 10 00 : 22 00 | 10 00 : 22 00 | 10 00 : 22 00 | 10 00 : 22 00 | 10 00 : 22 00 |
| IMM | 10 00 : 22 00 | 10 00 : 22 00 | 10 00 : 22 00 | 10 00 : 22 00 | 10 00 : 22 00 |
| ION Orchard | 10 00 : 22 00 | 10 00 : 22 00 | 10 00 : 22 00 | 10 00 : 22 00 | 10 00 : 22 00 |
| Jelita | 10 30 : 19 00 | 10 30 : 19 00 | 9 30 : 18 00 | 9 30 : 18 00 | 9 30 : 18 00 |
| JEM Shopping Centre | 11 00 : 21 00 | 11 00 : 21 00 | 10 00 : 22 00 | 11 00 : 21 00 | 11 00 : 21 00 |
| Jurong Point | 10 00 : 22 00 | 10 00 : 22 00 | 10 00 : 22 00 | 10 00 : 22 00 | 10 00 : 22 00 |
| Katong Mall | 11 00 : 19 30 | 11 00 : 19 30 | Closed | Closed | Closed |
| Kallang Leisure Park 2 | 11 00 : 19 30 | 11 00 : 19 30 | Closed | Closed | Closed |
| Lot 1 | 11 00 : 19 30 | 11 00 : 19 30 | Closed | Closed | Closed |
| Lavender MRT | 11 00 : 19 30 | 11 00 : 19 30 | Closed | Closed | Closed |
| Marina Bay Sands | 10 00 : 22 00 | 10 00 : 22 00 | 10 00 : 22 00 | 10 00 : 22 00 | 10 00 : 22 00 |
| Mount Elizabeth Medical Centre | 8 30 : 19 00 | 8 30 : 19 00 | 8 30 : 16 00 | Closed | Closed |
| Serangoon NEX | 10 00 : 22 00 | 10 00 : 22 00 | 10 00 : 22 00 | 10 00 : 22 00 | 10 00 : 22 00 |
| Novena Hospital | 8 30 : 18 30 | 8 30 : 18 30 | 8 30 : 16 00 | Closed | Closed |
| Northpoint | 10 00 : 22 00 | 10 00 : 22 00 | 10 00 : 22 00 | 10 00 : 22 00 | 10 00 : 22 00 |
| Novena Square | 10 00 : 22 00 | 10 00 : 22 00 | 11 30 : 20 00 | 11 30 : 20 00 | 11 30 : 20 00 |
| Paragon | 9 00 : 22 00 | 9 00 : 22 00 | 9 00 : 22 00 | 9 00 : 22 00 | 9 00 : 22 00 |
| Plaza Singapura 2 | 11 30 : 21 00 | 11 30 : 21 00 | 11 30 : 21 00 | 11 30 : 21 00 | Closed |
| Parkway | 10 00 : 22 00 | 10 00 : 22 00 | 10 00 : 22 00 | 10 00 : 22 00 | 10 00 : 22 00 |
| Raffles City | 11 00 : 21 00 | 11 00 : 21 00 | 10 00 : 22 00 | 10 00 : 22 00 | 10 00 : 22 00 |
| Raffles Place MRT | 11 00 : 20 00 | 11 00 : 20 00 | Closed | Closed | Closed |
| Serangoon Garden | 10 00 : 18 30 | 10 00 : 18 30 | Closed | Closed | Closed |
| Seletar Mall | 10 00 : 22 00 | 10 00 : 22 00 | 11 00 : 20 00 | 11 00 : 20 00 | 11 00 : 20 00 |
| 313 @ Somerset | 11 00 : 19 30 | 11 00 : 19 30 | 11 00 : 19 30 | 11 00 : 19 30 | Closed |
| Sun Plaza 2 | 11 00 : 20 00 | 11 00 : 20 00 | Closed | Closed | Closed |
| Star Vista | 11 00 : 19 30 | 11 00 : 19 30 | Closed | Closed | Closed |
| Suntec City | 11 00 : 20 00 | 11 00 : 20 00 | 10 00 : 21 00 | Closed | Closed |
| Toa Payoh Blk 190 | 11 00 : 21 00 | 11 00 : 21 00 | 11 00 : 21 00 | 11 00 : 21 00 | 11 00 : 21 00 |
| Tampines MRT | 9 30 : 21 30 | 9 30 : 21 30 | 9 30 : 21 30 | 9 30 : 21 30 | Closed |
| Tanglin Mall | 10 00 : 19 30 | 10 00 : 19 30 | 10 00 : 19 30 | 10 00 : 19 30 | Closed |
| Takashimaya SC | 10 00 : 22 00 | 10 00 : 22 00 | 10 00 : 22 00 | 10 00 : 22 00 | 10 00 : 22 00 |
| Tiong Bahru Plaza | 11 00 : 21 00 | 11 00 : 21 00 | 11 00 : 21 00 | 11 00 : 21 00 | 11 00 : 21 00 |
| Century Square | 11 00 : 19 30 | 11 00 : 19 30 | Closed | Closed | Closed |
| Thomson Plaza | 11 00 : 19 30 | 11 00 : 19 30 | 11 00 : 19 30 | Closed | Closed |
| Tampines Mall | 10 00 : 22 00 | 10 00 : 22 00 | 10 00 : 22 00 | 10 00 : 22 00 | 10 00 : 22 00 |
| United Square | 10 30 : 19 00 | 10 30 : 19 00 | 10 30 : 19 00 | Closed | Closed |
| Vivo City | 10 00 : 22 00 | 10 00 : 22 00 | 10 00 : 22 00 | 10 00 : 22 00 | 10 00 : 22 00 |
| West Mall | 10 00 : 22 00 | 10 00 : 22 00 | 10 00 : 22 00 | 10 00 : 22 00 | 10 00 : 22 00 |
| Warehouse Retail Scheme | 10 00 : 18 30 | 10 00 : 18 30 | Closed | Closed | Closed |
| White Sands Mall | 11 00 : 19 30 | 11 00 : 19 30 | 11 00 : 19 30 | 11 00 : 19 30 | 11 00 : 19 30 |
| Waterway Point | 10 00 : 22 00 | 10 00 : 22 00 | 10 00 : 22 00 | 10 00 : 22 00 | 10 00 : 22 00 |
| Yew Tee MRT | 11 30 : 20 00 | 11 30 : 20 00 | 9 30 : 20 00 | 9 30 : 20 00 | Closed |
| Zhongsan Park | 11 00 : 22 00 | 11 00 : 22 00 | 10 00 : 22 00 | 10 00 : 22 00 | 10 00 : 22 00 |
For more info, visit www.guardian.com.sg/panadol-haze-kit